Looking for stops to make on the Miami to Key West drive? You have come to the right place. There are so many things to do from Miami to Key West!
One of the very best road trips we ever took was this route along the stunning Florida Keys. The drive is approximately 160 miles and takes around 4 hours if you do the whole drive in one hit.
This however, would be an awful shame as the famous and picturesque Overseas Highway passes through some of the most interesting and fun fishing villages in the United States!
The drive to the Southernmost point of continental USA (you can practically reach out and touch Cuba from here) was one of the best adventures we have ever had! In terms of prestige the iconic route is comparable only to the Great Ocean Road drive in Australia or the California Highway 1 drive.
Pile your whole family in the car and prepare to make memories that last a lifetime in one of our all time favorite areas of Florida!
Strap your seat belt on while we guide you through the best stops driving to Key West. First up we'll answer some FAQs about this Florida Keys road trip.
Bring with you: Lonely Planet Miami and the Keys Guide
21 Best Stops on the Miami to Key West Drive (with map)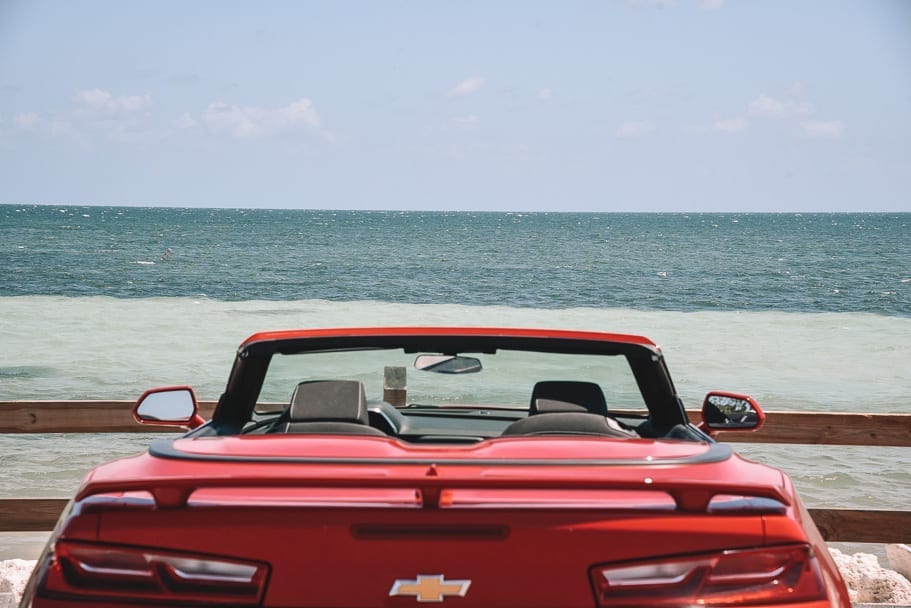 Keys' Drive: Frequently Asked Questions
Which is the Best Airport to Start your road trip? Miami airport to Key West drive
The best airport to fly into to start your Road Trip is Miami (MIA) or Fort Lauderdale (FLL).
Despite Miami airport being the most optimal place to fly into to start your road trip, often the most affordable flights land in Fort Lauderdale. We flew from Paris to Fort Lauderdale for around $200.
If you are starting from inside the United States you can either fly using low cost national carriers such as Spirit, Frontier, SouthWest or JetBlue. You can find the cheapest flights available on Skyscanner.
If you are driving from the Northern States you will likely use Route 95 to make your way to Miami.
Things to Know about Hiring a Car for the Florida Keys
If you don't have your own car, you will need to hire a car to make the trip.
On our drive we had our own car however, we have rented cars many times in the past in Florida.
Car hire in Florida is reasonably affordable. You can get a rental car from Miami for as little as $400 for a week. One of the most popular car options in the Keys is a mustang. Let your hair fly in the wind as you hit the open road!
Gas prices in the Florida Keys can be a little more expensive than the rest of Florida so we would recommend filling up in advance if possible. Expect to pay as much as US$3 per gallon (3.78L) in the Keys.
In addition to the car insurance (you can get this when you hire your car), we always recommend having separate travel insurance. After 5 years of full time travel, the best insurer we have found is World Nomads Insurance.
Best Time to Visit?
As it is a tropical location that is warm and sunny year round, it is always a good time to visit the Florida Keys, especially if you are looking for a break from the harsh winter!
We visited in September and it was a lovely month to visit with very little rain and mild days temperature-wise.
The winter months are the busiest in the Keys and prices are at a premium as snowbirds make their way down from the Northern States in search of warmer temperatures.
January is the coldest month in the Florida Keys with temperatures between 71 and 77°F (22 to 25°C).
August is the hottest month in the Florida Keys where temperatures reach as much as 89.4°F (32°C).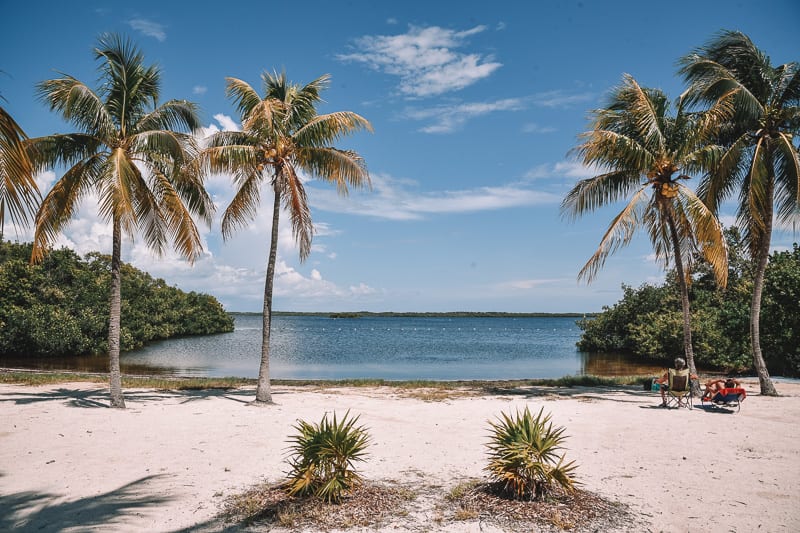 How Far is Key West from Miami?
If you drive continuously, it is 160 miles and takes around 4 hours to get from Key West to Miami.
If you are determined, you could make this drive in a single day. However, we would advise against this as you would miss some of the very best attractions!
How many days should I allow in the itinerary?
Despite the fact that the drive is 160 miles and takes only around 4 hours, we would recommend allocating at least a week to a Florida Keys road trip.
You will want to spend at least a few nights at the major stops along the way including Key Largo and Key West.
Where are the Florida Keys? M
ap from Miami to Key West
When going on a road trip, it is always advisable to bring a good map with you. We have made a seperate post with a dedicated Florida Keys map you might like to check out.
Tip: You can download map of Miami to Key West using the google maps app when you are online and then use it when you are offline as you drive.
Key West Road Trip Stops
Stop 1: The Everglades
Before you make your way to the start of the Florida Keys, we would suggest thinking about including the Everglades National Park in your Florida Keys itinerary.
If you wish to visit the Everglades before you hit the Keys, make a turn south from Florida City. The Everglades is one of our favorite things to do in Florida. We have been several times and will probably go several times in the future.
National Parks in the United States are just the best and like all other National Parks, there is an abundance of cool things to do in the Everglades.
If you just want to do one day in the Everglades, we would suggest doing an airboat tour, visiting Shark Valley where you can bike the Everglades and the Anhinga Trail where you have the best chance of seeing an Alligator on foot. We were very lucky and even saw some baby alligators at the time we visited.
The Gumbo Limbo Trail is also a great place to visit in the middle of the day. Florida is hot all year round so it is nice to find a well shaded hike in the exposed Everglades wetlands.
Stop 2: Key Largo (40 min drive from the Everglades)
The first spot on your Florida Keys road trip is the laid back town of Key Largo.
We didn't expect to enjoy Key Largo as much as we did. Everyone heads straight down to Key West without giving Key Largo a chance but really I think this is a total mistake.
If you are traveling from Miami make sure you give Key Largo a chance. It caters so well to all different types of travelers and has some of the absolute best beaches the Florida Keys has to offer.
We loved that you can have a mix of both relaxation and adventure in Key Largo. It is a place you could keep coming year after year and not get bored. We would recommend spending 2 nights in Key Largo. See our detailed post on Key Largo if you want some in depth information on what to do there.
Tip: Make sure you pick up some Key Lime Pie from Mrs Macs while you are in Key Largo and try some Conch (pronounced "Konk") at The Conch House or one of the other great restaurants in Key Largo. For a yummy and cool experience we would suggest going to the Key Largo fisheries. Here you can watch the local fisherman at work as you enjoy your fresh fish. It also serves yummy key lime pie if you want a great desert.
John Pennekamp Coral Reef State Park
This was our absolute favorite place & beach in Key Largo as it has some of the best snorkeling the Florida Keys.
Unlike Key West, which is over-populated with cruise goers, the John Pennekamp Coral Reef State Park is a bit of an undiscovered hidden gem in Florida.
The State Park has set up in 1963 to preserve Key Largo's coral reef.
It costs $9 (for 2 people) to enter John Pennekamp Coral Reef State Park which is waived if you are camping. Camping will set you back$43 USD a night including tax (highly recommended by the way!) If you want to cover the keys by camping, you can check out our post on the best campgrounds in the Florida Keys.
Inside the State Park are stunning beaches and fun nature trails to enjoy. You can also snorkel right off the beach or alternatively hire a kayak or go on a glass bottom boat tour – the possibilities are endless!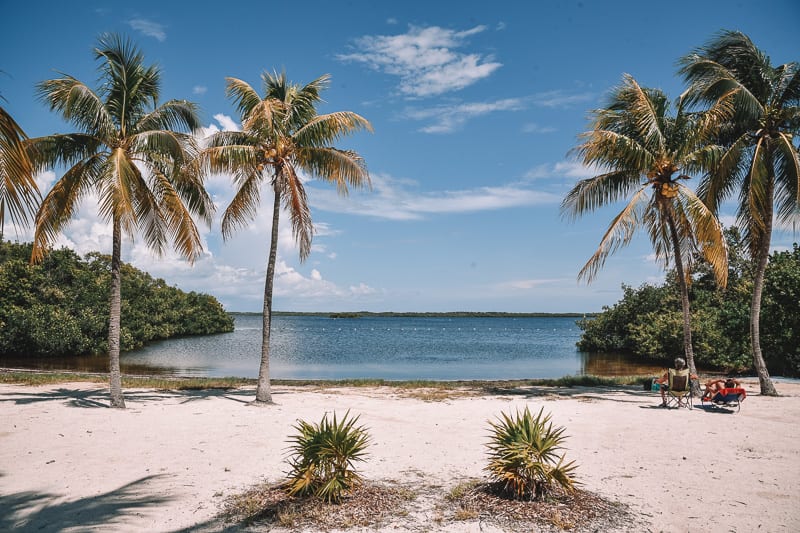 Where to stay in Key Largo?
There are so many fabulous places to stay in Key Largo to suit all budgets and tastes. Click here for all accommodation in Key Largo during your dates.
We would recommend staying at least 2 nights in Key Largo to soak up all this small town has to offer.
If you would like to camp in the area we would highly recommend the Pennekamp Coral Reef State Park. It is a little expensive for camping @ $43 but it provides a very clean, comfortable and secure place to stay for the night for those who want to be in touch with nature.
If you want a little more comfort, we would recommend at this out of the world hotel!
There is also a pretty unique hotel whose home is in Key Largo known as the Jules Undersea Lodge. This is a pretty epic place to stay. It is Florida's only underwater hotel. To stay at this hotel there is a catch, you need to dive to access the hotel. Staying here would truly be a once in a lifetime experience and a talking point among friends.
Driving Stop 3: Islamorada (40 min drive from Key Largo)
Despite Islamorada being a small town, it is in our opinion one of the best places to visit in the Florida Keys due to the abundance of fun activities in the area.
You won't be driving long from Key Largo to reach Islamorada, only a 40 minutes away drive away. As Islamorada is a little further down the Keys, it has even more of a relaxed vibe than Key Largo.
Like Key Largo it caters well to many different types of travelers. It has snorkeling or diving for adventure seekers and calm, peaceful, beautiful beaches in Islamorada for relaxation.
There are some fabulous things to do in Islamorada. The best activities include the following:
Anne Beach (Great swimming beach for kids as nice shallow water);
Founders Park (Costs $8 but worth it for beautiful clear water and white sand!);
Holiday Isle Beach (Don't miss the Tico Bar!);
The Islamorada Library and Park (see the locals at this secret spot!);
Theater of the seas in Islamorada;
Windley Key Fossil Reef Geological State Park (learn about fossils);
History of Diving Museum;
Eat at some of the best restaurants in Islamorada.
If you are a fan of craft beer, you will love Islamorada as it has some great breweries including the the Florida Keys Brewing Company and The Islamorada Beer Company.
Feed giant Tarpon at Robbie's
100% of absolute favourite activity on our road trip of the Florida Keys was feeding the giant tarpon at Robbie's pier.
These fish are seriously giant – up to 8ft long – so it is a pretty cool sight for fish enthusiasts.
To see the tarpon in action it costs $2.25 per person. If you would like to feed them (note: only for the brave!!) each bucket of fish is $4.00 (5-8 fish per bucket).
Be prepared to get a little injured – the bite feels a bit like sandpaper. Or, you can always watch by the sidelines (as I did!).
Be careful of the other little fish in the water too. The tarpon have no teeth but there are also "little" fish in the water which have razor sharp teeth which will do some damage!
Where to stay in Islamorada?
Islamorada has lodging available for all budgets. Click here to search accommodation options in Islamorada during your dates.
Here is the places we would recommend depending on your budget:
Keys Drive Stop 4: Marathon
Marathon is the midway point of the Florida Keys – by this stage, you are half way between Key Largo and Key West
From Marathon, it is only a 1 hour drive onward to Key West.
We actually came through Marathon on our way to Bahia Honda State Park (highly recommended by the way!!) and wanted to check out what activities the mid point of the Florida Keys had to offer!
You can either make an overnight stop in Marathon or keep driving onward to Key West. Regardless, you need to make a stop!
Here are the best things to do in Marathon FL that you simply cannot miss on a trip to the Florida Keys in South Florida:
Sombrero Beach (white sand and awesome water!)
Coco Plum Beach (could skip this if you don't have time)
Crane Point Museum & Nature Center (63 acres of native plants, a creek, a history museum)
Visit the Dolphin Research Center (can interact with a dolphin here)
Aquarium Encounter
Curry Hammock State Park
Turtle Hospital
One can simply not make a trip to Marathon without visiting the turtle hospital aka cuteness overload. An unmissable stop in any Miami to Key West drive itinerary.
Families traveling in the Florida Keys often rate this activity as their all time favorite activity in the Florida Keys.
What we love is that it is much more than just seeing turtles although that is always fun! The Turtle Hospital serves to rehabilitate the turtles of the Florida Keys.
This good work justifies the fairly high entry fee of $25 per person. Included in your ticket is a 90 minute guided where you will get an opportunity to feed the turtles.
This is their rescue mobile.
Cruise along Seven Mile Bridge
To visit our favourite place in the Florida Keys Bahia Honda or even Key West you will have to drive across the iconic Seven Mile Bridge the best part of the overseas highway.
Even if you are not planning to go up as far as these places, we would highly recommend taking a joy drive on the 7 Mile Bridge, it is iconic to the Florida Keys and really beautiful.
The water of the bridge is absolutely stunning and the bridge itself is truly a piece of art.
Get your camera ready but don't hang it outside your window. It is super windy on this bridge and it you drop it, its gone for good!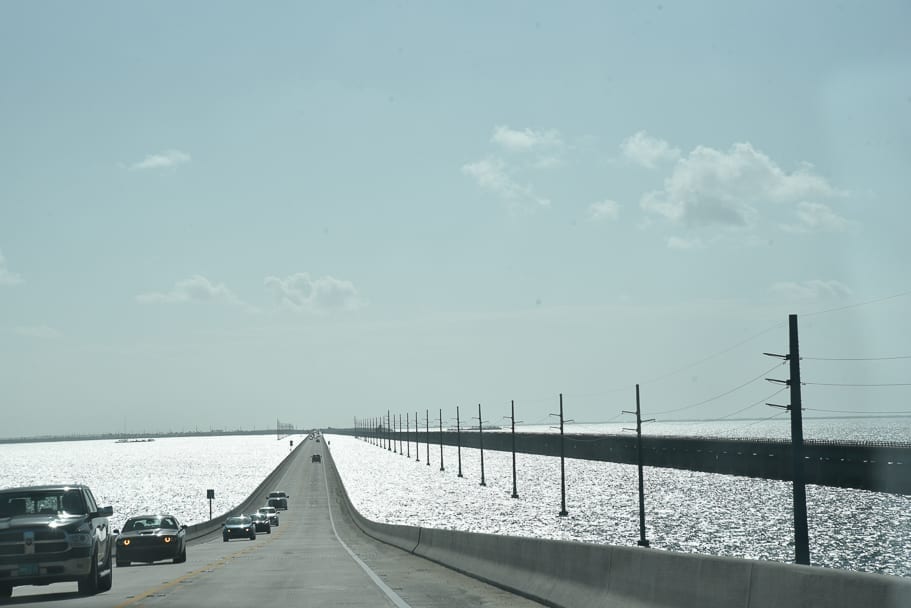 Where to stay in Marathon?
Marathon has lodging available for all budgets. Click here to search accommodation options in Marathon during your dates.
If you like camping, we would recommend camping in the Bahia Honda State Park.
The downside to this is that Florida can get quite hot and sticky at night. If you prefer a little more comfort, we would suggest staying in these vacation rentals and hotels in Marathon to explore the beaches.
Driving Stop 5: Bahia Honda State Park
Practically in Marathon, just a hop, skip and a jump away (over the 7 Mile Bridge) is our favourite place in the Florida Keys – Bahia Honda State Park in Pine Key.
If you are looking for a great (and affordable) place for camping in the Florida Keys at a cost of $43 USD a night including tax for a beach front powered spot!
All sorts of people come to holiday in Bahia Honda – older retired, families with kids and even honeymooners – these people do have two things in common though: 1. They love the great outdoors and 2. They are beach enthusiasts.
The Florida Keys is not exactly known for insane beaches but Bahia Honda is an exception to the rule.
It costs $4.50 pp to enter the park but it is well worth it. If you decide to camp in the park ($43 USD per site per night) this fee is waved.
Bahia Honda has 3 amazing beaches – Caloosa Beach, Loggerhead Beach and Sandspur Beach. Other activities you can enjoy in and near Bahia Honda include:
Kayaking: Kayaking is a really fun way to explore Bahia Honda. It is possible to rent your own kayak or go on a tour.
Biking:

You will need to bring you own bike for this. If that is a possibility for you, it is fun to ride the length of Bahia Honda (3.5 miles)

Snorkeling:

As discussed above, the off beach snorkeling in Bahia Honda is the best we experienced in the Florida Keys.

Fishing:

For fishing lovers out there, some of the best Tarpon fishing in the Florida Keys is found in Bahia Honda. You do need a saltwater fishing license to go however. And, if you are thinking of picking up some delicious Conch (the Key's specialty) note that the collection of Queen conchs are prohibited.

National Key Deer Refuge – they have the cutest mini deer here ever!
The Blue Hole – If you skip the everglades you can come see a gator here.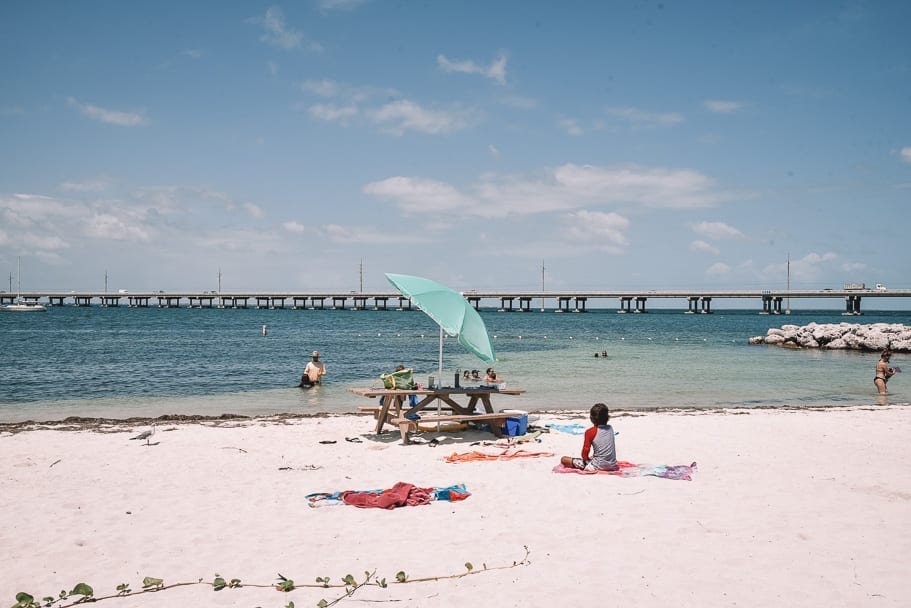 Old Bahia Honda Bridge Walk
While in Bahia Honda don't miss the Old Bahia Honda Bridge Walk.
This walk is pretty awesome as it gives you an incredible view from one of the highest points in the Florida Keys. It is an easy 0.4 mile walk (there are some steps required) with a fabulous view reward at the end.
You can find the entry easily from the car park at Caloosa Beach. The bridge has crumbled in the middle so you can hike until you find a barrier in the middle of the bridge from where you can go no further.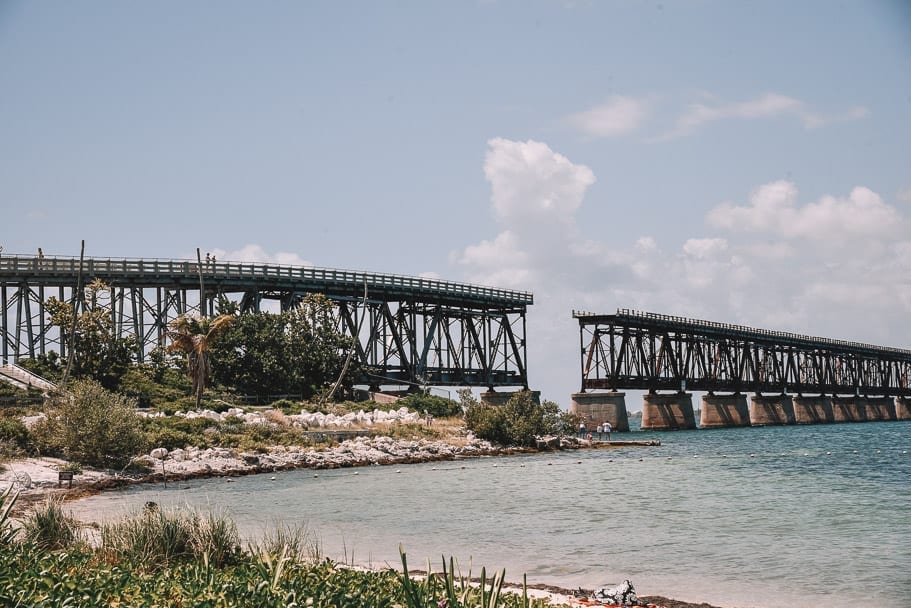 Where to stay in Bahia Honda?
If you want the best proximity to Bahia Honda State Park we would highly recommend camping inside the Bahia Honda State Park. If you want more info we can refer you to our Bahia Honda camping guide.
It does get quite hot and sticky camping, especially in Florida so if you would prefer a little more comfort on your vacation we would suggest the following options.
Final Stop: Key West
When you think of the Florida Keys, you probably think of Key West.
Key West is home to famous writer Hemingway and is a fan favourite due to the amazing Conchs architecture, wacky vibe and abundance of fun things to do. Despite the fact it is very touristy, with cruise shops docking at Key West virtually every day we really enjoyed Key West!
The Florida Keys are a beautiful but notoriously expensive place to holiday. Accommodation will cost you $150 USD upwards in Key West for basic lodging. Food and activities are also costly.
While on a very expensive holiday it is nice to break up the expensive with a few free activities. Luckily, Key West has many of these. You can see our guide to free things to do in Key West for those.
Other things not to miss include:
Sunset celebration at Mallory Square. This hotel is in the PERFECT location for Mallory Square festivities;
Key West Lighthouse;
Butterfly and Nature Conservatory;
Best Key West beaches including Dogs Beach, South Beach, Smathers Beach, Higgs Beach, Rest Beach,
Go marine watching at The Eco Discovery Center
Take a picture at the Southernmost Point of the Continental US
Key West Wildlife Center
Key West Cemetery
Dine at the best restaurants in Key West
The Oldest House in Key West
West Martello Tower
Go to a nude beach in Florida. The only one in the Florida Keys is Boca Chica Beach.
I will point out it is always fun to go on a Rum Distillery Tour while in Key West. A good one is the Key West First Legal Rum Distillery Tour. The reason why we would recommend this is that it provides flavors very unique to the Key West area including Florida sugar cane, vanilla creme brûlée and Key lime.
Don't also forget to take a quick picture with the Mile 0 Marker. Like the Southern most point, there is a must do iconic picture to take while you are in Key West. There is not usually a long line at the mile 0 marker either which is always a win!!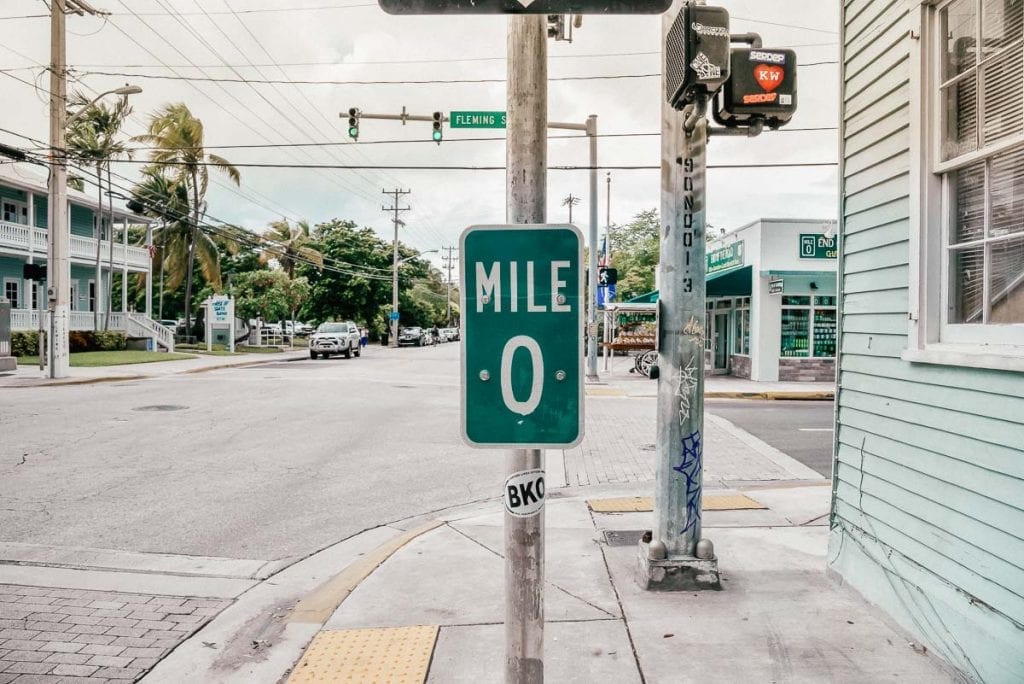 Ernest Hemingway House
The number 1 attraction in Key West and the most iconic thing to do in Key West is to take a visit to the Ernest Hemingway house, one of America's most respected authors. One of the best stops to make on your Miami to Key West drive!
You won't want to visit Key West with at least not visiting Ernest Hemingway's house The famous writer lived in Key West from 1931 to 1939.
Tourists come from all over the world to visit the house in which he lived including touring the rooms and gardens. There is usually a line out the door to get in.
The house is super easy to access as it is located within the very heart of Key West. There is also something a little quirky about the Hemingway house. There are over 40 cats that live at the house. In Key West style, they are a little strange and some have six toes due to a polydactyl gene in their DNA
These cats are descendants of Ernest Hemingway white six-toed cat called Snow White which he was given by a ship's captain. Ernest named his cats after famous people so the Hemingway house follow that same tradition. The house is almost like a mini cat cafe!
It costs $14 USD to tour Hemingway house.
Harry S. Truman Little White House
Another must do stop for history lovers out there is the Harry S. Truman Little White House.
If you are not from the US (of even if you are) this a great place to learn more about US history.
Former president Harry S. Truman used this cute little building as the winter White House in 1946. Since then other presidents have made use of it too for one purpose or another including Kennedy and Clinton.
It costs $19 USD to enter the Harry S. Truman Little White House. Sadly there is not very good parking available here.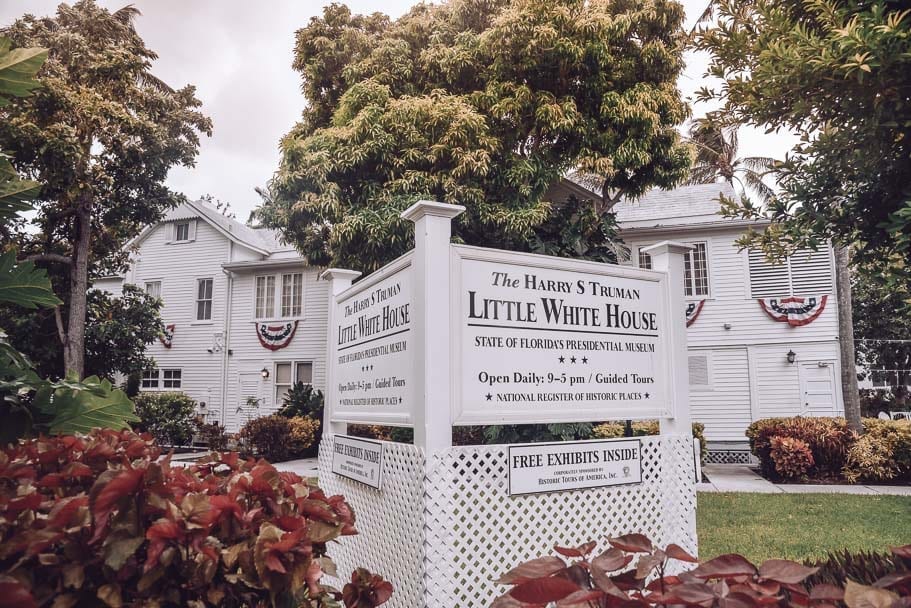 Duval Street
Duval Street is the most iconic street in Key West so you absolutely cannot visit Key West without going for a walk along Duval Street.
It is free to wander but not to drink. Of course, Key West is a party town and one of the most iconic things to do is to bar hop Duval Street. Many people come to Key West just to party.
Whether you want to join in the party or just people watch, it doesn't really matter – you will love Duval Street nonetheless.
Put these iconic Key West bars into your bar hopping list:
Sloppy Joes – The Most famous bar in Key West and also Ernest Hemingway's favourite.
Schooner Wharf – One of the most popular bars in the area
Aqua, La Te Da, Bourbon St. Bar – Best places for a drag show (huge in Key West). Don't knock it until you have met someone who does Drag in real life.
Tip: Doing a road trip to the Florida Keys is amazing but in all honestly, it is not always easy to park in Key West. What we would recommend is finding a centrally located hotel (see below for our recommendations) parking your car and taking the free duval bus around. The bus is free and runs every 15 minutes, 10am to midnight. You can find more information and the bus stops here.
Where to stay in Key West?
The Florida Keys is an expensive place to travel and Key West is possibly the most expensive place in the Keys. Nevertheless, it is a place that just has to be done at least once.
Here are the hotels we would recommend staying in Key West depending on your budget:
If you are traveling as a couple, here are our favorite places to stay as a couple in Key West.
We wouldn't really recommend camping in Key West as it is $100 USD +. It is more worthwhile to pay for a hotel in Key West. Key West is a place you come for a bit of luxury, not to camp.
Key West to Miami Drive
On your way back from Key West to Miami, you will need to make at least a one night stop on your way back.
We would suggest either staying at Marathon or Islamorada on your way back to Miami as they are towns approximately half way along the Florida Keys.
***
Traveling in the Sunshine State?
We hope you enjoyed the drive along the beautiful Florida Keys as much as we did and found this guide useful for some awesome places to stop along the way!
If you have any questions, or have something to add, we always love to hear from you so leave a comment below!