Looking for the best Everglades Airboat Tours?
There is really no doubt that an Everglades Airboat Ride is one of the best ways to explore the Everglades National Park in Florida.
But with so many possible tours available, the decision about which tour to pick is agonising! We spent hours searching the net to determine which one to select.
In this guide, we have broken down what you should consider when selecting an everglades airboat tour and also outlined which tours we believe are the very best airboat tours in the glades!
Tip: One great option to fit in an Everglades tour is on a road trip from Miami to Key West!
Best Everglades Airboat Tours: Which Everglades Airboat Ride is the Best?
What we discovered from airboat tours is most operators have exactly the same policies in terms of the environment and animals (probably due to the tight policies in place by the National Park)
What is most important when selecting an airboat operator is the reviews they are receiving. This gives you a good idea of 1. how ethical they are and 2. what kind of experience other travelers are having with this company.
Things you will want to look for when choosing an airboat tour include:
Environmental policies
Policies to do with wildlife (do they feed the wildlife – aka not good!!)
The ratings of the tour guides (can see the score of the tour when you go to book)
We have done the hard work for you and selected 11 Best Rated Everglades Airboat tours in the Everglades.
One thing about airboat tours is that they are all not particularly environmentally friendly and have some negative effects on the environment. If you are a greenie, you may want to consider if you would like to take an airboat tour at all (if you are thinking this – we have some alternative ways to see the Everglades below).
We were personally still comfortable to take an airboat tour as the National Park system have taken positive steps to reduce the risk to the fragile ecosystem of the Everglades by make operators run their airboat tours outside of the National Park borders in a certain zone for airboats.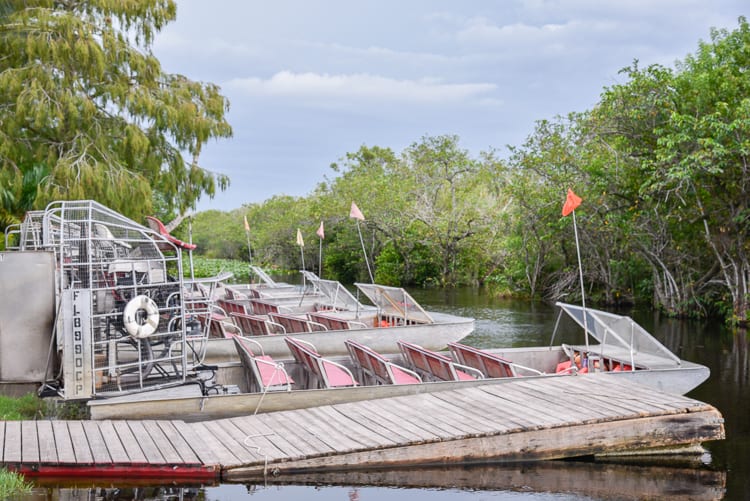 Best Way to See the Everglades
Arguably, the best way to see the Everglades National Park is by going a airboat tour. This is because 50+% of the Everglades is covered by water and only accessible by the airboat tours. If you also want to explore the Everglades by foot, see our guide to the 15 Best Hiking Trails in the Everglades.
The other big tip we would have for you is to see the Everglades by hiring your own car and DIY.
By hiring your own car, you reduce the expense of transportation on tours and you have the flexibility to see more of the cool things that the Everglades has to offer.
Before we get to which airboat tours you should select let's first briefly discuss the cool other activities you might like to do in the Everglades National Park.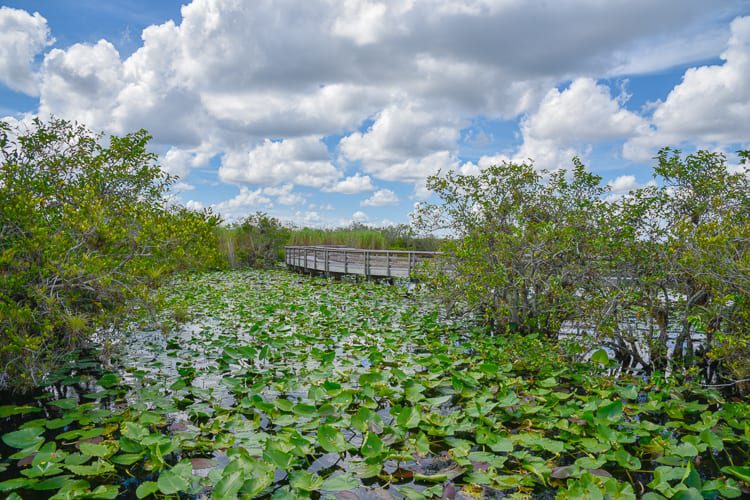 How long is the Everglades Tour + What happens?
Most tours last for 30-40 minutes which is a perfect amount of time to stay entertained on the water without getting bored. The best airboat tour of the Everglades should go for this amount as it is the perfect time for you not to feel bored.
During this time, a guide will give you lots of information about the Everglades. This is one of the big reasons I would recommend a tour. Our tour guide was fun and informative and told us lots of fun facts!
While spotting a Florida alligator is never guaranteed (they are wild animals after-all), an airboat tour gives you the absolute best chance of seeing one pretty much anywhere in the Everglades.
We saw several alligators on our tour and our guide informed us that it is very rare not to see an alligator on a tour. Aside from alligators you can see several birds and fish on the tour.
Personally, I don't think it was actually the wildlife I ended up to be the most impressed with but the absolutely stunning scenery everywhere you look!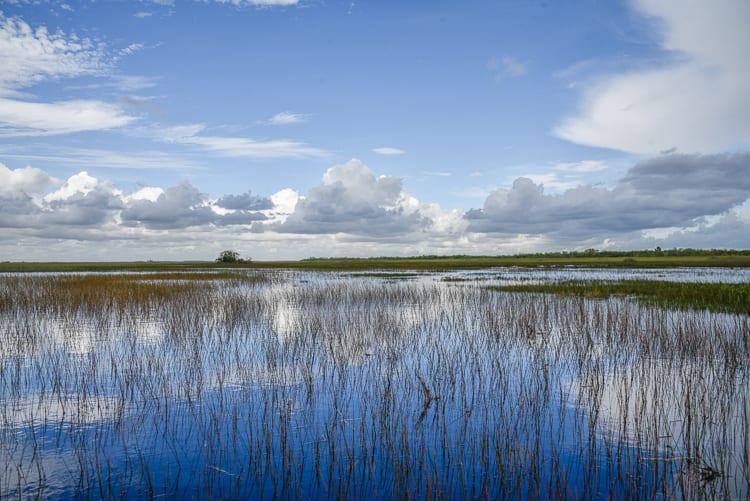 Do you get wet on an airboat?
It is highly likely you will get a little wet on the airboat ride so be prepared for that. It is unlikely that you will get completely drenched.
If you do not want to get wet, we would recommend sitting middle & centre.
Are airboat tours safe? Any deaths?
I thought the exactly same question before our airboat tour and looked straight online.
Airboat tours are generally safe and we felt in nothing but safe hands during our entire tour.
There are some reports that say that airboats are still a risky way to explore the Everglades due to the slim possibility that the airboat overturns and throws passengers into the water.
To give you some idea of your risk levels, as of 2018, there were 75 accidents, 100 injuries and 7 deaths associated with airboats.
While this does seem like a large number, if you compare the stats to car accidents, you will find that the risk is quite slim.
In the unlikely event that you do fall in, an alligator is unlikely to kill you. Unlike the Australian crocodile, they are not that aggressive. Don't too close though and test that theory!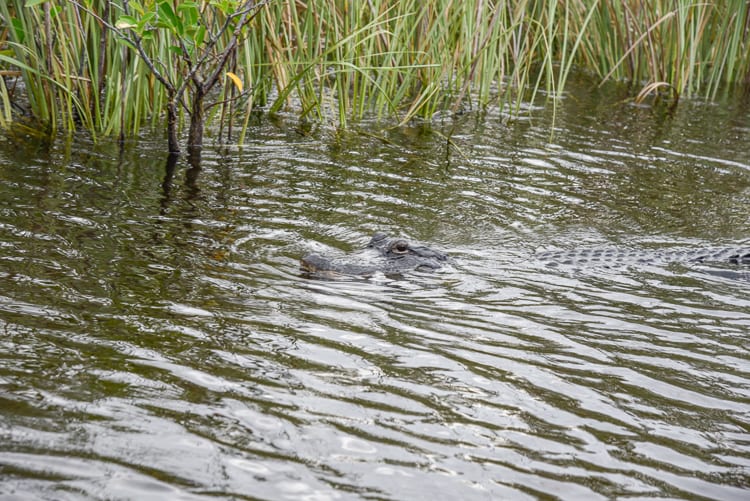 How much is an Airboat ride in the Everglades? (+ any extra fees)
A airboat tour without transport from a major city in Florida will cost you around $30 pp (give or take a few dollars depending on the company).
Once you present your prepaid Everglades ride you are required to pay a $3 national park fee.
To explore more of the Everglades National Park you will need a National Park pass which costs $30 per car valid for 7 days. The $3 you spend on the airboat tour will be deducted from the National Park fee.
Your tour guide will also expect a tip at the end of the tour. The guides will inform you that airboat operators make their wage primarily of the tips they receive.
What do you wear on an Everglades Airboat Tour?
The Everglades is an insanely hot destination year round. For this reason we would highly recommend wearing covered clothes on the tour to avoid sun damage.
Don't wear hats, sunglasses or anything likely to fly away as 1. it is very windy and 2. you will not likely be able to retrieve it.
Best Everglades Tours if you have your own car: Best Airboat Tour Everglades City
As we mentioned above, if you have more than a day, we would highly recommend hiring a car to explore the Everglades. If you take this option, you will not need to pay extra for transport from a major city in Florida.
Everglades City is arguably the best place for airboat rides in the Everglades.
The best airboat tour in the Everglades that we would recommend if you have your own car include: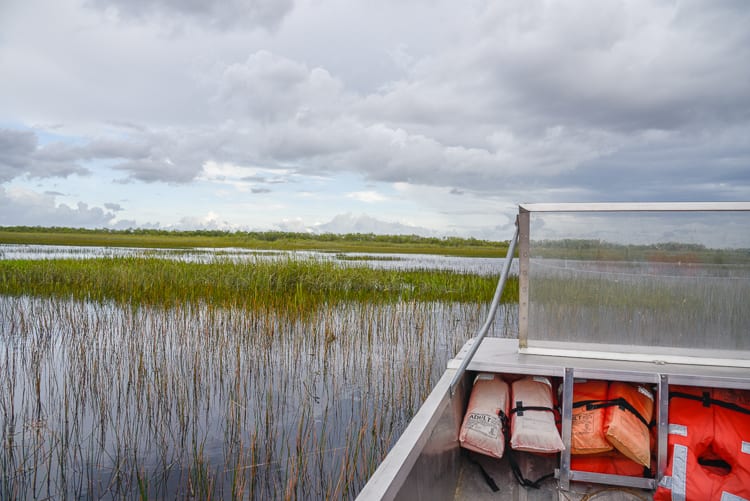 Best Everglades Tours in Florida with Transportation Included: From Miami, Orlando etc
If you only have a day to dedicate to the Everglades and you just want to make life easy for yourself by not hiring a car, there are plenty of great Everglades Tours from major cities in Florida.
If you want to get a reasonably priced airboat tour with transport it is best to select a city not too far from the Everglades – Miami or Fort Lauderdale are good options. They also happen to usually be the cheapest place to get a flight into Florida.
Here are the best everglades airboat tours with transport included:
Best Everglades Airboat Tour Near Naples
If you are starting from Naples in Florida, there are some fabulous and very unique tours of the Everglades you can do including:
Best Swamp Tours in Florida
While the Everglades is not exactly a 'swamp' it is many people's first impression. Here are the best swap tours of the Everglades in Florida including a night 'swamp' tour.
Best Airboat Tour Everglades so you can see more of Florida
If you are low on time in Florida, we would highly recommend selecting a tour that included an additional fun activity in Florida.
One of our absolute highlights of being in Florida was getting to swim with manatees so if you don't have time to do this on another day, we would 100% recommend combining this with your airboat tour.
The Kennedy Space Centre is another really cool activity to schedule in for a Florida vacation. If you are a geek at heart, you will LOVE this. This might actually be Mike's favorite thing we did in Florida.
The best airboats tours that you get to see more of Florida include:
Best Alligator Airboat Tour Everglades?
If you are looking for the best alligator tour in the Everglades, we don't have much advice for you there. As Alligators as wild animals no tour is any better than the other in this regard.
We would however, recommend checking out the reviews of the tours as sometimes the individual guides have a knack of knowing where the alligators hang out. IMO, all good Everglades airboat tour operators should be trained in this regard to give you the best chance possible of spotting them on the tour.
Our thoughts on Everglades Airboat Tours: Our 1 Regret
If you can't tell already, we highly recommend taking an airboat tour of the Everglades.
We have experienced the Everglades both ways now – by foot and also by an Everglades Tour and I think the tour has the slight upper hand if you can only pick one as you get to see the true beauty of the Everglades which is hard to see on land.
At the end of many of the airboat tours, the operators give you the chance to hold a baby alligator. We loved this at the time.
He or She was soooo cute and their skin was incredibly soft however, in hindsight we probably wouldn't man-handle a baby alligator again as keeping animals in captivity and allowing them to be held by the public makes their transition into the wild very difficult.
***
So will you be taking an airboat tour in the Everglades or do you prefer to explore this National Park on foot?
****
More Florida posts: