Looking for free things to do in Key West?
Key West is the town in the Florida Keys home to the weird and wacky. It is also the best known place to visit in the Florida Keys so if you are making the trip to the Keys, I'm sure Key West will be on your itinerary.
The Florida Keys are a beautiful but notoriously expensive place to holiday. Accommodation will cost you $150 USD upwards in Key West for basic lodging. Food and activities are also costly.
While on a very expensive holiday it is nice to break up the expensive with a few free activities. Luckily, Key West has many of these. If you are in the planning stage of your Key West holiday, make sure you add some of these awesome Key West free attractions into your itinerary.
Key West was the final stop on our Miami to Key West road trip. If you are headed back to Miami after your stay, you might want to check out our post to final some good spots along the way!
Keep reading for the best free Key West attractions:
16 Free Things to do in Key West You Must Do!
1. Experience the sunset celebration at Mallory Square Key West Year Round
Seeing as I mentioned weird and wacky, let's kick off the list with the weirdest and wackiest thing to do in Key West – enjoy an epic sunset at Mallory Square.
Mallory Square is well known in Key West for its incredible sunset celebration. Street performers, buskers and all the weird and wacky people live in Key West come to entertain you as you watch an amazing sunset.
While we were there we saw long john silver swallow his sword – what a sight. If you are a people watcher, this is an activity for you.
If is free to enter and watch the festivities but parking is very expensive ($4 an hour). It pays to book a hotel close to Mallory Square so you can walk to the sunset festivities. This hotel is in the PERFECT location for Mallory Square festivities.
Don't miss Mallory Square sunset it is definitely the best Key West sunset.
See more: Hidden gems in Key West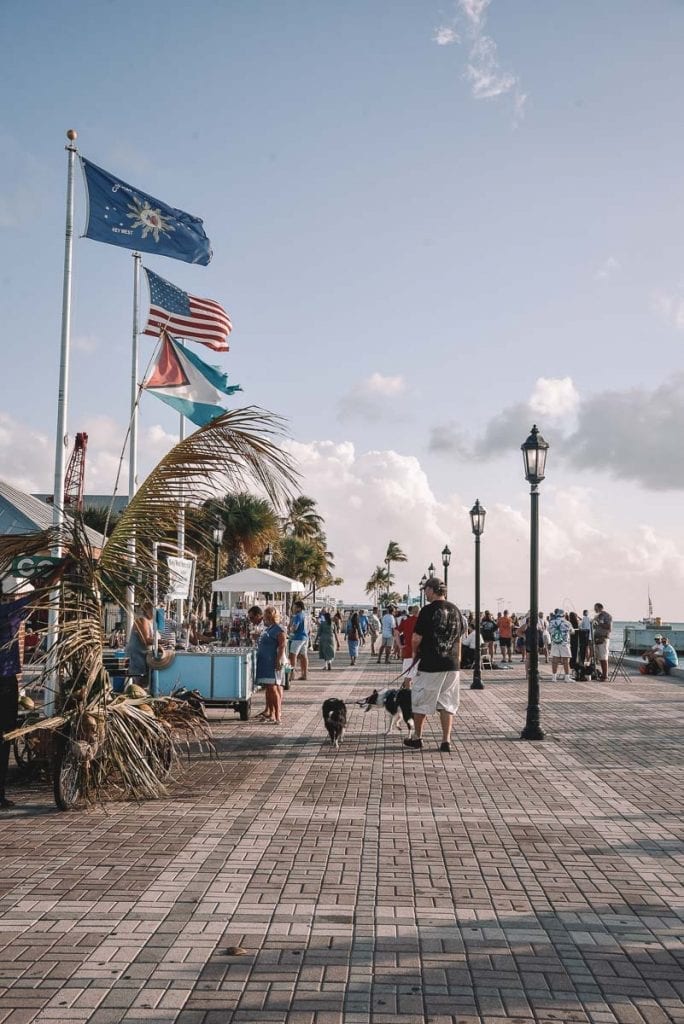 2. Dog Beach
If you have a furry friend on vacation with you, there is no better place to visit in Key West than Dog Beach – one of Key West's best beaches!
Your furry friend will thank you for this cute little strip of beach where they can play in the water and run around unleashed.
Next door there is also something for you: Louie's Backyard – a great place for a cold drink or bite to eat. The dog beach is free. Louie's Backyard costs extra.
There is an alternative dog beach and dog park at Higgs beach.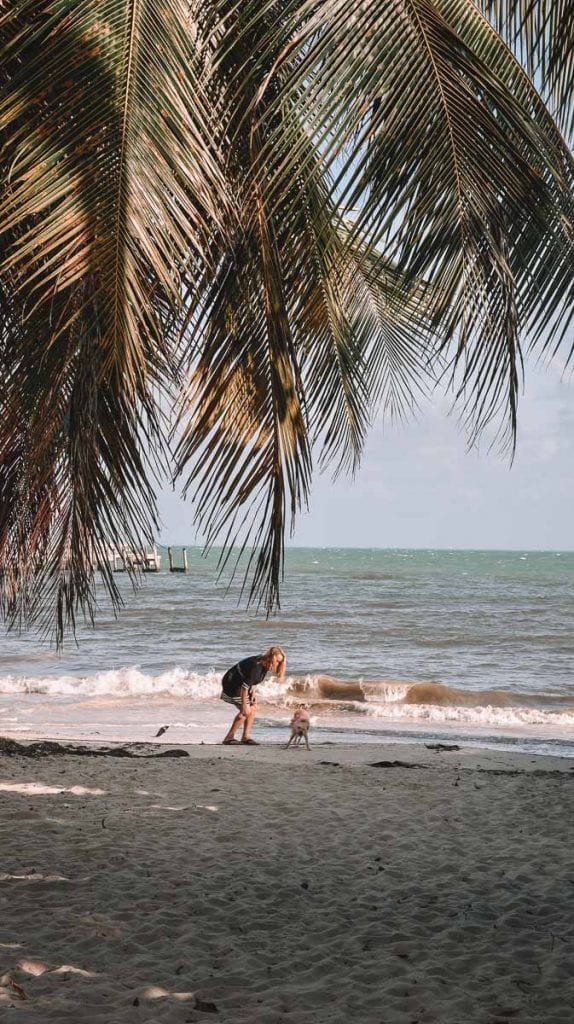 3. Go marine watching at Florida Keys Eco Discovery Centre
For an expensive place we were surprised to discover the Florida Keys Eco Discovery Centre was completely free.
At the Key West Eco Discovery Centre you will find a mini aquarium with tropical fish from the keys available for viewing.
If you haven't had much luck snorkeling in the keys this is your chance to see amazing tropical fish up close and personal.The centre is also great for kids as it provides a lot of interactive, information about the marine life in the Keys.
There are short short informational videos on a half hourly basis until 3.30pm (last viewing). There is free parking available at the centre so there is really no excuse not to visit this awesome centre.
In my opinion it is one of the best hidden gems in Key West, especially if you are visiting on a budget.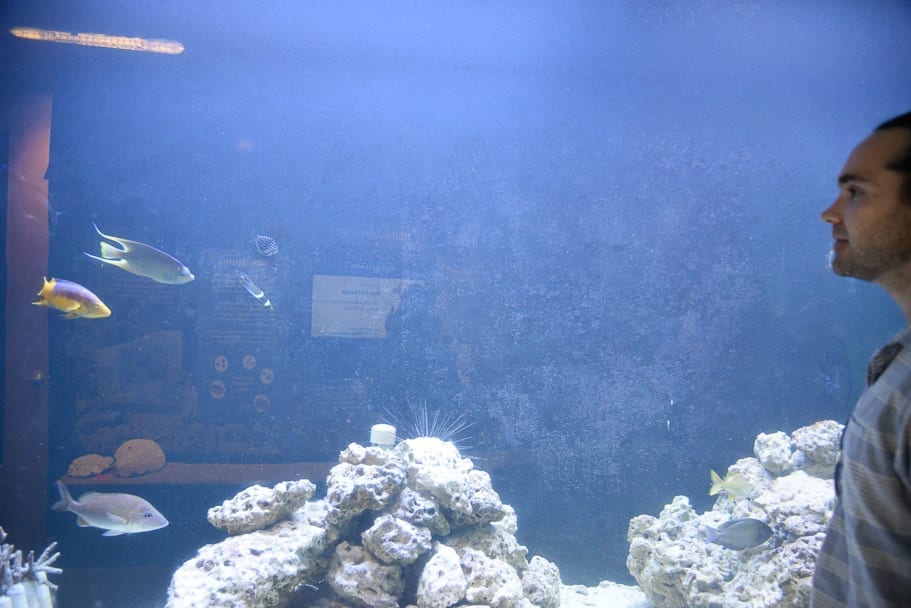 4. Take a picture at the Southernmost Point of the Continental US
If you have made it to Key West, congratulations, you have made it to the Southernmost point of the United States.
Get a photo with this buoy and be the envy of your mainland friends.
Be prepared to line up if you would like a picture posing with the Southernmost point marker you will have to get in line as so does everyone else.
On the plus side, this photo op won't cost you a cent!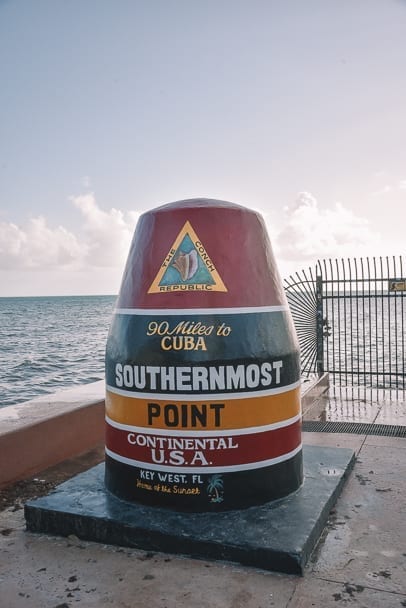 5. South Beach
Nearby the Southernmost point is South Beach. No not South Beach in Miami but South Beach in Key West.
This fantastic beach in Key West is completely free to access.
Talking about photo opportunities, another great photo opportunity is the giant chair that sits on South Beach. We loved South Beach as not only is it a gorgeous beach but there are a lot of restaurants and cafes in close proximity to the beach selling very yummy frozen drinks.
Whether you want to sun bake, swim in the shallow water or just relax, this is one of our favourite free activities in Key West.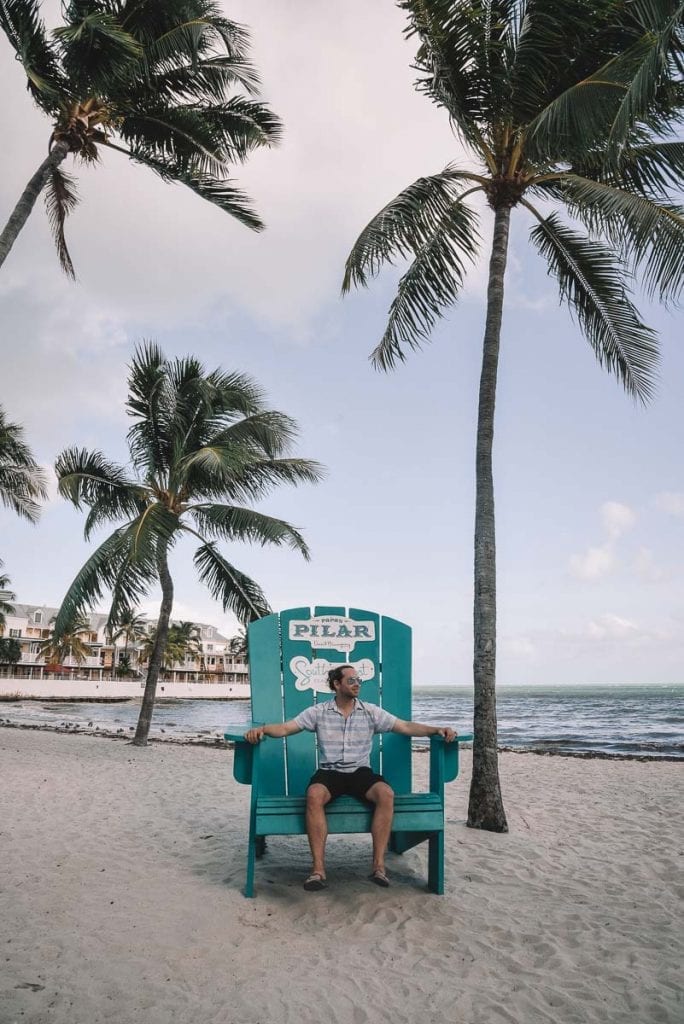 6. Smathers Beach
Possibly the most popular beach in Key West is Smathers Beach.
Smathers Beach is a great place for swimming in Key West as it is a rare sand beach in the Keys.
Like the other beaches in the area, there are plenty of facilities including food and drink stands, places to hire deck chairs, kayaks and rafts available for hire at the beach. While the beach is free there is no free parking in the area.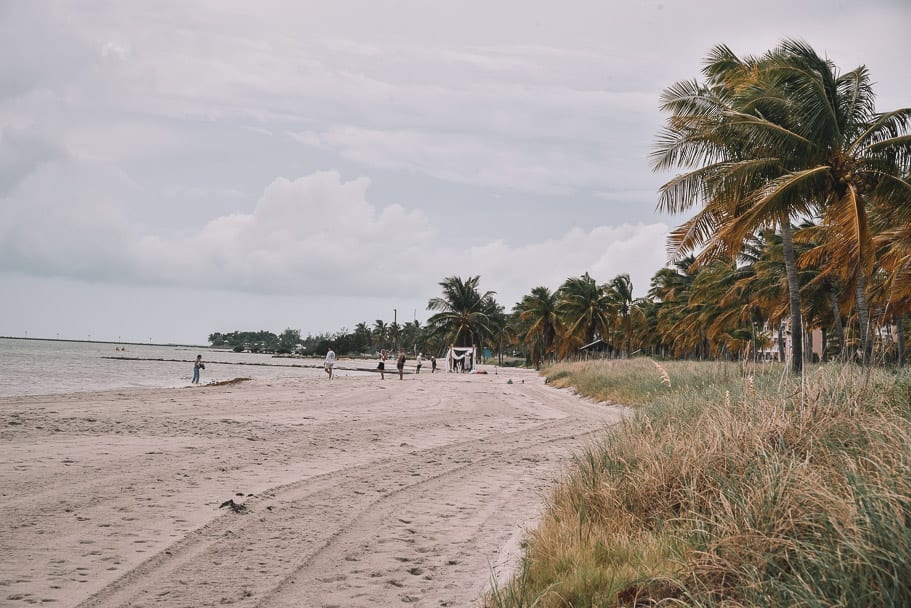 7. Visit Key West Wildlife Center
We really enjoy seeing wildlife so we thoroughly enjoyed our visit to the Key West Wildlife Center
Basically this Key West Wildlife Center homes and rehabilitates injured, orphaned and sick animals in the Florida Keys.
Once they are better they release them back into the wild except for the chickens (who are foreign) and they relocate to the mainland once they are better. The centre mostly houses birds and turtles. At the centre we saw seagulls, pelicans among other birds and a pond full of turtles.
There is also a fantastic garden loop that we thoroughly enjoyed walking.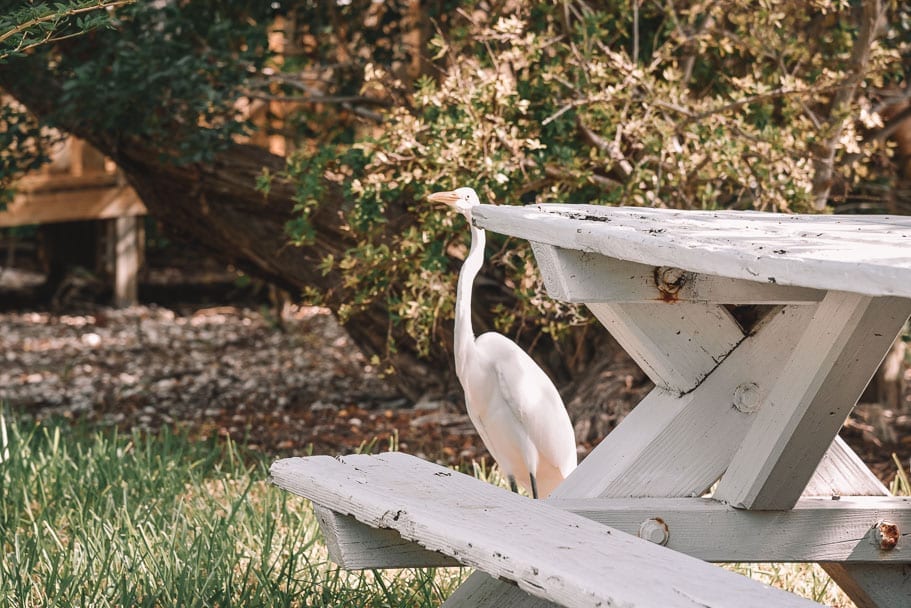 8. Visit the Key West Cemetery
Do you love all things spooky and historic Key West? Then take a trip to the Key West Cemetery.
Interestingly the Cemetery 'homes' 100,000 of the island's former residents so it is a very large cemetery. This number is 3 times the current population of Key West. If you are interested in African American history this cemetery provides a monument to the African slaves who died on slave voyages to the USA.
Upon entrance, the staff will provide you will historical information including a self-guided walking tour brochure.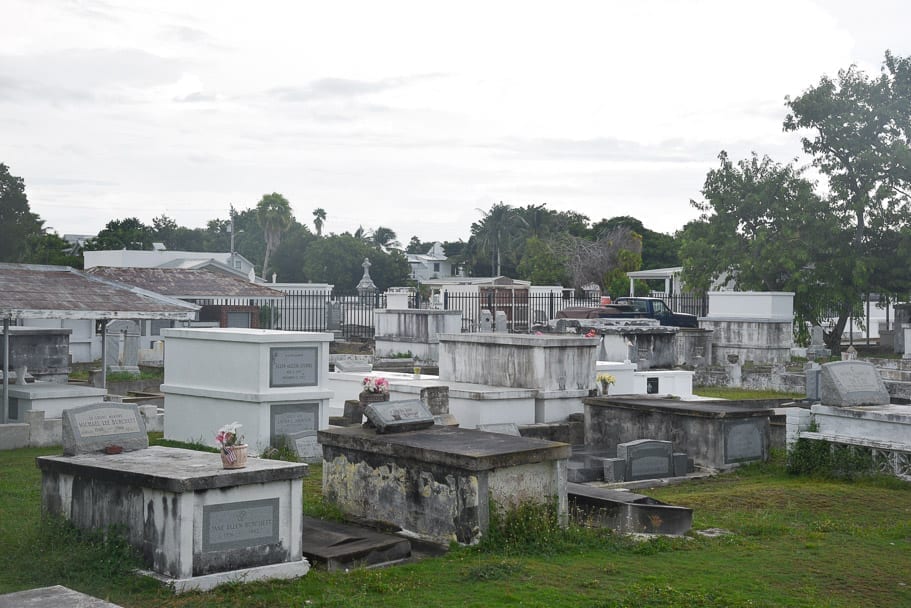 9. Take a tour through the Oldest House in Key West
The Oldest House in Key West has now been made into a museum which showcases how the first residents of Key West lived.
It was made in 1829 by Richard Cussans who immigrated from the Bahamas. It is free for anyone to go on self-guided tours between 10:00am and 4:00pm. Note the museum is closed Wednesday and Sunday.
Note: If you love museum you may also like to check out the US coast guard cutter Key West.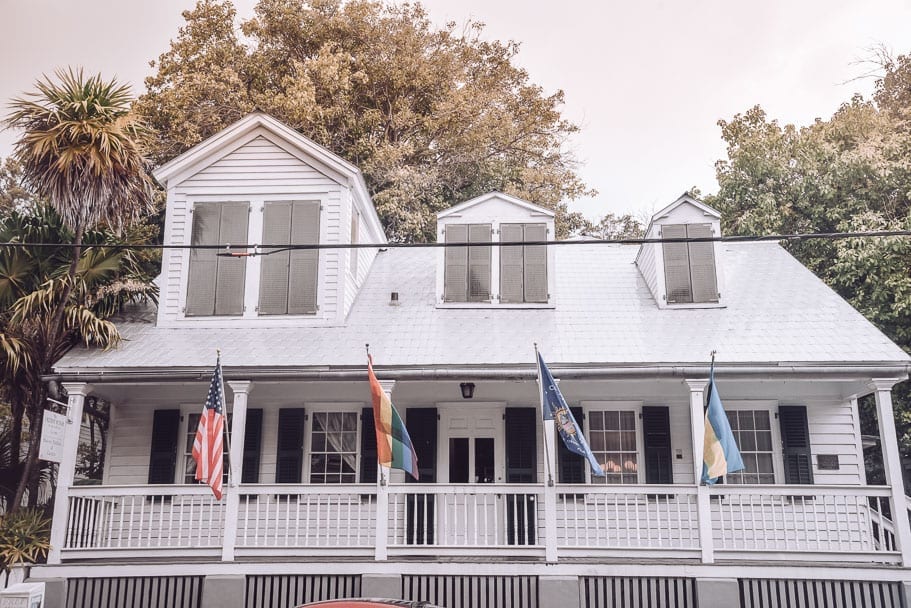 10. Relax on Higgs Beach
Higgs Beach was our favourite beach in Key West. Okay, it didn't quite live up to our all time favourite beaches in the keys in Bahia Honda State Park but it is still really nice.
We loved that Higgs Beach had palm trees lining the powdery white sand. Had me singing Beach Boys songs.
Higgs Beach really has something for everyone. We saw young girls tanning at the beach, people were walking their dogs and others were snorkeling at the beach. Stingrays are commonly spotted at the beach.
The beach is completely free to access and has great parking available.
You can read more about it on our free beach guide to Key West.
Another great beach you can access from Key West is Dry Tortugas National Park but it is an expensive outing. It costs around 180 USD pp to access Dry Tortugas National Park.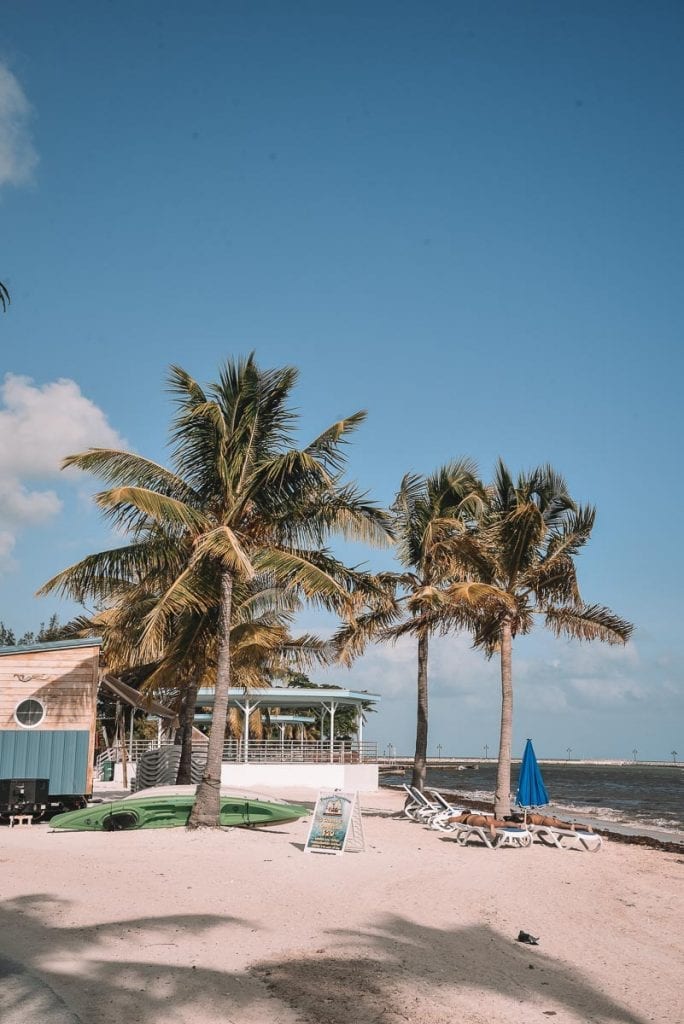 11. West Martello Tower
While you are visiting Higgs Beach schedule Martello Tower into your itinerary. The tower is literally a hop, skip and a jump away from Higgs Beach.
If you are a history lover, definitely put this on your list of things to do in Key West as there is lots of history on the civil war.
West Martello Tower is a National Historic Site. It is one of 3 fortifications that were designed to protect the Atlantic and Gulf Coasts.
No battles were fought on the site but many deaths happened nonetheless due to yellow fever.
Nowadays you can walk through what remains of the fort. Beautiful gardens have grown among the fort remains. The gardens are so beautiful they are the home of the Key West garden club.
Highly recommended for a short visit. It is rather surprising this historic site is free.
If you are interested in West Martello Tower you might like to also check out the Fort Zachary Taylor historic State Park.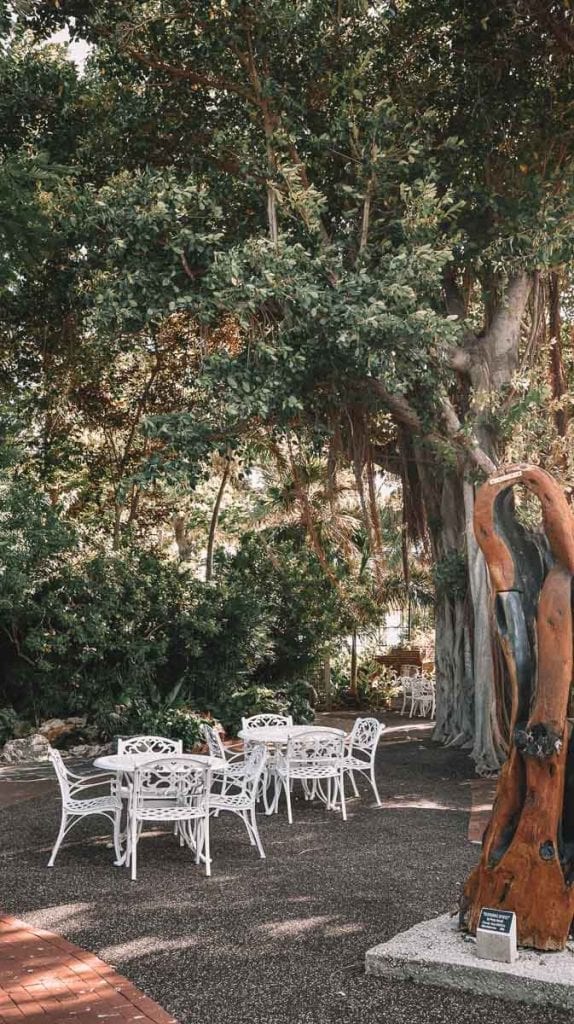 12. Visit Rest Beach for Sunrise
This beach may not look like much but it is known for its amazing sunrises in the keys.
It is located just a few metres from Higgs Beach so it is worth checking out during the day even if you are not a morning person.
If you can drag yourself up in the morning you will be greeted with an epic sunrise over the Atlantic Ocean due to its position in Key West.
We aren't morning people so we checked it out during the day and it was still nice although a little on the windy side!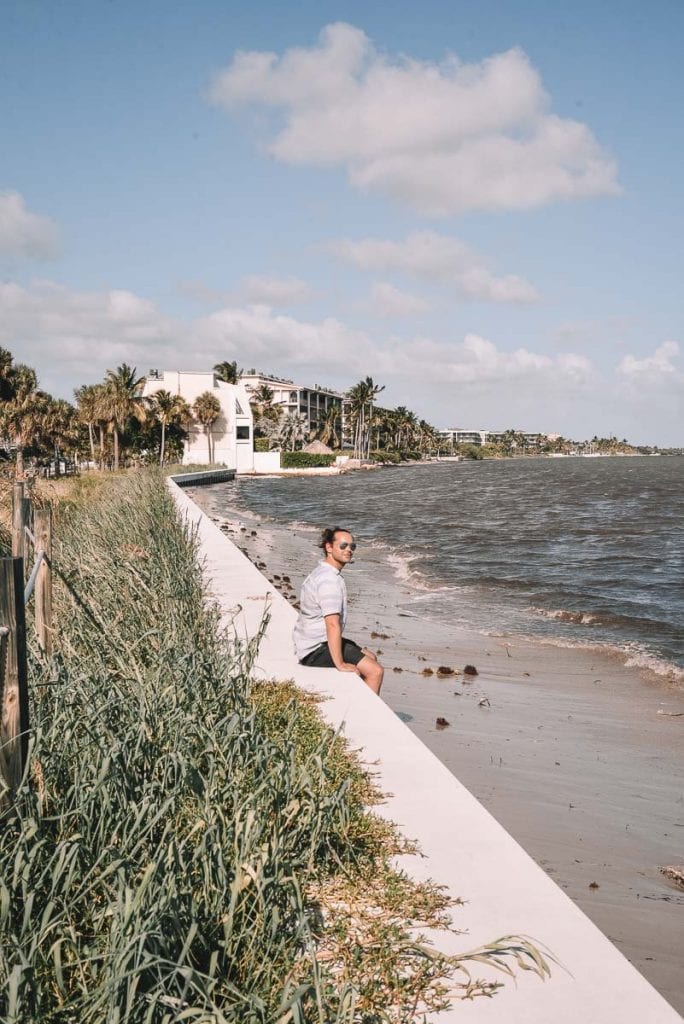 13. Take a Legal Rum Distillery Tour
The First Legal Rum Distillery is Key West First Legal Rum Distillery.
It provides flavours very unique to the Key West area including Florida sugar cane, vanilla creme brûlée and Key lime.
The Distillery offers free tours demonstrating how to create the perfect rum. The best part is the free tastings at the end of the tour!
Another popular freebee that First Legal Rum Distillery hosts is free mojito classes. These free classes are popular with visitors as it showcases how to make the perfect mojito, Cuban style!
14. Get a picture with the Mile 0 Marker
Key West is where it all begins with the 0 Mile Marker.
Like the Southern most point, there is a must do iconic picture to take while you are in Key West. There is not usually a long line at the mile 0 marker either.
If you are looking for stuff to do in key west, this always a fun idea.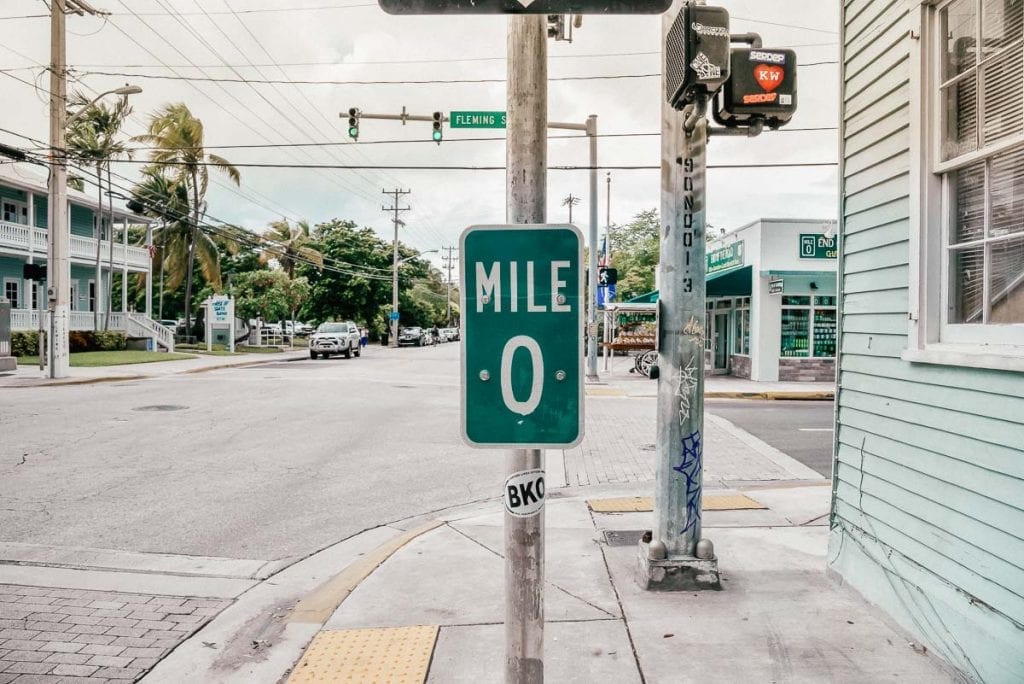 15. Go for a Walk on Duval Street Key West
Duval Street is the most iconic street in Key West so it is definitely worth going for a wander down the street.
It is free to wander but not to drink. Of course, Key West is a party town and one of the most iconic things to do is to bar hop Duval Street. Many people come to Key West just to party.
If you are into the scene put these iconic Key West bars into your bar hopping list:
Sloppy Joes – The Most famous bar in Key West and also Ernest Hemingway's favourite.
Schooner Wharf – One of the most popular bars in the area
Aqua, La Te Da, Bourbon St. Bar – Best places for a drag show (huge in Key West). Don't knock it until you have met someone who does Drag in real life. We are pretty straight laced people but we love drag.
16. Admire the Key West Architecture
If you love all these pretty and pretty buildings you will just LOVE Key West.
This was one of the prettiest cities we have ever been in terms of gorgeous architecture.
The houses are just too cute. I want to move in – who's with me?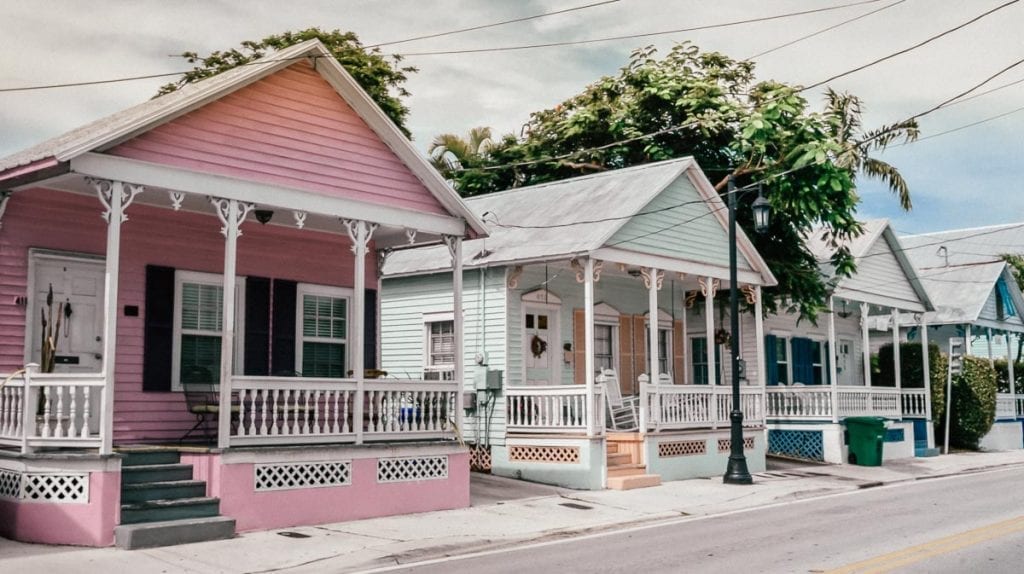 Map of What you should do in key west
Save this map of the best free things to do to your phone and use it to see all the best sights in 1 day.
You can also check out our Florida Keys map.
Other Must-Do Paid Activities in Key West
Ernest Hemingway House
The number 1 attraction in Key West and the most iconic thing to do in Key West is to take a visit to the Ernest Hemingway house, one of America's most respected authors.
Ernest Hemingway lived in Key West from 1931 to 1939. Tourists come from all over the world to visit the house in which he lived including touring the rooms and gardens.
The house is super easy to access as it is located within the very heart of Key West.
A visit to the Hemingway house is one for history buffs as it gives a nice overview of the history of Key West.
There is also something a little quirky about the Hemingway house. There are over 40 cats that live at the house. In Key West style, they are a little strange and some have six toes due to a polydactyl gene in their DNA
These cats are descendants of Ernest Hemingway white six-toed cat called Snow White which he was given by a ship's captain.
Ernest named his cats after famous people so the Hemingway house follow that same tradition. The house is almost like a mini cat cafe!
It costs $14 USD to tour Hemingway house.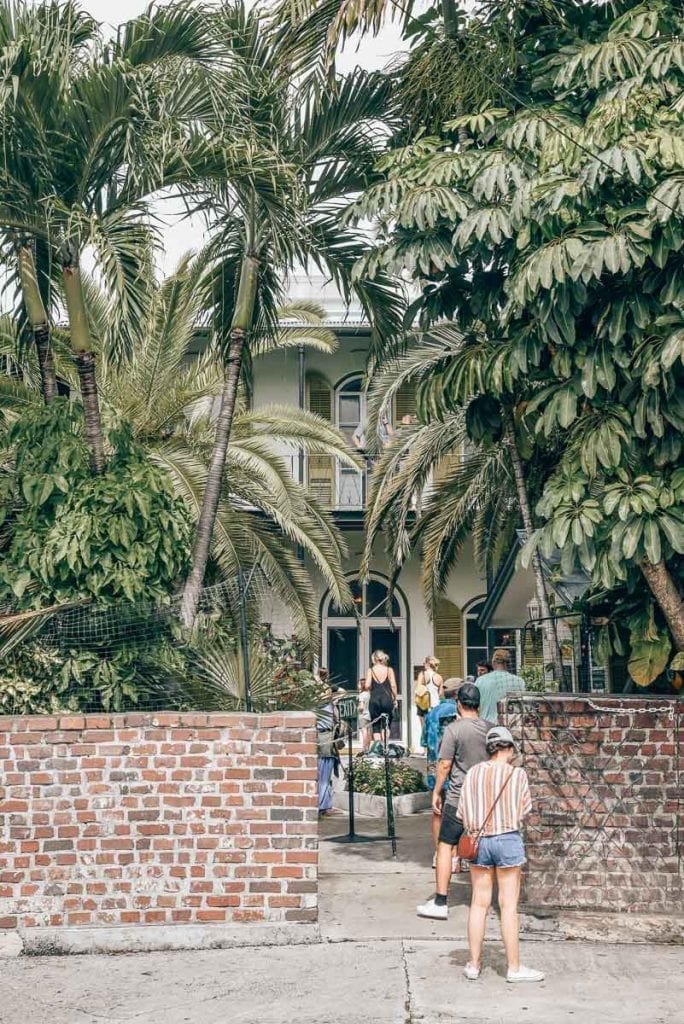 Key West Lighthouse
What is there to do in Key West in January? The lighthouse would be a good pick. Definetely a must see in key west.
If you would like a stunning view of Key West, you must visit the Key West Lighthouse.
If you are planning to visit the Hemingway House the Key West Lighthouse is an easy addition to your day as it is right across the street.
It costs $10 USD to climb the Key West Lighthouse.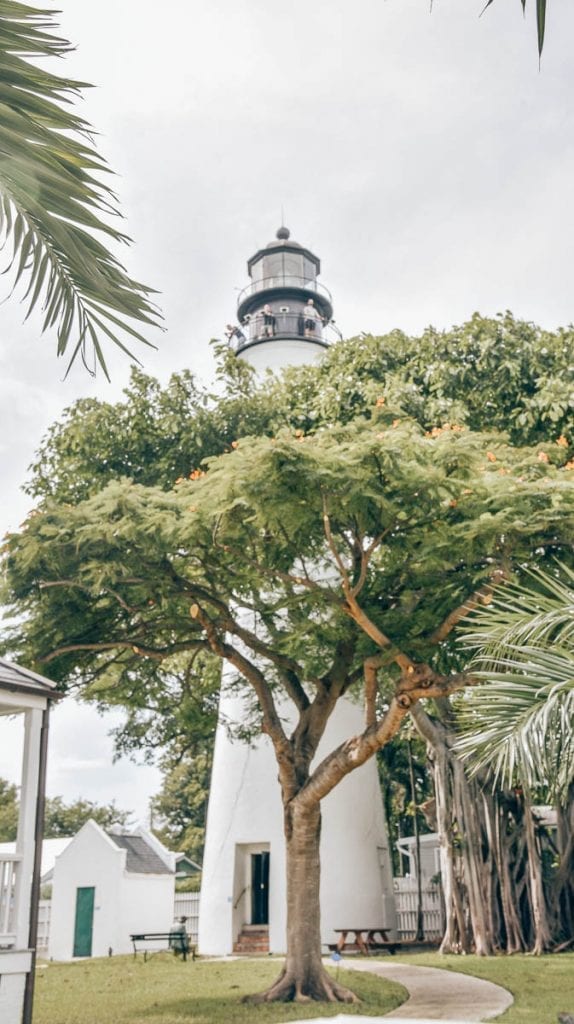 Key West Butterfly and Nature Conservatory
For those who love nature make sure you make a visit to the Key West Butterfly and Nature Conservatory.
The Butterfly Conservatory includes a greenhouse with stunning tropical plants, butterflies and birds. There is even a few resident flamingos which makes the visit extra fun, especially if you have not seen a flamingo before.
It costs $12 USD to enter the Butterfly House in Key West.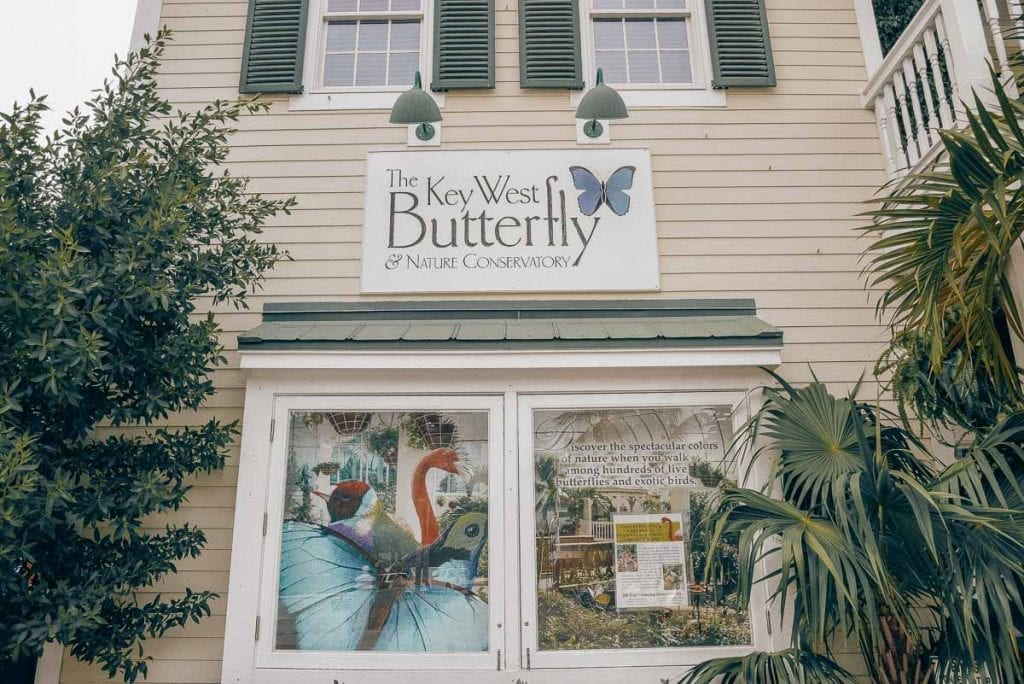 Harry S. Truman Little White House
Another must do stop for history lovers out there is the Harry S. Truman Little White House.
If you are not from the US (of even if you are) this a great place to learn more about US history.
Former president Harry S. Truman used this cute little building as the winter White House in 1946. Since then other presidents have made use of it too for one purpose or another including Kennedy and Clinton.
It costs $19 USD to enter the Harry S. Truman Little White House.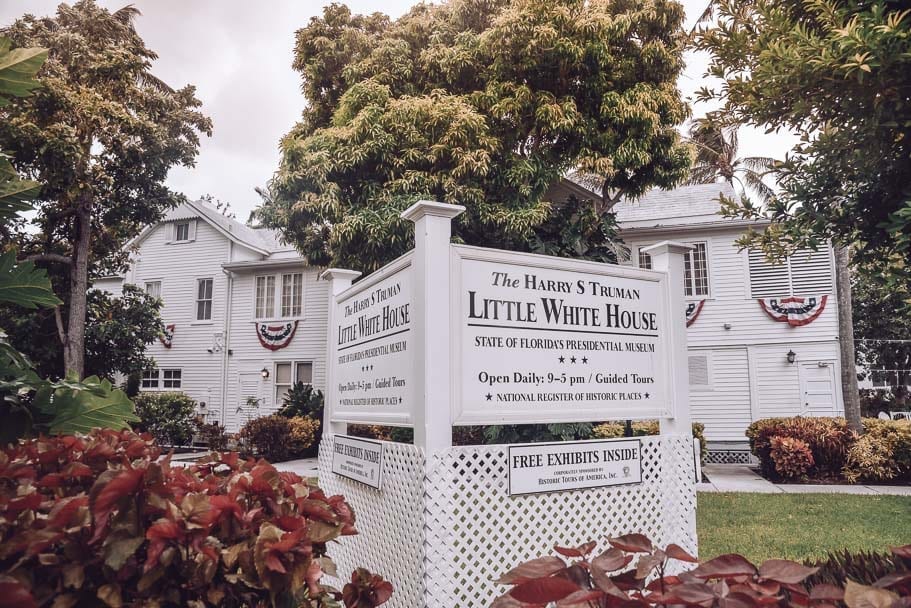 How to get around?
We drove to Key West. Parking was *mostly* okay but was a little more difficult directly in town.
If you can find a centrally located hotel (see below for our recommendations) we would recommend parking your car and taking the free duval bus around.
The bus is free and runs every 15 minutes, 10am to midnight.
You can find more information and the bus stops here.
Where to stay in Key West?
The Florida Keys is an expensive place to travel. We would recommend including some free activities in your trip to keep your costs down. There are lots of really great beachfront hotels in Key West which are worth splashing out on.
Here are the hotels we would recommend staying in Key West depending on your budget:
If you are on a couples trip, like us, you might like to check out our favorite romantic hotels in Key West.
We wouldn't really recommend camping in Key West as it is $100 USD +. It is more worthwhile to pay for a hotel in Key West. Key West is a place you come for a bit of luxury, not to camp.
If you would like to camp, the best worthwhile campground is 1 hour away in Bahia Honda State Park campground.
What to eat in Key West?
Key West is a bit of a foodie paradise it has some great places to eat in Key West.
If you haven't tried Key Lime pie yet, you need to while in Key West. The best place for Key Lime Pie in Key West is Old Town Bakery.
The best rated restaurants in the area (which you might like to check out) include:
Blue Heaven
The Stoned Crab
Prime Steakhouse
Cuban Coffee Queen
Latitudes
Santiago's Bodega
Better Than Sex – A Dessert Restaurant
See more FL Keys fun: