Looking for the best places to go camping in the Florida keys?
The Florida Keys are a group of islands off the southern end of the state of Florida! They string together and provide some of the most beautiful sunsets in the world. This area is world famous for diving and snorkeling as well. There is plenty to see and do in the Florida Keys and camping is a great option there as well! Whether you prefer tent camping or RV camping in the florida keys, there are plenty of options for both!
So here are 20 of the best Florida Keys campgrounds, listed by area so you can use our Miami to Key West road trip and also use this guide as to where to stay as you travel along.
20 Best Places to go Camping in the Florida Keys
Key Largo
Key Largo Kampground
This spacious campground offers RV and tent rentals. Ranging from $75/night for tent rentals, up to $130/night for RV sites, there are also weekly rates available. There is an option for electric hook up at some of the tent camping sites. Security is provided around the clock, and there is a wide variety of other amenities.
The family friendly atmosphere at Kay Largo Kampground offers a playground, kiddie pool, and clubhouse with many activities that everyone can enjoy! You'll have access to the beach and the pool, as well as a general store and laundry access.
Just a quick walk of about one block and you can visit many specialty shops and a grocery store. Key Largo is known for diving, and there are many options for that nearby Kay Largo Kampground. One of the best places for tent camping in the Florida Keys.
One of the best places for beach camping in Florida.
Blue Fin Rock Harbor Marina and RV Resort
If you are looking for an oceanfront RV hookup, Blue Fin Rock Harbor Marina and RV Resort may be a great option! All sites include water, electricity and sewage. All motorhomes and 5th wheels are welcome and can be accommodated up to 40 feet.
There are also semi-ocean front sites and inland sites to choose from. Located in Key Largo, there are some local Key Largo restaurants a short walking distance from the resort. Don't forget to check out the local diving spots, as this area is known for that! There is plenty of fishing, diving, and snorkeling options. You can charter a boat and spend the day catching a variety of different types of fish in the Gulf of Mexico!
Key Palms Luxury RV Park
Perched on the edge of Florida Bay, Key Palms Luxury RV Park is located in the heart of Key Largo. Kay Palms Luxury RV Park offer the options for RVs to pull in, pull through, or back up. These waterfront sites offer beautiful views of the incredible sunsets. Key Palms provides all the amenities you may need: water, electricity and sewage.
There is even a heated pool and a fitness center, clubhouse, wifi, and dog park. Each site is complete with a private balcony area. Security is a priority at Key Palms as well. There is a security gate and security cameras throughout the park. Near the Everglades National Park and with tons of options for diving and snorkeling, Key Palms offers all the comforts of home!
You can also plan for some fun watersports while in the area. Jet skis, charter boats, deep sea fishing and parasailing are all fun water activities to explore. You can also sight see, hike, or go bicycling! There is truly something for everyone at Key Palms Luxury RV Park.
Kings Kamp RV Park and Marina
Just past mile marker 103 in Key Largo, sits Kings Kamp RV Park and Marina.Close to the Crocodile Lake National Refuge, Kings Kamp offers tent sites, RV sites, and even motel lodging! RV sites can accommodate RVs up to 40 feet and offer electric, cable and wifi.
Pets are allowed, but check the rules, as restrictions do apply. Daily winter rates start at $105 and go up to $135, depending on which type of lot.
They also offer weekly and monthly rates as well. Daily summer rates start at $93 and range up to $120. Tent site rates start at $60/daily. There are tons of options for fishing, diving, snorkeling, and kayaking nearby Kings Kamp RV Park and Marina. One of the best places to go camping in the keys.
Calusa Campground
Established in Key Largo, Calusa Campground offers a variety of rentals. With two canals and on the Florida Bay and Buttonsound Bay, there are many waterfront sites available. Laundry sites are available onsite, as well as restrooms.
There is a boat ramp and public dock area. Calusa Campground offers boat storage as well. Family friendly, Calusa Campground offers a playground, basketball and tennis courts. There is also a rec hall and a pool.
Pelican Cay RV Park
This family owned RV park is located in Key Largo. While there is no tent camping or pets allowed, Pelican Cay does offer some special things for guests! Electric, sewer and water hookups are at each site. The marina has plenty of room for you to dock your boats. Rates can be obtained by calling the friendly office staff at Pelican Cay!
Islamorada/ Long Key State Park
Fiesta Key RV Resort
If you are looking for good Florida keys camping, this is a top choice!
Near mile marker 70, not far from Long Key State Park, you can find the Fiesta Key RV Resort. There is a resort onsite that offers rooms for rent, but they also have RV hook ups. Wifi is available for an additional fee, but free amenities include wifi hotspots throughout the resort, a boat ramp, pool, and fishing.
There is a restaurant onsite at Fiesta Key RV Resort as well. While there is no cable service offered, Fiesta Key is working to get it soon! While Fiesta Key is pet friendly, certain rules apply and fees apply if staying in the resort. You can stay long term or short term. One unique and special thing about Fiesta Key is that it is situated on its own island!
As you can imagine, this offers incredible views and breathtaking sunsets. You never have to journey outside the resort unless you want to explore! There is a restaurant and beach bar onsite as well.
Jolly Roger RV Resort
While they no longer offer tent camping, the Jolly Roger RV Resort has a wealth of other options. There are over 100 hookups for RVs and can accommodate up to 40 feet. Water and electricity is included in the campsite. Most spots are interior, but there are a few waterfront options as well.
Located in the Marathon area, in the middle keys, there is plenty to see and do nearby! There are several parks and golf courses near the resort, as well as plenty of local eateries. While at the resort, you can enjoy the pool, free wifi and cable, a boat ramp and a gift shop!
Jolly Roger RV Resort offers a fenced in dog park for guests with pets in tow. You can enjoy a secluded harbor, complete with boat docks. There are even swimming and snorkeling options at the resort. This resort offers all that you need without ever having to leave! One of the best Florida Keys campgrounds.
Grassy Key RV Park and Marina
Situated on the Gulf of Mexico, Grassy Key RV Park and Maria offer several options for you to choose from for your next trip to the Florida Keys near Marathon.
There are deluxe waterfront lots, waterfront, deluxe, premium, standard plus, and standard. The rates offered at Grassy Key RV Park and Marina are daily, weekly, monthly, and even every six months. Daily rates begin at $80 in the off season and $124 in the peak season.
You can check the rates for the length of your trip and the season to find the best deal available. There is a private beach area, fish clean station, pool, laundry area and clubhouse on site. You can check out the turtle hospital, Dolphin Research Center and other local restaurants and shopping nearby. They even have docks for you to bring your own boat.
Coconut Cay RV Resort and Marina
Coconut Cay RV Resort and Marina is fairly new and can be found between Key West and Key Largo. You can enjoy the private beach and see some of the most beautiful sunsets around!
There are 25 pull in sites complete with water, sewage, and electricity. Boat slips are available for those who need them. There is a bathhouse, pet walk, and boat launch as well. You can kayak or fish in this beautiful getaway. Don't forget to set aside some time to explore outside the resort. The Turtle Hospital and Dolphin Research Center are nearby attractions you may want to check out!
Marathon Marina Resort
Small and charming, the Marathon Marina Resort offers some amazing views on the waterfront! Each site offers full hooks up and individual patios. Picnic tables are at each site!
The pool, restaurant and marina are all closeby! There are many boat dock slips but only a few RV sites, so be sure to book in advance to secure your spot. Laundry, the fitness center, and the bathhouse are all conveniently located near the RV resort.
Big Pine Key
Big Pine Key Resort
Near mile marker 33, Big Pine Key Resort offers rustic campsites and RV campsites. The rustic campsites have no water or electricity and focus on the simplicity of nature. RV campsites are full hookups with everything you need. There are waterfront and inland options for these sites. These sites are available for tent camping as well. A new option for camping at Big Pine Resort is the new Airstream rental. There are actually two units and both are waterfront. These luxury rentals offer all the finest amenities right inside the unit, including a full kitchen and air conditioning. Be sure to check availability. A minimum night stay does apply to these units.
No matter which lodging you opt for at Big Pine Resort, you can enjoy entertainment in the rec room, nature trails, and a heated pool. This area is known for its fishing! Conveniently located in the middle keys, there are many places you can charter fishing trips. There is a variety of fish and even some small sharks you are able to fish for! Because of the location, fishing is also available in the Gulf of Mexico.
Big Pine Resort keeps the party going for guests and has regular entertainment and activities available! You can join in game nights, block parties and even bon fires! They also offer sunset happy hours, fishing tournaments, and arts and crafts. Rates range from $70/night to $170/night, depending on the type of site you choose and whether or not you need electricity hookups. Big Pine Key Resort has something for everyone to enjoy!
Sunshine Key RV Resort and Marina
Sunshine Key RV Resort and Marina is located in the lower Florida Keys near Ohio Key and Big Pine Key. Close to Bahia Honda State Park and with a playground and pavilions onsite, Sunshine Key RV Resort and Marina offers fun for the whole family.
You can rent an RV slot or you can even rent an RV! There are a few tiny houses available for rent as well. You also have the option to rent kayaks and paddleboards or charter a boat! The amazing sunsets are world famous and worth the wait at the end of the day! Whether you are looking for short term or long term, Sunshine Key RV Resort and Marina is a great place to consider.
Bahia Honda
Just past the Seven Mile Bridge, located at mile marker 37, you can find Bahia Honda State Park. This spacious state park offers three campgrounds: Buttonwood Campground, Sandspur Campground, and Bayside Campground. Sandspur is under renovation and is currently closed at this time, but Bayside Campground offers all the best of primitive camping. These sites don't have electricity, but they do offer water, a grill and picnic table. There are also six cabins available for rent.
If you are looking for a gravel hook up with electricity and water, Buttonwood Campground is your best option at Bahia Honda State Park. There is a dump station here, as well as a bathhouse. Many of the campsites here are waterfront. There are also three cabins near the bay that are available for rent!
You can make reservations by calling the park or going online to their website. It is recommended that you arrive early, as the park does have to close when capacity is reached.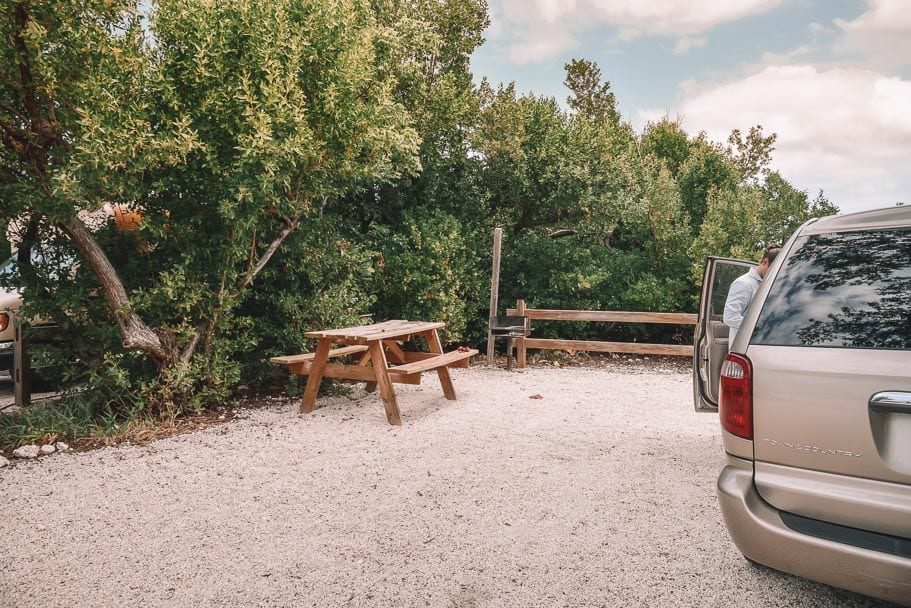 Royal Palm RV Park
Near Big Pine Key and Bahia Honda State Park, Royal Palm RV Park is a small park that offers RV sites. Complete with full hook ups and electric service, you can also enjoy laundry areas and wifi! This is an adults only retirement park and no pets are allowed.
Daily rates are $68, while weekly rates are $392. Deposits are required and they have a strict cancellation policy. They offer the use of a clubhouse and library exchange.
Key West
Boyd's Campground
Located in Key West and near mile marker 5, Boyd's Campground is near many places to seek adventure. Jeep rentals, diving and sightseeing tours are closeby and provide hours of fun in the sun!
Rates begin at $65/night for primitive tent camping inland in the off season and range up to $205 for a full hook up, waterfront RV site in the peak season. Check the price guide for the specific time you plan to visit! Wifi, laundry, and a fishing pier are just a few of the many amenities offered to campers at Boyd's Campground.
The bathhouse, pavilions, and pump out station are other amenities. While many are included, some come at an additional fee. Each RV site comes with a gravel drive and private patio pad. Water and sewer hookups are included. No matter what accommodation you need, Boyd's Campground has it! Tent camping with and without electric and water, RV full hook ups, some inland and some waterfront! The friendly staff at Boyd's Campground will make you feel welcome and encourage you to relax!
See more: Free things to do in Key West
Leo's Campground
Leo's Campground has a set up for RVs to back in and offers full hook up. Prices range from $89/night to $110/night. Leo's doesn't offer a bathhouse, but it does have wifi, laundry, dog park and the option of long term or short term sites. Located in Key West, Leo's Campground is convenient to several restaurants and shops. There are bicycling and motor scooter rentals offered nearby.
Be sure to prepare for no bathhouses at this campground. All RVs must be totally self-contained. Because of the set up and layout of the campground, many sites are only accessible by backing all the way in from the entrance. Be prepared to walk to your site to determine the best plan for set up when you arrive.
Sugarloaf Key/Key West KOA Holiday
Recently wrapping up a renovation and rebuild following hurricane damage, Sugarloaf Key is fully loaded with all the best amenities. There are RV sites, tent sites, and cabins available. You can enjoy the pool and hot tub or relax on the private beach!
The marina is at your disposal, and there are many other amenities available for your use at an additional fee. This pet friendly campground even has a dog park! This campground has excellent reviews and is located near Pirates Cove in Key West.
Don't forget to check out the Rewards Program to be sure you earn rewards when you stay! The best part is that they're still adding to this campground and have some impressive new accommodations coming soon!
Geiger Key RV Park and Marina
Key West has much to offer and when you visit Geiger Key Marina. Relaxation is a top priority at this spacious campground. It is secluded, but still offers amenities to keep you comfortable and happy!
Just ten miles from the downtown area packed full of rich dining and shopping options, Geiger Key is very near the famous fishing reefs. You can charter boats for fishing and visit the onsite restaurant. Rates range from about $120-250/daily and fluctuate around holidays and seasons.
Sea Base by Boy Scouts of America
This family adventure camp offers something for everyone! You can enjoy a deluxe tent rental and some of the most beautiful sunsets you'll ever see in the southernmost tip of The Florida Keys. Camping fees are $150 a night but linens and additional activities are available for extra fees. Star gazing is extremely popular here. Bahia Honda State Park is nearby and the darkest place in all of the Florida Keys. It offers amazing star gazing opportunities, as well as many aquatic adventures, like swimming, exploring tidepools, and even bird watching.
***
No matter which area of the Fl Keys you plan to explore on your next travel adventure, each area offers a plethora of options for RV rentals, tent camping and even additional, unique lodging options. With the many family friendly excursion options, authentic eateries, and tons of outdoor activities, everyone can find fun times awaiting in the Florida Keys.
More Keys Fun: