There are so many fun things to do in Key Largo, in our opinion, it is one of the best spots to stay in the Keys.
Key Largo is a great choice for a fun filled and relaxing vacation in the Florida Keys. Firstly, it is the first part of the Keys you will hit when traveling from Miami and secondly, Key Largo beaches are some are the very best in Florida and some of the best the Florida keys has to offer.
Key Largo is a truly special place in our opinion. Why? It caters so well to all different types of travelers.
You are an adventure seeker? Sure, you can swim with wild dolphins or snorkel in some of the most beautiful reefs in the world.
You just want a relaxing vacation? The calm waters of the John Pennekamp Coral Reef State Park are sure to leave you feeling refreshed and relaxed after a long, hard working year.
Personally, we love that you can have a mix of relaxation and adventure in Key Largo. It is a place you could keep coming year after year and not get bored.
19 Fun Things to do in Key Largo You Won't Want to Miss!
If you are planning a vacation to the Florida Keys and are not quite sure what to do, we have you covered with what we consider the best fun things to do in Key Largo.
We visited Key Largo as part of a longer Miami to Key West road trip. If you are making your way to Key West, you might like to check it out for awesome things to do along the way.
Plan Your Florida Keys Trip!

🏨 Get the best price on your accommodation with Booking.com

🚗 Book cheap Car hire with Car Rentals.

Book your tours with Viator

Bring with you: Lonely Planet Miami and the Keys Guide
Spend Time at the John Pennekamp Coral Reef State Park
We absolutely love visiting National and State Parks in the USA.
Florida has a few great parks including the famous Everglades National Park as well as relatively undiscovered places like the John Pennekamp Coral Reef State Park.
Interestingly, the State Park is a relatively new addition to Florida's parks. It was set up in 1963 to preserve Key Largo's coral reef.
It is a really cool place that we enjoyed spending time in Key Largo. Not only did it boast great beaches but it has beautiful nature trails AND great camping. You can also take great snorkel trips from the Pennekamp Coral Reef State Park.
You have so many choices to enjoy the beautiful reefs at the State Park – snorkel off the beach, hire a kayak, go on a snorkel boat tour or a glass bottom boat tour – the choices are endless.
We are huge fans of nature so we loved that the John Pennekamp Coral Reef State Park not only provided two stunning beaches (see more details below) but had some great hiking trails to enjoy your time when you were not swimming.
The Park is also the best place to camp in Key Largo. It has awesome campground facilities with each site offering an individual table and BBQ.
The shower facilities are also very clean and comfortable include power points for those ladies like me who are more glampers and like to make sure of a hair straightener in the mornings.
It costs $9 (for 2 people) to enter John Pennekamp Coral Reef State Park. This fee is waved if you are camping which will set you back $43 USD a night including tax.
Relax at Cannon Beach Key Largo
Inside the John Pennekamp Coral Reef State Park you will find Cannon Beach in Key Largo. This is one of the most chilled and relaxed beaches in Key Largo.
The part that impressed us most about this beach was its uniqueness. Along the beach are cannons rumored to have come from a shipwreck in the area.
The beach is just perfect for relaxing as there are no waves. Bring a floatie and chill with a drink in hand as you soak up the ambiance. Note: a non alcoholic drink as there are signs that alcohol is not allowed.
Cannon Beach is also a fabulous place to go snorkeling off the beach.
Note: there are signs at the beach warning swimmers of Alligators!! No-one seemed bothered and I'm sure they are rare visitors to the area. It is however important to remain alligator aware in Florida in the interest of safety.
Aside from the cannons another cool part of this beach is that you can snorkel out and find an old Spanish shipwreck beneath the surface.
If you think you might like to snorkel, we would recommend purchasing a snorkel in advance rather than in Key Largo. There are no Walmarts available at Key Largo, only a fairly expensive Publix.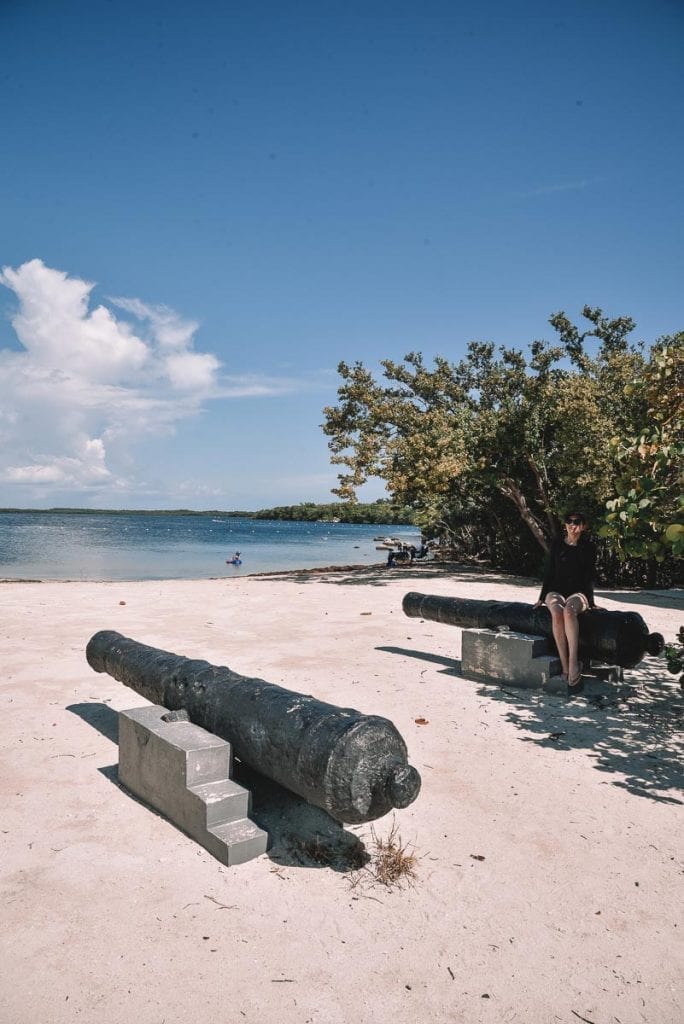 Far Beach
This was probably our favourite beach in Key Largo as we really enjoyed the snorkeling off this beach.
Despite what we have read on the internet, when we visited, it was also the less popular beach of the two beaches located in the John Pennekamp Coral Reef State Park.
If you feel like a day relaxing at the beach, this beach is IDEAL. It has all the facilities necessary for a great day at the beach including palm trees providing a lot of shade, BBQs and a beautiful view.
We noticed people bring their beach chairs right into the water at Far Beach which looked very relaxing indeed!
Nearby Far Beach there is a nice little walking track where you can see some local wildlife in the area including birds and lizards galore!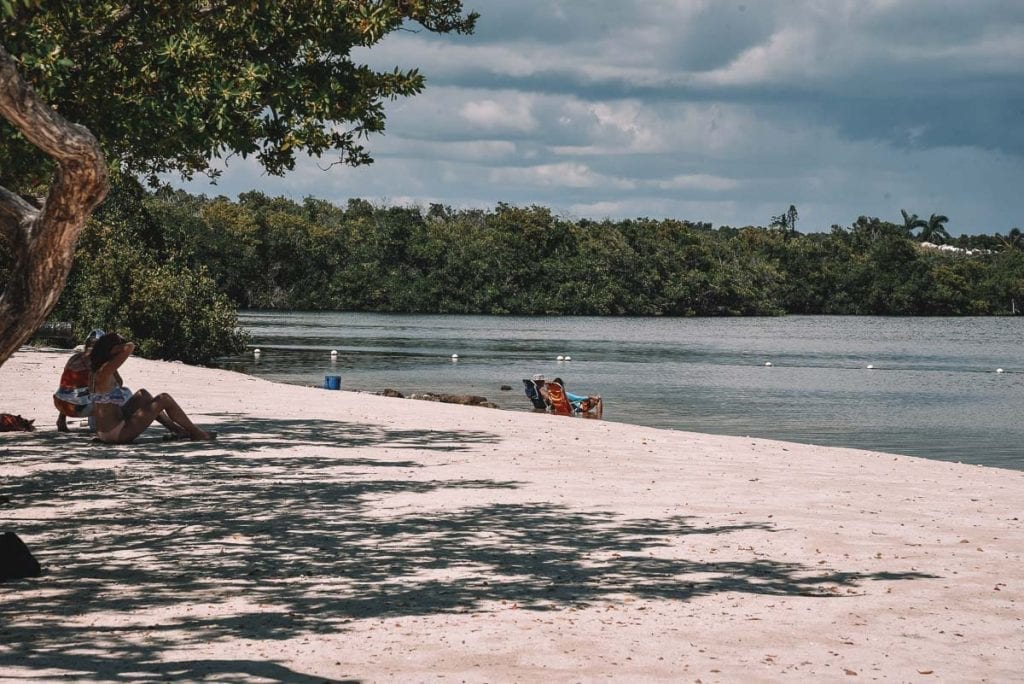 Dive the Spiegel Grove Wreck
If you prefer a little more action packed adventure, there are many awesome diving opportunities in Key Largo including diving to see the amazing Spiegel Grove wreck.
This shipwreck is a super popular dive amongst avid divers and one of the most popular things to do in Key Largo. Seeing the wreck and the sea life that lives in and around the shipwreck is simply amazing.
If you don't know how to scuba dive, you can learn to dive with professional divers in Key Largo.
Go on the iconic African Queen Canal Cruise
Want more fun things to do in Key Largo? Why not embark on a delightful journey with the African Queen Canal Cruise, a leisurely excursion that navigates the picturesque Port Largo Canals, ventures towards the Atlantic Ocean, and eventually returns to its starting point at Marina Del Mar.
While the cruise itself offers an enjoyable experience, what truly distinguishes it as one of Key Largo's top ten activities is its rich history. The African Queen rose to prominence when it starred alongside Katharine Hepburn and Humphrey Bogart in the 1951 film of the same name.
Originally utilized in the Belgian Congo during the 1910s for transporting missionaries, hunting parties, and cargo, this vessel featured a distinctive design with a vertical boiler and sturdy riveted steel construction.
Director John Hutson spotted the boat while on a hunting expedition and was immediately captivated by its charm, securing it for his film. Following its moment of cinematic glory, the African Queen returned to its original duties but was eventually abandoned in the 1960s. Rediscovered in Cairo, Egypt in a dilapidated state and partially submerged in 1968, it was given a new lease on life in 1982 when it found its purpose as a tour and cruise boat in Key Largo—a role it continues to fulfill with pride to this day.
Book your trip on the African Queen here.

Swimming with Dolphins is such a cool experience. We swum with Dolphins in Cancun Mexico and it was such a pure magic.
At Bayside in Key Largo you can swim with the most beautiful bottlenose dolphins in their natural seawater home.
In Mexico, the Dolphins were kept in a man made pool so an opportunity to swim with dolphins in their natural habitat is pretty amazing.
What is cool about this centre is that it also serves as an education centre. If you visit the centre, the trainers will tell you all about dolphins as well as the importance of marine conservation.
Take a trip to the Everglades
The great thing about being so close to the edge of the Key is that the Everglades is so close.
One of the reasons we think Key Largo is such an amazing place to vacation is that you can visit the Everglades and the Florida Keys in one!
The Everglades is one of our favourite things to do in Florida. We have been several times and will probably go several times in the future.
Like all National Parks in the United States, there is an abundance of things to do in the Everglades including great hikes!
If you want to make a one day trip we would suggest taking an airboat tour, visiting Shark Valley where you can bike the Everglades and the Anhinga Trail where you have the best chance of seeing an Alligator in the wild on foot.
We were very lucky and even saw some baby alligators at the time we visited.
The Gumbo Limbo Trail is also a great place to visit in the middle of the day. Florida is hot all year round so it is nice to find a well shaded hike in the exposed Everglades wetlands.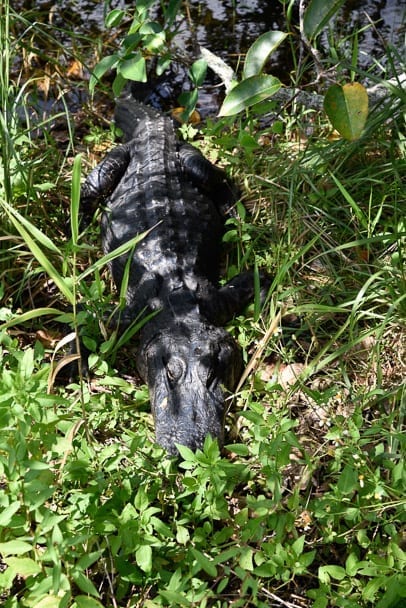 Or the Crocodile Lake National Wildlife Refuge
While Florida is known for its abundance of American alligators, the Crocodile Lake National Wildlife Refuge provides a unique opportunity to observe the much rarer American crocodile. Established in 1980, this refuge is one of the four national wildlife refuges situated in the Florida Keys.
Its primary purpose is to preserve the natural habitats of tropical hardwood hammocks, mangrove forests, and salt marshes. Although the refuge itself is not accessible to the general public, they do offer various educational programs that provide a behind-the-scenes experience.
If you want to visit, it is located at 10750 County Road 905, Key Largo, Florida, 33037. The Crocodile Lake National Wildlife Refuge serves as a valuable resource for learning about and appreciating the American crocodile.
Visit the Harry Harris Park in Tavernier
Another great 'beach' to visit in Key Largo is the Harry Harris Park in Tavernier. We say 'beach' as it is not a beach in the traditional sense but it is still pretty cool nonetheless.
Harry Harris Park in Tavernier as it has such a calm and relaxed vibe. We were literally one of the few people there. The park was absolutely ideal for a BBQ as there are numerous shaded picnic tables with BBQs all over the park.
You can go snorkeling off the beach and there is even lots of playgrounds for children to enjoy in the park.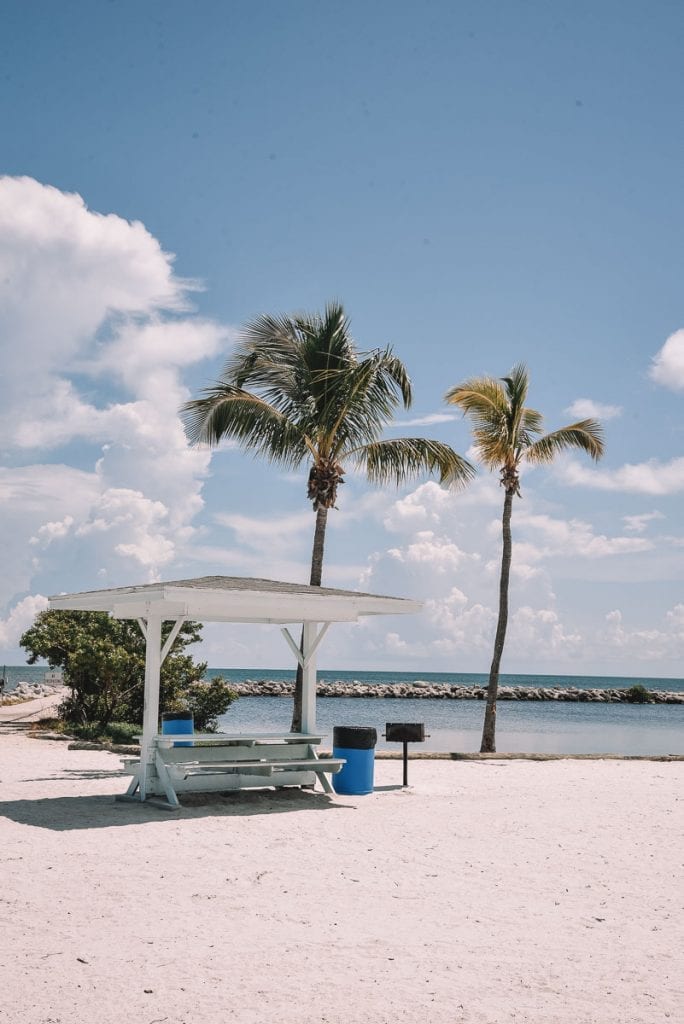 Go for a walk or take a bike ride on the Overseas Heritage Trail
If you're seeking cost-free activities for the upcoming weekend and have a desire for extensive travel and exploration, why not embark on the Florida Keys Overseas Heritage Trail? After-all, it is one of the most well known and most iconic things to do in the Florida Keys!
Encompassing an impressive 76-mile stretch across the 106-mile corridor from Key West to Key Largo, this multi-use trail offers an ideal setting for recreational pursuits and enjoyment, catering to activities such as skating, walking, biking, and more.
The Laura Quinn Wild Bird Sanctuary
The Laura Quinn Wild Bird Sanctuary serves as a reputable haven for non-releasable birds, offering a safe haven for over 90 avian residents that span approximately 40 different species.
If you share a passion for birds, this sanctuary provides an exceptional opportunity to expand your knowledge about specific species and capture stunning photographs.
While admission to the refuge is free, contributing a $10 donation during your visit significantly contributes to the sustainability of the sanctuary and the well-being of its feathered inhabitants.

Stay at Jules Undersea Lodge
Experience an unparalleled adventure by staying at the Jules Undersea Lodge. If you are a scuba diver, this is an extraordinary opportunity that stands among the most unique experiences worldwide.
Immerse yourself in the depths of the ocean and spend a night in remarkable underwater accommodations. The thrilling aspect is that you must dive down to reach your room.
At Jules Undersea Lodge, guests can select from a range of packages, some of which include PADI specialty certifications. During your stay, you will even be treated to delicious pizza, and convenient amenities like WIFI and computers are available for live streaming your extraordinary underwater experience.
You can check your dates and see reviews and book your room here.

Relax at Anne Beach
Just outside of the town of Key Largo, you will find the stunning Anne Beach which has been dubbed as one of the most beautiful beaches in Key Largo.
If you have children and want a beach with very shallow water, Anne Beach is a great pick.
Anne Beach is another great choice for a picnic in the Keys due to the shaded picnic tables along the boardwalk.
Why the name 'Anne' Beach? There is a nice story behind this one, it was named to honor eco-warrior Anne Eaton. One of the few times I have ever seen a eco-warrior formally recognized for their hard work.
This beach is located a little further down the keys towards Key West. It is around a 30-40 minute car ride from the John Pennekamp Coral Reef State Park.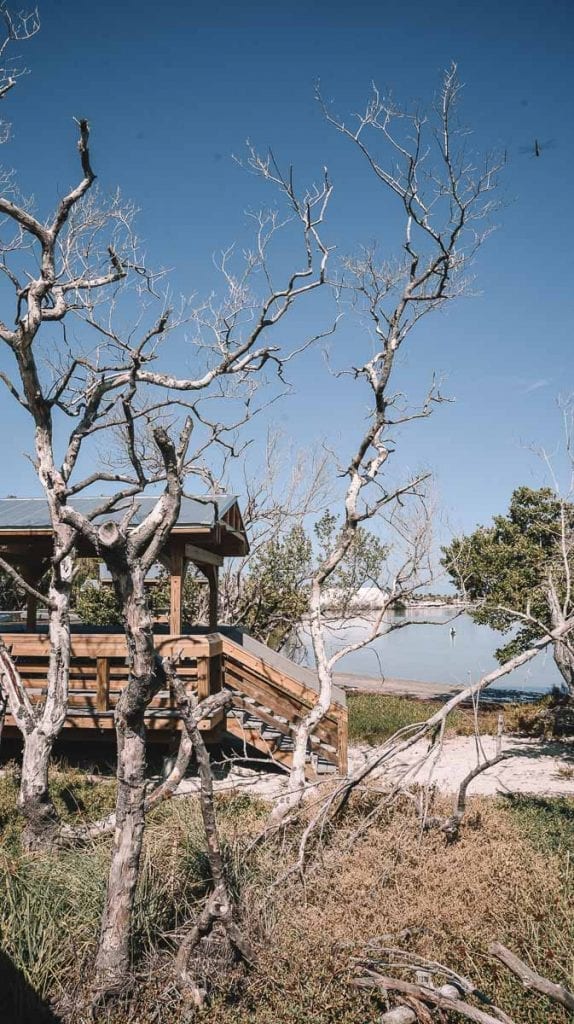 The Dagny Johnson Key Largo Hammock Botanical State Park
The Dagny Johnson Key Largo Hammock Botanical State Park invites both bikers and hikers to explore its captivating natural landscapes along six miles of scenic trails. Named after the esteemed local green activist, Dagny Johnson, this park boasts an astounding array of 84 protected animal and plant species.
Notably, it stands out for being home to one of the largest West Indian hardwood hammocks in the United States, an extraordinary tropical ecosystem rarely found elsewhere.
Additionally, the park features intriguing elements such as wild cotton areas, mahogany mistletoe plants, and even habitats for the American crocodile. Open year-round, the Dagny Johnson Key Largo Hammock Botanical State Park offers a convenient and immersive experience.
Engage in self-guided tours highly recommended for thorough exploration, with well-placed trail signs providing insights into the diverse wildlife inhabiting each unique ecosystem. Ranger-led tours are also available, and the park offers amenities such as a picnic pavilion, modern restrooms and wheelchair-accessible paved trails.
Address: County Rd 905 & Mile Marker 106, Key Largo, FL 33037, United States.

Go on a Fishing Charter
When in Key Largo, it's essential to partake in one of the region's renowned activities: fishing. With its fishing reputation, it's only fitting to embark on a fishing charter adventure. These charters provide access to prime fishing spots, ensuring an optimal fishing experience.
Ocean fishing in Key Largo offers exceptional rewards, allowing you to make the most of your time. Whether you prefer a shared charter or a private one, there are various options available, each tailored to your preferences in terms of duration, amenities, and a skilled crew.
Here are some fishing charters in Key Largo that we would recommend:
The History of Diving Museum
The History of Diving Museum is actually located in Islamorada but widely regarded as one of the top attractions in Key Largo due to its close proximity (it is just a hop, skip and a jump away!)
The museum offers a captivating concept and an engaging experience even for non-divers. Immerse yourself in an interactive journey through time as you explore the origins of ocean exploration, from the first brave steps into the enigmatic underwater realm to the advancements of present-day.
Delve into the evolution of underwater breathing apparatuses, discover the pioneering figures who shaped the industry, unravel the story of scuba diving becoming a globally beloved water sport, and uncover the pre-modern technologies that preceded today's cutting-edge gear.
Situated just outside of Key Largo (in Islamorada) this museum also showcases a fascinating collection of treasures salvaged from shipwrecks. Among its most popular exhibits is an interactive display that allows you to test your breath-holding endurance underwater.

Feed the Giant Tarpon at Robbies
While you are in Islamorada visiting the History of Diving Museum, you also MUST make a visit to Robbies, where you can feed by hand giant tarpon in the Florida Keys. It is probably our single best thing to do in the whole Florida Keys.
Robbie's Dock offers an array of fantastic activities and opportunities to indulge in. Delight in the delectable freshness of seafood, rent parasails or jet-skis for exhilarating adventures on the waves, explore the diverse stalls of the open-air market for unique finds.
However, the star of the show at Robbie's Dock is undeniably the tarpons—a majestic and sizeable species of fish that congregate near the docks. Visitors from far and wide flock to participate in feeding these magnificent creatures, using various types of fish as bait while pelicans soar above, casting envious glances.
Address: 77522 Overseas Hwy, Islamorada, FL 33036, United States.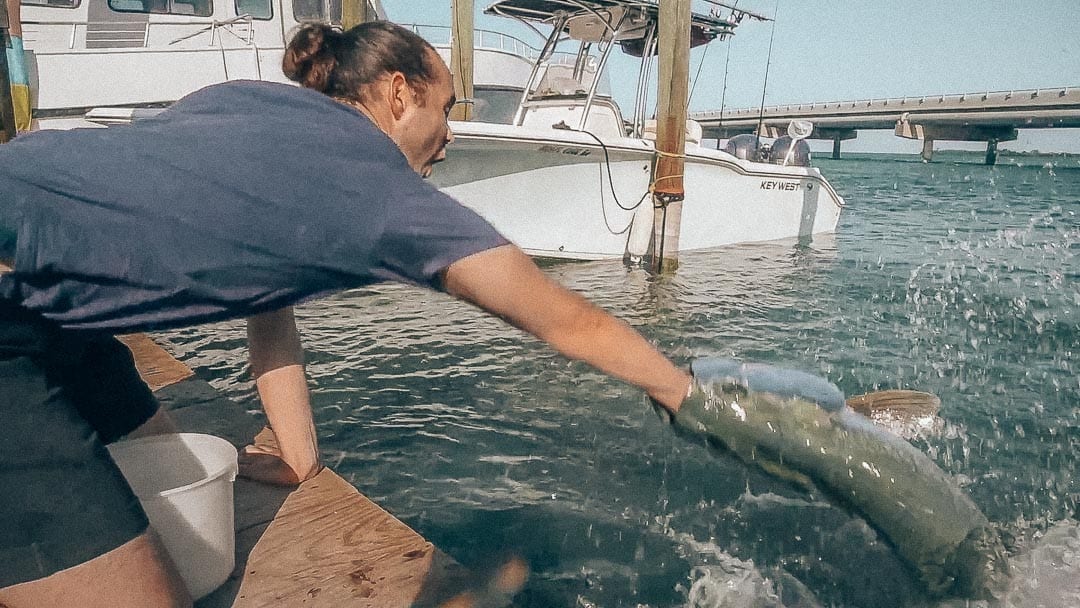 Florida Keys Brewing Company
Looking for more exciting activities in Key Largo? Well, if you're a craft beer enthusiast, a visit to the Florida Keys Brewing Company is an absolute must!
Situated on Islamorada, it's the perfect destination for a delightful day trip from Key Largo. This local microbrewery boasts an impressive selection of over 20 unique beers, renowned for their innovative flavors inspired by the vibrant island lifestyle.
These exceptional brews have gained popularity throughout the Keys and beyond. The tasting room at the Florida Keys Brewing Company is designed to create a warm and welcoming ambiance. Vibrant tie-dye color schemes infuse the space with energy, while friendly locals contribute to the cozy atmosphere.
Among the brewery's most beloved offerings are Grapefruit to be Alive, Hibiscus Kolsh, and Bayside Coffee Blonde. Choose your preferred brew and enjoy it in the tropical beer garden, complete with picnic tables, lawn games, and a captivating view of the taproom, ensuring an exhilarating experience.

Try some of the best restaurants in Key Largo!
Key Largo is known to be a bit of a foodie paradise with a lot of amazing restaurants to enjoy including fabulous, fresh seafood restaurants.
While on vacation, we love to sample unique food in the area. If you want to try something Key Largo orientated we would suggest two dishes: Conch and Key Lime Pie.
If you aren't sure what Conch is (don't worry we didn't know either!!) it is kind of like a sea snail. It is a a tropical marine animal with a spiral shell. You eat the meat inside the shell. It has been known to be a bit chewy.
Conch almost look too pretty to eat but if you would like to try some in any event we would suggest The Conch House. Note: Conch is an acquired taste & so be prepared – it has a rubbery texture.
The restaurant offers an awesome Conch House Sampler for those new to Conch. This consists of: conch fritters, lobster & conch ceviche, cracked conch, coconut shrimp and mango crab cake.
For the delicious Key Lime Pie, there are numerous great restaurants offering awesome Key Lime pie in Key Largo. Here are our 6 favourite places for Key Lime Pie in Key Largo.
Mrs Macs is probably the most popular Key Lime pie in the area. Due to its awesome Key Lime pie, it expanded over the years to include several stores in Key Largo.
A slice of yummy Key Lime pie at Mrs Macs it will set you back around $5.50 for take away. Mrs Macs doubles as a restaurant where you can enjoy a full blown lunch. They also do one of the best breakfast in Key Largo if you are looking for somewhere to go.
Important note on Key Lime Pie: If the pie is green avoid it, it is not traditional Key Lime Pie. You want your pie to be YELLOW! Traditional Key Lime pie is yellow in color!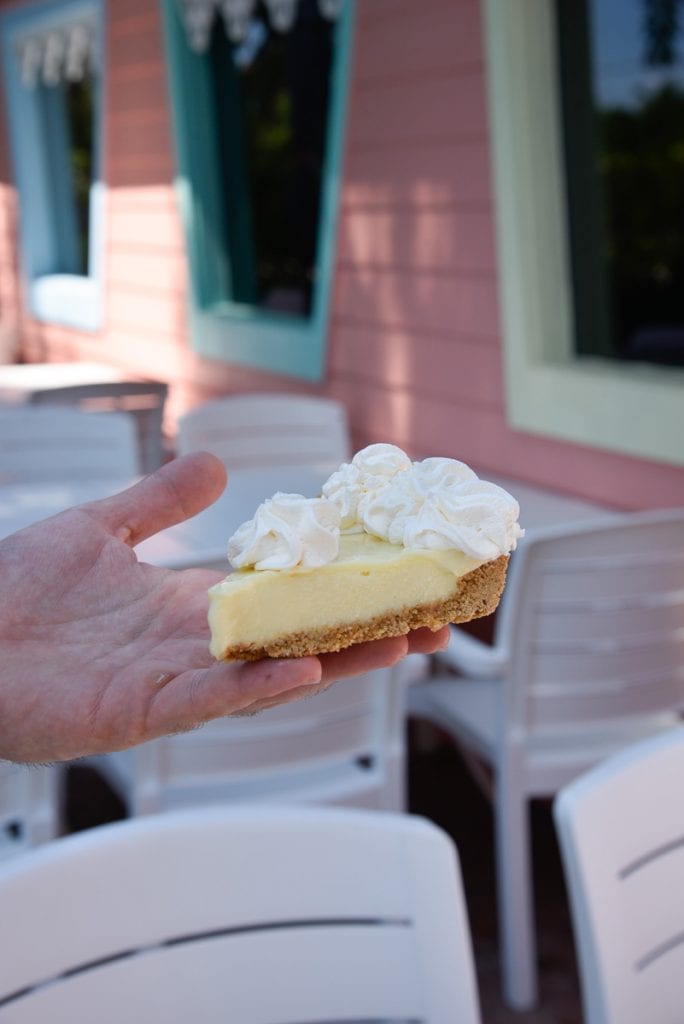 As for other restaurants in Key Largo, the best rated restaurants in Key Largo are:
What the Fish Rolls and More
Alfredo's Cookhouse
Harriette Restaurant
The Fish House
Chad Deli Grill Pizzeria
For a yummy and cool experience we would suggest going to the Key Largo fisheries. Here you can watch the local fisherman at work as you enjoy your fresh fish. It also serves yummy key lime pie if you want a great desert.
Where to stay in Key Largo?
There are so many fabulous places to stay in Key Largo to suit all budgets and tastes. There are tons of great beachfront hotels in Key Largo which are epic – we made a list of the 14 best.
Click here for all accommodation in Key Largo during your dates.
If you would like to camp in the area we would highly recommend the Pennekamp Coral Reef State Park. As stated above, it costs $43 USD a night including tax. It is a little expensive for camping but it provides a very clean, comfortable and secure place to stay for the night for those who want to be in touch with nature.
If you want a little more comfort, we would recommend Baker's Cay Resort Key Largo, Curio Collection By Hilton.
In a stunning spot in Key Largo, located on the Gulf of Mexico and surrounded by lush landscaping and nature trails, we love that Baker's Cay Resort Key Largo, Curio Collection By Hilton has private beach access as well as 2 outdoor swimming pools. You can also complete a range of fun activities from the hotel including snorkeling, diving, and boat tours.
Alternatively, as we recommended above, you could also stay at Florida's only underwater hotel. To stay at this hotel there is a catch, you need to dive to access the hotel. Staying here would truly be a once in a lifetime experience and a talking point among friends.
How to get to Key Largo?
Key Largo is the easiest place to access in the Florida Keys as it is the closest place to Miami.
Key Largo is only a 1 hour drive from Miami so it means you can even visit this part of the Florida Keys during a day trip. For more information see our Miami to Key Largo driving guide.
As mentioned above, Key Largo is also very close to the Everglades National Park, being only around a 40 minute drive away.
We personally visit Key Largo as part of a larger Miami to Key West road trip which we would highly recommend if you have at least a week up your sleeve to visit the Keys.
With limited public transport options, the best way to visit Key Largo is by car. We find the best price of rentals to be with Car Rentals.
Save Fun Things to do in Key Largo to Pinterest so you can find it again later