Looking for the best things to do in Islamorada? Great! You have come to the right place! Here we list the best 23 attractions in Islamorada.
Islamorada is one of the best spots to go in the Florida Keys as there is so much to do! The best part is that it is so close to Key Largo so you can choose to stay in Islamorada or in Key Largo (40 minutes away).
Islamorada was very similar to Key Largo but we felt it had an even more relaxed vibe. Like Key Largo it caters well to many different types of travellers.
It has snorkeling or diving for adventure seekers and calm, peaceful, beautiful beaches in Islamorada for relaxation. As we like a bit of relaxation and adventure, Islamorada was right up our alley in terms of a holiday spot.
If you are planning your vacation, we have you covered with exactly what to do in Islamorada.For sure one of the best beach towns in Florida.
We visited Islamorada as part of an epic Miami to Key West road trip. If you are making the same drive, you might like to check out our post for unmissable places to visit along the way!
You might also like: 50 Best Things to do in Florida
24 Best Things to do in Islamorada You Can't Miss!
1. Anne Beach
Anne Beach is the best rated beach in Islamorada.It is known for being one of the most beautiful beaches in the Florida Keys.
The beach is particularly popular with families as it has really nice shallow water perfect for children swimming it.
It personally appealed to us as it had a stunning boardwalk that you can go for a walk on or enjoy a picnic. Another great part of the beach is that the picnic tables are shaded which is always a win.
Why the name 'Anne' Beach? It was named after a special eco-warrior Anne Eaton. Eco-warriors getting formal recognition for their hard work warms our heart.
If you are headed to Anne Beach from Key Largo allow 30-40 minutes by car.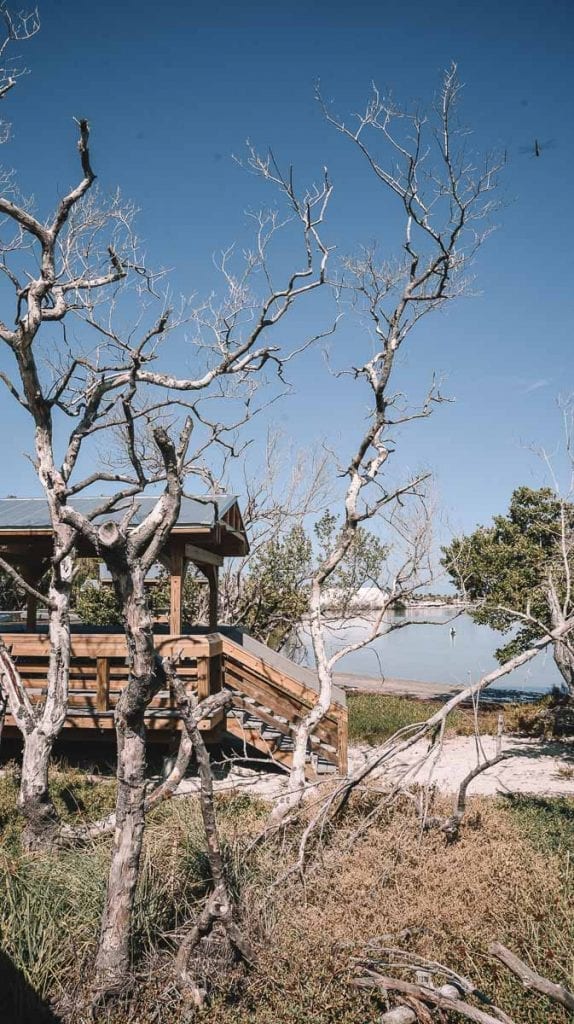 2. Founders Park & Beach – One of the best free things to do in Islamorada
Founders Park is another popular beach option among locals in Islamorada. It is free for Islamorada locals but costs $8 USD per person entry fee for non residents.
Founders park is a popular recreational option in Islamorada as it has a bit of everything – an athletic field, olympic size swimming pool, marina and beach.
The beach isn't huge but the water is clear and the sand is white. While you can picnic there remember to BYO food as there is only a vending machine on premises, no shop.
3. Holiday Isle Beach
Holiday Isle Beach might even be more beautiful than Anne Beach.
Despite the fact it is traditionally a private beach owned by the Holiday Isle Resort complex some parts of the beach are open to the public for free. Another great part is there is very convenient parking at Holiday Isle Beach and lots of facilities at the beach to enjoy.
There is a Tico Bar & Restaurant at the public beach. You can also reserve a fishing charter or eco boat tour in the same vicinity. Going snorkeling at one of the reefs off Islamorada is highly recommended.
On top of the public beach there is also a private beach for use of the people staying at the Holiday Isle Resort. You cannot enter this area unless you have a special wristband.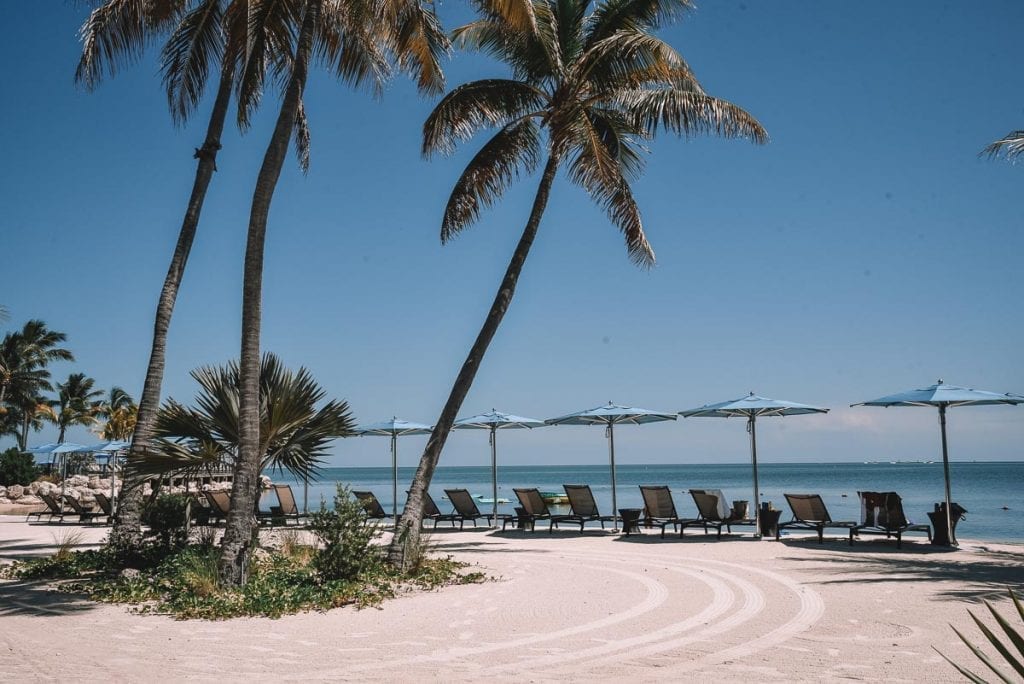 4. Feed giant Tarpon at Robbie's
There is one cool, action packed activity we would recommend in Islamorada and that is feeding the giant tarpon at Robbie's pier.
These fish are seriously giant – up to 8ft long – so it is a pretty cool sight for marine lovers.
To see the tarpon in action it costs $2.25 per person. If you would like to feed them (note: only for the brave!!) each bucket of fish is $4.00 (5-8 fish per bucket).
This was possible the best experience we had in the entire Keys! It was so fun. Mike ended up with an injured arm out of it though – the Tarpon literally jump out of the water and swallow your arm trying to eat the fish.
Be prepared to get a little injured – the bit feels a bit like sandpaper. Or, you can always watch by the sidelines (as I did!) Be careful of the other little fish in the water. The tarpon have no teeth but there are also "little" fish in the water which do!
Make sure you check out Robbie's in Islamorada.
5. The Islamorada Library and Park
This is really a hidden gem and a local's secret in Islamorada.
We only saw locals at this spot as most tourists don't know about this 'secret spot' in Islamorada.
The easiest way to visit this park and little beach area is by placing 'Islamorada Library' into google maps. The Islamorada beach is just behind the Islamorada Library.
The best part of this beach is that it is very nature friendly. We saw some cool wildlife at this beach – we saw an iguana and a reef shark cruising by while we were at the beach.
Due to the wild nature of the beach and park we personally wouldn't recommend swimming but it is perfect for relaxing or having a picnic. There is a stunning nature view from the picnic tables.
The beach is a well equipped beach with swing sets for children, picnic tables and BBQ facilities as well as toilets and a beach shower.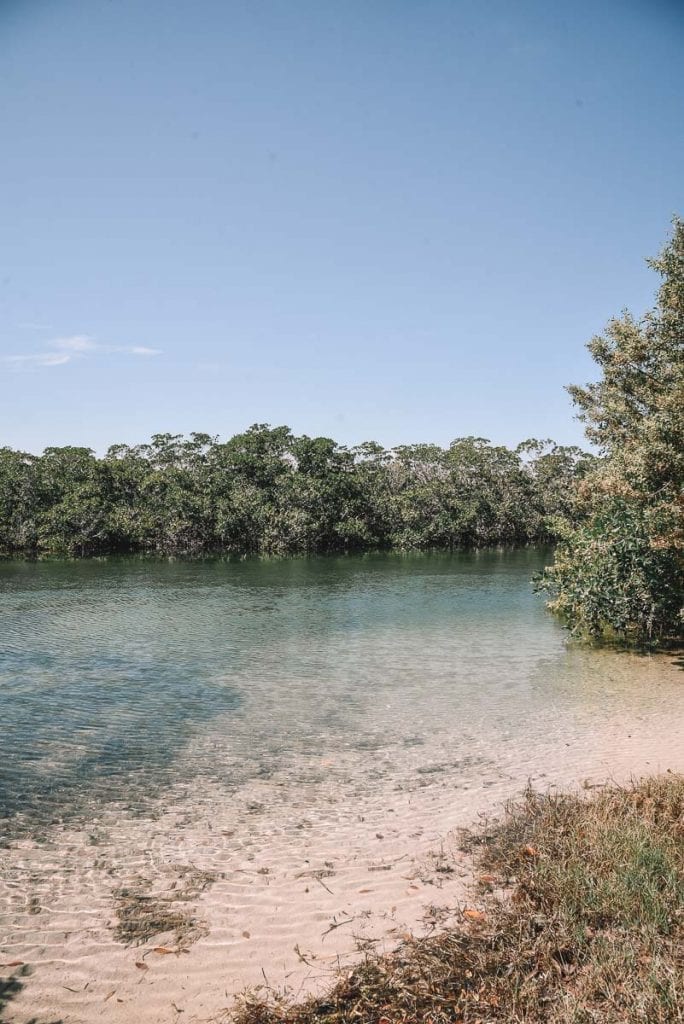 6. Florida Keys Brewing Company
Go beer tasting at the Florida Keys Brewing Company.
This is one for beer lovers. The Florida Keys Brewing Company is the Upper Keys first microbrewery. At the brewery you can take a tour or just enjoy the many seasonal and barrel aged beers they have on on draft.
You can go for a tasting or simply enjoy a beer of your choice in the cool beer garden.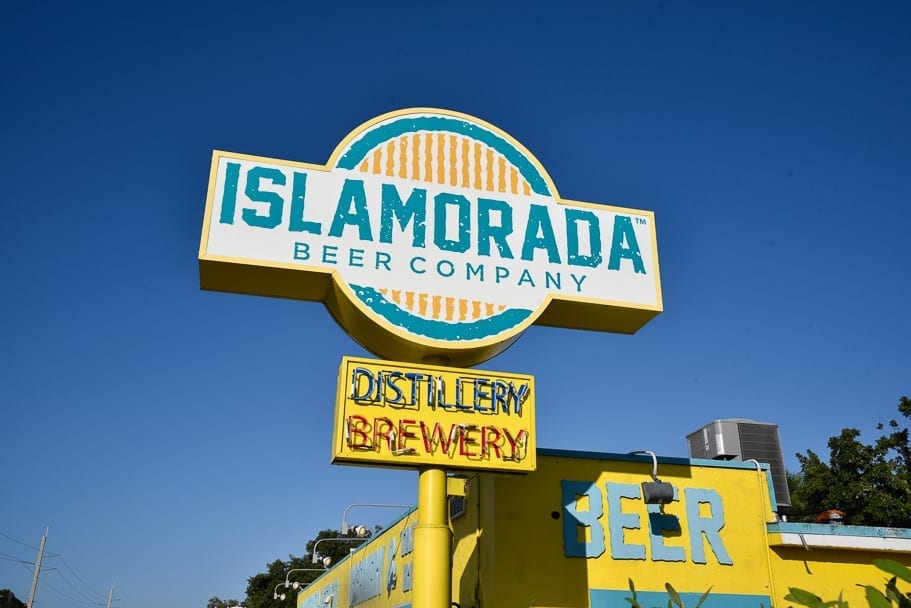 7. The Islamorada Beer Company
If you are on a "beer hop" you might also like to drop into the Islamorada Beer Company while you are in the area. It is consistently rated as one of the best brewing companies in the area.
There is a quaint beer garden where you can sit and taste their beers (they offer a beer tasting paddle to try) which is a good place to go if the weather is nice!
They hold the title of the first to kick off the local craft beer market and spirit distilling in the Florida Keys.
If you are wondering if it is worth it to visit Islamorada, I would vote yes on the beer alone!
8. Keys History & Discovery Center
The Florida Keys History and discovery centre is definitely one of the best museum to visit in the Keys. If you love educating yourself while on vacation, this is the perfect place to go, especially if you like to learn about the history of the Keys.
It is open open Wednesdays through Sundays, 10 a.m.–5 p.m.
Inside you will find a range of very interesting exhibits. The centre's permanent exhibits include First People/Indians, Pirates/Wreckers/Salvagers, Spanish Treasure Fleets, Legends of the Line, and a permanent model replica of Indian Key circa 1840.
9. Theater of the Seas
Another popular attraction in Islamorada is the theater of the seas.
Kind of like seaworld, the theater offers lush, tropical gardens home to dolphins, sea lions, sea turtles including green turtles, fish, sharks, stingrays, alligators, and birds.
It is possible to get up close and personal with the dolphins by having a dolphin experience. Cost of basic entry to observe the animals is $40 USD a person. A perfect activity for a family trip to the Keys at mile marker 84.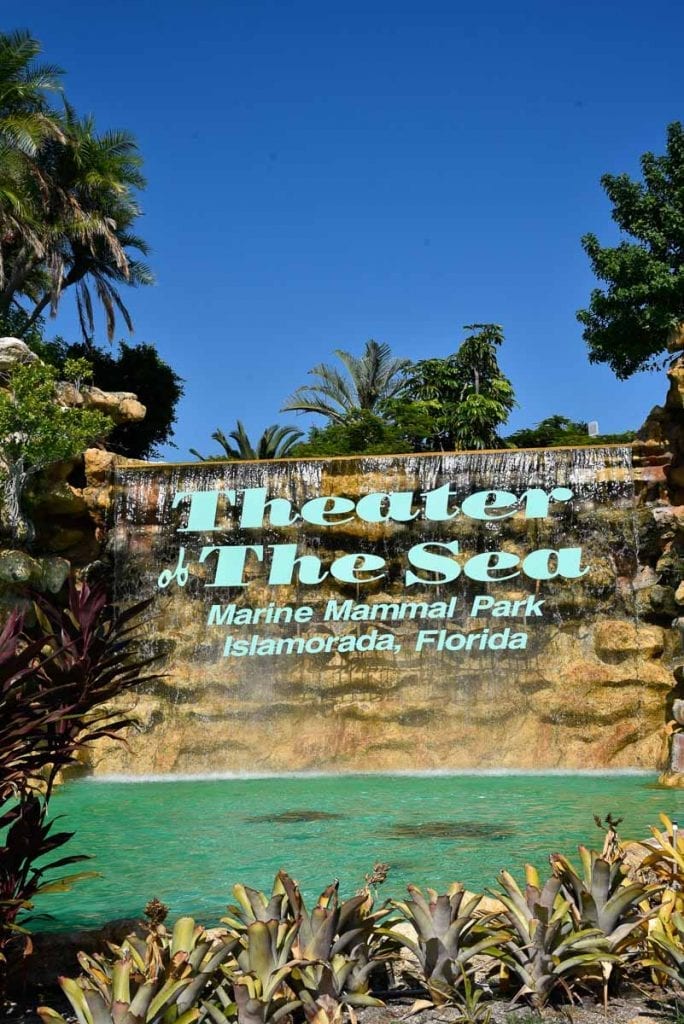 10. Morada Way Arts & Cultural District
If you are more into arts and crafts, the Morada Way Arts and Cultural District is such a cool place to go. Basically it is a local community in Islamorada which focuses on local artists who create sustainable pieces of art.
Pretty cool.
They do art works around once a month on a Thursday night between 6-9pm. You can check out their website to see when the next one is on to support the locals.
11. Visit a secret local beach
We stumbled across a secret local beach while hunting for the best beaches in town. At this spot, locals enjoy free swimming in the crystal clear water.
If you would like to visit this "secret spot" we discovered you can find it on State Route 1 where the Indian Key Channel is.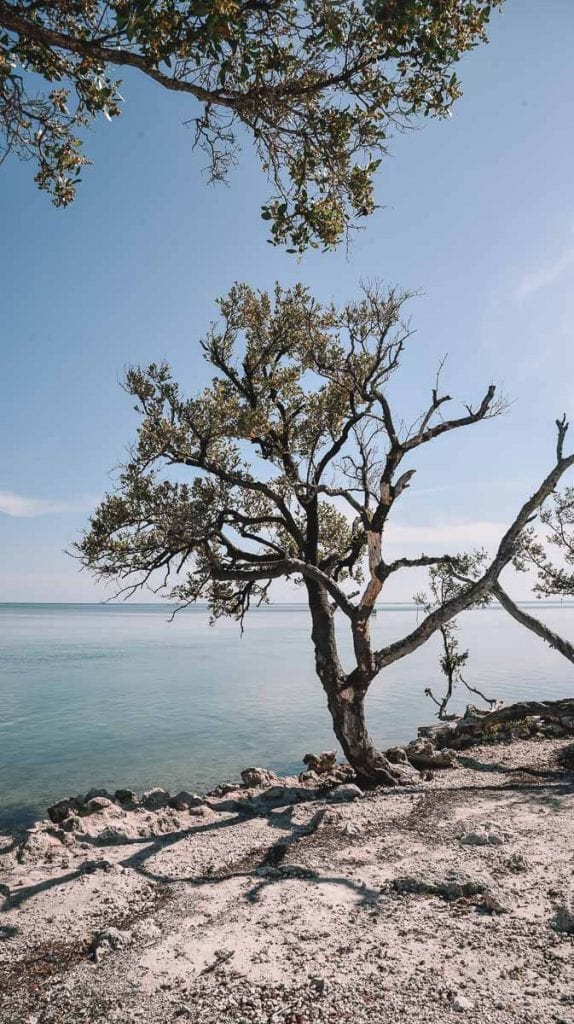 12. Spend time at Windley Key Fossil Reef Geological State Park
If you are interested in seeing fossilized coral then you are in luck as you can visit the Windley Key Fossil Reef Geological State Park in Islamorada.
There are 5 trails and lots to read and learn about the geological fossil reef around the park and Florida Keys history.
We suggest going in the afternoon as the park gets very hot. It costs $2.50 per person to enter the park.
If you loved this geological state park you might also like to visit the key botanical state park while in the area.
13. Visit the History of Diving Museum
If you are a bit of a nerd you will just love the history of diving museum.
The museum provides a full history of diving including what diving was like in early times, you know aka metal helmets.
The museum if open daily between 10am-5pm. It costs $12 USD to enter but they offer a free information evening on Wednesdays at 7pm.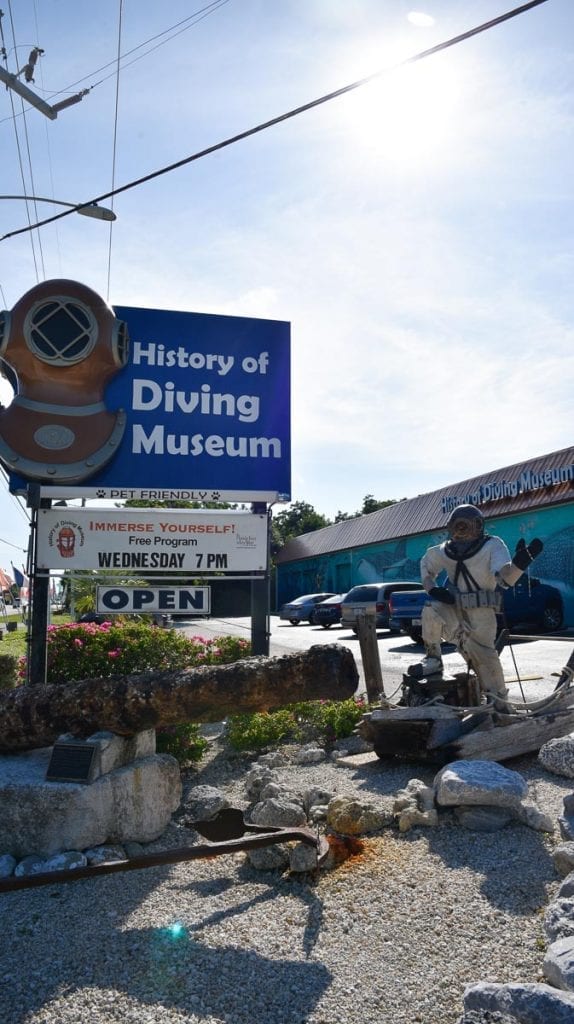 14. Stay overnight or just get a massage at Cheeca Lodge & Spa
Cheece Lodge and spa is one of the best places to stay in Islamorada for sure.
If you are just driving through the area, you don't have to stay, but we would still recommend dropping in for an awesome massage! They often have specials so you can check in advance before you go, especially if you are traveling in off peak to the Keys.
To give you some idea of pricing, a 50 minute massage costs $170 but it is well worth it for such a nice experience!
15. Make the most of some awesome water activities in the area – Paddle Boarding or Kayaking
There are some great water activities in Islamorada like diving, snorkeling etc after all it is a coral reef so if you are interested in snorkeling or diving, this is a great place to do it!
If you are not so interested in fish, you can always pick an alternative water sport like stand up paddle boarding or kayaking, there are plenty of opportunities to hire equipment in Islamorada.
One of the most popular trips is to head out to Alligator Reef Light House. Hire a kayak and jump out and snorkel when you hit the reef. Here is another great kayak tour you can take in the Keys.
Another popular water-sports trip to take nearby is paddleboarding through the mangrove ecosystem of Tavernier Creek. If you or your family love to see animals, this is a great activity to do as you can sometimes spot Florida Manatees here, as well as turtles, stingrays and dolphins.
16. Get an Iconic Giant Lobster Picture @ Rain Barrel Village
The Rain Barrel Artisan Village is famous for the giant lobster "Betty". If you are passing by, make a quick stop to get an iconic Islamorada giant lobster photo.
The Rain Barrel Artisan Village also have a shop where you can purchase arts and crafts, handmade soap and clothing.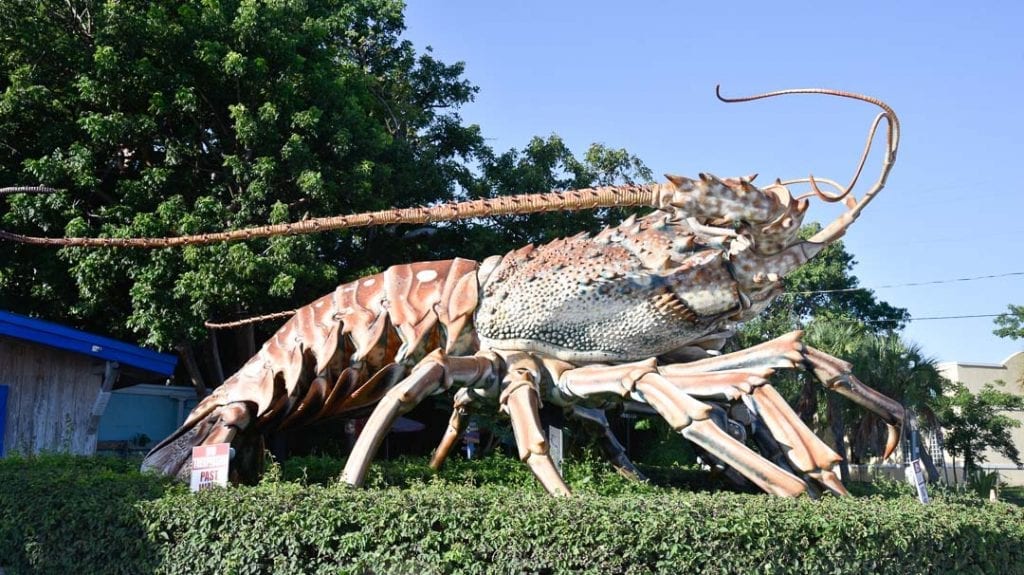 17. Indian Key Historic State Park
This is a very cool little spot to check out in the area of Islamorada.
One of the unique aspects of this State Park is that it is accessible only by boat. You can use a kayak to reach the island in around 30-45 minutes. Kayaks are available for rent in lots of places two being: Robbie's Marina: 305-664-4878 Backcountry Cowboys: 305-517-4177.
This is a great place to go to swim and enjoy an untouched piece of paradise. It costs $2.50 pp to access the State Park. One of the biggest draw-cards of Indian Key are the relics from shipwrecks found there.
18. Spend a day in John Pennekamp Coral Reef State Park
Next door, around 20 minutes away in the nearby town of Key Largo you will find the awesome John Pennekamp Coral Reef State Park.
The park is gorgeous and a relatively new State Park set up to preserve Key Largo's coral reef.
It costs $9 (for 2 people) to enter John Pennekamp Coral Reef State Park but it is well worth the entry fee.This fee is waved if you are camping which will set you back $43 USD a night including tax.
There are 2 awesome beaches at the State Park as well as nature trails.
We would suggest a visit to Key Largo in any event as it where the best key lime pie is at!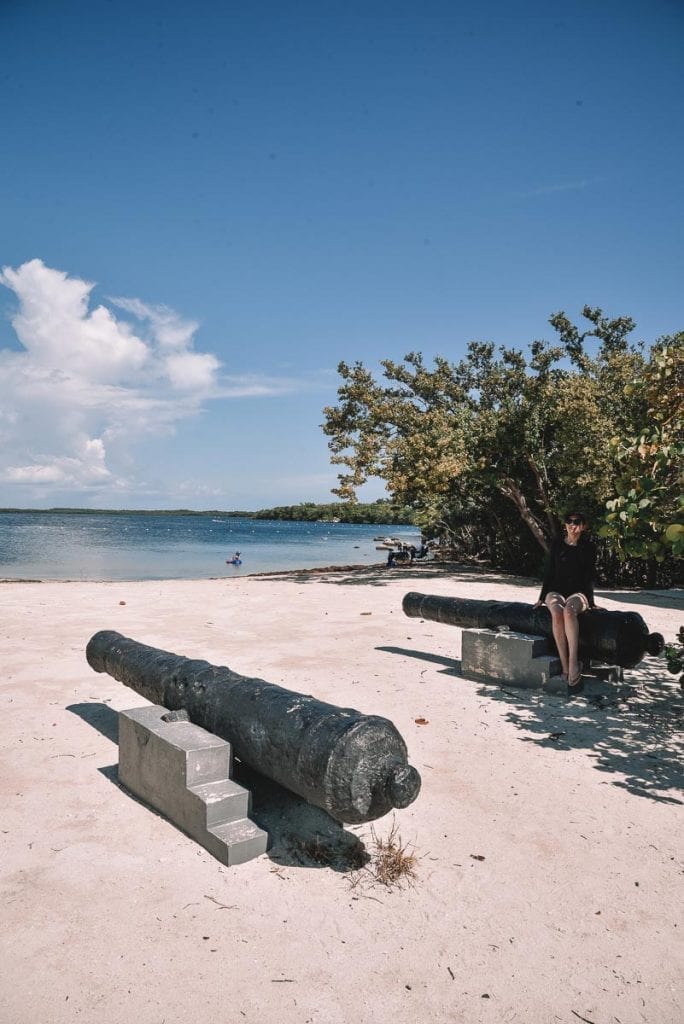 19. Try all the local Florida Food in Islamorada
If you are traveling to the Florida Keys, there are 2 important, traditional dishes to try – Conch and Key Lime Pie.m You can get both dishes all over the Keys. You can even pick up a Key Lime pie in Publix supermarket.
The best rated restaurants in Islamorada we would recommend dining at include:
Twisted Shrimp
Bayside Gourmet
Mangrove Mike's Cafe
Midway Cafe and Coffee Bar
Bitton Bistro Cafe.
20. Go to a Seafood Buffet @ Whale Harbor Restaurant and Seafood Buffet
So it turns out the Vegas is not the only place you can enjoy amazing buffets! Whale Harbor Restaurant and Seafood Buffet is one of the best rated buffets in the keys and it is located at 83413 Overseas Hwy, Islamorada.
Of course Florida is known for having absolutely amazing seafood but the Keys has the best of the best. If you want to feast on amazing seafood (no limit) this is the best place to go! Included on the buffet are shrimp, lobster to oysters and fresh local fish.
Open for both lunch and dinner until 9pm each night. No reservations possible.
21. Find the Flagler Railroad in Long Key State Park
If you are a bit of a history buff and like learning about how places came to be – this is a good place to check out.
The Flagler Railroad was named after Henry Flagler who helped build Florida into what it is today. He expanded his exisiting railway system in Florida, dubbing this extension the Overseas Railroad which was completed in 1912 and linked the Keys to the mainland.
22. Eat Key Lime Pie at the Blond Giraffe Key Lime Pie Factory
If you are looking for a place to consume ALL THE PIE nearby Islamorada, we would suggest Blond Giraffe Key Lime Pie Factory nearby Tavernier.
This shop is consistently rated for having the best key lime pie in the keys – I guess you can be the judge of that! One thing we really appreciate about this shop is the pies are made fresh daily so there is no stale pie ever.
If you want a late night treat, you will be happy to know this shop is open late until 9 PM daily.

23. Cycle the Florida Keys Overseas Heritage Trail
If you are an active traveler, cycling the Florida Keys Overseas Heritage Trail is always a good idea to get out and about.
The path spans 75 paved miles. Some people come to the area just to bike the trail, stopping at different state parks along the way.
24. The Florida Keys Turtle Hospital
The turtle hospital is actually located in Marathon but it is quite nearby and a cool place to drive to and visit from Islamorada.
For some people – particularly families with kids – the Turtle Hospital rates as their favorite activity in the Florida Keys.
The turtle hospital rehabilitates of turtles in the Florida keys. This good work justifies the fairly high entry fee of $25 per person. Included in your ticket is a 90 minute guided where you will get an opportunity to feed the turtles.
This is their rescue mobile.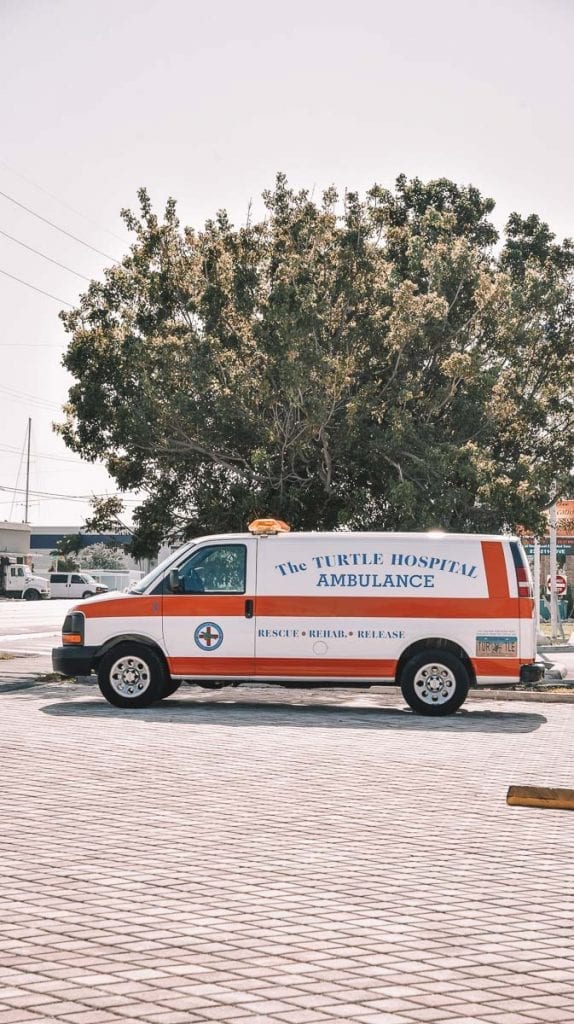 Where to stay in Islamorada?
Islamorada has lodging available for all budgets. Click here to search accommodation options in Islamorada during your dates.
Here is the places we would recommend depending on your budget:
You can also camp at Kohn Pennekamp Coral Reef State Park at a cost of $43 USD a night including tax. If you want to spend your time camping in the Keys we have also written a full guide to this you might want to check out.
What's next? We suggest you head to Marathon and Bahia Honda State park over the overseas highway.
Planning a trip to the Florida Keys + beyond?
If you are planning a trip to the Florida Keys + beyond, here are other posts that might be helpful to you: