Looking for Islamorada Beaches? They are well worth the visit.
The next town on our Florida Keys road trip was Islamorada and of course we hunted out the best beaches in Islamorada while we explored all the things to do in Islamorada.
We found the beaches in Islamorada to be very similar to the beaches in Key Largo but of course they have their own unique charm too!
Islamorada is the second major stopping point on a road trip from Miami to the Florida Keys on the overseas highway. Islamorada is only a 45 minute drive onwards from Key Largo so even if you are not planning to go as far as Key West you might like to explore some of these cool beaches around the Islamorada village.
If you are at the beginning stages of your Florida Keys vacation planning you might also like to check out our Miami to Key Largo guide.
We visited Islamorada as part of an epic Miami to Key West road trip. If you are making the same drive, you might like to check out our post for unmissable places to visit along the way!
Islamorada Beaches
We loved the very relaxed vibe of the Islamorada beaches.
The beaches along the Keys are very "beach-boys-esque" you can imagine them performing in cool, small bars along the beaches.
The beaches in Islamorada are not traditional fluffy white sand beaches that you might see elsewhere in the United States (due to the coral reef that protects the beach) but they have a very cool, relaxed vibe we have not experienced elsewhere.
Aside from relaxing on the beaches, it is very popular to go fishing at plantation yacht harbor marina.
Anne Beach
I included this beach in our Key Largo Beach guide because we really liked it and drove there one day from Key Largo but it is really a Islamorada beach. Shh, don't tell anyone!
Anne Beach is known for being one of the most beautiful beaches in the Florida Keys.
Families like it because it has very shallow water perfect for children swimming it in.
We liked it because it has a gorgeous boardwalk that you can go for a walk on or enjoy a picnic. The picnic tables along the boardwalk are shaded which is always a win.
The name 'Anne Beach' has a great story behind it. It is called Anne Beach to honour eco-warrior Anne Eaton. We love eco-warrior's getting formal recognition for their hard work.
If you want to head on from Key Largo, Anne Beach in Islamorada is around a 30-40 minute car ride from the Kohn Pennekamp Coral Reef State Park.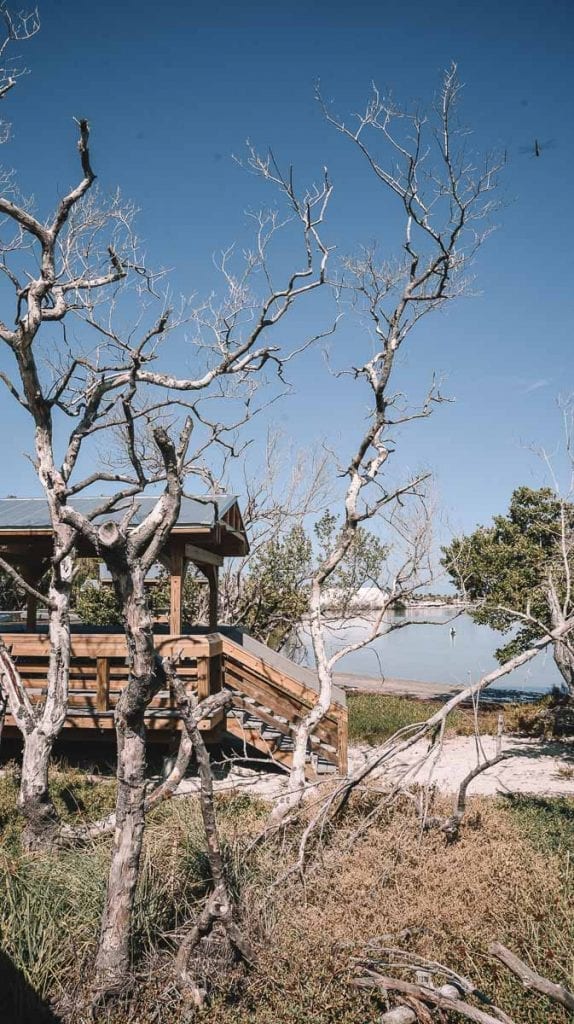 Founders Park
Founders Park is a really popular beach among locals in Islamorada.
This is partly due to the fact that it is free for locals and partly due to the fact that it has many facilities including an athletic field, olympic size swimming pool, marina and beach.
It costs $8 USD per person entry fee for non residents.
Holiday Isle Beach
Another of the best beaches in Islamorada is the Holiday Isle Beach (mile marker 80.2).
This beach is one of the nicest beach spots in Islamorada. It is a traditionally a private beach, owned by the Holiday Isle Resort complex however, some of the beach is open to the public for free.
We loved that there was some very convenient parking at Holiday Isle Beach.
As you walk into the complex you firstly will first come across a Tico Bar. Nearby the Tico bar and restaurant (one of the best restaurants in Islamorada) is a beach that can be used by the public for free.
In the same area as the beach you can also reserve a fishing charter or eco boat tour. Going snorkeling at one of the reefs off Islamorada is one of the best activities in the area.
There is also a private beach for use of the people staying at the Holiday Isle Resort. At the gate it states that you need a wristband to enter this particular beach.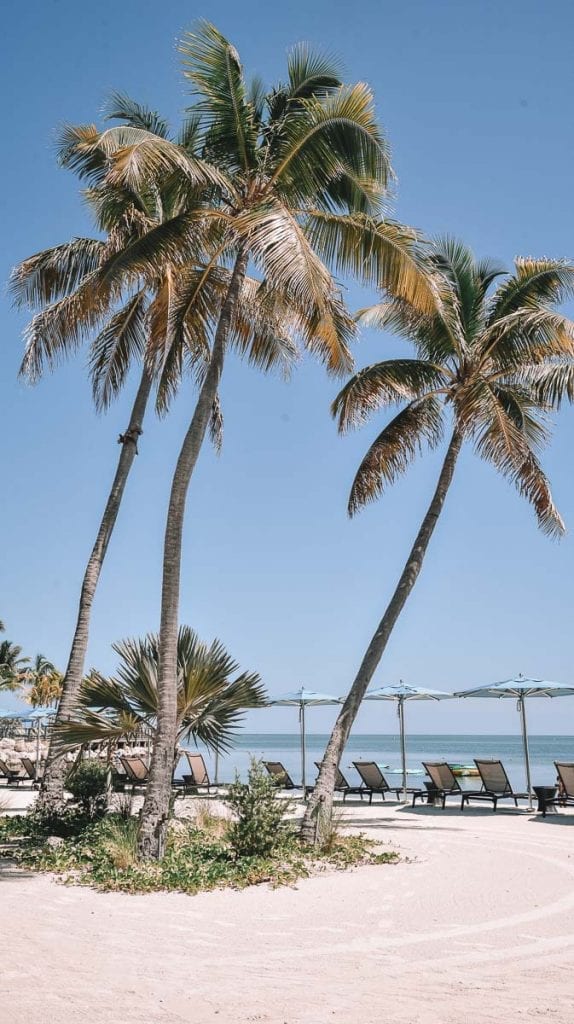 Islamorada Library Beach and Park
This is a hidden gem in Islamorada. It is very popular with locals, most tourists don't know about this secret spot in Islamorada.
If you want to visit this park and little beach area, put the Islamorada Library into google maps. The Islamorada beach is just behind the Islamorada Library.
It is a gorgeous beach and very nature friendly. We saw both an iguana and a reef shark floating by while we were at the beach.
We saw a sign stating to swim at your own risk and after seeing the reef shark we can understand why!
Nethertheless, it is a great beach, perfect for relaxing or having a picnic. There is only a small bit of sand with a lot of grass but we loved the nature view of the beach. The water was also very clear which was appealing.
At the beach there are swing sets for children, picnic tables and BBQ facilities as well as toilets and a beach shower.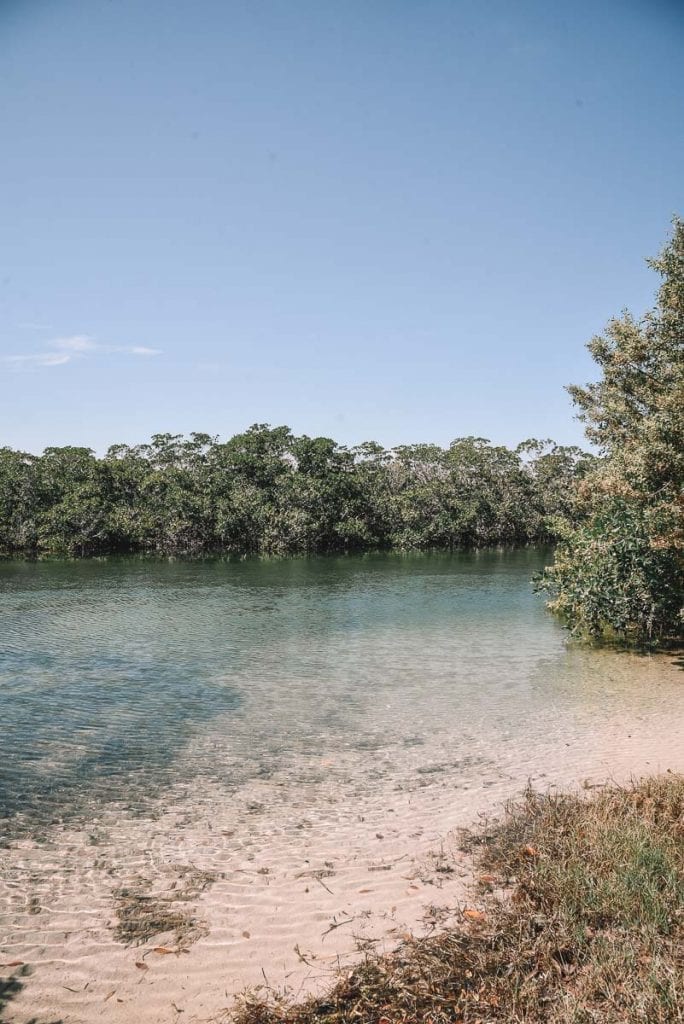 Long Key State Park
If you love State Parks you will love relaxing for day at Long Key State Park.
It is a little pricey for beach access at $8 USD per person but it is a stunning beach with the best views of the Atlantic Ocean in the area.
The beach has some sandy beach areas but also rocky areas that the require the use of water shoes if you wish to explore these areas more.
This State Park is another particularly popular option for families as the water is clear and shallow – perfect for kids swimming in the area.
Secret Beach
As we were driving along Islamorada looking for the best beaches in town, we noticed something very interesting.
Many people were pulled over in a particular spot enjoying free swimming in the crystal clear water.
If you would like to visit this "secret spot" we discovered you can find it on State Route 1 where the Indian Key Channel is.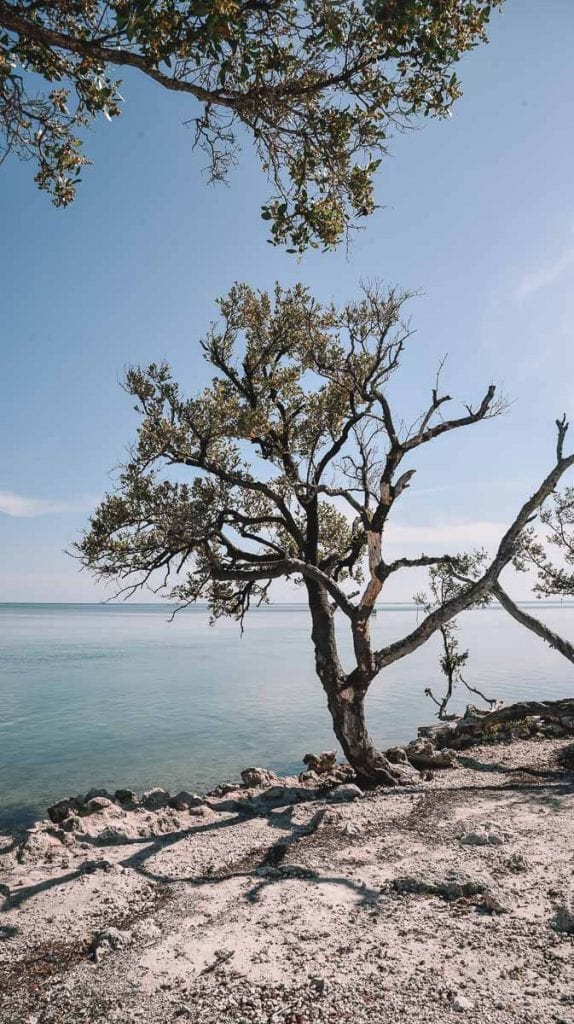 Other Beaches just outside Islamorada
Cannon Beach Key Largo
The stunning Cannon Beach is located around a 30-40 minute drive away in Key Largo.
This beach forms part of the Kohn Pennekamp Coral Reef State Park.
We really liked this State Park as it felt like a little coral reef theme park. It has 2 awesome beaches, nature trails, you can also take snorkel trips or hire boats from the State Park.
To access Cannon Beach in Kohn Pennekamp Coral Reef State Park you need to pay a $9 entry fee (valid for 2 people)
The cool part is that lining the beach are 17th century cannons. The cannons are rumoured to have come from a shipwreck in the area.
The beach is arguably the more popular of the 2 beaches in the State Park.
Cannon Beach is great for swimming and snorkeling alike. If you up for an adventure, you can snorkle out and find an old Spanish shipwreck beneath the surface.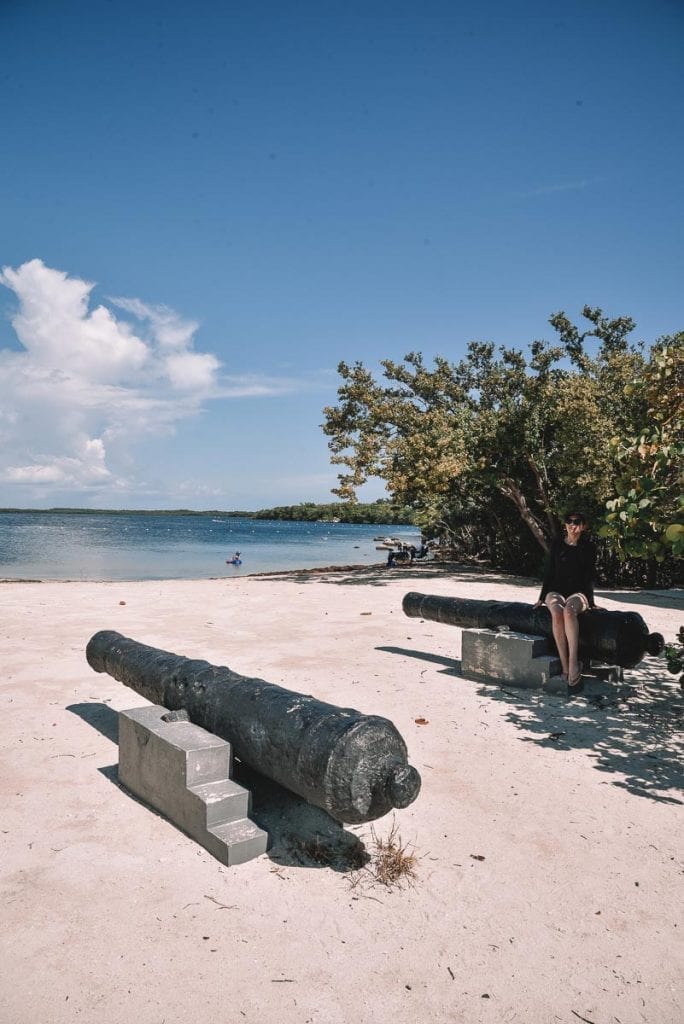 Far Beach
Far beach is the other beach in the Kohn Pennekamp Coral Reef State Park around a 30-40 minute drive away in Key Largo.
We actually preferred this beach as there are lots of Palm Trees on Far Beach meaning it provides lots of shade!
There is also a little walking track where you can see some local wildlife in the area including birds and lizards galore!
We went snorkeling off the beach from Far beach and it was a really fun experience.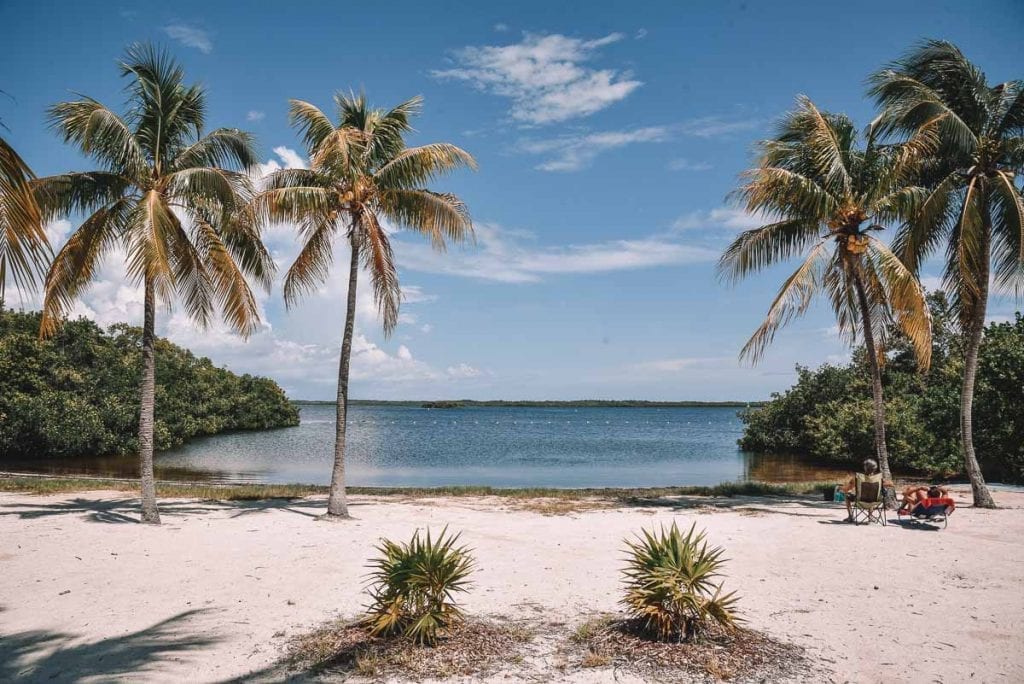 Harry Harris Park Tavernier
This beach is is between Islamorada and Key Largo.
We liked that the park had a very relaxed vibe.
There are picnic tables ideal for having a BBQ or a picnic with great shade.
There is also an inclosed swimming area which is great for snorkeling. It was practically dead with only 1 person there snorkeling while we were there. We had the whole place to ourselves which was nice.
The Park is also a great place for families with kids as there is at least 2 playgrounds that we saw in the park.
The best part? The park is entirely free to access with no parking fee!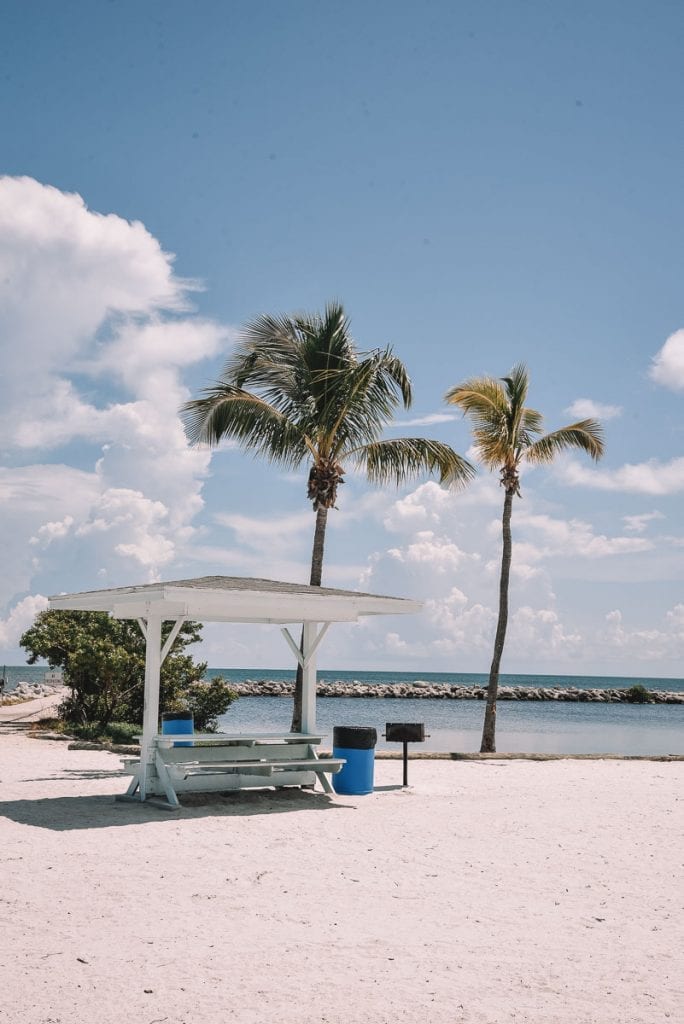 What else to do in Islamorada?
Aside from beach days, there are some other pretty cool things to do in Islamorada. These include:
Theatre of the sea – a dolphin, sea lion and marine show;
The Museum of Diving; and
Feeding giant Tarpon at Robbies
Check out our things to do in Islamorada post for the full list!
Where to stay in Islamorada?
Islamorada has lodging available for all budgets. Click here to search accommodation options in Islamorada during your dates.
Here are hotels and vacation rentals we would recommend depending on your budget:
Budget – La Jolla Resort (good budget option with beach access)
Mid Range to Luxury – Postcard Inn (has access to a great beach)
Luxury – Casa Morada (limited guests so a very tranquil, relaxing experience)
You can also camp at Kohn Pennekamp Coral Reef State Park at a cost of $43 USD a night including tax, one of the best spots to go camping in the Florida Keys.
**
See more FL Keys fun