Looking for fun things to do in Marathon Fl this weekend? Great you have come to the right place!
Marathon is the midway point of the Florida Keys – by this stage, you are half way between Key Largo and Key West.
We actually came through Marathon on our way to Bahia Honda State Park (highly recommended by the way!!) and wanted to check out what activities the mid point of the Florida Keys had to offer!
If you are making the drive from Miami to Key West or even if you want to do Marathon as a destination in its own right, here are the top things to do in Marathon FL that you simply cannot miss on a trip to the Florida Keys in South Florida.
18 Fun Things to do in Marathon Key Fl
1. Check out Sombrero Beach
Sombrero Beach is the best beach in the Marathon area and is also one of the best free things to do in Marathon if you are traveling on a budget.
It is a lovely beach with a strip of white sand and decent water. It wasn't our favourite beach in the Keys, this award goes to Bahia Honda State Park but it certainly wasn't the worst and it is a completely free beach!
The beach has ample parking. There is also toilet facilities and showers at the beach.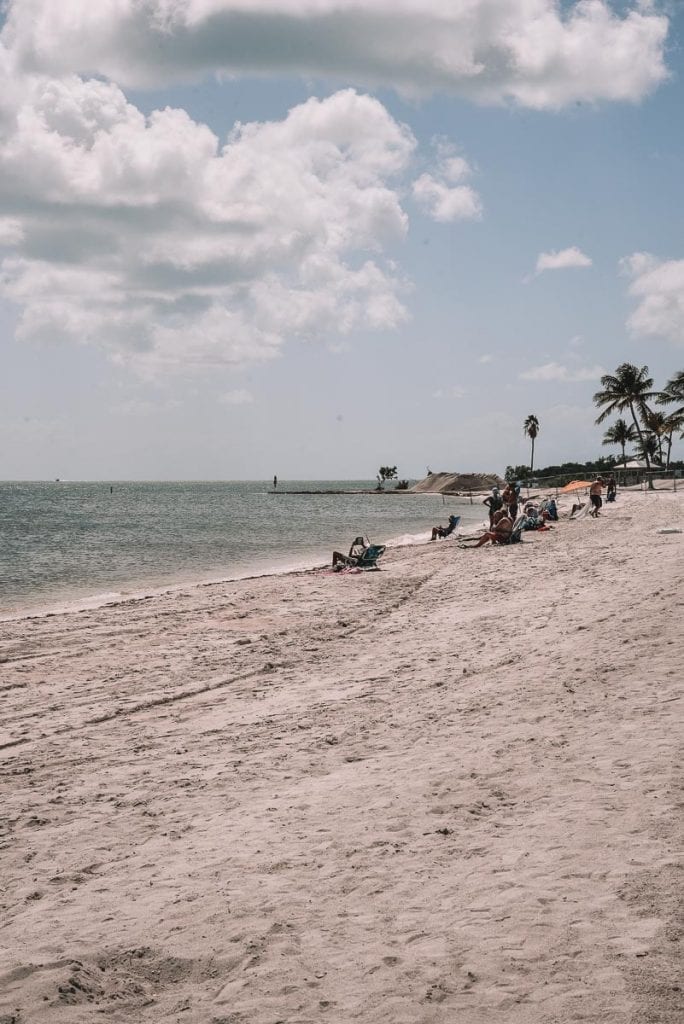 2. Visit the Turtle Hospital
Marathon really is the place to go for animal lovers everywhere as it is home to the Turtle Hospital aka cuteness overload.
For some people – particularly families with kids – the Turtle Hospital rates as their favorite activity in the Florida Keys.
The turtle hospital is cool place to visit as it rehabilitates of turtles in the Florida keys.
This good work justifies the fairly high entry fee of $25 per person. Included in your ticket is a 90 minute guided where you will get an opportunity to feed the turtles.
This is their rescue mobile.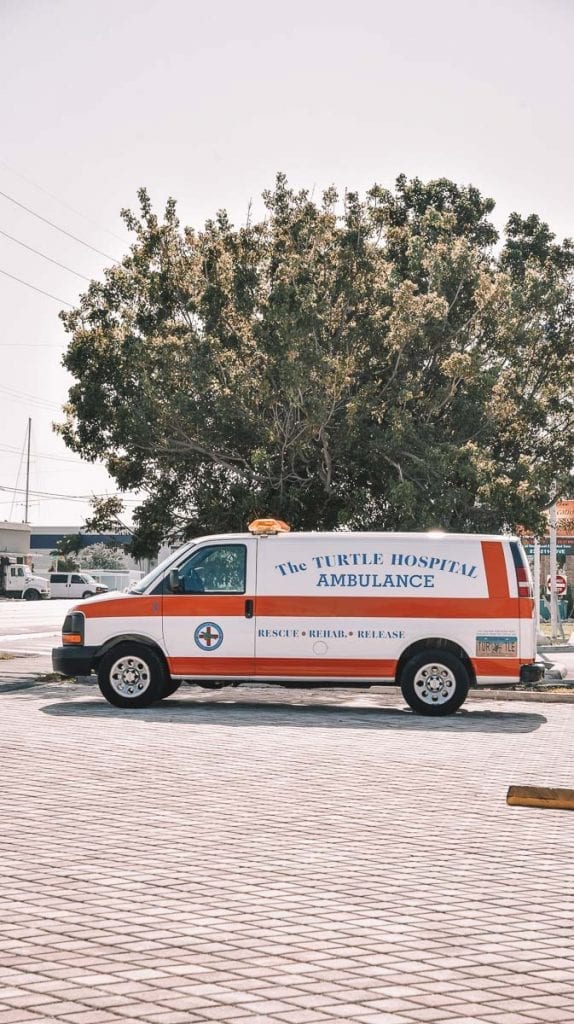 3. Coco Plum Beach
If you love turtles you might want to check out Coco Plum Beach, the other beach in the Marathon Florida area.
At the entry of Coco Plum Beach there is a sign which shows what turtle belongs to what track so you can check it out as you walk down the beach.
Personally, we didn't like Coco Plum Beach much. The beach had a lot of seaweed and there was also a very unusual smell at the beach.
Coco Plum Beach has toilet facilities but no showers as far as we could see. You will likely have the beach to yourself (guess people didn't like the funky smell).
4. Crane Point Museum & Nature Center
If you love nature, you must make a stop at the Crane Point Museum and Nature Center.
The center consists of 63 acres of native plants, a creek, a history museum including the first Bahamian house. If you get bored after all this exploration you can even rent kayaks.
Don't forget to do the Crane Point Hammock hike!
It costs $14.95 to enter. It is local favourite activity as you can really make a day of it which makes the entry fee very affordable.
5. JD Premier Aviation Helicopter Tours
If you are on a special trip to Marathon, say a honeymoon or anniversary, one of the coolest things to do in the area is to take a helicopter trip (especially at sunset!). Seeing the Keys from above is honestly nothing short of a magical experience if you have the funds available.
If this is something you are interested in doing, there is no better company to go with than JD Premier Aviation Helicopter Tours which depart tours from Marathon Airport.
Included in the incredible above ground experience is the chance to see Bahia Honda State Park, the Seven Miles Bridge as well as Pigeon Cay, Duck Cay, Hawk's Cay from the sky.
One of the best Marathon attractions for sure!
6. Sunset Grille and Raw Bar – One of the best things to do in Marathon at night!
Whether you are single and are looking for a party vibe or have kids, this is a fun place to go. As the edge of the 7 Mile Bridge you will find a really cool bar with a giant pool.
This bar is known for holding awesome beach pool parties with Sunday Funday being held every week (the highlight of the week for many locals). Sunday Funday includes a DJ, specials, a cornhole tournament and a poolside BBQ. Always worth checking out if you find yourself in Marathon on a Sunday. The fun kicks off at 1pm and continues beyond sunset which is really magic.
7. Visit the Dolphin Research Center
There is more than just a turtle hospital in Marathon Florida.
For those who love animals you will be happy to know there is also a dolphin research center in Marathon.
In the general admission ticket ($29 per person) you learn about all things dolphin and their behaviours but if it is a special occasion we would recommend extra to have a dolphin encounter ($199 per person).
It is a special experience to be able to interact with a dolphin up close and personal. A great family activity!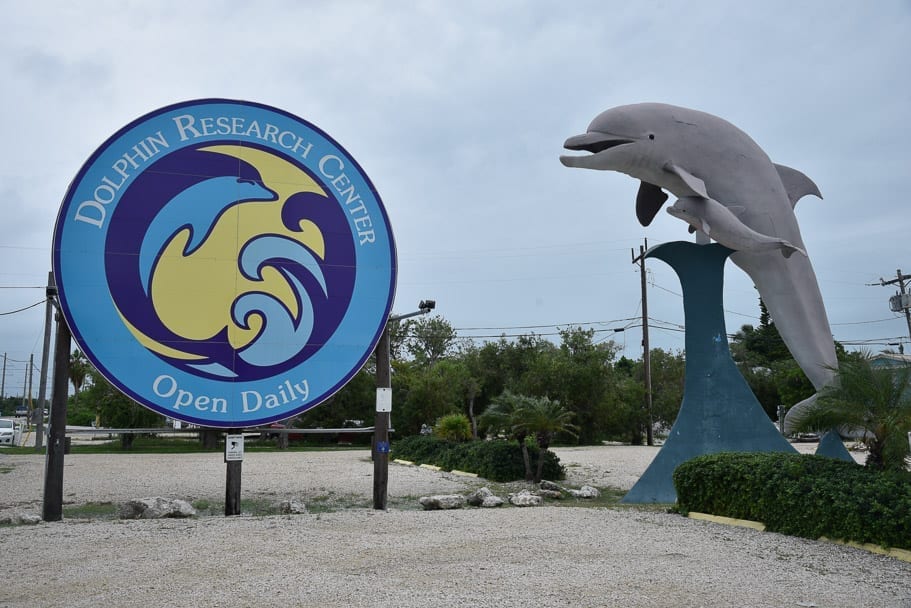 8. Dolphin Connection
Another option for Dolphins nearby is Dolphin Connection. Located within the Hawks Cay Resort, this experience allows you to get up close and personal with amazing Bottlenose Dolphins, in their natural lagoon habitat.
Depending on your budget you can choose how interactive you want to get with the dolphins with both private and group interactive programs available. If you are worried about interacting with dolphins in captivity, you will be pleased to know that Dolphin Connection prides themselves on conversation and education of dolphins.
9. Go for a drive on the Seven Mile Bridge
To visit our favourite place in the Florida Keys Bahia Honda or even Key West you will have to drive across the iconic Seven Mile Bridge the best part of the overseas highway.
Even if you are not planning to go up as far as these places, we would highly recommend taking a joy drive on the 7 Mile Bridge, it is iconic to the Florida Keys and really beautiful.
The water of the bridge is absolutely stunning and the bridge itself is truly a piece of art.
Get your camera ready but don't hang it outside your window. It is super windy on this bridge and it you drop it, its gone for good!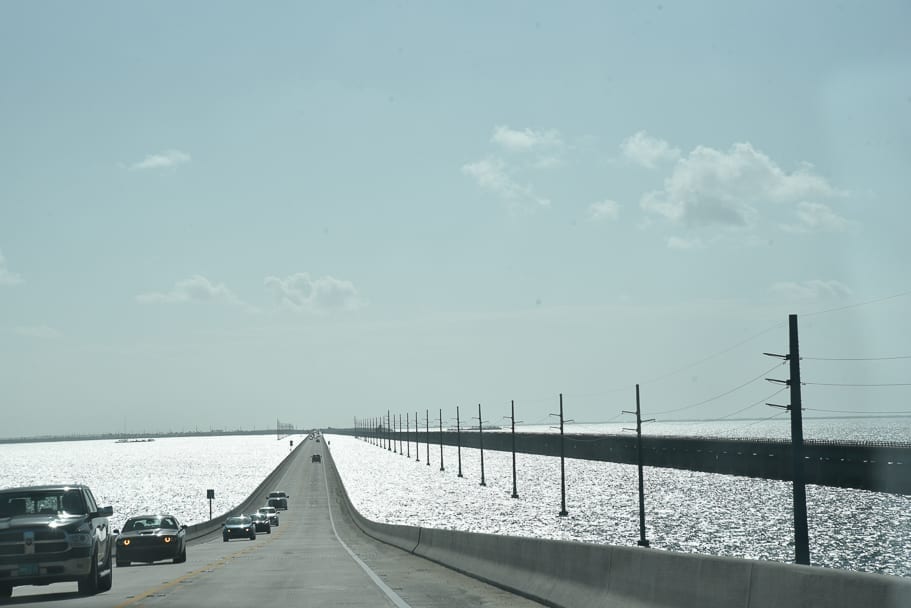 10. Spend a day at Curry Hammock State Park
In the Marathon area there is the Curry Hammock State Park.
It is not the best beach for swimming but it is a nice place to kayak or have a BBQ.
It costs $4.50 per person to enter.
We would suggest bypassing this State Park and heading to Bahia Honda State Park across the 7 Mile Bridge instead.
11. Bahia Honda State Park
Practically in Marathon, just a hop, skip and a jump away (over the 7 Mile Bridge) is our favourite place in the Florida Keys – Bahia Honda State Park in Pine Key.
If you are looking for a great (and affordable) place for camping in the Florida Keys at a cost of $43 USD a night including tax for a beach front powered spot!
Bahia Honda also has out of this world beaches. For a small day entry fee of $4.50 pp you get access to 3 awesome beaches – Caloosa Beach, Loggerhead Beach and Sandspur Beach.
Caloosa Beach is a perfect beach for swimming and admiring the view of Old Honda Bahia Bridge. Loggerhead Beach is the best beach for snorkeling – we saw amazing reef fish just off the beach at Loggerhead.
A great place for a family vacation!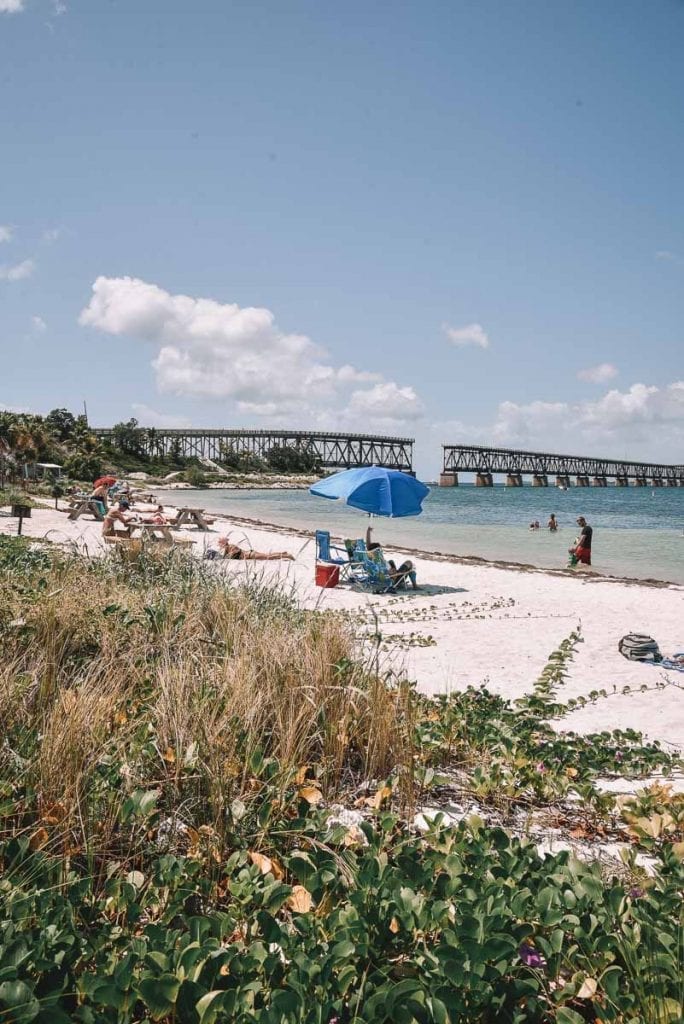 12. Spend a day at the Keys Aquarium Encounter
Aquarium encounter is a pretty cool place to visit in Marathon. It is also a great rainy day activity if you are looking for something to do while it is bad out.
This Florida Keys Marathon aquarium is no ordinary aquarium but one where you can get up close and personal with the marine life through diving, snorkeling & feeding. There is also touch tanks for the kids.
One cool activity you can do here (if you are brave enough) is to hand feed sharks!
For what it is it is a fairly cheap activities in the Keys – it only costs $22 USD per person to visit.
While at the Aquarium Encounter don't forget to visit Key Colony beach – a pretty white sand beach which is located right behind the aquarium. You will even find boat rentals to hire there.
13. Go Scuba diving at A Deep Blue Dive Center
Scuba diving is one of the most popular activities in the Florida Keys and one of the best places to do so is Marthon with A Deep Blue Dive Centre.
This company is one of the best rated in the area for diving. Even if you are not a big diver, they also offer snorkeling trips as well as whale watching and a range of other water sports activities.
The Center also has it's own diving school so for anyone who has always wanted to scuba dive but never got the chance, this is a great place to learn.
Note: If you are traveling to the area with kids, they also offer some great kids programs that you might want to check out.
14. Marathon Bicycle Rental
Even if you are doing the Miami to Key West drive and have your own car to get around, we would still recommend hiring a bike and going for a cycle sometime during your trip to the Keys.
Marathon is a nice place to cycle and has a great bicycle rental company, Marathon Bicycle Rental, to get you started. If going for a cycle has not already consumed all of your energy, the company also hires out kayaks and paddleboards.
The company are awesome at giving you the best routes of the area that you can cover.

15. Captain Pip's Snorkeling Tours
Snorkeling is buy far one of the best activities to do in Marathon for all ages.
If you want a great snorkleling tour, it is hard to beat Captain Pips! What makes this tour so special is that you get to go on a super cool 34-foot catamaran into Pirate's Cove and the Sombrero Reef to begin your snorkeling adventure.
At the reef, which is thought to be as good of a quality as Australia's Great Barrier Reef, you can see 30 acres of stunning coral reef with a myriad of underwater life.
The tour briefly also touches on the civil war and the involvement of the Sombrero Lighthouse so if you are interested in the history of the Keys and want a little fun along the way too, you will love this tour.
16. Catch 'Em All Sportfishing Charters
This is by far one of the most fun and exhilarating activities to do in the Florida Keys! If you have ever considered going on a deep sea fishing charter this is the perfect place to do it because you frequently get the chance to catch amazing fish.
Some of the awesome fishing that are able to be caught on the fishing charters include Tuna, Barracuda and Tarpon. Well worth the money as it is a great experience.
17. Marathon Air Museum
If you are into aviation, this is a cool place to check out. Inside you have clear all about the aviation history of the Florida Keys withs lots of exhibits and artifacts.
If you are interested in aircraft you can see at the museum Beechcraft Model 18, Cessna and a DC-3. Kids love that the museum allows you to climb inside the aircraft and have a go at fake flying them.
18. Visit Pigeon Key
If you are wanting to go somewhere a little bit different, Pigeon Key is a fun place to visit and the best place to do so is from Marathon. A hidden gem in the Florida Keys for sure.
It is located underneath the old 7 mile bridge. To reach the island you need to go by ferry from the Pigeon Key Visitor Centre. It is another great place to learn more about the history of the Keys as several history homes remain from the days of Henry Flagler.
The island is also a bit of a paradise in its own right and a great place to swim and snorkel. It is $15 per adult to get on the ferry unless you happen to be a local in which case it is a little bit cheaper.
One of the best things to do by boat in Marathon!
Where to stay in Marathon Fl?
Camping
If you like camping, we would recommend camping in the Bahia Honda State Park as it is really close by and gives you incredible access to the Bahia Honda State Park.
You may or may not be able to get a campsite here last minute as it is one of the most popular in the Florida Keys, somewhat so because it is the closest affordable camp site to Key West (the most iconic part of the Florida Keys).
We visited in low season (September after school holidays had finished) and we able to drive into the State Park and find a camping spot still available. We have read that this is not the case for the rest of the year. Provided you book at least 1 day in advance you can reserve a spot online.
On the day it is no longer possible to book a camping spot online and you will need to try your luck in person.
If you decide to camp at Bahia Honda, it costs $43 USD a night to camp at the State Park including tax.
The downside to this is that Florida can get quite hot and sticky at night. If you prefer a little more comfort, we would suggest staying in a vacation rentals or hotel in Marathon to explore the beaches.
Best Hotels in Marathon
Budget 3 star Hotel – Hampton Inn Marathon
This hotel is a great choice if you are traveling on a budget to the area as it is clean, comfortable and has great reviews. It also has a nice pool which is great if you are traveling with kids or what to cool down after a hot day exploring the area.
One of the most popular aspects of this hotel is the awesome poolside Tiki-style bar – always a win!
Faro Blanco Resort & Yacht Club 4 star hotel
If you have a little more money to spend on your vacation, we absolutely love this Yacht club hotel. If you want a waterfront property to stay at this is a good choice.
The hotel is one of the best known in the area due to its historic lighthouse. Included in the property is a full service marina as well as 2 outdoor pools, nightly sunset cruises, dive trips, lawn games as well as a restaurant. What we love about this place is that the hotel really organizes all the fun for you!
It is also in a great location to explore all that Marathon has to offer including The Turtle Hospital, Aquarium Encounters, Pigeon Key, Crane Point Museum and Nature Center, Sombrero Beach, Bahia Honda State Park.
Lastly, we would recommend Hawks Cay Resort as a fantastic place to stay while in Marathon! This is a great place to go if you want a bit more of a luxury vacation to the Florida Keys.
This is also a great place to stay with kids as they provide onsite opportunities to swim with dolphins – always a hit! There is also 5 (yes 5) pools to enjoy as well as a tennis court to occupy your time while you are there.
If you are on a couples vacation or feel like treating yourself to a bit more luxury there is a full service spa on site which offers massages, body bar treatments, and facials. For the fitness fanatic there is also a really great gym which you can make full use of while you are there.
When there is 5 pools you expect good dining available and the property and of course Hawks Cay delivers again! There are 6 places where you can eat at the resort including a Beach grill.
As this place is so well catered, it is a great place for a honeymoon in Marathon.
**
Hope you enjoyed our guide to things to do in Marathon Fl. If you are local and have any local tips, please leave us a comment below! We love to continually provide the best information.
****
See more: