Ahh, Key Largo beaches, you really can't go past their cool and relaxed vibe. You may not find an endless white sand beaches in Key Largo but each beach is very special in its own right and form home to an abundance of wildlife!
Key Largo is the nearest point in the Florida Keys to Miami and therefore a fabulous weekend trip from Miami if you only have a small amount of time to dedicate to the area.
We visited as part of a longer Miami to Key West Florida Keys road trip.
The Florida Keys is known for its absolutely incredible coastline and KL is no exception. Here is a complete list of the best beaches in Key Largo.
See here for a complete list of awesome things to do in Key Largo.
Bring with you: Lonely Planet Miami and the Keys Guide
Map of Key Largo Beaches
Plan your trip with a map of the best Key Largo beaches to visit:
Cannon Beach
Cannon Beach is a stunning calm, sandy beach which is located within the John Pennekamp Coral Reef State Park.
The John Pennekamp Coral Reef State Park is almost like a mini water theme park. It has 2 beautiful areas for swimming within (Cannon Beach & Far Beach). The Park also has many nature trails and some of the best camping in the Keys. On top of all this, you can take great snorkel trips from the Pennekamp Coral Reef State Park.
Arguably, the more popular within this complex is the usually tranquil, Cannon Beach.
You'll immediately notice that lining beach are 17th century cannons. The cannons are rumored to have come from a shipwreck in the area.
Cannon Beach is ideal for swimming with kids (no waves) plus there is great opportunities for snorkeling from the shore. The fish were plentiful. They were not, however, the most beautiful fish we have seen in our travels. Snorkeling was very fun nonetheless!
There are signs warning swimmers that Alligators can be preset in the water. We didn't see any and no-one appeared particularly worried. However, the water was a little murky and what I will call 'alligator friendly'.
In the interest of safety it is important to remain gator conscious at all time throughout Florida, even in the Keys.
If you feel like an adventure, you can snorkel out and find an old Spanish shipwreck beneath the surface.
The Florida Keys are notoriously more expensive than the rest of Florida. We would recommend purchasing a snorkel in advance rather than in town. There are no Walmarts available at KL, only a fairly expensive Publix.
Cannon Beach is a public beach but there is a State Park fee to enter. It costs $9 USD for 2 people to enter the park. If you choose to camp at the John Pennekamp Coral Reef State Park ($43 USD a night including tax) you are exempt from paying this fee.
There are shower facilities, tables and BBQs available for use in the John Pennekamp Coral Reef State Park.
Far Beach
This is the second beach located within the John Pennekamp Coral Reef State Park.
To access the beach, like Cannon Beach, you are required to pay a $9 USD for 2 people State Park fee. Again, you are exempt from paying this fee if you are camping in the State Park at a cost of $43 USD a night including tax.
Far Beach was our favourite beach in Key Largo.
When we visited, it was the less popular beach of the two located in the John Pennekamp Coral Reef State Park. You can also get great deals on the best diving in Key West on a tour from JPCRSP.
There was also great snorkeling opportunities located in on one end of the beach. On the other end, was an ideal place to relax with on a beach chair (BYO).
There are lots of Palm Trees on Palm Beach meaning it provides lots of shade (which we love!!!)
Nearby Far Beach there is a nice little walking track where you can see some local wildlife in the area including birds and lizards galore!
Anne Beach
Anne Beach is known for being arguably the most beautiful beach in Key Largo. It also has very shallow water so it is perfect for weak swimmers or kids.
At the beach you can swim or have a picnic. There is also a stunning boardwalk to enjoy for a late afternoon stroll.
Why the name 'Anne' Beach? There is a nice story behind this one, it was named to honour eco-warrior Anne Eaton. One of the few times I have ever seen a eco-warrior formally recognised for their hard work.
This beach is located a little further down the Florida Keys towards Key West. It is around a 30-40 minute car ride from the John Pennekamp Coral Reef State Park. Arguably, the beach is outside KL but we will include it anyway!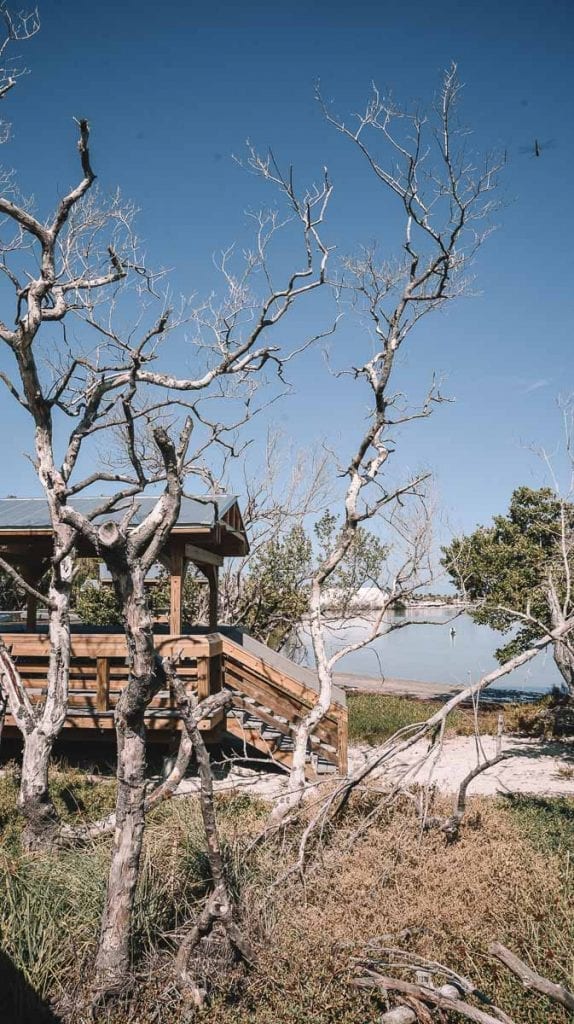 Harry Harris Park Tavernier
We adored the Harry Harris Park in Tavernier as it has such a calm and relaxed vibe. We were literally one of the few people on the 'beach' when we were there.
I say 'Beach' in inverted commas as it was not really a traditional beach as such but more a park overlooking the water. In saying that, we did see a person go snorkeling while we were there.
The park was absolutely ideal for having a BBQ or a picnic as there are many absolutely adorable and shaded picnic tables with BBQs all over the park. It is not necessary to fight as there are plenty of tables for everyone to enjoy.
The Park is also a great place for families with kids as there is at least 2 playgrounds that we saw in the park.
If you have older kids looking for more excitement there is a skate park and a swimming pool a short car ride away at Founders Park.
Taking about the facilities, I was impressed to find a very clean toilet block at the park (No lurking homeless – winning!)
The best park? The park is entirely free to access with no parking fee so come one come all!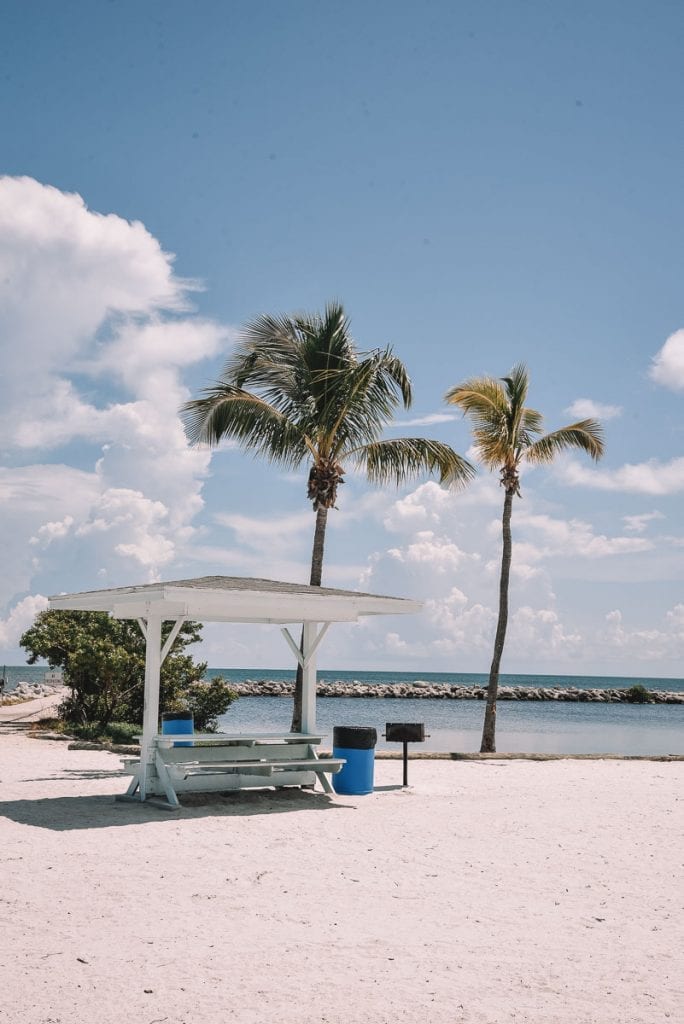 But, I want MORE Key Largo beaches!
Those listed above are the only public beach options that we are aware of in the area.
There are also some private beaches that you can enjoy in the area. These are mostly attached to resorts in Key Largo.
The good news is that there are some more good beaches nearby, such as in Islamorada, Marathon and Bahia Honda State Park. These are pretty close to Key Largo and many are seriously worthwhile checking out. For example, Bahia Honda has our all time favorite beaches in the Florida Keys area.
If you are a beach fanatic (we hear ya) here are the best beaches near Key Largo to check out (in a quick summary – if you want more about them you can check out our detailed posts on them linked above)
Founders Beach, Islamorada – a great beach popular with locals. It also includes extras like an olympic sized swimming pool that kids enjoy. Well worth the $8 entry fee if you ask me!

Holiday Isle Beach, Islamorada – we really love this beach. If you are looking for it, it is located at the mile marker 80.2. Some of it is a private beach but there are parts open to the public too. Don't miss the awesome Tico Bar.

Islamorada Library Beach and Park – a hidden gem of beaches in the Florida Keys very popular with locals. We saw a reef shark there so we would advise against swimming! Nice for a fun beach BBQ.

Long Key State Park – A nice State Park to visit in the area with access at $8 USD per person. This State Park is another particularly popular option for families as the water is clear and shallow – perfect for kids swimming in the area.

Sombrero Beach, Marathon – A favorite free beach in Marathon Fl with lovely strip of powdery white sand with decent water.

Coco Plum Beach, Marathon – We didn't love this beach, it was a bit smelly but we'd love to hear you went and we just had a bad day!

Caloosa Beach, Bahia Honda – One of the beaches in Bahia Honda State Park. It costs $4.50 to enter Bahia Honda State Park but it is well worth the money. This fee is waved if you decide to camp in the State Park.

Loggerhead Beach, Bahia Honda – Loggerhead Beach is great for snorkeling. We saw schools of bright yellow and blue fish snorkeling at Loggerhead Beach.
What else to do in Key Largo?
Aside from days on the sand, there are some other pretty cool attractions in one of the most popular towns in the Florida Keys. These include:
A snorkeling tour to see some of the clearest water in the world at Grecian Rocks (Tour can be purchased at the John Pennekamp Coral Reef State Park)
Swim with wild dolphins at Dolphins Plus Bayside
Eat the local specialty in the area Conch at one of the many seafood restaurants in Key Largo.
Eating Key Lime Pie. A local speciality served cold making it delightfully refreshing on a hot day. We went on a hunt for the best Key Lime Pie in Key Largo
Where to stay in Key Largo?
Camping
If you love camping the John Pennekamp Coral Reef State Park is a fabulous place to stay and give you free entry into the State Park including of course the beach areas.
A little further down the Keys there is also camping in Bahia Honda State Park which we absolutely loved. We think Bahia Honda has the best beaches in the Florida Keys so it is really nice to camp here as you get to wake up early and go swimming before the day trippers arrive!
Hotel recommendation
If you want a little more comfort, we would recommend Key Largo Marriott Beach Resort. One of the highest rated hotels in the area and for good reason. If you want a waterfront hotel in Key Largo it is a great choice. It is also good if you want help planning activities while on the keys as they offer sport fishing, coral reef diving, and other water sport activities. There is also a nice pool and full-service day spa, because you don't come to the Keys without getting some extra pampering!
Island Bay Resort is also a really great place to stay in Key Largo with consistently good reviews (9/10!) It is also a bit cheaper than the Marriott so if you are looking for a more affordable trip to Key Largo this is a good option. It is also located beachfront with its own private beach which is really nice, that way you don't even need to bother visiting the ones above if you don't want to.
Something unique?
If you want something a little more, let's say unique? You definitely have to spend a night at Jules Undersea Lodge which earns rave reviews on forums. This is Florida's only underwater hotel. Yes, you will be staying completely underwater. Note, you need to be diving to access the hotel. To be honest diving and sleeping underwater freaks me out just a bit but I can totally see the uniqueness and appeal, especially for divers! Very cool.
Read more: Romantic Hotels in Key West
More Florida Keys Beaches
Next up on your journey to Key West along the beautiful Florida Keys, don't miss these gems: