Walking, cycling or touring the Shark Valley Trails in the Everglades National Park is an awesome way to spend a day or afternoon.
It is definitely one of the Best Hiking Trails in the Everglades!
We walked part of the trail and it was still thoroughly enjoyable even though we didn't make the full distance. We even saw an alligator along the way!
Note: If we did the trail again we would choose to bike. The better trail for hiking in our opinion is the Anhinga Trail.
Shark Valley Trails and Tours
We chose to visit the Shark Valley Visitor Centre due to its close and easy proximity to Miami.
The Shark Valley Visitor Centre is particularly popular for the 15 mile Shark Valley trail which can also be accessed on foot, by bike or via a tram tour.
Shark Valley Visitor Centre hires bikes for $9 per hour. It takes approximately 2-3 hours to complete the 15 mile round trip journey by bike.
Alternatively, if you like a bit of comfort & information as you enjoy the scenery, the Shark Valley tram tour is a good option & costs $24 USD pp, running daily until around 4pm.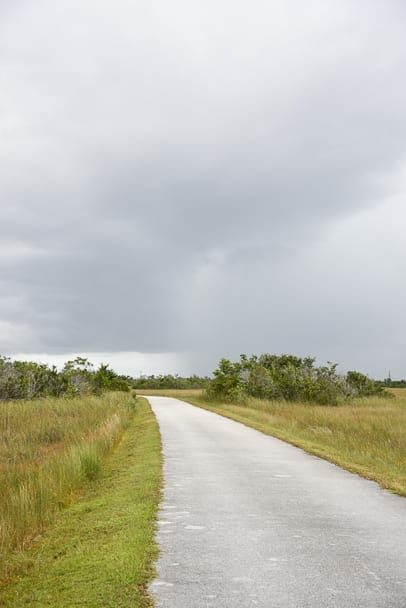 Need to Know – Entrance Fee
Opening hours: Open daily from 8:30AM to 6:00PM.
Entrance Fee: Entrance to Shark Valley requires a permit for Everglades National Park.
$30 per car, valid 7 days
$25 per motorcycle, valid 7 days
$15 per bicycle, valid 7 days
What you See on the Shark Valley Trails
We chose to walk the pathway leisurely & explore the surroundings by foot.
We spent about 3 hours in the National Park and completed about 6 miles of the 15 mile main trail.
This was an adequate amount of time to get a good feel for the Everglades.
It was an extremely hot day when we visited so I would highly recommend bringing along with you a big hat, sunscreen & an umbrella to protect yourself if you don't want to get extremely sunburn as there is little to no protection from the elements!
The other thing that I would recommend is bringing some Mosquito bracelets & Mosquito spray as the Everglades is well known for its mosquitoes.
We completed the Bobcat Boardwalk first and intended to also complete the Otter Cave trail but unfortunately it was flooded and inaccessible when we visited.
During this journey we spotted many different species of birds, 2 snakes and 1 alligator. You need a good eye to spot the wildlife as they are camouflaged very well!
Can you spot the snake below? He is well camouflaged. You need to keep your eyes peeled on the track to spot the wildlife.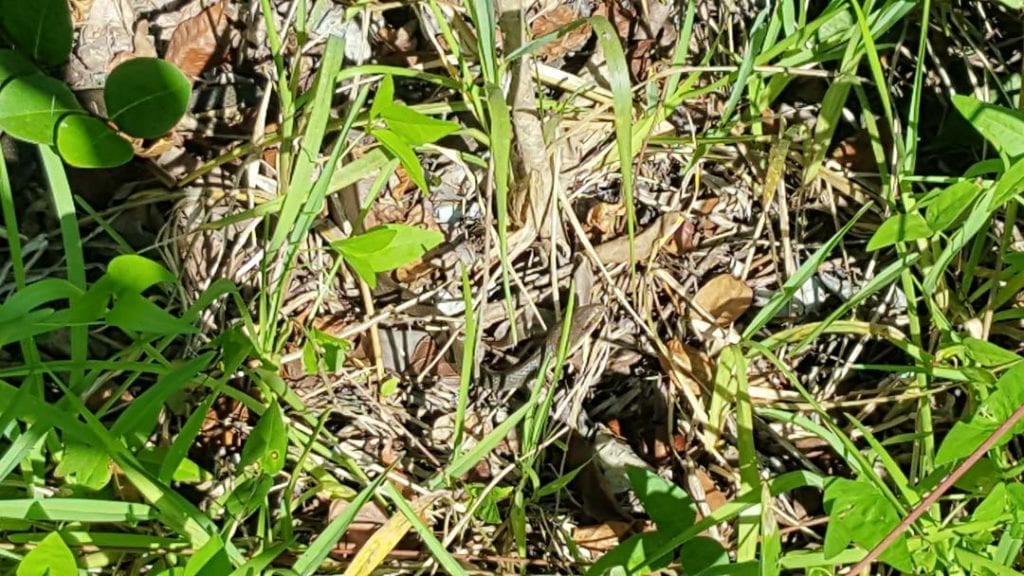 Shark Valley Visitor Centre Opening hours
This visitor centre is open 8:30 a.m. – 5:00 p.m mid-December – mid-April with slightly reduced hours for the rest of the year.
There are also two smaller trails that are accessible from the Shark Valley Visitor Centre:
Bobcat Boardwalk, a short 0.5 mile one way boardwalk trail through sawgrass slough and tropical hardwood forests; and
Otter Cave trail, a 0.25 miles one way trail through a tropical hardwood forest with small footbridges over a small stream. The Otter Cave trail can sometimes be flooded in the summer months.
You can pay your entrance fee to the Everglades National Park at Shark Valley Visitor Centre. Alternatively, you can get a National Park pass at the other end of the park at the Anhinga Trail.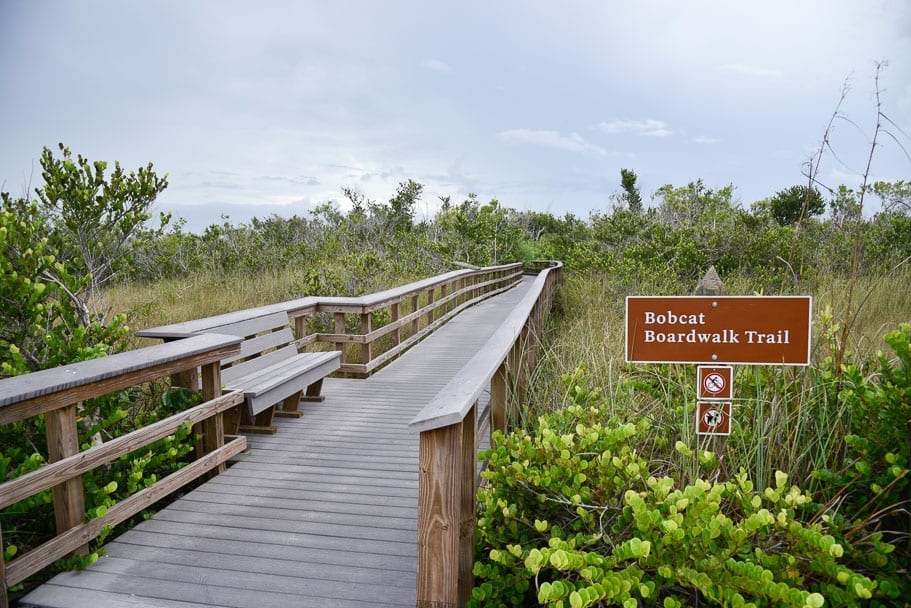 Facts – Why is it called Shark Valley
Upon entering the Shark Valley Visitor Centre, there is a small area of educational displays about the Everglades National Park. Rangers are also available to answer any questions that you have about the area.
Why is it called Shark Valley?: Early settlers saw Bull Shark fins in the slough which feeds fresh water from Shark River. Hence, the name Shark Valley.
Are there sharks in the Everglades?: Even though the Everglades is predominately fresh water, and most people think of sharks as salt water dwellers, many species can survive in fresh water too. The brackish water in the Everglades is home to many species of sharks including bull sharks. And alligators of course.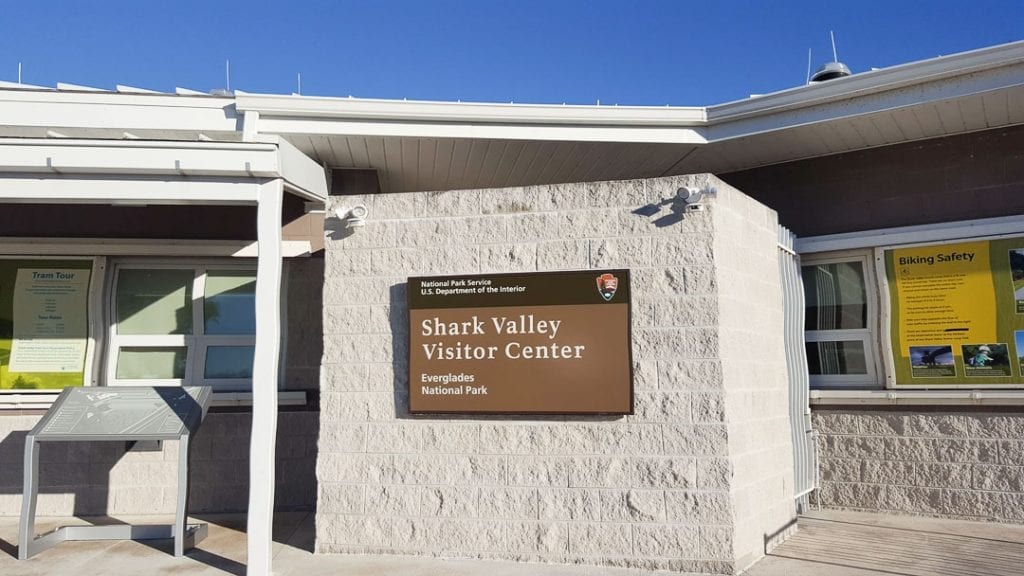 Other Things to do in the Everglades
Visiting the Everglades National Park is such a fun experience.
We would highly recommend taking an airboat tour while in the Everglades. We did not do an airboat the first time we visited and regretted it.
The tour we took (Coopertown Airboats) was really fun and we even had the opportunity to hold a baby alligator at the end of the tour.
The other areas of the Everglades we would recommend visiting are:
We found that the wildlife was in better view on the Anhinga Trail. We even saw some baby alligators!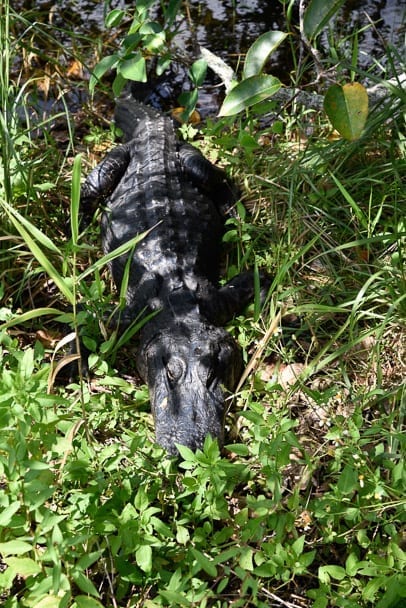 How to Get There
Shark Valley Visitor Centre is approximately 1 hour from Miami and can easily be visited in a day trip from Miami by car.
There is no public transportation available to the visitor centre and people have been previously stranded at the Visitor Centre by attempting to take ubers there.
We usually use Sixt Car Rental in Miami or scan for the best car rental price on AutoEurope. There is ample free parking available at the Shark Valley Visitor Centre
Where to go next? We traveled to Marco Island next which is only a 30 minute drive from the Everglades National Park.
***
More Florida posts: