Bahia Honda State Park – Eureka! We have struck gold. We have successfully found the best beaches in the Florida Keys at Bahia Honda State Park. We made our way to Bahia Honda as part of a Miami to Key West road trip.
We didn't know before visiting the Florida Keys that they are not exactly known for their beaches due to the coral reefs.
We hunted for the best beaches in Key Largo and the best beaches in Islamorada and while we thought these were pretty cool in their own right, nothing prepared us for the Bahia Honda beaches – what we would consider some of the nicest beaches in the world.
There's great news too: Bahia Honda is open after being devastated by Hurricane Irma.
Bahia Honda State Park – The Ultimate Guide Guide
Bahia Honda is somewhere where beach lovers come. It was our favourite part of the Keys due to beaches, the nature access and the adventure activities.
Bahia Honda State Park Information

Opening Hours: 8am – Sundown (want to stay longer? Try camping in the Keys. More info in our Bahia Honda camping guide)

Does Bahia Honda have wifi?: Yes, wifi is available 24/7 from the Concession building

How much is entry? $8.00* per vehicle. Limit 2-8 people per vehicle. $2.00* Pedestrians, bicyclists, extra passengers.

How much is camping? $43 including taxes

Can you fish? Yes, check at the gate for permit information

What mile marker is the park? Look out for Mile Marker 36 for the entrance
All sorts of people come to holiday in Bahia Honda – older retired, families with kids and even honeymooners – these people do have two things in common though: 1.They love the great outdoors and 2. They are beach enthusiasts.
The beaches we saw as we drove into the Bahia Honda State Park absolutely took our breath away.
If you are at the early planning stage of your trip, keep reading for all the best things to do in Bahia Honda, the best part of the Florida Keys.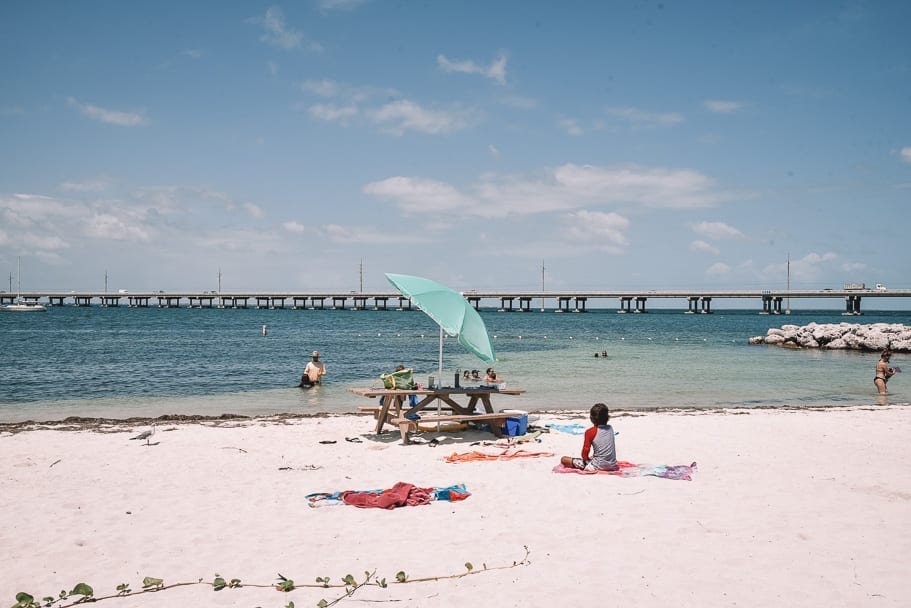 Things to do in Bahia Honda
Bahia Honda State Park
The Bahia Honda State Park is one place you simply cannot miss if you are traveling to Bahia Honda. It is without doubt the best thing to do in the Bahia Honda.
It costs $4.50 pp to enter the park but it is well worth it. If you decide to camp in the park ($43 USD per site per night) this fee is waved.
If you have a drone and want to take amazing drone footage this will be a bit of bummer for you as no droning is allowed in the State Park.
If you have traveled through America before this probably won't come as a surprise as all National and State parks have a no drone policy but it is still a bummer when the water in the State Park is just so picturesque.
Inside the State Park itself there are many things to do: there are 3 gorgeous beaches, a marina, and water activities.
There is also a store in the State Park where you can book Snorkel Boat Tours, rent Beach Rental Equipment and Kayaks. There is also a free water refill station at the shop.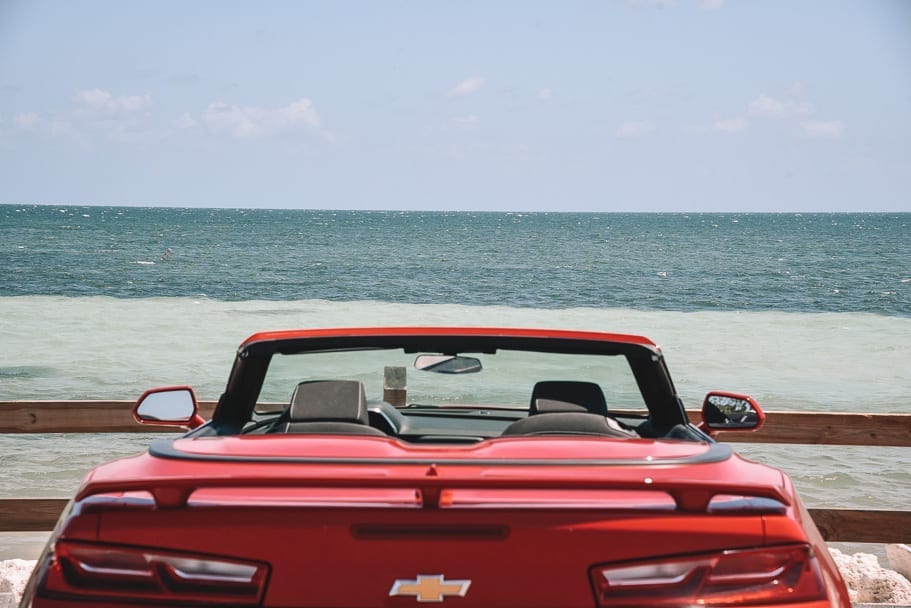 Beaches in Bahia Honda State Park
Bahia Honda has 3 amazing beaches – Caloosa Beach, Loggerhead Beach and Sandspur Beach.
Sadly, Sandspur Beach was closed due to damage from Hurricane Irma when we visited. It is a pity as we have read that it is the most beautiful beach in Bahia Honda.
People have described Sandspur Beach as having perfect white powdery sand and translucent water which goes for miles. Many people believe it is the MOST beautiful beach in the world.
I guess we may never know! BUT we were pretty satisfied with the other beaches which remained open – Caloosa Beach & Loggerhead Beach.
Caloosa Beach was fairly different to Loggerhead Beach. I would describe it as the 'swimming beach' of the two. Although after 5pm or on a bad weather day, this beach is virtually dead.
We arrived at around 4pm on a cloudy day and there was not a soul in sight at Caloosa Beach.
The next morning we woke up and visited Caloosa Beach to find many holiday makers relaxing by the shore, having picnics and frolicking in the crystal clear water.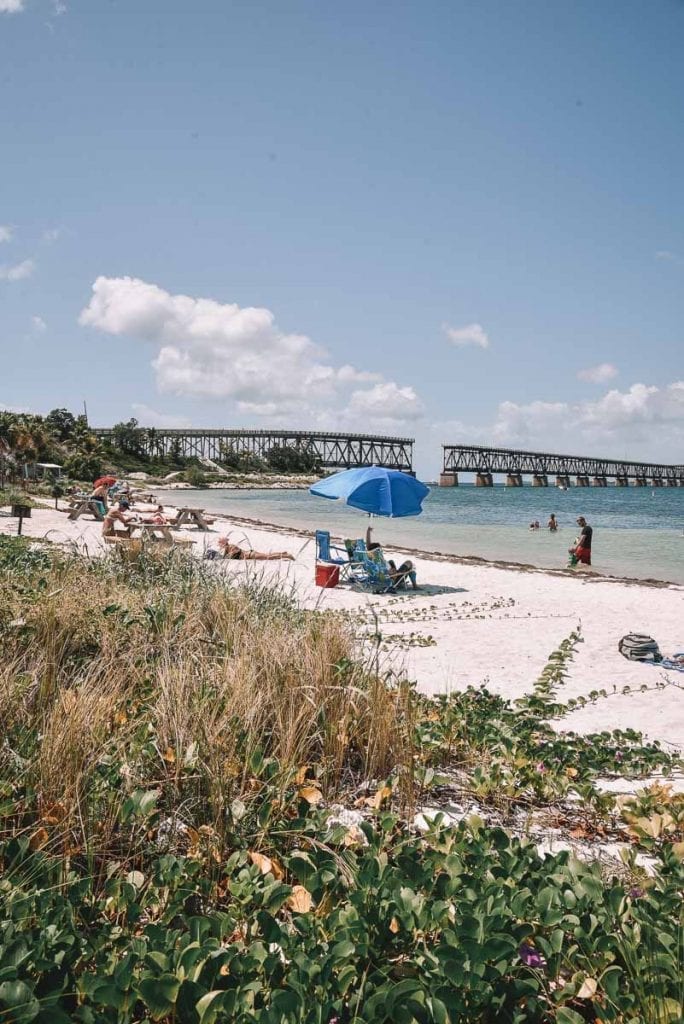 Rather unsurprisingly, the water did not look as amazing the afternoon before.
One aspect that makes Caloosa Beach particularly special is that is has epic views of the Old Baha Honda Bridge.
Another aspect we loved about this beach is that picnic tables are on the actual beach. We have never seen this before. It is so nice to be able to picnic directly on the beach. There is even BBQs on the beach. Pretty cool.
Sadly, you are not allowed to consume alcohol on the beach – I can really see a cold one going down a treat on a hot day.
In saying that, I did notice some sneaky seniors with bud lights on the beach. If you are stealth and dispose of your trash you probably won't have a problem but you didn't hear that from me!
Here is a little photography tip – Caloosa Beach has magical sunsets looking out to the Old Baha Honda Bridge. It is an amazing photography opportunity and hardly anyone is around at this time.
Loggerhead Beach was the beach in the State Park that we preferred. We thought of it as it was the snorkeling beach.
Loggerhead Beach has an absolutely fabulous reef that is so close to the shore.
You can seldom find good beach snorkeling in the world (usually you have to take a snorkeling trip) and Loggerhead Beach is one of the few places in the world that you can actually see awesome fish right off the beach.
Make sure you bring a snorkel with you. The Florida Keys are notoriously expensive so it is best if you purchase a snorkel set in advance.
We saw lots of colourful fish while snorkeling at Loggerhead Beach including garfish and schools of bright yellow and blue fish.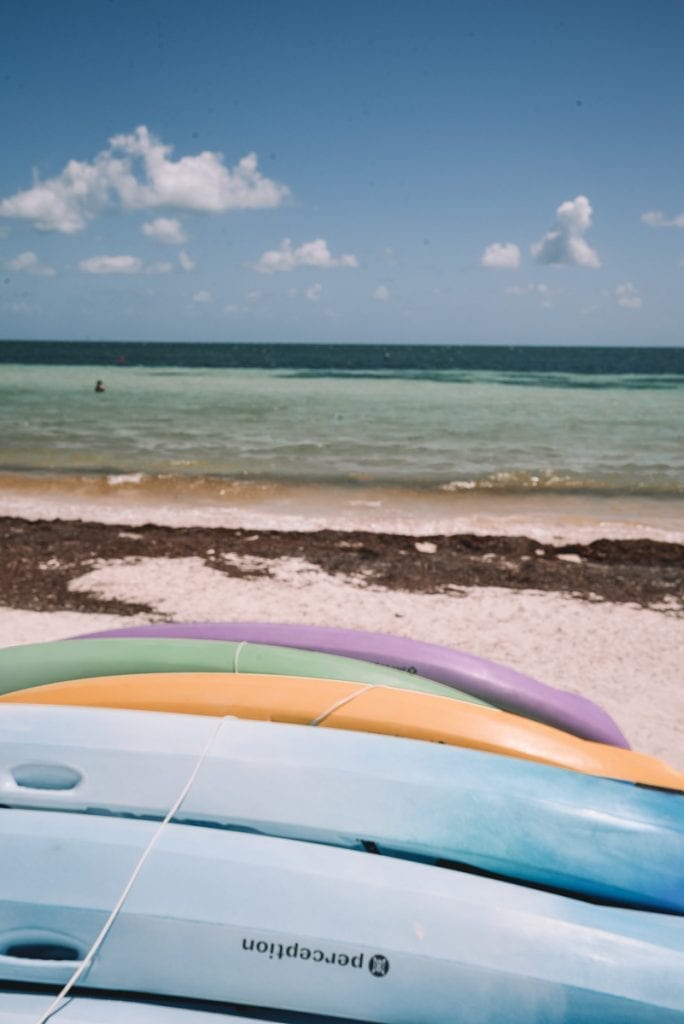 We were a little surprised to find such pretty ones as the while snorkeling at John Pennekamp Coral Reef State Park in Key Largo we didn't see any colourful fish, just regular fish.
If you are just coming for a day at the beach, you will be happy to know that there is ample parking close to the beach and great showers and changing facilities available as well as free water.
Old Bahia Honda Bridge Walk
Another cool activity you can do within Bahia Honda is the Old Bahia Honda Bridge Walk.
This walk is pretty awesome as it gives you an incredible view from one of the highest points in the Florida Keys.
It is an easy 0.4 mile walk (there are some steps required) with a fabulous view reward at the end.
You can find the entry easily from the carpark at Caloosa Beach.
The bridge has crumbled in the middle so you can hike until you find a barrier in the middle of the bridge from where you can go no further.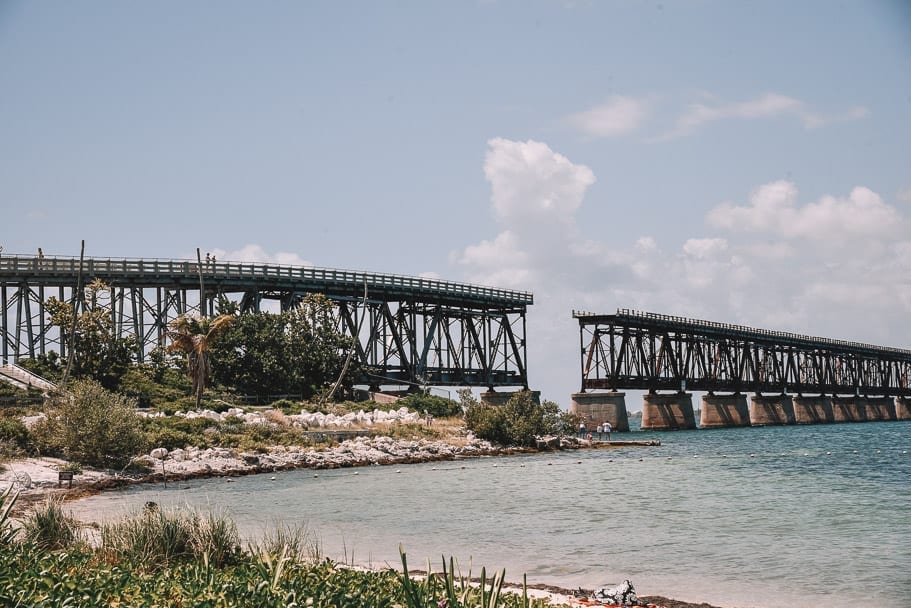 Adventure Activities at Bahia Honda
If you are interested in a bit of adventure during your time in Bahia Honda the following activities are available within the State Park:
Kayaking: Kayaking is a really fun way to explore Bahia Honda. It is possible to rent your own kayak or go on a tour.
Biking: You will need to bring you own bike for this. If that is a possibility for you, it is fun to ride the length of Bahia Honda (3.5 miles)
Snorkeling: As discussed above, the off beach snorkeling in Bahia Honda is the best we experienced in the Florida Keys.
Fishing: For fishing lovers out there, some of the best Tarpon fishing in the Florida Keys is found in Bahia Honda. You do need a saltwater fishing license to go however. And, if you are thinking of picking up some delicious Conch (the Key's speciality) note that the collection of Queen conchs are prohibited.
National Key Deer Refuge
The National Key Deer Refuge is a pretty cool and unique thing to do in the Florida Keys are just a few minutes drive away from Bahia Honda.
This is one of the few places in the Florida Keys that is free to visit so it is definitely worth a stop, especially if you are a nature lover.
One unusual thing about the deer in the park is that they are much smaller than deer elsewhere, mini deer, only about two feet tall.
The National Key Deer Refuge is a cool place to break the water activities in Bahia Honda.
The Blue Hole
Practically right next door to the National Key Deer Refuge is the Blue Hole.
If you want to see a gator in the Florida Keys then this is your chance!
The Blue Hole is home to a few gators and many many birds.
If your trip falls within the summer months it is possibly not worth a visit as there is less water and fewer wildlife.
Apply a lot of bug spray if you want to make the trip.
Take a drive on the Seven Mile Bridge
On your way to Bahia Honda you will take a drive on the seven mile bridge so this is not an optional activity if you would like to visit Bahia Honda.
Nevertheless, it is one of the most iconic parts of the Florida Keys so it was worth a brief mention in the guide.
The water is absolutely stunning off the bridge. If you are in the passenger seat, have your camera ready to take some nice shots while cruising along.
Make sure you do not hang your camera out the window. We saw a man's cap be swept off his head by the wind on this bridge. The wind is strong and there is no way to retrieve your valuables if they fly out the window.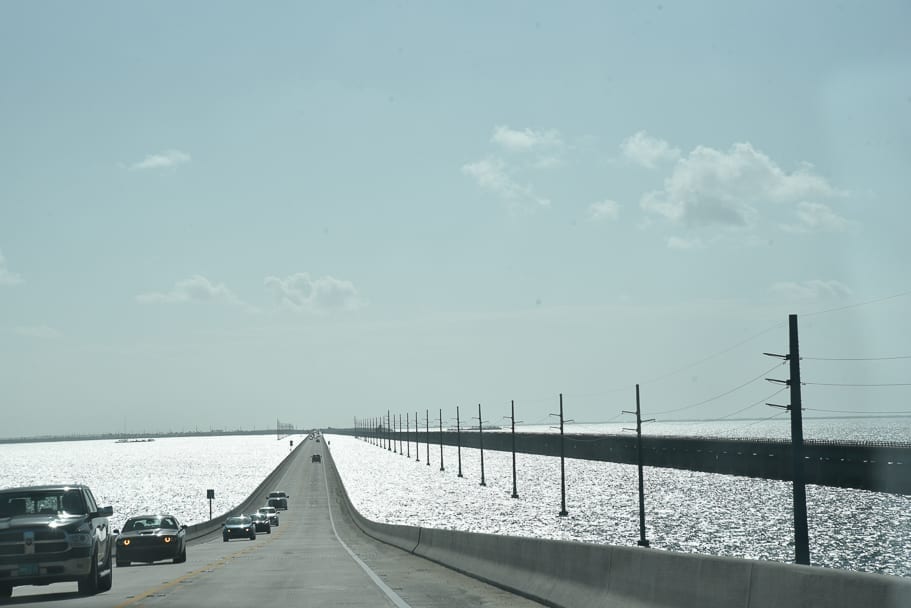 Want a free beach in Bahia Honda?
If you would rather a free beach than the Bahia Honda State park you will need to head to the nearby town of Marathon.
The two free public beaches available there are: Sombrero Beach and Coco Plum Beaches. Neither of these beaches hold a candle to the beaches at Bahia Honda State park but if you would like a free beach that is close by then these are certainly an option.
Sombrero Beach is the nicer of the two beaches available. There was nice strip of white sand with decent water (not as nice as Caloosa Beach & Loggerhead Beach though).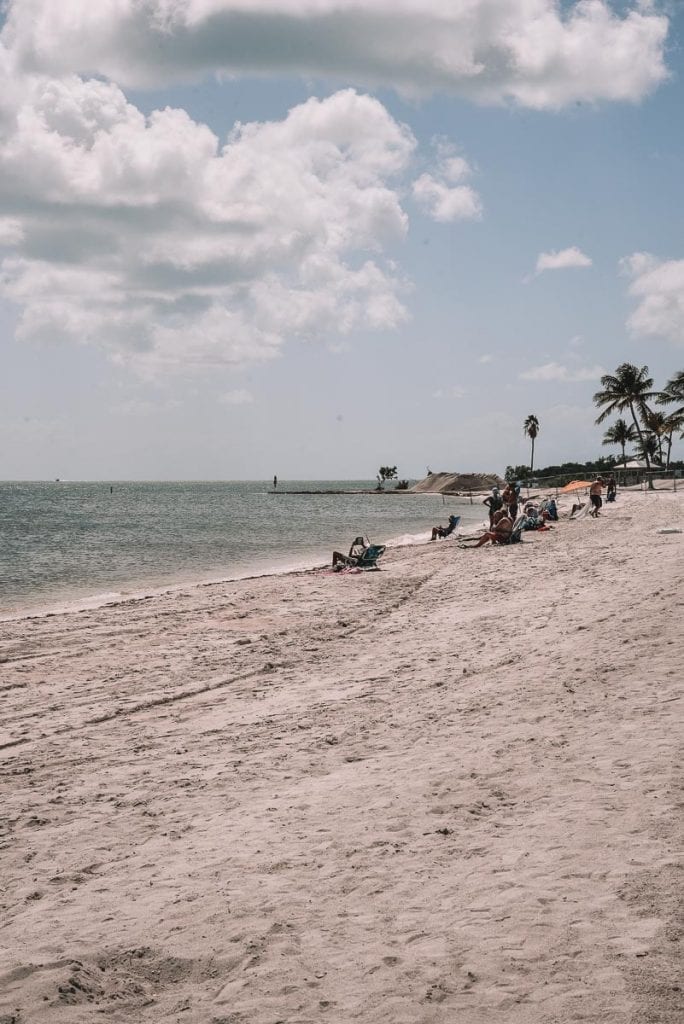 There is ample parking available at Sombrero Beach as well as toilet facilities and showers.
We were a little disappointed by Coco Plum Beach. There was a tonne of seaweed on the beach and also a rather funky smell at the beach.
There is ample parking available at Coco Plum Beach as well as toilet facilities but we did not see showers. If you choose to visit Coco Plum Beach it is likely that you will have the entire place to yourself.
I imagine that it is possible to drone at Sombrero Beach and Coco Plum Beach as they are outside the Bahia Honda State park territory.
Make a visit to the Turtle Hospital
People come from far and wide to visit the Turtle Hospital in the Florida Keys.
The Turtle hospital is also outside of Bahia Honda in the nearby town of Marathon. You need to drive over the stunning seven mile bridge in order to reach the hospital.
The turtle hospital is doing some fantastic job in the rehabilitation of turtles in the Florida keys.
If you would like to visit it costs $25 per person which includes a 90 minute guided tour including seeing lots of turtles. Everyone gets an opportunity to feed the turtles too which is pretty cool.
The turtle hospital is doing some fantastic work and if you are interested in wildlife it is a great place to visit near Bahia Honda.
Oh, and how cute is it that they have their own ambulance!!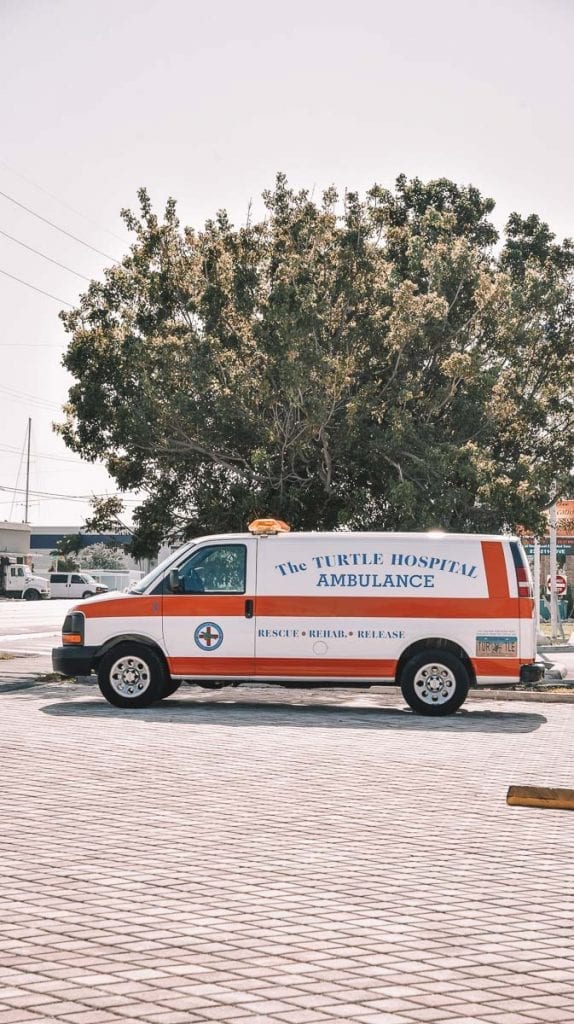 What to eat at Bahia Honda?
Inside the Bahia Honda State Park there is BBQ facilities where you can bring your own meat and vegetables to cook.
If you wish to do this, the closest and most affordable supermarket is Winn Dixie in Marathon. There is also a lot of fast food available in Marathon including McDonalds, Subway etc.
Inside the Bahia Honda State Park there is also a small shop which serves super yummy chocolate coated key lime pie among other things.
The best restaurants nearby Bahia Honda are as follows:
Milagro Restaurant & Bar
Big Pine Rooster
Boondocks Grille & Draft House
Kiki's
Bagel Island Cafe
Where to stay in Bahia Honda?
If you want the best proximity to Bahia Honda State Park we would highly recommend camping inside the Bahia Honda State Park.
State Park Campgrounds
It costs $43 USD a night including tax for a site with electricity. Some of the camping spots are particularly nice as they have a water view.
If you decide to camp at Bahia Honda you do not have to pay the $4.50 admission fee to enter the park and can be there for 2 days.
Due to the damage from Hurricane Irma, there is only pop up shower and toilet facilities currently available.
We found them to be sufficient nonetheless but it was rather tight in the bathrooms. On the plus side, there were air conditioned which was a nice surprise.
I personally (as a bit of a glamper) like to use a hair dryer and hair straightener to beautify myself in the morning. Yes, I realise that this is abnormal in the camping world but what can I say – I'm a diva!
The shower facility did have an electricity outlet available however it would be very inconsiderate for other campers as it was extremely tight in the bathrooms.
Other glampers out there will be happy to know that you can use the power outlets for hook ups for your regular outlets including computers!
Read our detailed review about Bahia Honda State Park Camping
Bahia Honda Key Hotels
It does get quite hot and sticky camping, especially in Florida so if you would prefer a little more comfort on your vacation we would suggest the following options.
We hope you enjoy Bahia Honda as much as we did. It truly was one of our favourite places to visit in the Florida Keys.
****
More Florida Keys action: