Looking for the best Naples beaches?
If beaches are what you are after on a Florida vacation then Naples Florida is a fabulous choice.
With the exception of Bahia Honda State Park Naples Beaches were by far the most beautiful we saw in Florida.
And, we aren't the first to think it as the rich and famous in Florida have made Naples their home.
Driving through the neighbourhoods alongside the beaches in Naples Florida feels as though you are driving in Beverley Hills. There is some serious money in Naples, the houses are mansions.
I did stumble across my dream house while exploring beaches in Naples. It was one of the more humble abodes in the area but its cuteness is off the chart – what do you think?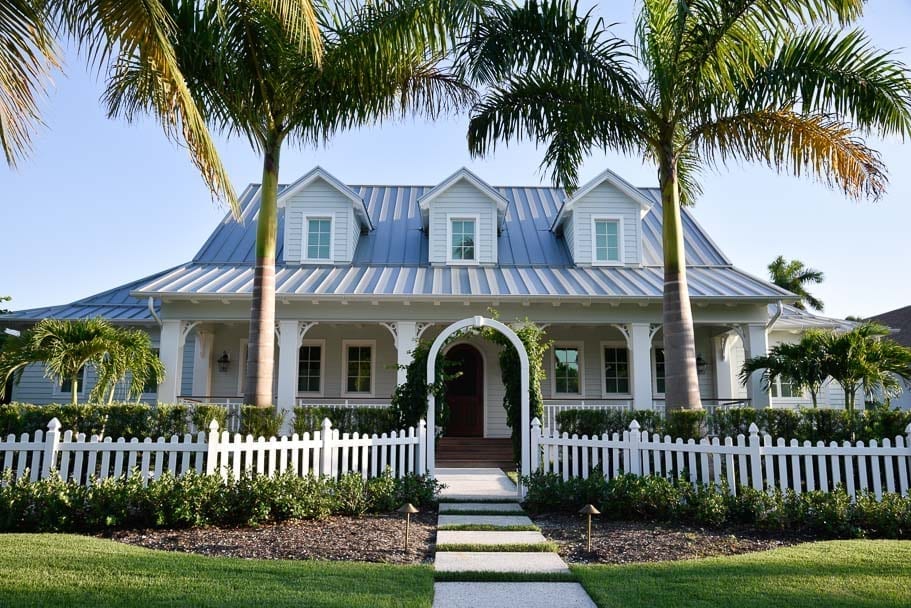 10 Best Naples Beaches Florida
Here is a complete list of the best beaches in Naples Florida:
Naples Beach
Lowdermilk Beach Park
Seagate Beach
Clam Pass Beach Park
Vanderbilt Beach
Delnor Wiggins State Park
Sugden Regional Park
3rd Avenue Beach
Central Avenue Beach
Bluebill Beach
+ 5 Best Beaches near Naples
We have also included in our guide the best beaches near Naples Florida:
Barefoot Beach Preserve County Park, Bonita Springs
Little Hickory Beach Park, Bonita Springs
Bonita Beach Park, Bonita Springs
South Marco Beach, Marco Island
Tigertail Beach, Marco Island
Naples Beach
First up, Naples Beach, the most visited beach in the Naples area. If you are visiting in peak season (winter when the snowbirds flock in) Naples Beach can get a little crowded.
There is good reason for the crowds as Naples Beach is a stunning beach in Florida with pearly white sand and deep blue water.
If you are interested in going for a long walk along a pier and not just sitting on a beautiful beach you will just love Naples Beach.
Naples Beach is a fun spot for fisherman watching. The Naples Municipal Beach Pier is one of the few places in Florida where you do not require license to fish (only from the pier).
For history buffs, Naples Pier was once an important part of the city being the entry point of Naples boat arrivals.
Naples Beach also features some pretty amazing sunsets. Make sure you bring a beach chair and really make an afternoon of it.
If you get sick of the beach, you can stroll down to the bars and restaurants just nearby on 12th avenue South.
It is free to enter the beach but it is paid parking. There are plenty of parking spots available which costs $2.50 an hour. Not great but still not as horrific as Sanibel Island parking which cost $5 an hour. Ouch!
Location: 12th Avenue South
See more: Things to do in Naples FL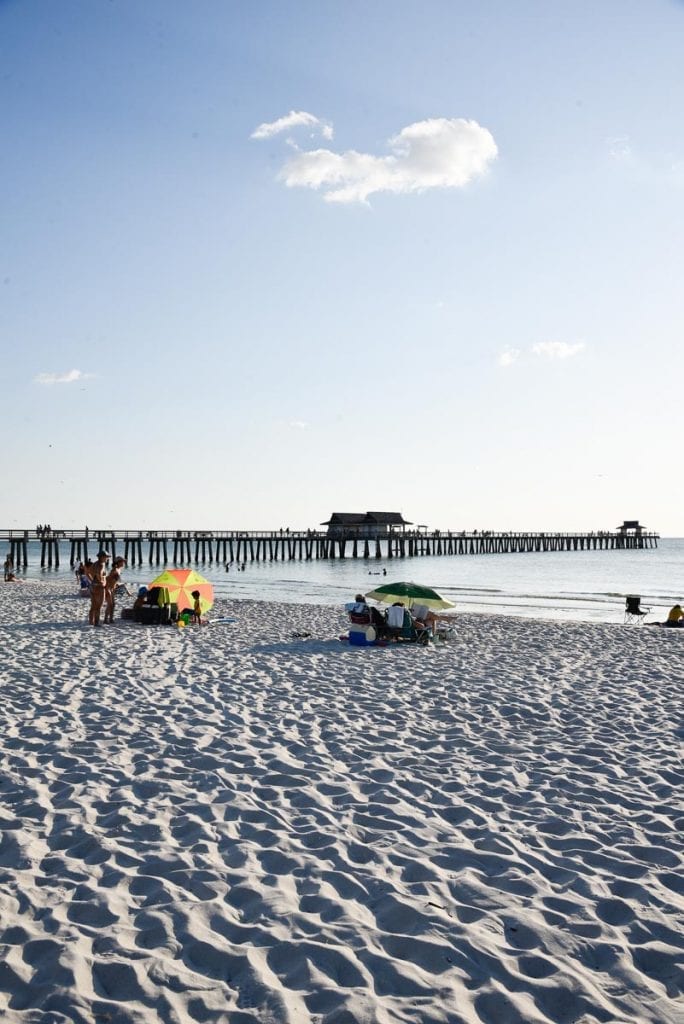 Lowdermilk Park
Lowdermilk beach Park, located on Gulf Shore Blvd, is our personal favourite beach in the Naples area.
Why? Well, maybe we got lucky but we saw a group of dolphins just off the shore jumping around.
There was a fisherman at Lowdermilk Beach Park about waist deep and the dolphins actually came over to him. It was an incredible to witness.
Lowdermilk Beach Park is the best beach in the area for families to visit as there is good facilities at the beach including shaded picnic tables and playgrounds. The water is also calm and flat.
We loved that the beach had plenty of parking available so it was easy to find a spot. Directly in front of the beach there is a concession stand as well as toilets and showers.
It is free to enter the beach but it is paid parking.
Location: 1301 Gulf Shore Blvd N, Naples, FL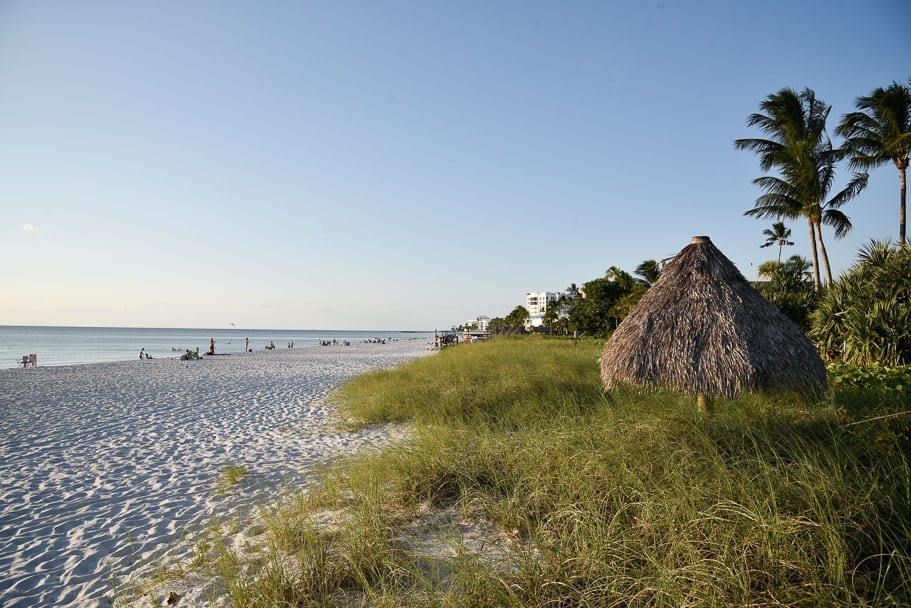 North Gulfshore Beach or Seagate Beach
North Gulfshore Beach known locally as Seagate Beach is another fabulous public beach to visit in Naples Florida.
It is a locals favourite as there are less tourists at this beach.
The beach is accessible by a long pathway between the condominiums of Seagate and North Gulf Shore Boulevard.
The beach is perfect for lounging, swimming and fishing alike.
On one side of the beach is perfect white sand and stunning water. The other side of the beach is rocky area. We saw a family fishing there. The teenage boy caught a decent fish.
There are showers available but no cafe or restaurant facilities at the beach.
The beach is known in the area for fantastic sunsets.
It is free to enter the beach but it is paid to park. There are only a few parking spaces available at the beach, 38 to be exact.
Location: 100 Seagate Drive Naples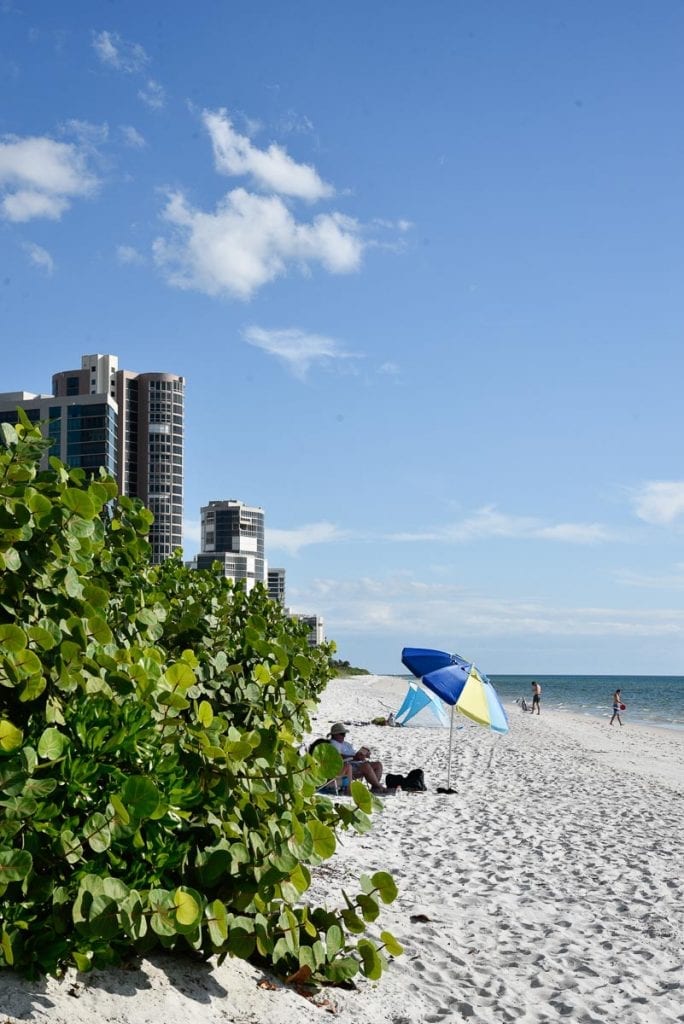 Clam Pass Beach Park
Clam Pass Beach costs $8 USD to park and enter the beach.
The beach is accessible via a very long boardwalk, a little over one-half mile from the parking lot.
In true American style, there is a shuttle which is available to transport you from the parking lot to the beach if you are not interested in walking.
One of the reasons that locals and tourists alike love Clam Pass Beach is that there is an awesome cafe/bar on site which is perfect for relaxing by the seaside with a drink in hand.
The $8 admission fee means there is great amenities at the beach including toilets and showers readily available, chairs and water-sports available to rent.
Clam Pass Beach is widely known as being one of the best sunset spots in Naples.
Location: 465 Seagate Dr, Naples, FL
Vanderbilt Beach
Vanderbilt Beach is the most popular beach for holiday makers in the area as it is located directly in front of many beautiful resorts including the stunning Ritz-Carlton, Vanderbilt Beach.
For this reason, we weren't surprised to find that it was one of the more populated beaches in the area.
Due to the abundance of fancy hotels in the area there are a lot of cool bars and restaurants to check out. There is also great facilities at the beach including close restrooms and showers.
Like Marco Island, Vanderbilt Beach is known for its shelling and shorebirds. If you would like to get the best shells, it is advisable to avoid the crowds and visit in the early morning.
It is free to enter the beach but it is paid to park. You can park for $8 for the whole day at a nearby parking garage.
Location: Vanderbilt Beach, North Naples, FL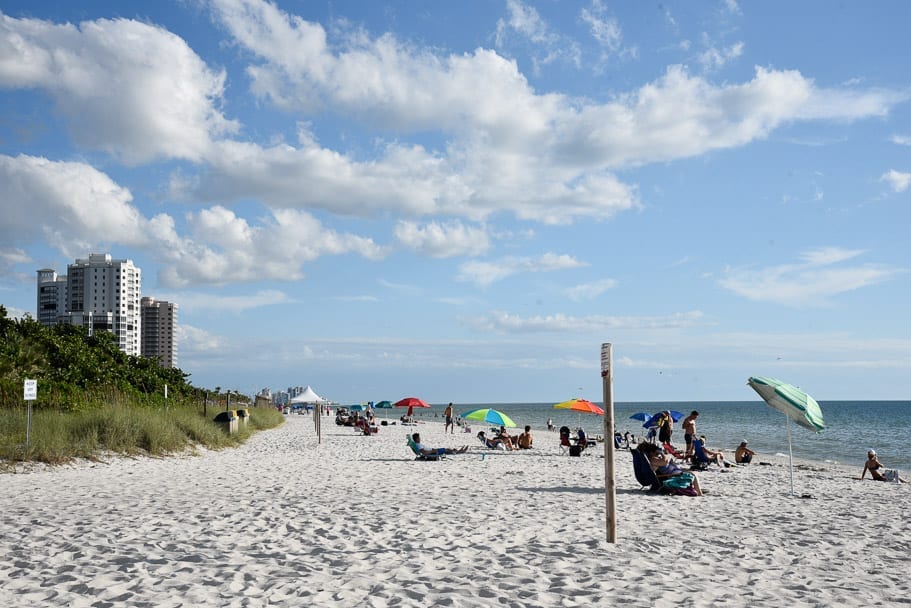 Delnor Wiggins State Park
We always like a good State or National Park and Florida certainly has some good ones.
Delnor Wiggins State Park often wins awards for the best beach in Florida due to its crystal clear waters and protected sand dunes.
For those who like a bit more activity, at the north end of the State Park there is a watchtower to climb.
As expected in a State Park there is great facilities including toilets and beach showers. It is possible to fish in certain areas of the park.
There is a State Park entrance fee of $4.50 per person to access the beach. Parking is included.
Location: 11135 Gulf Shore Dr Naples
Sugden Regional Park
Sugden Regional Park is an inland beach in Naples Florida. It is essentially a lake but it has a thin strip of sand around the lake so we can classify it as a beach, right?
It is officially classified as one of Collier Countys only freshwater beaches.
If you would like to go for a walk or a run the path around the lake is 1.6 miles in length.
This park is a hidden gem in Naples Florida and particularly popular with locals who use the lake for leisurely strolls in the afternoon as well as water sports.
There is a lot of facilities at the lake to enjoy including paddle boat rentals, a playground for the kids, a sailing and water skiing centre as well as restrooms.
The park is open from 8:00 a.m. to sunset. It is free to enter
If you happen to find yourself in Naples on the 4th of July, this is one of the most popular spots in the area to celebrate.
Location: 4284 Avalon Drive Naples
3rd Avenue Beach
Naples has public beach access all long Gulf Shore Blvd South. You can stop virtually anywhere and find a lovely strip of beach, 3rd Avenue Beach included.
There are only 14 parking spaces total at this beach which cost like most of the beaches $2.50 per hour to park. There is also limited other facilities such as a shower.
Despite the limited facilities, the 3rd avenue beach in Naples makes the best beaches in Naples list due to the Old Naples pier pilings which are perfect for photography or instagram shots.
Central Avenue Beach
Central Avenue Beach in Naples has great rated as it is a much quieter beach.
If you value for privacy at a beach then we highly recommend you visit Central avenue beach in Naples.
It is also an epic spot for a romantic stroll or to sit back and enjoy the sunset with your sweetheart without hoards of children around.
There is limited parking at Central Avenue Beach.
Bluebill Beach
If you would like to visit Bluebill Beach in Naples you will find the entrance south of Delnor Wiggins Pass State Park.
This is a stunning beach with gorgeous white sand but it is rather difficult to access with a car as there is no parking available directly at the beach access point.
If you would like to visit the beach there is a metered parking lot a few blocks away at Conner Park.
Bluebill Beach is a favourite with Naples bikers as although there is no parking for cars there is bike racks available. There is also restrooms and foot showers.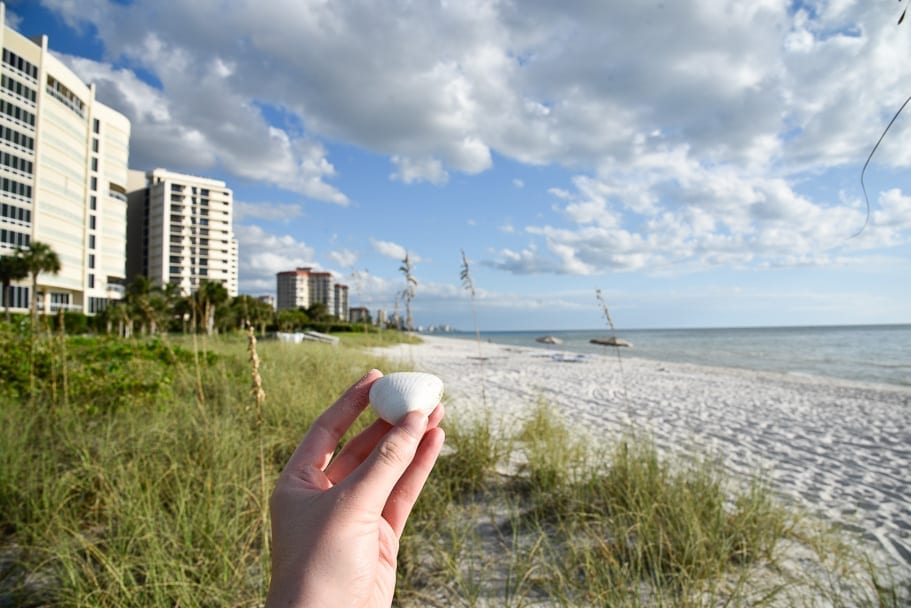 Private Beaches in Naples
Along with the public beaches listed above, there are also many private beaches in Naples such as the Park Shore Beach Park.
Best Beaches Near Naples Florida
On the gulf coast of Florida there are so many fabulous beaches to enjoy.
The beach towns of Bonita Springs and Marco Island are close enough to Naples Florida to be able to enjoy their incredible beaches too!
Here are our favourite beaches that we would recommend visiting near Naples Florida.
Bonita Springs Beaches
Barefoot Beach Preserve County Park
Often included in Naples Beach guides, this beach is actually a Bonita Springs Beach, being located in the neighbouring city of Bonita Springs.
It is one of the most popular beaches in the area as it is a pristine, unspoiled beach which is home to a lot of wildlife. It is possible to see many Gopher Tortoises at the beach.
It is a perfect beach if you are traveling as a family as the water is very shallow and calm.
For those who like a bit more excitement and activity you can rent kayak and canoes to paddle through the mangroves.
It is $8 to park at the beach (only for non residents of the area)
Little Hickory Beach Park
If you are looking for a fabulous free, public beach in Bonita Springs Little Hickory Beach Park is a fabulous choice.
This beach is rated the best beach in Bonita Springs in tripadvisor for its very calm and crystal clear water, perfect for family fun.
If you make a day trip to Bonita Springs we would recommend Little Hickory Beach Park for sunset. The sunsets in Bonita Springs are unreal. We also could not find a park at Bonita Beach Park.
There are free parking spots across the road. Otherwise, it is $2 per hour to park at the beach.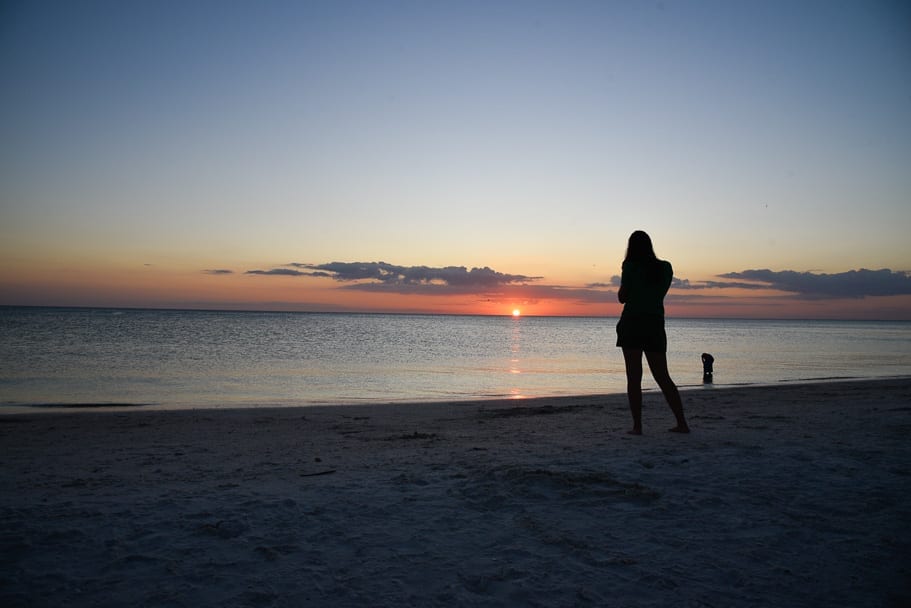 Bonita Beach Park
Bonita Beach Park is a popular beach in Bonita Springs due to the pristine water and pearly white sand.
This beach is undoubtedly the most popular spot in the area for sunset.
We would recommend bypassing Bonita Beach Park for sunset as it is impossible to find a park and the sunsets are identical at Little Hickory Beach Park.
It is free to access the beach but has metered parking – $2 per hour.
Marco Island Beaches
If you aren't beached out at this point you might like to head to the gorgeous nearby city of Marco Island to check out the stunning Marco Island Beaches.
Marco Island is only 29 minutes drive from Naples so it is very easy to make a day trip there. Marco Island Hotels are pretty good too so you could choose to stay there if you wished. Marco Island is particularly popular on the Gulf Coast due to the shelling opportunities.
Our favourite beaches in Marco Island if you want to make a day trip from Naples are as follows:
South Marco Beach
South Marco Beach is the most popular beach to visit in Marco Island.
Even in off season at South Marco Beach there are many umbrellas and beach chairs lining the beach.
South Marco Beach is a popular choice as it is located in the direct of many luxury hotels on Marco Island and also boasts crystal clear water and blinding, white sand.
It costs $8 to park at the stunning South Beach but it is free to enter.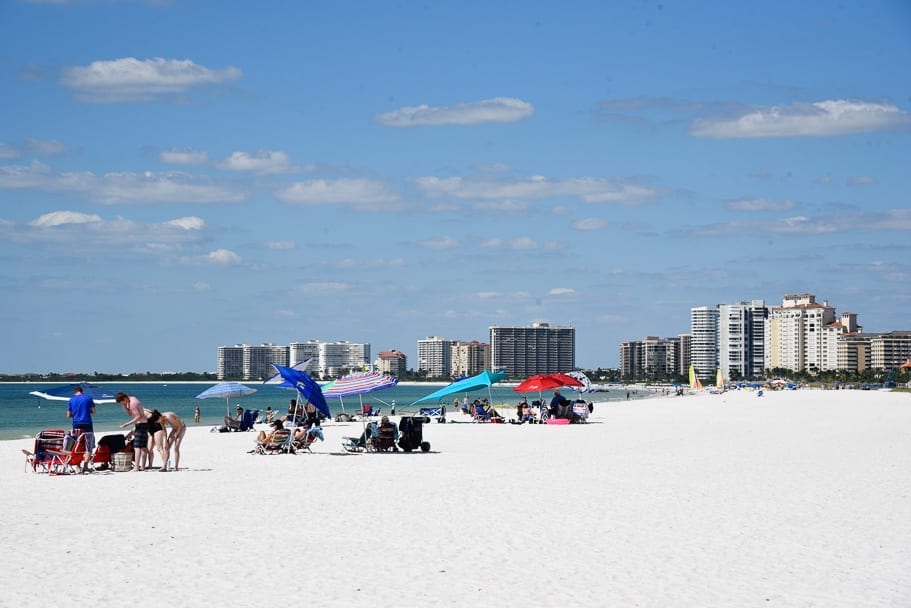 Tigertail Beach
The 'rival beach' in Marco Island is Tigertail Beach.
If you are a nature lover than Tigertail Beach is the beach for you. We were very happy to spot a gopher tortoise at Tigertail Beach.
The beach also has many nature trails to enjoy. It is actually known as one of the best places to bird watch in Florida.
The downside of Tigertail Beach is that the water & is not as picturesque as South Marco Beach. Tigertail Beach is a popular option for those who like to kayak as you can hire kayaks and kayak to Sand Dollar Island where you have the opportunity to the Florida fighting conchs.
It costs $8 to park at Tigertail Beach but it is free to enter.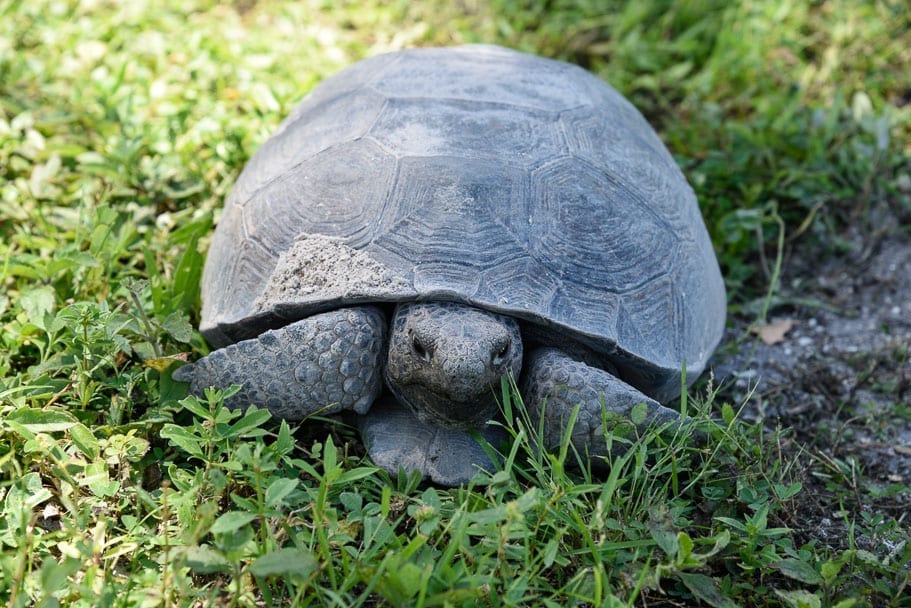 Where to stay in Naples Florida?
There are plenty of accommodation options in Naples Florida.
We would recommend these Naples Beach Hotels for a great vacation:
Exploring Florida?
If you are on a Florida Vacation, you might also like to check out our other posts on Florida to help you plan your trip: