Thinking to visit Ginnie Springs? Good Choice!
From the moment we read you could consume a beer or two while floating down the lazy Ginnie Springs river we were sold – Ginnie Springs in High Springs Florida had officially made it on our Florida bucket list!
Heading up to Atlanta, and feeling rather thirsty, we decided to stop in for a float (and beer!!!) down the lazy river.
Here's everything you need to know about the springs and why you should visit this Summer!
Ginnie Springs Tips: Tubing Kayaking Swimming and More!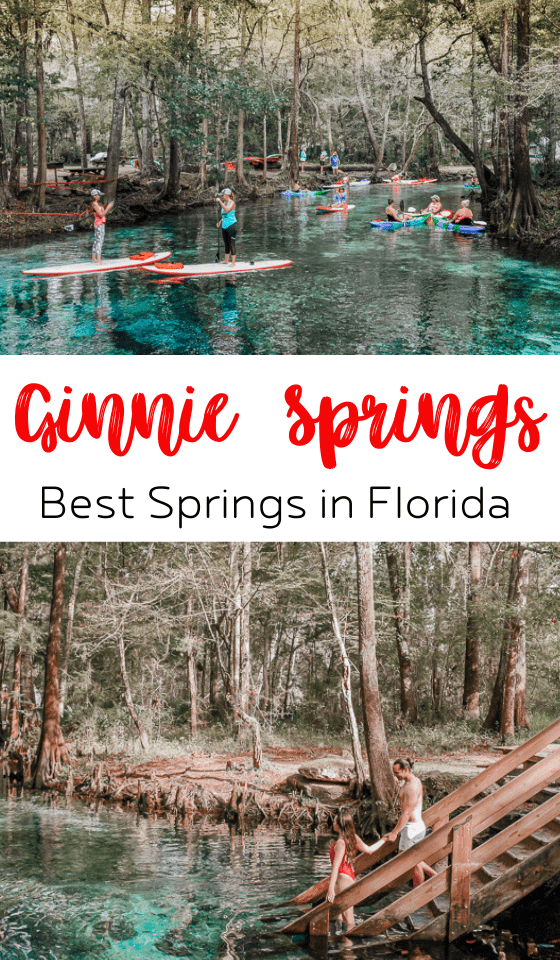 Why Visit?
Okay so, we are far from Florida Spring newbies. A few years ago we visited Alexander Springs.
On this trip we visited Rainbow Springs, Crystal River/Three Sisters Spring where we swam with manatees , popped our tubing cherry at Kelly Park and continued the tubing fun at Blue Spring finally stopping off at Juniper Springs and Silver Springs before finally making our way here.
If you want to compare these springs, you can click on the links or check out our ultimate guide to the Best Springs in Florida.
The big difference between these springs is that the aforementioned Springs are all State owned and operated and do not allow you to bring alcoholic beverages inside.
Being a privately owned spring, alcohol is permitted in and around the springs so you can enjoy a cold one while you float down the river on a tube or kayak. This is one of the only springs that permits alcohol currently.
I must say, sipping an ice cold beer as I floated down the river was a bit of a treat!
This does mean that apon occasion, especially during Spring break, the spring can attract a younger crowd heading to the spring for a weekend of hardcore partying.
If you want to avoid the youngsters our best tip is to avoid spring break or the various alcoholic festivals held at the spring. While we were there, beerfest was on.
Just in terms of crowds, it may be also advisable to avoid Ginnie Springs memorial day weekend.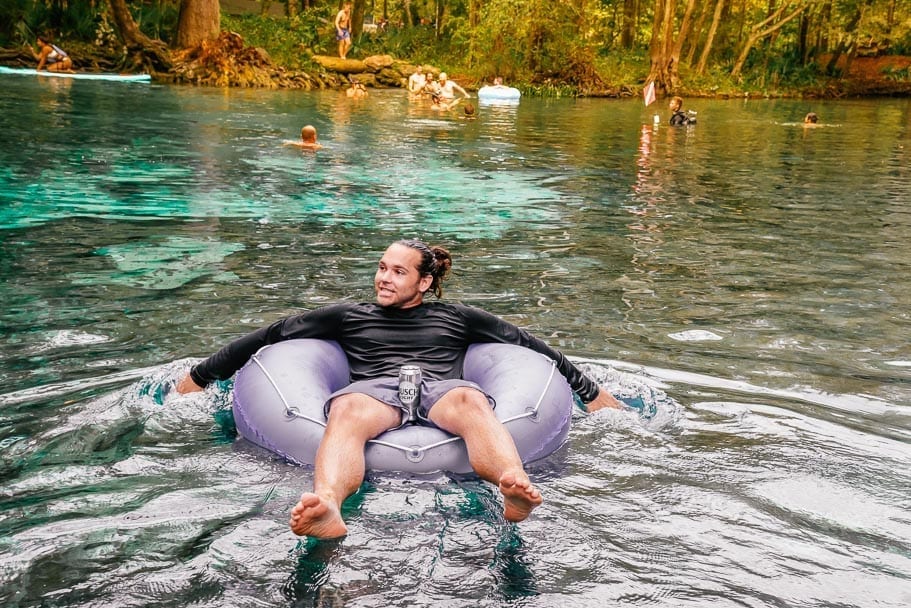 High Springs Weather: when is the best time to visit?
As Florida is warm and sunny year round, weather-wise, it is always a good time to visit the springs.
As it is a natural spring, Ginnie Springs water temperature remains at a constant 72 F (22 C) year round.
That being said, the outside temperature would make tubing the springs a little more uncomfortable in the winter months. During winter there is also reduced Ginnie Springs hours.
Where is Ginnie Springs?
Located in High Springs, a little further north than Ocala National Forest, it is a bit of a mission from most places so most people visit from the bigger cities as a weekend trip.
If you are visiting from interstate or abroad, it's best to Fly into Orlando as opposed to Miami if you wish to visit the Springs as Orlando to Ginnie Springs is only a 2 hour drive.
From Miami you are looking at a 5 hour drive. It's 4.5 hours from Palm Beach. It is a 2.5 hour drive from Daytona Beach and around a 3.5 hour drive from Sarasota Beach.
It is also a popular spring to visit from Tampa being around 2 hours away.
Use this address for your GPS: 7300 Ginnie Springs Road, High Springs, FL 32643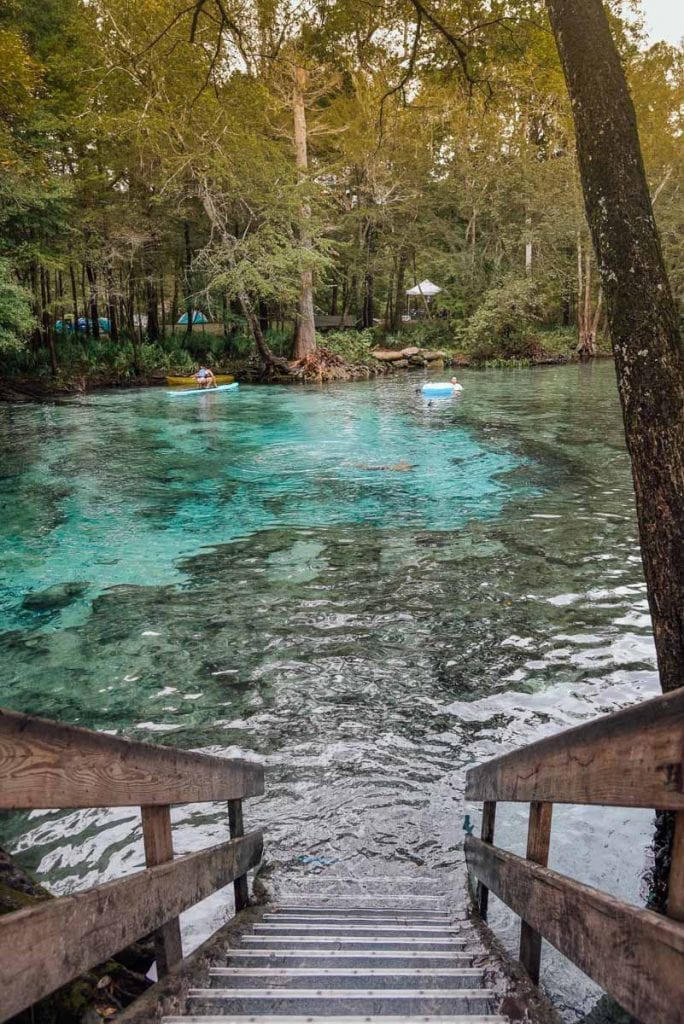 About the Park
Unlike the other springs we had visited in Florida, Ginnie Springs State Park is a private business. This means it is not really a State Park after all!
One would imagine there is only 1 spring but in fact there are several springs: Devil's Eye, Devil's Ear and Devil Spring.
Fun Fact: These springs produce nearly 80 million gallons of water daily.
No ranger station as you drive through the gates, this spring is a full on institution.
Entering the main reception area there is about 10 registers with staff waiting to serve you. By the way, the reception is a full blown shop with drinks, food, floaties and other things to buy.
We quickly got diverted to the "camping line". Sign in was a bit of a process. We needed to sign Ginnie Springs liability waivers.
This task can actually be done in advance. If we had our time again, we would recommend signing the waiver in advance. You can access the waiver on the Ginnie Springs website.
After you sign the waiver, they give you a map which is surprisingly helpful – it is quite impressive how big the area is!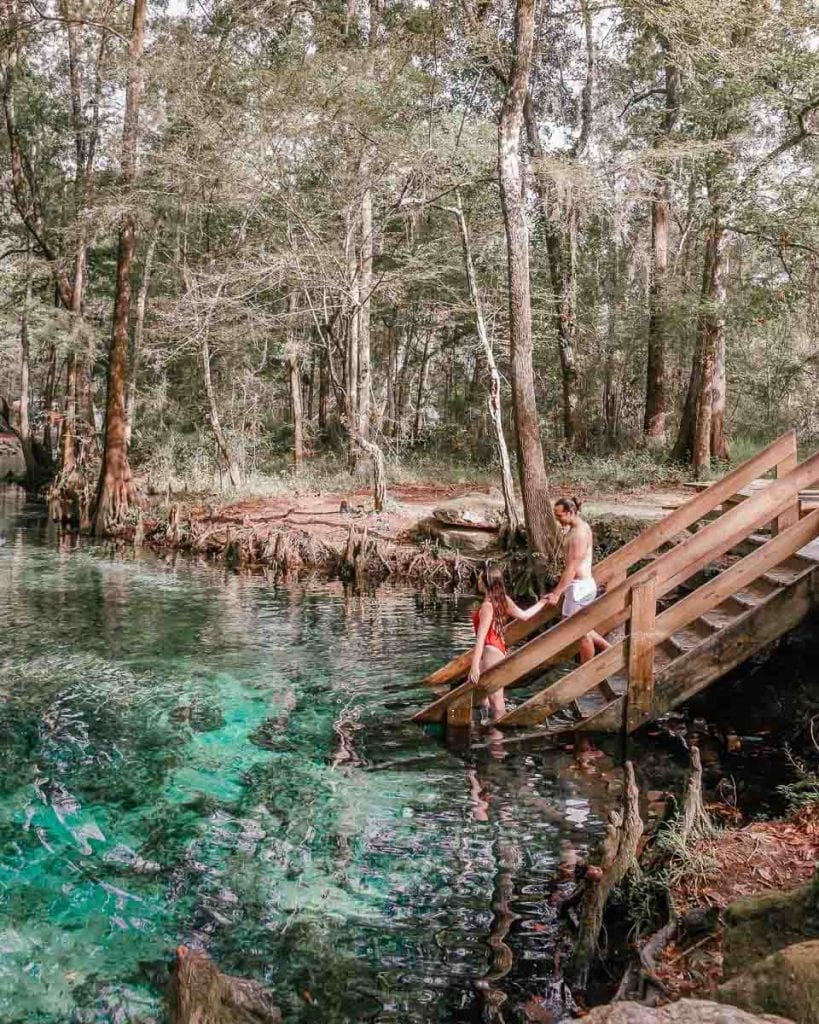 Tubing – An alcoholic tube Run!
The main reason we were drawn to these springs was the ability to have a beer as we floated along.
Ginnie Springs are definitely are some of the best tubing in Florida.
We are not heavy drivers by any stretch but the thought of enjoying a cold one as we floated along did it for us.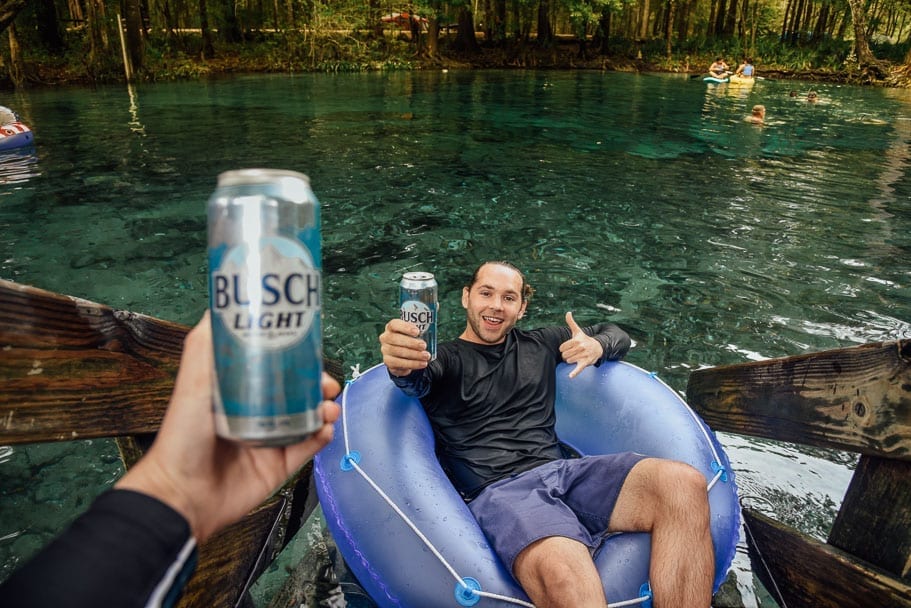 The tube run at Ginnie was the longest run we have experienced (around 1 hour from start to finish).
In comparison, Blue Spring was a 15 minute tube run and Kelly Park a 30 minute tube run.
There is a VERY long tube run you can complete on the Rainbow River (4 hours). This is far too long to be tubing for us.
The Tube run current was also faster than other Springs we have experienced, a big win.
The negative was that on the actual Santa Fe River, it is deep and you cannot see the bottom.
I actually quite enjoy watching fish swim beneath me as I tube along. The water in the Santa Fe River is too dark to see anything beneath you.
The freaky thing about this is what lies beneath – DUN DUN DUN.
I know exactly what you are thinking! Alligators! Truth be told, I was too.
It is technically possible for there to be alligators. I wouldnt have a clue if they are there or not as the water is quite murky.
As I'm writing these words – dark, murky – I'm screwing up my face, thinking why on earth did I get in that water!
In reality you need not worry as many, many people will be doing the tube run with you and as far as I'm aware, there has been no recorded Ginnie Springs alligator attacks.
Plus, it is super fun & very relaxing AND you can have a beer. What's not to love?
Frequently Asked Questions
Can I bring my own tube?
Yes, it is totally fine to bring and use your own tube. In fact most people do!
At State Run Parks, there is a limit on the size of your tube (at Blue Springs it was 6 ft, at Kelly Park 5 ft) but nup, not here!
Feel free to bring the most gigantic floatie you can find!
A 10 man floatie for all your mates to sit in as they sip beer and float along together? Totally acceptable.
If you don't want anything crazy, we would recommend this one.
Don't worry about pumping your giant floatie with air before arrival. There is an awesome air pump which you can use for free.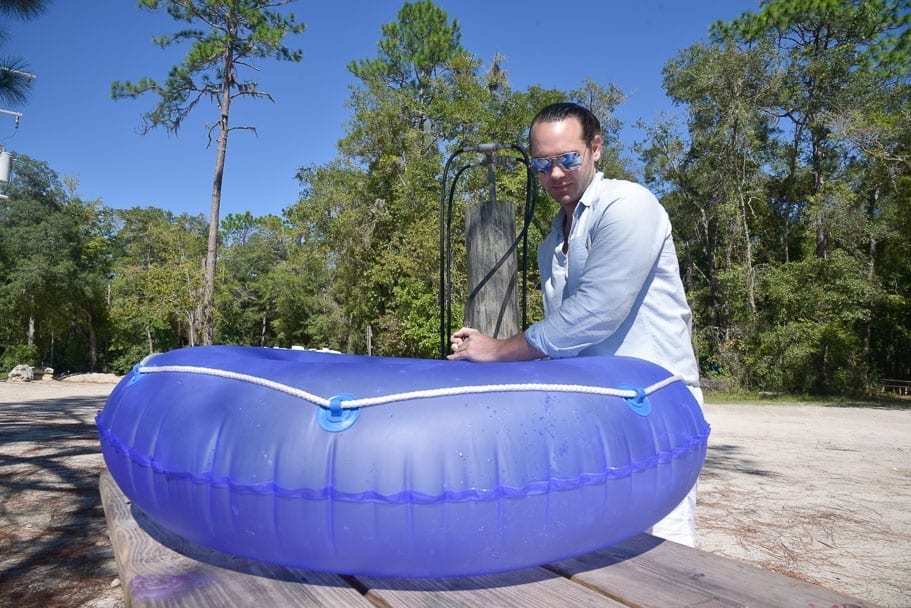 If you are on holidays and don't want to buy a tube, you can rent one directly from the shop – $6 for a single tube and $12 for a double tube.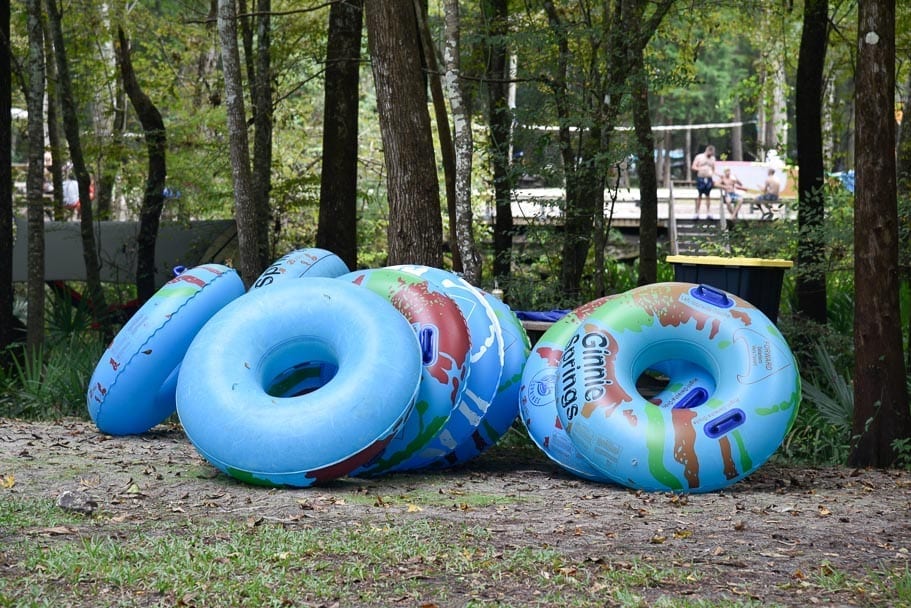 What time does Ginnie Springs Open/Close?
Ginnie Springs Outdoors hours of operation differ depending on the season.
In summer, GS is open from 8.00am – 7.00 pm in the evening Monday to Thursday, on Friday and Saturday from 8.00am – 9.00pm. It closes at 8.00pm on a Sunday.
In winter, opening hours are 8.00am – 4.00 pm Monday to Thursday, on Friday and Saturday from 8.00am – 8.00pm
As it's a private business, there is 24 hour maned access for campers.
Price List
It is one of the most expensive springs to enter.
For a day pass, it costs $14.02 for adults, $3.73 for children, children 5 and under are free.
If you would like to scuba dive the spring it costs, $22 for certified divers and $30 for all other divers. If you are super serious about diving it is possible to get an annual dive pass for $330.
We would personally recommend camping which costs $22.43 per adult, $6.54 per child with children 5 and under free. If you want to upgrade to full powered RV sites, it costs an extra $10.28 per RV site per night.
If you want to spend multiple days at the spring we would highly recommend camping. Firstly, you can beat the crowds, secondly, it is more affordable than 2 days entry and thirdly, you don't have to worry about driving back to the spring the next day.
Truth be told, camping here is not for the faint of heart. It is a dirty ground and the toilet blocks tend to get quite muddy from the spring.
For a bit more comfort, we would recommend this place nearby or there are Ginnie Springs cabins available for rent at $175 a night (sleeps 8, fee for 4 people, additional people additional fee)
Hey, its no $3 Kelly Springs people!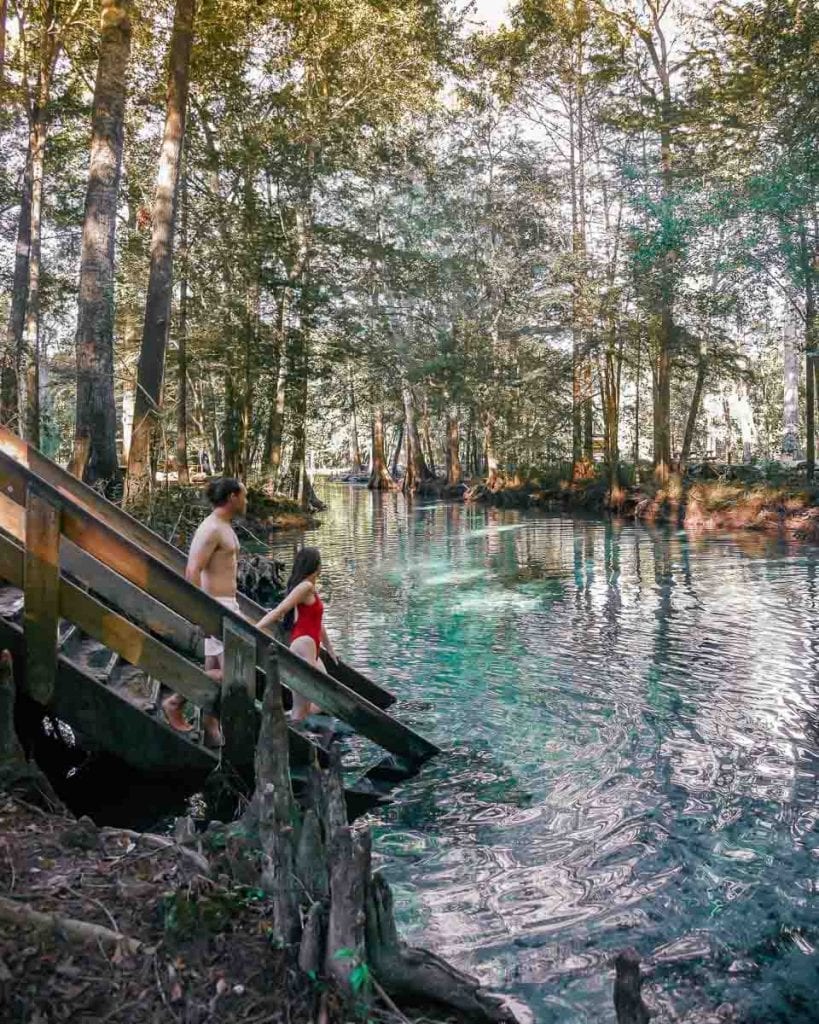 Can I bring a picnic?
Another popular activity is picnicking.
It is a big space with many picnic tables so need to fight for a spot (unless it is 4th of July in which case it might be necessary to fight to the death!)
Most people brought with them a full BBQ lunch. If you don't want to bring food with you there is a well stocked canteen where you can buy food.
The canteen is a good place to chill out between tubes as it has blazing fast wifi, even better than starbucks!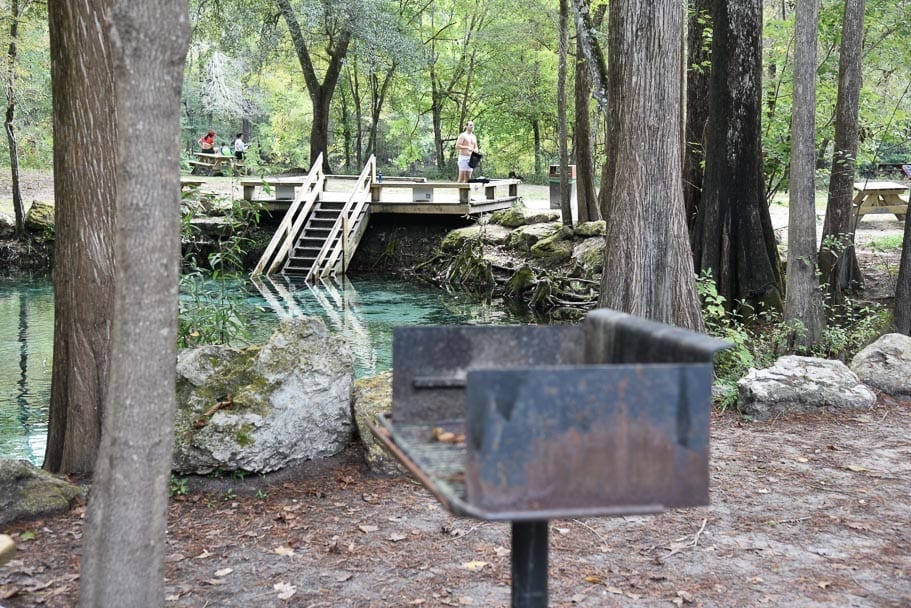 What Sports Facilities are there?
This is a big place with a lot of room to enjoy ball sports.
People were really making good use of the volleyball court.
Bring your own ball or the shop have some for rent. What did I tell you, this is no State Park! Pretty well everything you can think of is available for rent.
Kayaking, Canoeing and Stand up Paddle Boarding
We noticed that many families preferred to canoe or kayak the tube run as opposed to tube.
We commented to each other that kayaking or canoeing would be a much safer option if you have young children and want to get out on the Santa Fe River.
For people who love stand up paddle boarding, this activity is also particularly popular. We tried stand up paddle boarding for the first time in Scotland and loved it!
You can bring your own equipment or you can rent them from on premises shop. A 3 hour canoe, kayak or paddle board is $12 to hire. It costs $20 if you want it for 6 hours.
Note: paddle upstream when you start as there is no pick up service.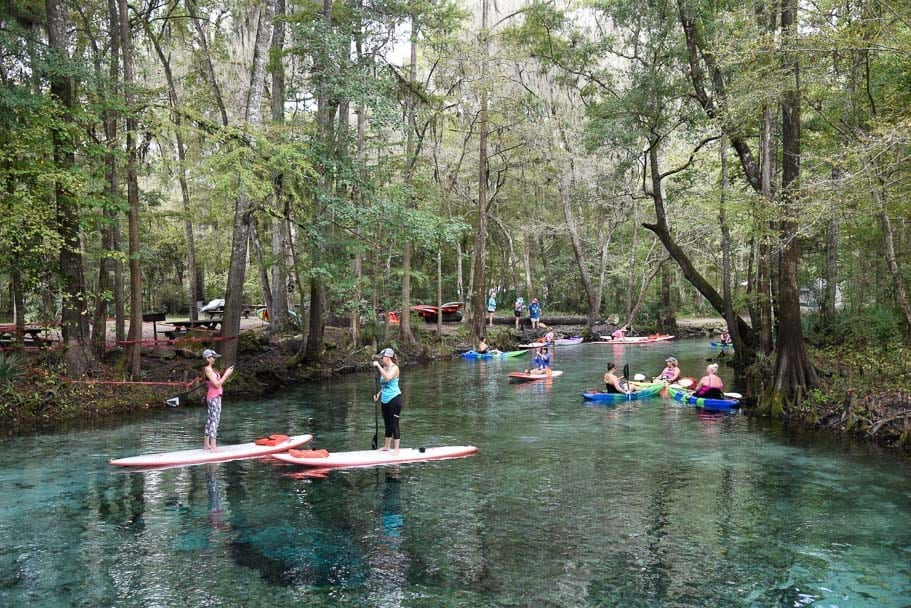 Swimming and Snorkeling
One of the most popular activities in the springs is swimming and snorkeling.
While the Sante Fe River is dark and musky, the many springs that lead out to the river are crystal clear and a beautiful blue colour making them the ideal place to go swimming or snorkeling.
As the river is a constant 72 degrees year round, swimming and snorkeling is possible year round. Truth be told, 72 degrees is a little chilly for us.
We visited in late October and the Santa Fe River was quite murky. We did read however, that it clears up in summer and early fall and provides for good snorkeling.
You can see large gar, bass, mullet, catfish, turtles snorkeling the Santa Fe River. I can attest to the accuracy of this information as we saw a turtle pop his little head up as we floated along in our tubes.
If you decide to snorkel the Santa Fe River in summer, State law requires you to use a divers flag. If you don't have one, like most other things, you can rent one direct at the shop for $5.
To rent a mask and snorkel it costs $6, including fins will set you back $10.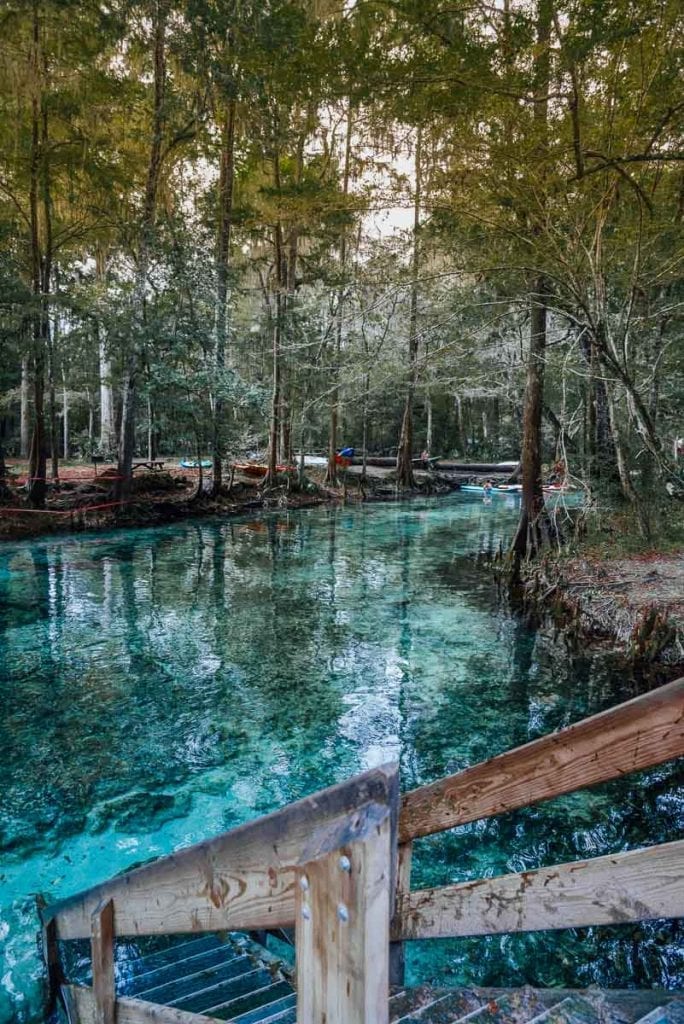 Can you Scuba Dive?
Ginnie Springs is an extremely popular dive site in Florida.
Like Blue Springs, there are some tricky cavern dives at Ginnie for the experienced diver.
If you don't have your diving gear with you, surprise surprise, you can rent virtually anything you need at reasonable prices at the shop.
Divers have died completing these dives so we would suggest only doing the cavern dives if you are an experienced diver.
You cannot use a light while Ginnie Springs diving unless you are a certified diver entering the cavern or cave system. The reason for this is for the protection of unexperienced divers.
Two of the most popular dives are Devil Spring and Devil's Ear.
Are there alligators in Ginnie Springs?
Technically, there are alligators. Anywhere with water in Florida has the risk of alligators.
Occasionally there are alligator spottings but their sightings are rare.
If you are interested in seeing an alligator, I would highly recommend a visit to the Everglades. The Anhinga Trail or Shark Valley Trail if you like to bike is best for alligator spotting.
Are there manatees in Ginnie Springs?
Occasionally, there are Ginnie springs manatee sightings in winter but I wouldn't say it is their favourite place to hang out by any stretch.
In winter, you have a near guaranteed chance to see a manatee in Blue Spring and year round at Crystal River.
If you want to see manatees the best place to see them in our opinion is Crystal River. See our guide to all the places you can see manatees in Florida.
Are dogs allowed?
No, any dogs or pets are not permitted to bring with you unless they are a service animal.
We did see a few sneaky stowaway doggies at Ginnie. I don't think they were service dogs so they must have snuck in.
Ginnie Springs Outdoors Camping
Tent camping and RV camping is VERY popular to say the least.
Some very serious campers make their way to Ginnie Springs campground. These campers seriously have the whole kit and kaboodle.
If you want to go all out with some cool camping gear, this is a great place to do it!
As stated above, camping costs $22.43 per adult, $6.54 per child with children 5 and under free. If you are looking for full powered sites, it costs an extra $10.28 per site per night.
There are numerous camp bathrooms all over the spring but as it is a bit of a party place, they can get a bit messy and muddy.
What's cool is there is a very hippie style of camping. Basically, you just find a site that is free and pitch your tent/ set up your campervan.
Note: Ginnie Springs camping reservations are only needed for water and electric campsites. Unless it is a popular weekend, or maybe the Jun/July holidays I would expect you are pretty safe just to show up. If you would like to book in advance, you can do so here. The website provides helpful coronavirus updates.
Hotels Near High Springs
If you don't want to camp (aka not up for the muddy showers!!), there are a few hotels near High Springs in Gainesville and the other surrounding towns nearby.
The best accommodation near High Springs is in Gainesville as not only is there really great hotel options but there is great facilities like Walmarts and Starbucks. The downside is that Gainesville to High Springs takes around a 40 minute drive.
There are also a few closer towns which have less facilities but have a few good hotels in town. See our post on the best Ginnie Springs hotels for more details.
Insider Camping Tips
If you decide to visit, here are our insider tips:
Alcohol is allowed so bring a cooler and fill it up!
Leave your furry friends at home, sadly they are not welcome
You can bring a tube with you or hire one, the bigger tube the more fun!
If you want a romantic picture or just an Instagram snap, early morning morning or late afternoon when most of the day trippers have left is best.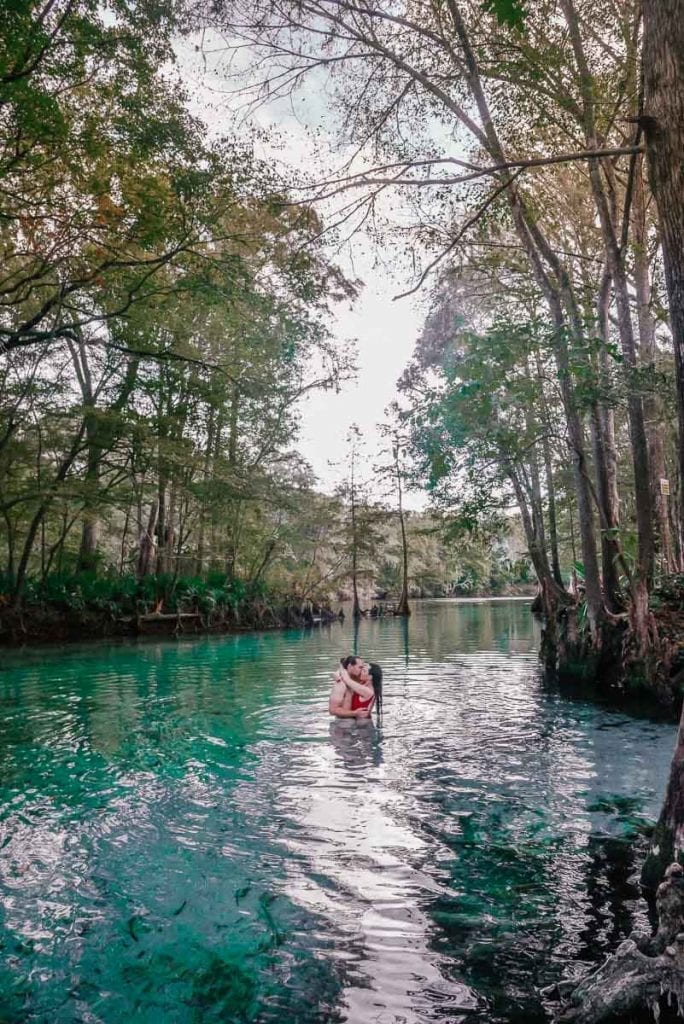 What to bring with you?
Here is what we would recommend bringing with you:
Deaths?
There are no reported alligator deaths however, divers have died completing the cavern dives at the Springs. For this reason, we highly recommend you take extra care if you chose to dive Ginnie Springs.
When to Capture the best Pictures
If you would like to take beautiful photography with not many people around you will either need to be at the springs very early in the morning or wait until late afternoon, just before close time.
Summary
That's all from us folks.
We were drawn to visit due to its alcohol friendly policy but a day at Ginnie Springs turned out to be so much more!
The crystal clear water, the antics of people in their oversized floaties and the picturesque springs will keep us coming back for more! It truly is a state favorite and a locals delight!
Exploring Florida further?
If you are on vacation in the Sunshine State, you might also like to check out our other posts to help you plan your trip: