Looking for the best siesta key beaches? Good you have come to the right place!
Siesta Key is an absolutely stunning barrier island off the coast of one of Florida's most popular Sarasota beaches.
It is very popular with travelers coming to Sarasota County due to the unbelievable Siesta Key Beach. This beach has bragging rights as the #1 Beach in the USA.
There is tonnes to do in Siesta Key from swimming, fishing as well as adventure water sports such as boating, parasailing and kayaking.
6 Best Siesta Key Beaches You NEED to visit (In and Nearby)
The Siesta Key area is one of the most popular beach destinations in America due to its white, soft and powdery quartz-crystal sand.
Another reason why the area is so popular is that Siesta Key Beach has a certain vibe and energy to it. There are many activities in the area including swimming, snorkeling, picnicking, volleyball and adventure water sports.
Despite visitors being drawn to Siesta Key Beach there are in fact 3 fabulous public beaches that make up Siesta Key: Siesta Beach, Crescent Beach and Turtle Beach.
What beach is best for your couple, family or solo vacation depends on your preference of activities.
Siesta Beach
The most famous beach in Siesta Key is undoubtedly Siesta Key Beach.
It has actually been rated as THE BEST beach in the USA and given various other awards by Travel Channel in 2004, by Dr. Beach in 2011 and 2017 and Tripadvisor in 2015.
The main reason why it continually ranks high is due to the fact it has the whitest and finest sand in the world.
We have traveled to quite a few beaches in America – Key Largo Beaches, Marathon Beaches, Islamorada Beaches, Key West Beaches, Marco Island Beaches, Naples Beaches, Bonita Springs Beaches, Sanibel Island Beaches and we can confirm that this beach is certainly up there with one of the finest beaches in the USA.
Sarasota County are pretty proud of these awards and have even erected a sign at the entry of the beach.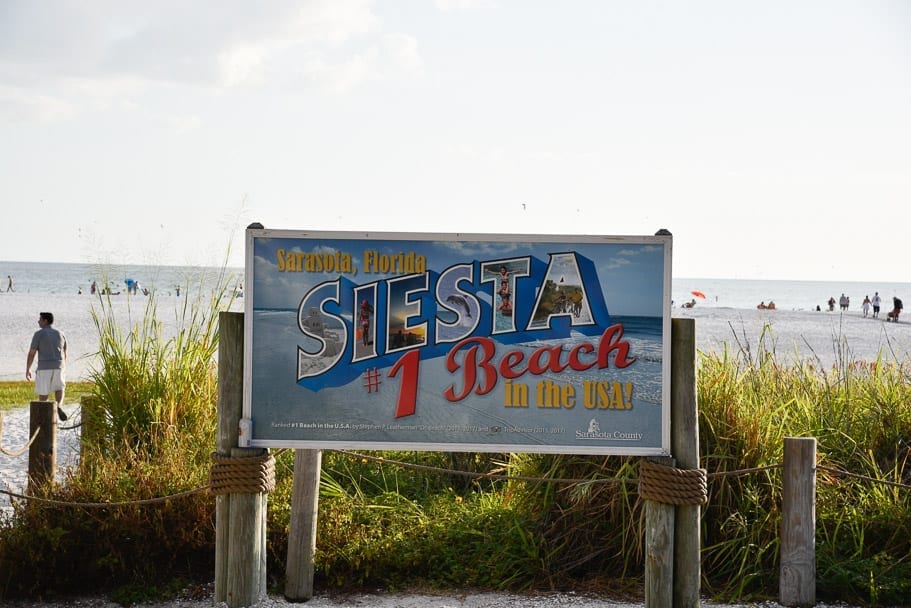 The sand at the beach is just gorgeous – a pearly white colour and the sand is incredibly soft as it is comprised 99% of pure quartz.
The pure quartz, crystal sand at the beach draws hippies across America to relocate to Siesta Key.
We run into a retired lady from Minnesota at the beach who started talking to us about other dimensions and speaking to mermaids. She told us she relocated from Minnesota because "they are stark raving mad there".
Interesting…
In addition to the American hippies, instagrammers from around the world flock to the beach to have their chance to photograph the colourful lifeguard huts at the beach.
The best time of day to photograph the colourful lifeguard huts is early morning before the beach gets too crowded. If you aren't interested in photography, our favourite time to visit the beach is late afternoon for the fish feast.
The sea is absolutely teeming with fish close to the shore and around 6pm daily you will witness the pelicans ducking and diving into the water for their supper.
Bring a seat and enjoy an outstanding sunset.
Families are particularly drawn to this area as there are fabulous facilities at the beac including large toilet blocks and shower facilities. There is also great shaded picnic tables and a cafe nearby.
Unlike 90% of beaches in the United States it is free to park!! Thank you Siesta Key Beach!
Shame on you Sanibel & Captiva Island Beaches with your $5 rip off parking fee!
Crescent Beach
The cool thing about coming to Siesta Key is that Siesta Key Beach is not the only beach you can enjoy.
In the middle of the key you will discover Crescent Beach, a more private, secluded beach perfect for couples or for those who enjoy a little more privacy.
If you blink you might miss the entrance as it is a super narrow driveway to the beach from Midnight Pass Rd.
The downside to Crescent Beach is that there are only around 20 parking spots available so it is fairly difficult to enter and exit the beach if you are traveling by car.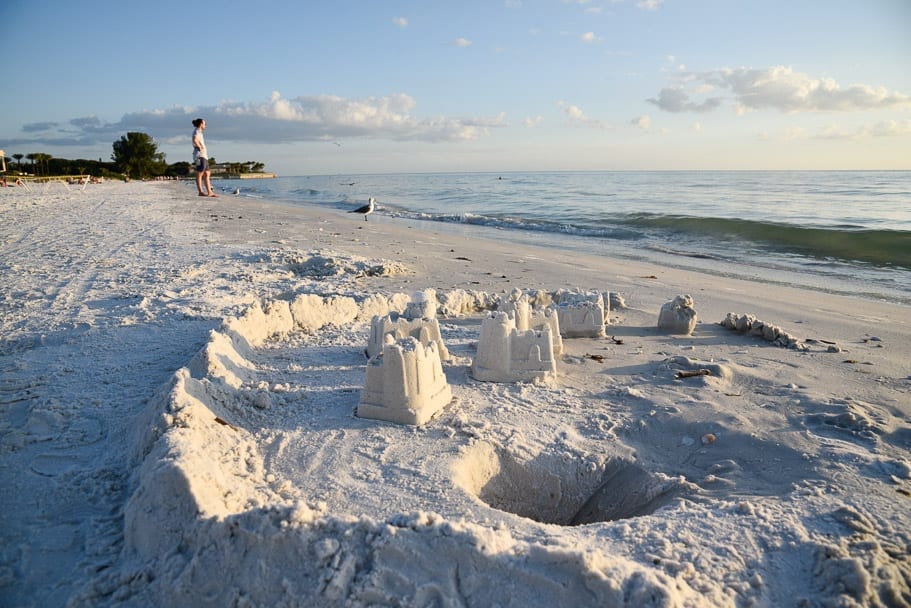 If you are visiting Siesta Key in high season, a weekend or a public holiday and wish to park your car, I would avoid Crescent Beach entirely.
On the plus side parking is free.
Crescent Beach is a more primitive beach – there are no toilets, no showers and no food facilities directly at the beach.
If you are interested in snorkeling however, Crescent Beach is the best place to come.
At the Southern tip of the beach it is possible to snorkle or dive in an area called the Point of Rocks. Lots of colourful coral and fish can be seen here.
One cool aspect about Crescent Beach is that the sand never gets hot so it is perfect for long, romantic beach walks.
Fun Fact: People claim the sand on Crescent Beach came from the the Appalachian mountains and is millions of years old.
Despite Siesta Key Beach taking most of the winnings Crescent Beach is very proud of winning the "The World's Finest, Whitest Sand" award in 1987 at the Great International Sand Challenge.
Turtle Beach
The furtherest beach along Siesta Key from Sarasota is Turtle Beach.
As the name suggests, it is the best spot in the Key to spot turtles.
Mothers feel a lot more secure to lay their eggs at Turtle Beach as it is significantly less busy than Siesta Key Beach.
If you would like to have a chance to see a turtle the nesting season is May to October. It is difficult to see the turtle as they come out at night when there is less predators around.
Aside from turtles, the best reason to visit Turtle Beach is due to the fact there is significantly less people around.
Unlike Siesta Key Beach you can actually find a strip of beach to enjoy alone.
The trade off is the sand is not fine, white and fluffy like the other beaches in the area.
The water however is a beautiful emerald green colour and there is easy and free parking.
We enjoyed an absolutely stunning sunset at Turtle Beach. It is awesome to relax and watch the fisherman and birds fish as the sun sets.
If you enjoy camping, the benefit to this beach is that there is a campground located right at the beach.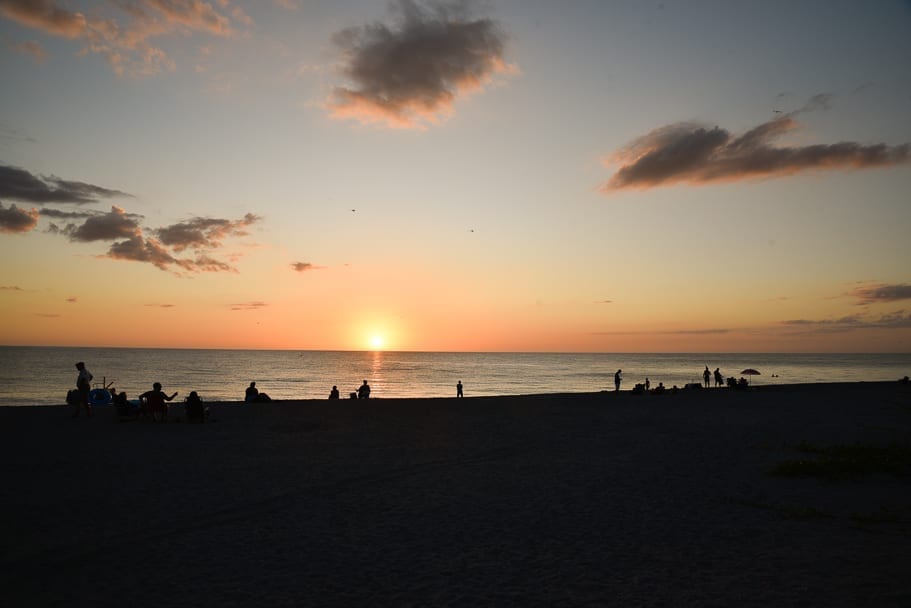 Other Beaches Nearby Siesta Key
Sarasota beaches are only 14 minutes drive so if you are looking for more great beaches, definteley check these out:
South Lido Key Beach
If you are not heading to Siesta Key from Sarasota then you should probably go to Lido Key.
South Lido Key Beach is a stunning beach with the most beautiful water we have seen in the area – the water at South Lido Key Beach is so clear you can see fish swimming from the shore.
It is definitely one of the more beautiful beaches in the area. The downside of this beach is you cannot go swimming due to strong currents and no lifeguards working in the area.
If you would like a place to sit back and relax as the world goes by with very few people around this is the beach for you. I would be also a great beach for fishing as the fish are teeming.
There are great facilities at the beach including toilets, picnic tables and plenty of free parking.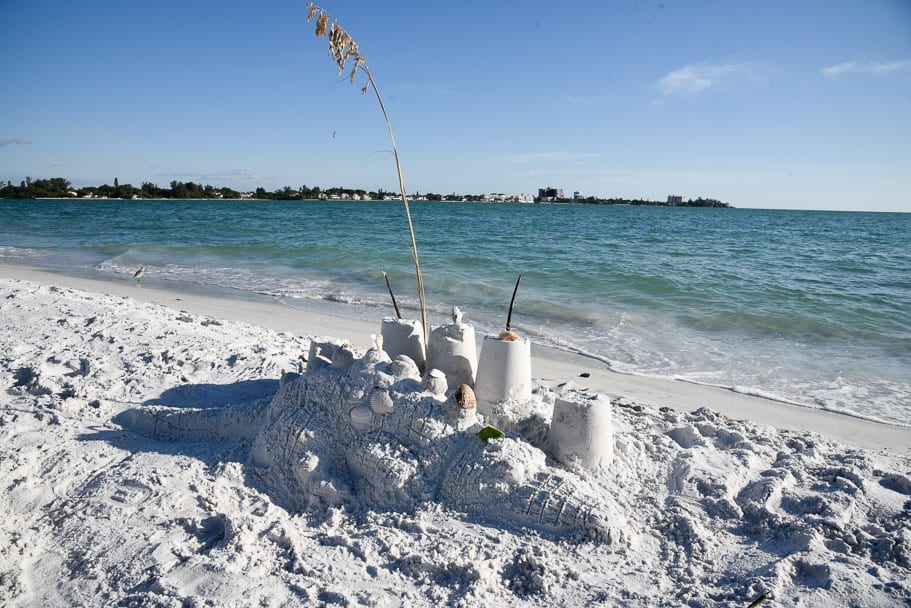 Lido Key Beach
A hop, skip and a jump from South Lido Beach is Lido Key Beach – the most popular beach in the Lido Keys. Like the beaches on Siesta Key, the beach offers beautiful white, sugary sand and perfect water. You are able to swim at the beach as there are lifeguards on duty.
It is free to park at the beach except for the North end of the beach which is pay and display between Monday and Friday.
Aside from a beautiful beach, there are good facilities at the beach including picnic tables, toilets, showers and a cafe.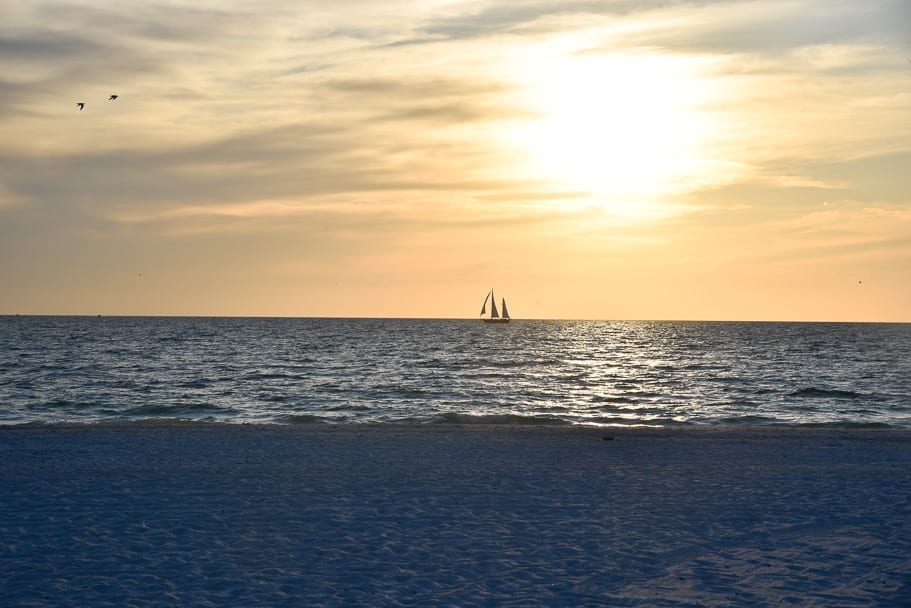 Dog Beach Sarasota
If you are looking for a beach to bring your furry friend there is not too many dog friendly beach options in the Sarasota area.
If you want a place with loads of dog beaches and facilities we would recommend Bonita Springs Beaches. The beaches in Bonita are so nice they rate as one of the best things to do in Bonita Springs.
If you don't want to drive quite that far, Brohard Paw Park in Venice near Sarasota county allows dogs on the beach.
Where to stay in Siesta Key
Many people choose to stay in Sarasota and make day trips to Siesta Key Beach.
It is great to stay in Siesta Key Beach as parking is never a problem however, it is mostly vacation rentals in Siesta Key not hotels.
We would recommend these highly vacation rentals in Siesta Key, right near the beach.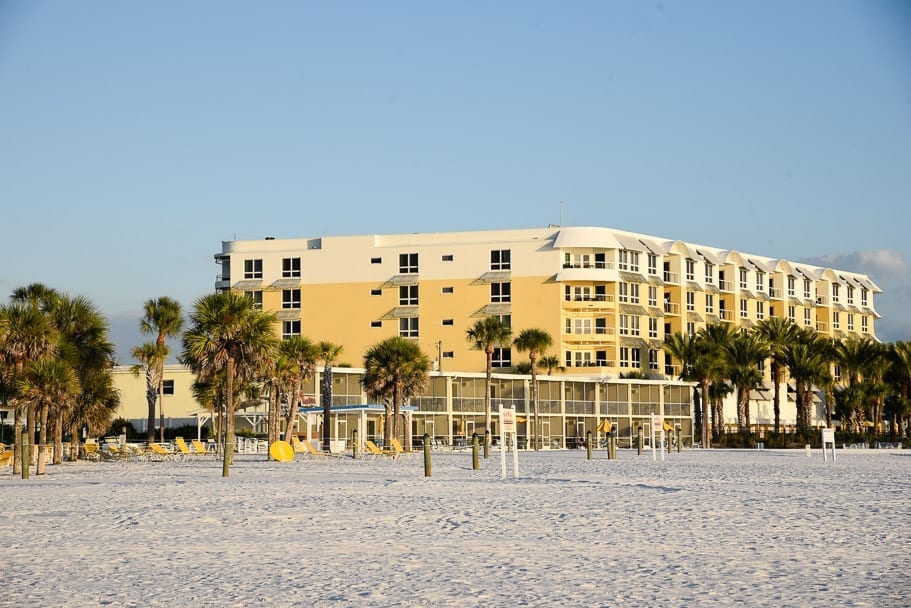 If you prefer staying in hotels, the better option is to stay in the nearby town of Sarasota.
Staying in Sarasota is also the more affordable option of the two.
There are many great hotels to stay in Sarasota while you are visiting Siesta Key.
We stumbled across a great & affordable hotel in Sarasota which was also very clean & comfortable.
If you would like a top notch luxury stay in Sarasota, this is the best 4 Star Hotel & 5 Star Hotel which has never disappointed us.
Things to do in Siesta Key when it rains…
If it is raining and you would like to take a break from the awesome beaches in Siesta Key here is what we would recommend doing:
The Gallery on Siesta Key – There is a cool place called The Gallery on Siesta Key which has a tonne of unique art to check out and purchase.
Siesta Farmers Market – There is a small farmers market which sells jewelry, crafts and fresh produce in Siesta Key. It is open every Sunday 9am – 1pm.
Siesta Key Village Shops – At the Siesta Key Village there are over 70 shops to walk around and enjoy – a ladies paradise. The village is open air so bring an umbrella while you shop hop.
A trip to Sarasota – Sarasota is a large nearby city with lots of shops and amenities to enjoy when it rains including a Westfield, a bowling alley and the South Florida Musuem.
Exploring Florida?
If you are on a Florida Vacation, you might also like to check out our other posts on Florida to help you plan your trip: