Looking for the best beaches in Key West? You have come to the right place!
So you have made it to Key West – the most famous town in the Florida Keys and are looking for the best Key West beaches.
The beaches in Key West are not the best we have seen in the Keys (we would attribute that medal to Bahia Honda State Park) but they are certainly not the worst – I'm looking at you stinky Coco Plum Beach in Marathon.
Key West was the final stop on our Miami to Key West road trip. If you are headed back to Miami after your stay, you might want to check out our post to final some good spots along the way!
Best Beaches in Key West: 10 Epic Key West Beaches (+ Nearby) to Check Out!
Here are the beaches we would suggest you visit on a trip to Key West. And guess what? Most of them are free! A rare privilege in the notoriously expensive Florida Keys.
1. Higgs Beach
Higgs Beach is a stunning beach in Key West with palm trees lining the powdery white sand.
If you are visiting Key West we would recommend visiting Higgs Beach. The beach goes on for miles and is great for an afternoon stroll.
As Higgs Beach is a large beach in Key West there are a lot of facilities available at the beach including a beach bar, kayaks and snorkeling equipment for hire as well as toilet facilities and free parking.
It is said that Stingrays are commonly spotted at the beach.
Higgs Beach is also a great option for families in Key West as there is a massive playground that looks awesome – makes me wish that I was a kid again!
For the older folk, a popular activity is renting a beach chair and possibly an umbrella and sunbaking in Florida's heat. We saw a few young girls tanning at Higgs Beach.
I could hear the Beach Boys playing in my head as we strolled along Higgs Beach. We aren't big on tanning so we enjoyed walking along the pier near Higgs Beach.
Higgs Beach really has something for everyone. There is even a dog park/beach where we saw a couple throwing a frisbie to their dog.
Note: West Martello Tower is in very close proximity to Higgs Beach and is also a great free thing to do in Key West.
Cost: Free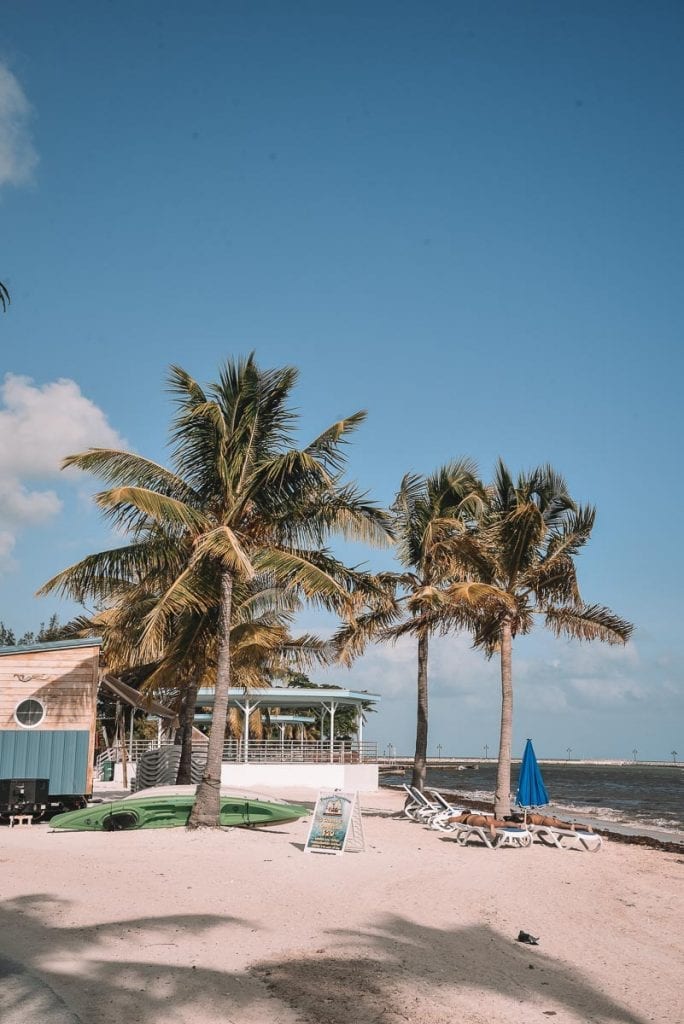 2. South Beach
South Beach is another lovely beach in Key West.
It is likely that you will come across South Beach when you visit the Southern Most Point – a very popular photo opportunity in Key West as it is the Southern Most Point of the US – something for bragging rights with your mainland friends.
You will know you have reached South Beach when you see a gigantic beach chair. Make sure you get a photo with the chair, your legs dangle and you look quite frankly ridiculous but it is all in the fun of Key West weirdness.
If you have been to Key West you will know what I'm talking about when I say w-e-i-r-d.
The cool thing about South Beach in Key West is that there are a lot of restaurants and cafes in close proximity to the beach selling the most delicious frozen drinks.
If you would like to sunbake or relax, you can also hire a chair and make it a day.
The water at South Beach is very shallow so it is another great option for families with kids.
Cost: Free
See more: best beach camping in Florida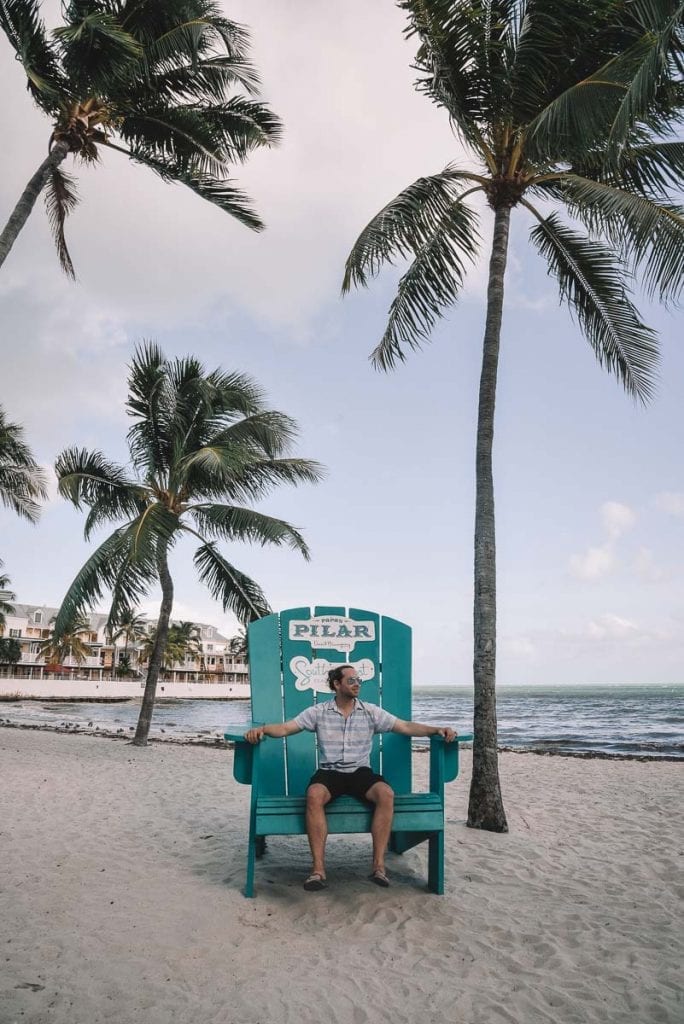 3. Dog Beach
As the name suggests, Dog Beach is the place where doggie owners in Key West bring their pups to frolick in the sand and play in the water.
We saw a lady at the beach throwing a ball to her dog and he truley was the happiest dog in the world. If you would like your fur baby to feel this bliss – bring him or her to Dog Beach!
Dog owners will be interested to know that you can let your dog play unleashed at Dog Beach.
It is not a large beach, it is a small beach that backs on to a restaurant Louie's Backyard but there is plenthy of space to let your dog run and splash around.
We noticed dog owners were really making an afternoon of it – playing with their dogs and having a bite to eat at Louie's Backyard after.
There is an alternative dog beach and dog park at Higgs Beach.
Cost: Free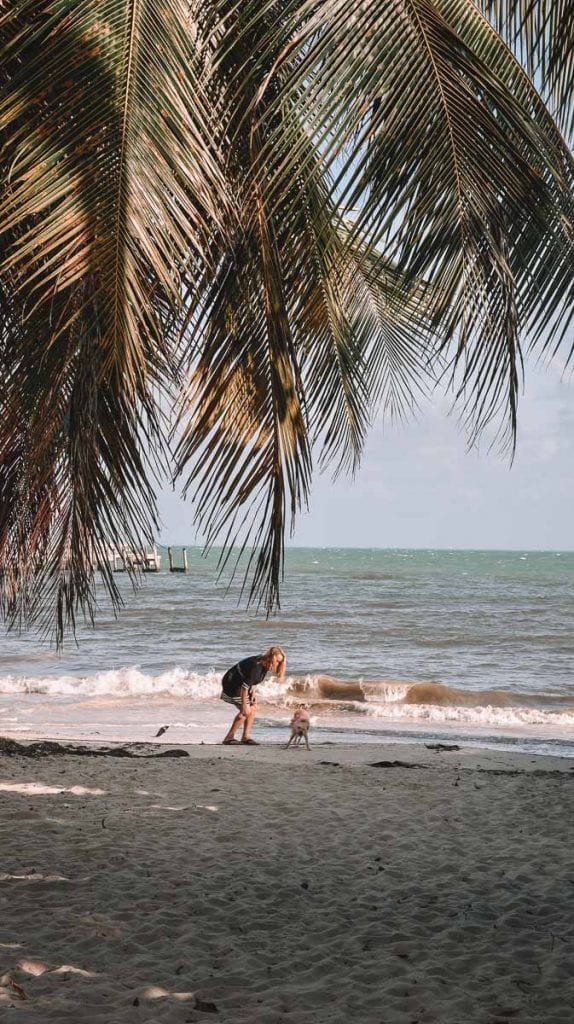 4. Smathers Beach
Smathers Beach is possibly the most popular beach in Key West. It is in competition with Higgs Beach for this title.
One of the best aspects of Smathers Beach is the beautiful sand which is quite unusual in the Keys due to the coral. It is a great place for swimming in Key West.
Like Higgs Beach, Smathers Beach has great facilities including food and drink stands, places to hire deck chairs, kayaks and rafts.
There are also public toilets available at the Beach.
Cost: Free to access but parking is paid
5. Rest Beach
We were a bit confused by Rest Beach as it was right next door to Higgs Beach so we thought of them as one of the same.
Nethertheless, if you want a day of beach hopping (the new bar hopping) add Rest Beach to your list, you will only have to walk a few metres from Higgs Beach.
Rest Beach is a small beach which is not particularly picturesque during the daytime. It is known for being the 'sunrise beach in Key West'. It offers an epic sunrise over the Atlantic Ocean due to its position in Key West.
Key West really is the town for sunrises and sunsets. It is notoriously famous for sunset at Mallory Square.
Sunsets at Mallory Square are where the weird and wonderful locals of Key West come out to entertain you as you watch a magical sunset. You will find sword eaters, many psychics and others performers. If you are into people watching then this is one for you.
Cost: Free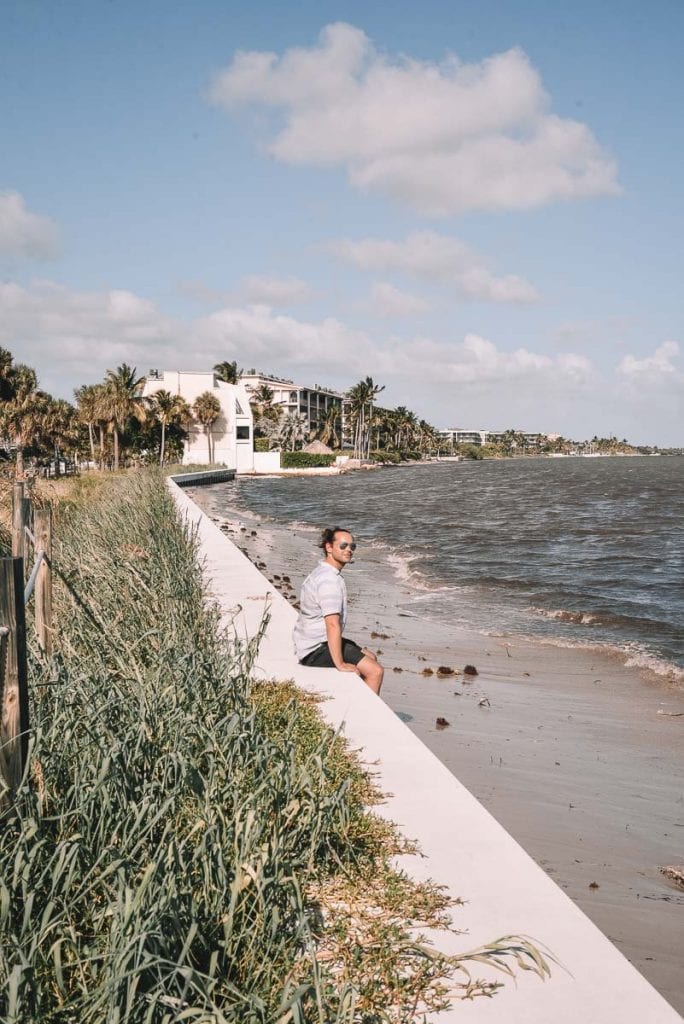 6. Fort Zachary Taylor Beach (Paid)
Fort Zachary Taylor Beach is a paid beach in the Key West mainland.
It is paid as it is part of the historic State Park.
If you love to snorkel it may be worthwhile to pay to access the beach but we would suggest visiting Bahia Honda State Park instead for the best snorkeling.
One distinctive and interesting part of Fort Zachary Taylor Beach is that was once upon a time an active fort which is pretty cool. If you are a history buff, rangers at the park actually offer tours of the fort and the history.
7. Dry Tortugas National Park
Dry Tortugas National Park is another fantastic beach that you can take a day trip from Key West.
It is an absolutely stunning beach but it is a very expensive day trip. It costs $180 USD per person to take a day trip to the island from Key West
Address: Boca Chica Beach, Key West, FL 33040
You surely didn't expect to come to Key West without finding a nude beach? If you make a Florida Keys roadtrip, you better make the most of it, as it is the only nude beach in the Florida Keys!
If you like the free lifestyle, this is a good beach to visit. If you do want to be nudie, go to the southwest end of the beach as some of the beach isn't for nudity haha
It is a great beach to go for snorkeling too. Make sure you BYO snorkel to the beach if you go.
Beaches Nearby Key West
Bahia Honda State Park – 3 more beaches near Key West to check out!
We are a big fan of Bahia Honda State Park the beaches there are truly very beautiful so we would highly recommend a trip there.
Bahia Honda Camping is amazing and cheap too so we would recommend camping for at least 1 night to truly appreciate the beaches the state park has to offer.
Bahia Honda State Park has 3 amazing beaches – Caloosa Beach, Loggerhead Beach and Sandspur Beach.
8. Sandspur Beach
Sandspur Beach has perfect white powdery sand and translucent water which goes for miles. Many people believe it is the MOST beautiful beach in the world.
Definitely worthwhile checking out.
9. Caloosa Beach
Caloosa Beach is fairly different to Loggerhead Beach. I would describe it as the 'swimming beach' of the two. Although after 5pm or on a bad weather day, this beach is virtually dead.
We arrived at around 4pm on a cloudy day and there was not a soul in sight at Caloosa Beach.
The next morning we woke up and visited Caloosa Beach to find many holiday makers relaxing by the shore, having picnics and frolicking in the crystal clear water.
Rather unsurprisingly, the water did not look as amazing the afternoon before.
One aspect that makes Caloosa Beach particularly special is that is has epic views of the Old Baha Honda Bridge.
Another aspect we loved about this beach is that picnic tables are on the actual beach. We have never seen this before. It is so nice to be able to picnic directly on the beach. There is even BBQs on the beach. Pretty cool.
Sadly, you are not allowed to consume alcohol on the beach – I can really see a cold one going down a treat on a hot day.
In saying that, I did notice some sneaky seniors with bud lights on the beach. If you are stealth and dispose of your trash you probably won't have a problem but you didn't hear that from me!
Here is a little photography tip – Caloosa Beach has magical sunsets looking out to the Old Baha Honda Bridge. It is an amazing photography opportunity and hardly anyone is around at this time.
10. Loggerhead Beach
Loggerhead Beach was the beach in the State Park that we preferred. We thought of it as it was the snorkeling beach.
Loggerhead Beach has an absolutely fabulous reef that is so close to the shore.
You can seldom find good beach snorkeling in the world (usually you have to take a snorkeling trip) and Loggerhead Beach is one of the few places in the world that you can actually see awesome fish right off the beach.
Make sure you bring a snorkel with you. The Florida Keys are notoriously expensive so it is best if you purchase a snorkel set in advance.
We saw lots of colourful fish while snorkeling at Loggerhead Beach including garfish and schools of bright yellow and blue fish.
What else to do in Key West besides beaches?
There are so many other things to do in Key West besides beaches.
Key West is a cool town in its own right. We think it is the best town in the Keys if you love dining, chilling and just walking around a city. The architecture in Key West is very impressive.
The unmissable things to do in Key West include:
The sunset celebration at Mallory Square
Seeing Duval Street
Touring the Ernest Hemingway House
Key West Lighthouse
Key West Butterfly and Nature Conservatory
Fort Zachary Taylor State Park
The neighbourhood where the Harry S. Truman Little White House is located is amazing. No cars are permitted in the area but you can take a bike through and look at the beautiful architecture between the hours of dawn to dusk.
Key West also has a lot of cool free activities to do. Our favourite free things to do in Key West include:
The Key West Eco Discovery Centre
Southernmost Point of the Continental US
Key West Wildlife Center
Oldest House in Key West
Mile 0 Marker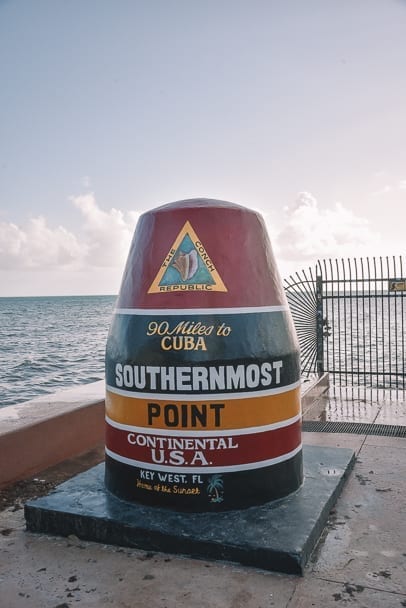 Where to stay in Key West?
It is no secret that it is expensive to travel and stay in Key West.We would recommend including some free and beaches activities into your travel itinerary to keep your costs down.
Here are the Key West hotels and vacation rentals we would recommend staying in depending on your budget:
We love camping but we wouldn't recommend camping in Key West. A camping spot in Key West costs around
$100 USD +. It is more worthwhile to pay for a hotel. Key West is a place you come for a bit of luxury, not to camp.
If you would like to camp, we would recommend staying at Bahia Honda State Park (1 hour away) and making day trips to Key West. This was the best campground in the Florida Keys for sure.
If you want to take your furry friend on vacation, you will be happy to find a lot of pet friendly hotels in Key West.
Key West Restaurants
Key West is a bit of a foodie paradise it has some great places to eat in Key West.
If you haven't tried Key Lime pie yet – you absolutely need to try it while in Key West. The best place for Key Lime Pie in Key West is Old Town Bakery but beware it sells out early. We went to buy it a few times and there was a sign on the door saying sold out.
The best rated restaurants in the area (which you might like to check out) include:
Blue Heaven
The Stoned Crab
Prime Steakhouse
Cuban Coffee Queen
Latitudes
Santiago's Bodega
Better Than Sex – A Dessert Restaurant
More Resources to Help you Plan Your Trip to Florida
We hope you love these beaches on your Key West vacation.
We have covered quite a lot on the Florida Keys and other areas of Florida which may be helpful for you to plan your vacation: