Looking for the best beaches in Marathon Florida? You have come to the right place.
By the time we had reached Marathon Florida we had seen some pretty nice beaches in Key Largo and Islamorada so we were excites to see what beaches Marathon Florida had to offer.
Marathon is halfway down the keys. If you have reached Marathon you have made it to the halfway park between Key Largo and the iconic Smathers & Higgs Beach in Key West.
We reached Marathon on a drive from Miami to Key West, one of the best road trips we have ever taken.
Bring with you: Lonely Planet Miami and the Keys Travel Guide
6 Best beaches in Marathon Florida You Need to Visit
Marathon Fl is located in very close proximity to Bahia Honda State Park which we thought had the absolute nicest beaches in the Florida Keys.
The downside is that the beaches in Bahia Honda require paid access via the State Park to access them. Many of the beaches in Marathon Fl are free to access so that may be preferential for you.
Sombrero Beach
This is our favourite free beach in Marathon Fl.
Sombrero Beach provides a lovely strip of powdery white sand with decent water.
There is ample parking available at Sombrero Beach as well as toilet facilities and showers.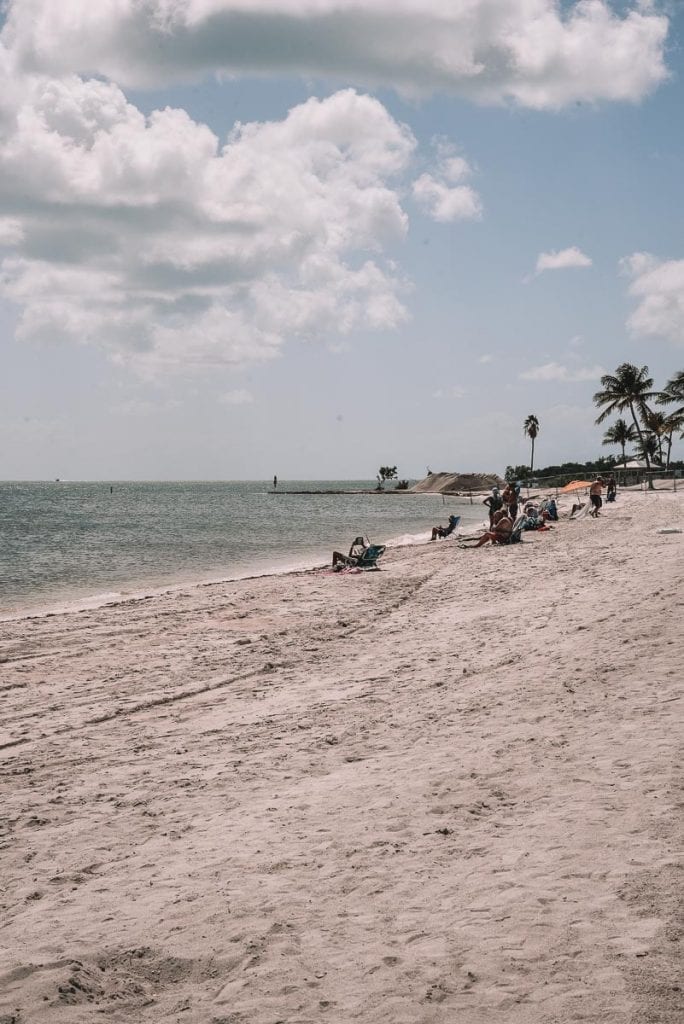 Coco Plum Beach
Coco Plum Beach is another option for a free beach in Marthon Fl.
We were however a little disappointed by Coco Plum Beach. NOT great place to propose in Florida if you are looking for somewhere picture perfect.
The beach was covered in a lot of seaweed. There was also a very unusual smell at the beach. I'm not sure if this is usual or we got unlucky on the day we visited.
While I wouldn't recommend swimming at Coco Plum Beach it is a good beach for turtle or turtle track spotting. There is a sign on the beach with pictures on turtle tracks and how to know what type of turtle those tracks belong to.
Marathon is the turtle capital of the Florida Keys. One of the best things to do in Marathon is to visit the Turtle Hospital which rehabilitates injured turtles from the Keys.
If you want to see the turtle tracks, there is a lot of parking available at Coco Plum Beach as well as toilet facilities. We did not see showers.
You will likely have the entire beach to yourself too (guess people arent fond of the smell)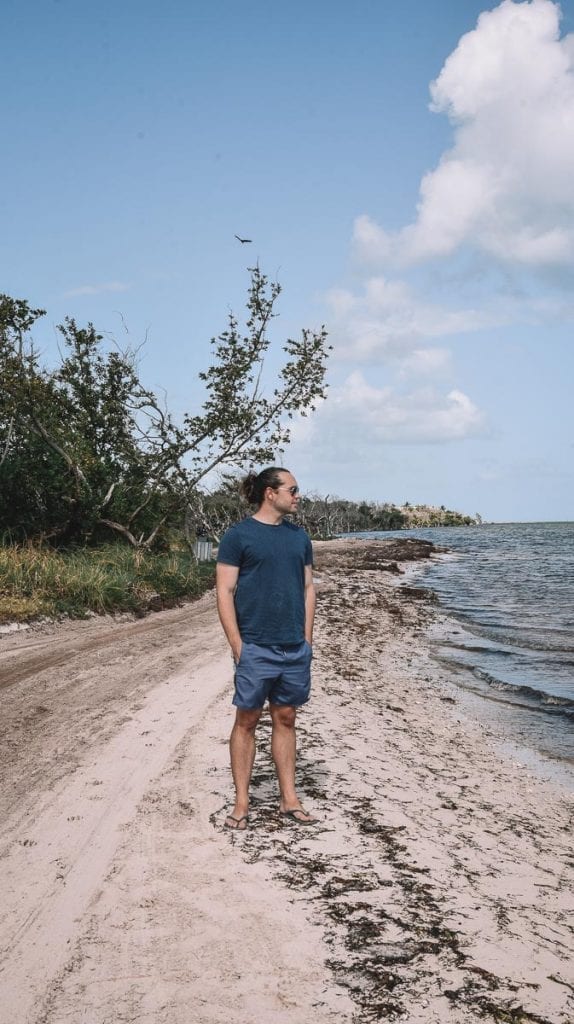 Caloosa Beach
If money isn't a factor and you can handle another 15 minute drive we would recommend bypassing the aforementioned beaches and spending time at the beaches in Bahia Honda State Park instead.
One of the beaches in Bahia Honda State Park is Caloosa Beach.
Caloosa Beach is ideal for swimming as the water is crystal clear and the sand is pearly white. It really is a dream beach.
Caloosa Beach also has a epic view of Old Bahia Honda Bridge. You can also go for a hike on this bridge if you are feeling energetic.
It costs $4.50 to enter Bahia Honda State Park but it is well worth the money. This fee is waved if you decide to camp in the State Park.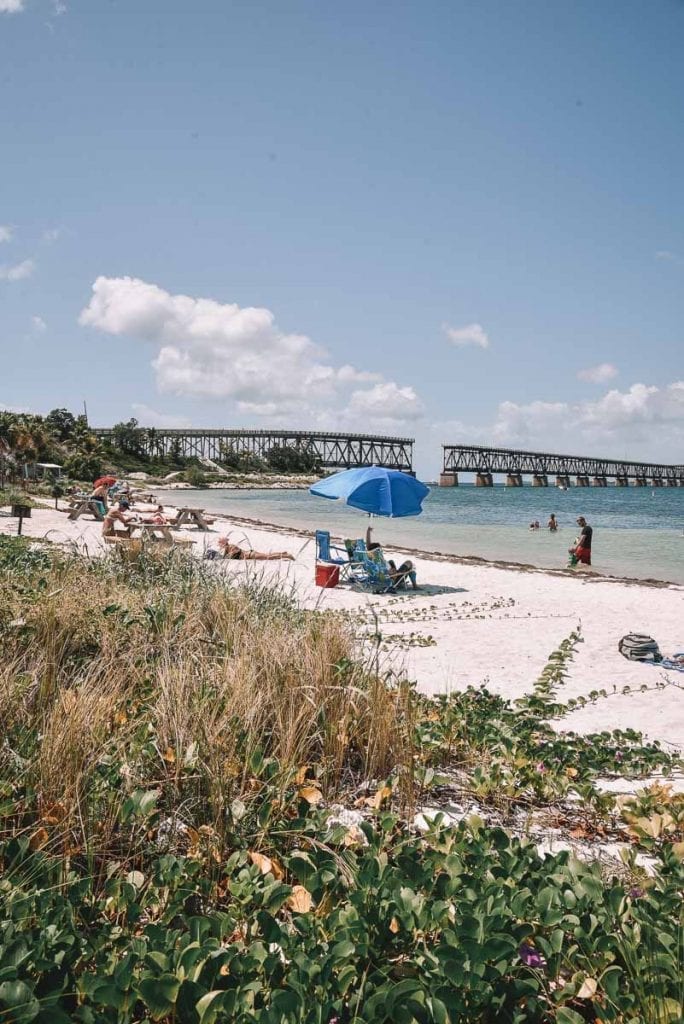 Loggerhead Beach
Another beach that is within the Bahia Honda State Park, about a 15 minute drive from Marathon is Loggerhead Beach.
Loggerhead Beach is great for snorkeling. We saw schools of bright yellow and blue fish snorkeling at Loggerhead Beach.
Bring a snorkel with you to the Florida Keys. The Keys are very expensive and it is best if you purchase a snorkel set in advance.
We were pleasantly surprised to find lots of stunning colourful fish while snorkling here as we did not see any at John Pennekamp Coral Reef State Park in Key Largo just regular fish.
The $4.50 fee that you pay to enter the State Park is well worthwhile as you have access to ample parking close to the beach and great showers and changing facilities available as well as free water.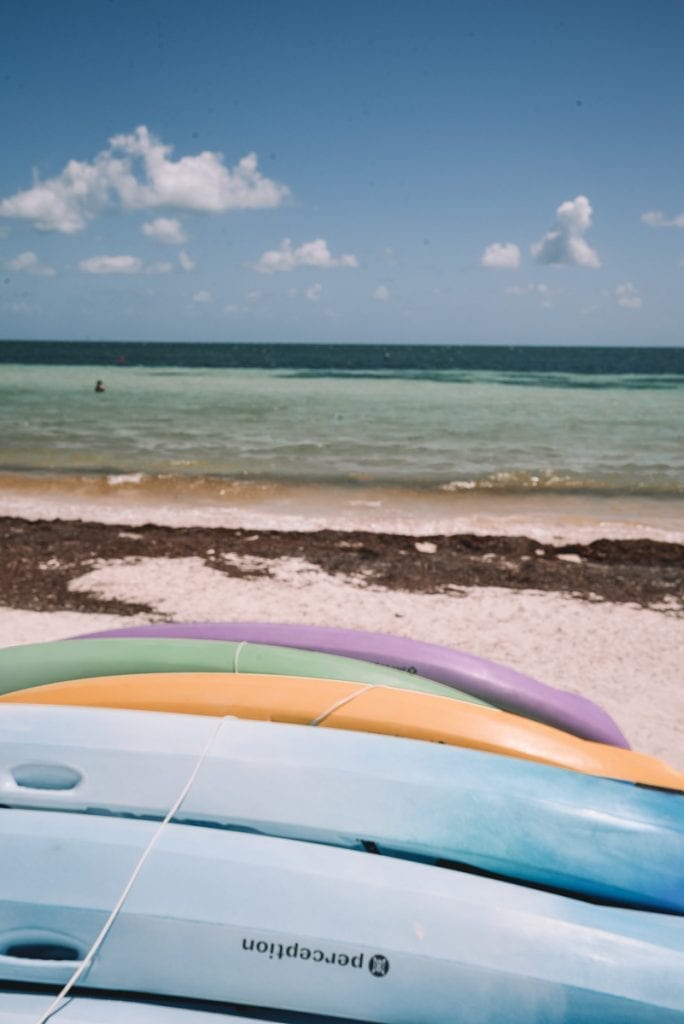 Sandspur Beach
There is actually a third beach located within the Bahia Honda State Park known as Sandspur Beach.
It has been described as the the MOST beautiful beach in the world with white powdery sand and translucent water which goes for miles.
As of September 2019 it is closed due to repairs of Hurricane Irma.
Curry Hammock State Park
Another option in the nearby vicinity is the Curry Hammock State Park.
This State Park is the largest uninhabited piece of land from Key Largo to Big Pine Key.
The State Park is perfect for adventure activities like kayaking and paddleboarding.
Like other State Parks in the area, there is a $4.50 entry fee per person.
Other things to do in Marathon Fl?
There are many other cool things to do in Marathon Florida aside from the beaches.
One of the most iconic things to do in Marathon Fl is to visit the Turtle Hospital. If you are an animal lover or a family you will really appreciate this place.
The turtle hospital in Marathon rehabilitates turtles in the Florida keys. Visiting the hospital you get to see and learn about the turtles of the Florida keys as well as have a chance to feed them.
It costs $25 per person to have a guided tour of the centre.
Another cool (animal activity) in Marathon is to visit the dolphin research center. For $29 you can learn about all things dolphin in the keys and see many dolphins at the centre.
If you would like a more interactive activity, you can purchase a dolphin encounter for $199 per person.
The dolphin research center is a great family activity that the kids will love in the Florida Keys!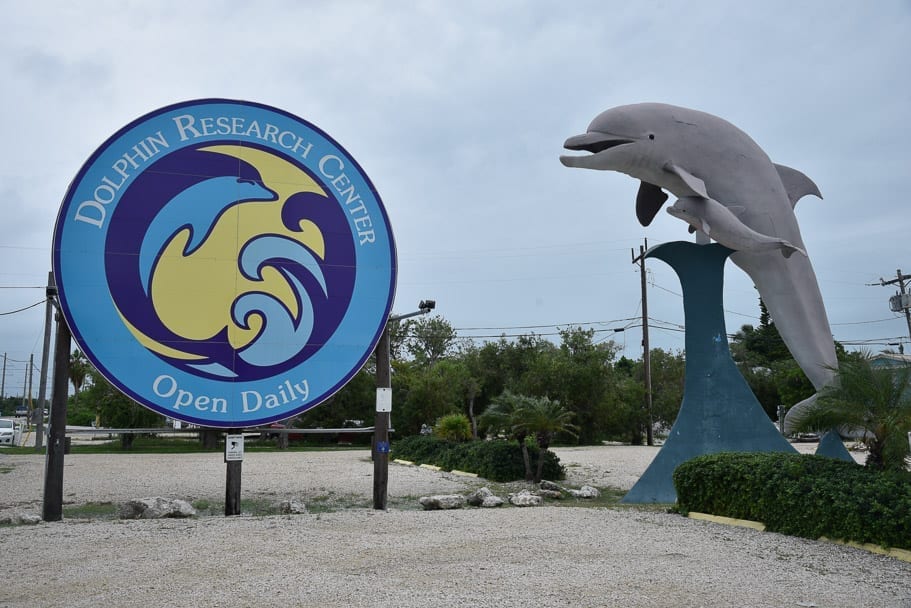 Of course if you are in Marathon you cannot miss driving across the iconic Florida Keys seven mile bridge (even if you are not traveling on to Key West)
Get your camera out but hold on tight as the bridge is very windy. We saw a guy loose his cap while cruising along the bridge.
Where to stay in Marathon Fl?
If you like camping, and want to go camping in the Keys, we would recommend camping in the Bahia Honda State Park.
The downside to this is that Florida can get quite hot and sticky at night. If you prefer a little more comfort, we would suggest staying in these hotel options in Marathon to explore the beaches.
From Marathon you will likely be heading on to Bahia Honda, Key West and Dry Tortugas National Park.
Planning a trip to the Florida Keys?
If you are planning a trip to the Florida Keys, here are other posts that might be helpful to you: