Looking for the best Sarasota beaches? Sarasota Florida is a cool place to visit with many interesting things to do.
One of the reasons people are so drawn to the area of Sarasota is due to the incredible beaches including the gorgeous Siesta Key Beach which has bragging rights as the #1 Beach in the USA.
Sarasota is a great beach destination. In Sarasota there are marvellous places to swim, go fishing as well as partake in adventure activities.
6 Best Sarasota Beaches + 1 Dog Beach
One of the reasons beaches in Sarasota as so popular is due to the sand. Many of the beaches in this region have a very soft, white powdery quartz-crystal sand.
It feels awesome between your feet and what's more is that it never gets hot! Woohoo!
If you are visiting the Sarasota area here are 6 beaches that you simply cannot miss + 1 dog beach for your furry friend.
Siesta Beach
The first beach on our list is Siesta Beach.
This is probably the most well awarded beach in the world and it knows it.
As you enter the beach you will see signs claiming that it is the best beach in the USA.
Over the years it has been given many awards including by Travel Channel in 2004, by Dr. Beach in 2011 and 2017 and Tripadvisor in 2015.
It rates so well due to the picturesque white powdery quartz-crystal sand.
There are a lot of hippies in the Siesta Beach who appreciate the sand a little too much.
You can read more about the best Siesta Key Beaches and the hippies in our Siesta Key beaches guide.
Aside from the picturesque, white sand, we greatly appreciated the very intagrammable colourful lifeguard huts dotted along Sarasota beach.
The beach has great facilities and free parking – something that is quite rare in USA beaches.
Crescent Beach
Another great beach in Sarasota is Crescent Beach.
Like Siesta Beach it is also located off the mainland of Sarasota in Siesta Key.
This beach is great for those wanting a bit more privacy as it is a lot more private than Siesta Key Beach.
The downside to Crescent Beach is that, while it is free, there is very few parking spots.
If you enjoy snorkeling it is worth suffering the parking as some of the best snorkeling in Sarasota is found in an area on the beach called the Point of Rocks. Lots of colourful coral and fish can be seen here.
Crescent Beach has also won an award in 1987 for the"The World's Finest, Whitest Sand".
Turtle Beach
The final beach that you should visit in Siesta Key is Turtle Beach.
It is named turtle beach due to the turtles who use this beach to nest from May to October each year. They like this spot as it is far less busy than the aforementioned beaches.
The beach sadly does not have the fine, white and fluffy sand in the area but it is a very private beach with easy parking.
Turtle Beach also offers amazing sunsets and a campground right at the beach.
South Lido Key Beach
If you are not heading to Siesta Key from Sarasota then you should probably go to Lido Key.
South Lido Key Beach is a stunning beach with the most beautiful water we have seen in the area – the water at South Lido Key Beach is so clear you can see fish swimming from the shore.
It is definitely one of the more beautiful beaches in the area. The downside of this beach is you cannot go swimming due to strong currents and no lifeguards working in the area.
If you would like a place to sit back and relax as the world goes by with very few people around this is the beach for you. I would be also a great beach for fishing as the fish are teeming.
There are great facilities at the beach including toilets, picnic tables and plenty of free parking.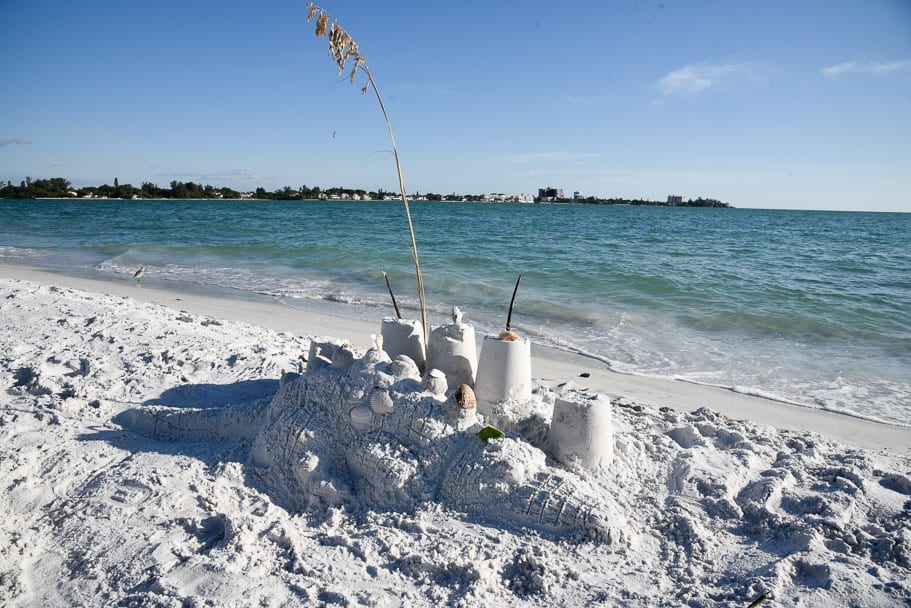 Lido Key Beach
A hop, skip and a jump from South Lido Beach is Lido Key Beach – the most popular beach in the Lido Keys. Like the beaches on Siesta Key, the beach offers beautiful white, sugary sand and perfect water. You are able to swim at the beach as there are lifeguards on duty.
It is free to park at the beach except for the North end of the beach which is pay and display between Monday and Friday.
Aside from a beautiful beach, there are good facilities at the beach including picnic tables, toilets, showers and a cafe.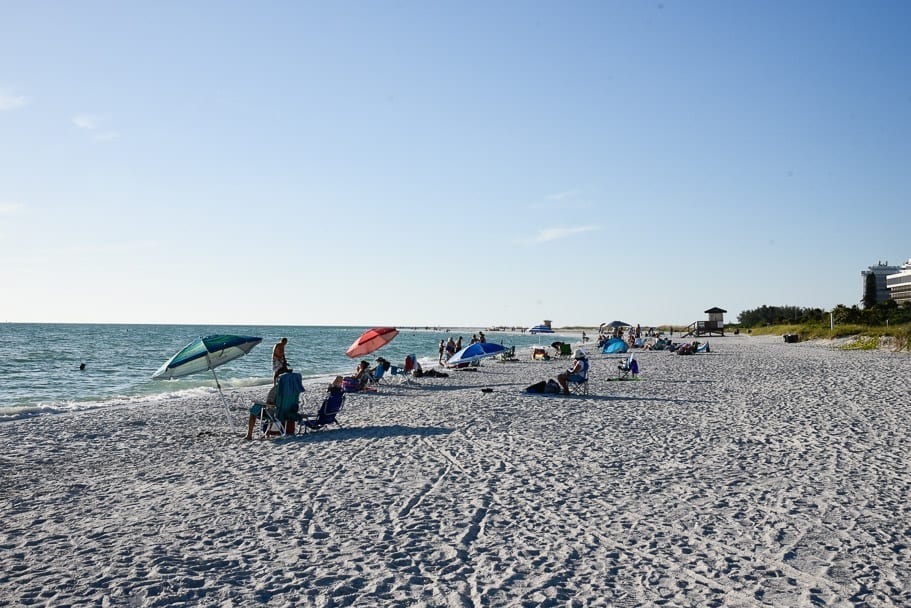 Coquino Beach
Coquino Beach is a very pretty beach in the area of Sarasota. Like most beaches in the area, it has stunning white sand and warm crystal clear water.
It is possible to swim in the beautiful blue water as it is calm and there is a lifeguard on duty.
The cool thing about Coquino Beach is that it is based off a shaded woodland, perfect for picnics. There are many extremely friendly squirrels running around the area. We were a bit nervous a few would jump on us.
Like most places in Sarasota it is free parking. There are also great facilities at the beach including toilets and showers.
Pictured below is a beautiful sunset we witnessed at Coquino Beach.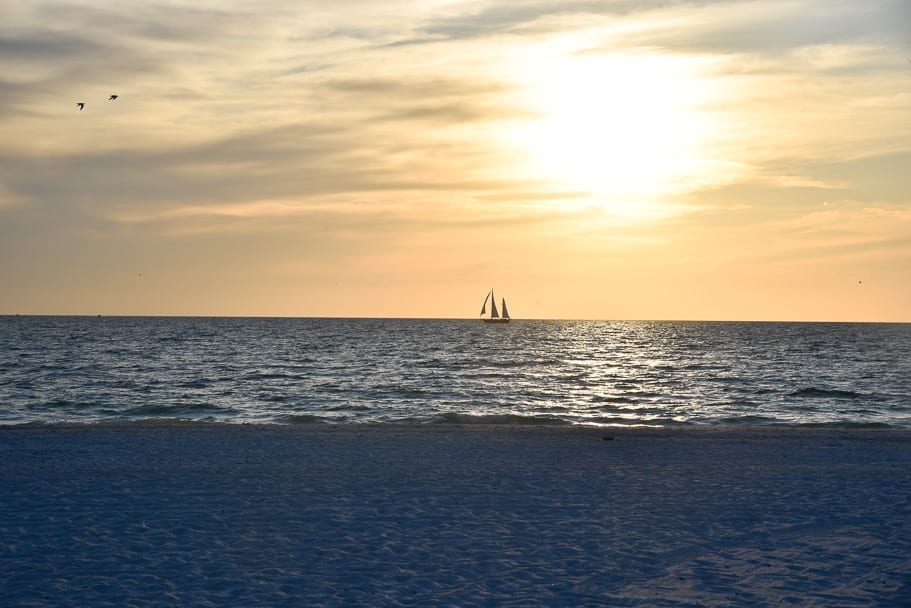 Dog Beach Sarasota
If you are looking for a beach to bring your furry friend there is not too many dog friendly beach options in the Sarasota area.
If you want a place with loads of dog beaches and facilities we would recommend Bonita Springs Beaches.
If you don't want to drive quite that far, Brohard Paw Park in Venice near Sarasota county allows dogs on the beach.
Shocking Sarasota Facts
Sarasota is a very interesting and fun place to visit. Here are some interesting Sarasota facts for you to get to know the area a little better:
Sarasota is made up of 42% water;
It is proud of being rated the best small city in the USA by Money Magazine;
Sarasota is known for being a circus city as the Ringling Brothers used to base themselves there.
One of the best things to do in Sarasota is to visit the Unconditional Surrender Statue.
We found it interesting that the Unconditional Surrender Statue which is one of the best rated tourist attractions in Sarasota is based on a photo which depicted a sexual assault.
Due to this fact, the statue is often vandalised with 'metoo' graffiti.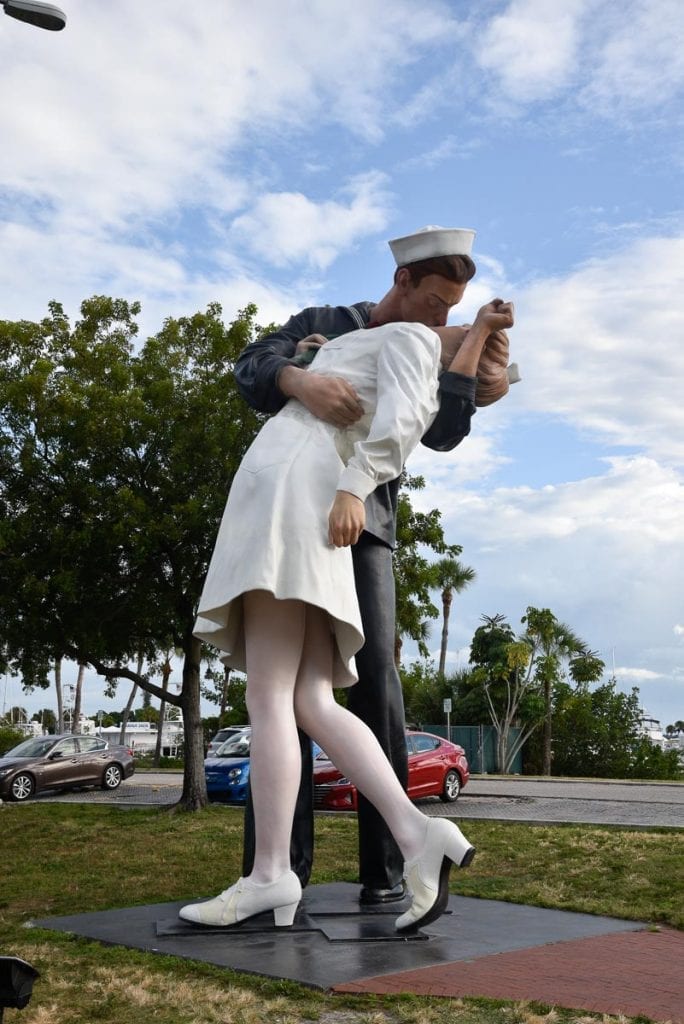 Where to stay in Sarasota Beach
Sarasota is a great town with some fabulous accommodation options include some with beach access.
We were lucky enough one one of our trips to find a very affordable hotel in Sarasota which was also very clean & comfortable.
This was a basic but clean and comfortable hotel.
If you prefer luxury this is the best 4 Star Hotel & 5 Star Hotel which has never disappointed us.
***
More Florida Fun: