Looking for fun things to do in Bonita Springs? You have come to the right place!
You may not have heard of Bonita Springs in Florida but I bet you have heard of Naples? Bonita Springs is so close to Naples it is practically an extension of Naples but it is so-much-better (Shh, Don't tell Naples I think that ;))
Bonita Springs is the quieter, chilled, more relaxed version of Naples Florida. There are less people on the beaches, fewer people competing for tables in the restaurants but just as many fun activities to do!
You might also like: 50 Best Things to do in Florida
21 Fun Things to do in Bonita Springs
Bonita Springs is an overlooked tourist destination in Florida. If you are looking for a "hidden gem", if you like the slower, paced relaxed vacation then this is the city for you!
While it is less busy than its neighbour Naples (it is mostly inhabited by quiet retirees) it doesn't mean it is a new city like say Marco Island (although I think its roots too trace back to Native Indians).
In fact, far from it. There is evidence that people have been living in Bonita Springs for 8,000 years!
If you are in the early planning stages of your Florida holiday then consider staying in Bonita Springs. It is a pretty cool place with lots of activities.
Cullum's Bonita Trail
Cullum's Bonita Trail actually doesn't rank well if you look at it on tripadvisor. We weren't expecting much when coming to this trail but it really blew us away.
We love seeing wildlife and we saw rabbits and multiple gopher turtles running around the trails while we were there.
On top of the wildlife, the place is absolutely stunning. Sadly, we didn't leave ourselves a lot of time to complete the full walks but what we saw of the trails blew us away.
Definitely up there with some of the prettiest trails we have seen in Florida. In addition to animals and stunning trails, the place itself is very interesting. For example, there was a hut at Cullum's Bonita Trail where you can check out the production of honey. Pretty cool!
If you have some time, make a day of it. There are some great picnic tables under the shade. Best of all, it won't cost you a dime to enter or park. Quite rare in Florida where paying for parking is pretty normal.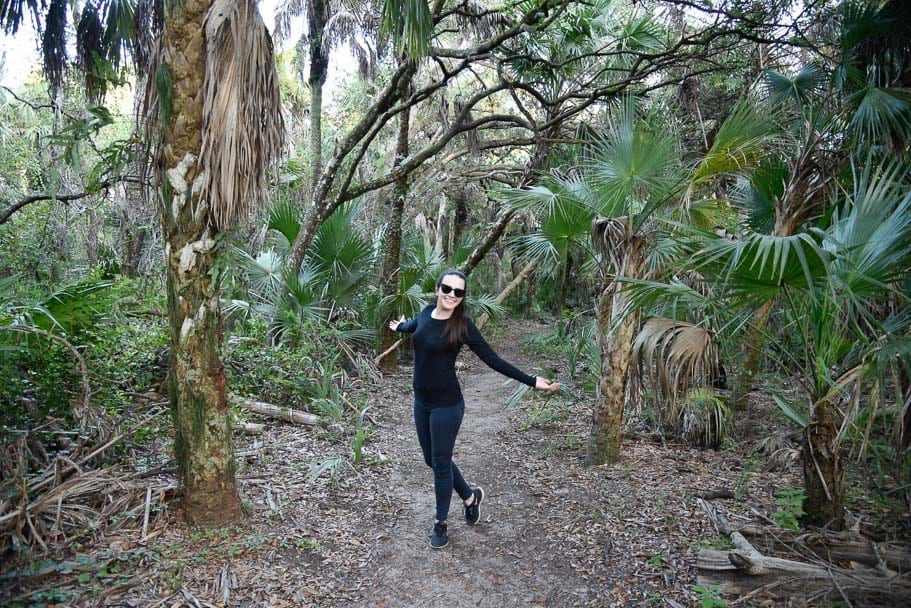 Barefoot Beach Preserve
If you like animals and aren't sick of gopher turtles at this point, make sure you hit up Barefoot Beach Preserve while in Bonita Springs.
Barefoot Beach is considered to be one of the very best shelling beaches in Florida. It will cost you a little more than Cullum's Bonita Trail ($8 USD) but it is well worth the fee to access an untouched piece of paradise.
Barefoot Beach Preserve is great for families too as the water is very shallow and calm (much like the rest of Bonita Springs beaches really).
If you want a bit more excitement in the day you can hire a kayak and go for an adventure through the mangroves.
Farmer Mikes U Pick
I don't know about you but there is just something appealing about picking your own fruit and vegetables.
If this is something that appeals to you too, you are in luck in Bonita Springs with Farmer Mikes U Pick.
Farmer Mike has only the freshest produce available in Bonita Springs. Depending on the season you can get anything from strawberries to tomatoes to bell peppers.
Here's a tip for you if you head to Farmer Mikes – the specialty at the farm is heirloom tomatoes which are absolutely delicious. If you find yourself in Bonita Springs in Fall, Farmer Mikes really delivers with a fall festival complete with a pumpkin match and corn maze.
Bargain hunters among us will be pleased to know that Mike doesn't overcharge for his fresh produce too! You can purchase fresh fruit and vegetable for similar prices to an upmarket supermarket.
Bonita Beach Park
Tired and sweaty from all that tomato picking? Me too! Let's take a dip in one of the most beautiful beaches in the area – Bonita Beach Park.
This beach is one of the most popular in the area and for good reason – the beach is absolutely pristine.
Don't even try to go there for sunset though – it's packed. Remember when I told you that Bonita Spring is an uncrowded oasis? That is absolutely true at all times EXCEPT sunset.
The sunsets in Bonita Springs are THAT beautiful that even all the retirees in Bonita Springs wheel out of their nursing homes to see the orange beauty that fills the sky.
Bring whatever you would like to eat or drink with you to Bonita Beach Park for sunset as there are limited facilities around. Oh, except Docs restaurant. Docs also offers jet ski and kayak rentals for those a little more active among us.
Bonita Beach Park is free to enter but has metered parking – $2 per hour.
Everglades Wonder Gardens
If you are in Bonita Springs on a family vacation then you probably won't get out of a visit to Everglades Wonder Gardens.
The good news is it is actually a pretty cool place and not a total tourist trap at all.
For only $12 USD you can have a day of family fun seeing a wide variety of animals including alligators and pink flamingos!
It started as a not for profit organisation so the folks there are doing some pretty good work.
It is a great alternative to Everglades National Park and our all time favourite alligator spotting trail Anhinga Trail
Something the kids will be pretty excited about is that you can actually hand feed the pink flamingoes which is certainly not allowed in any National Park.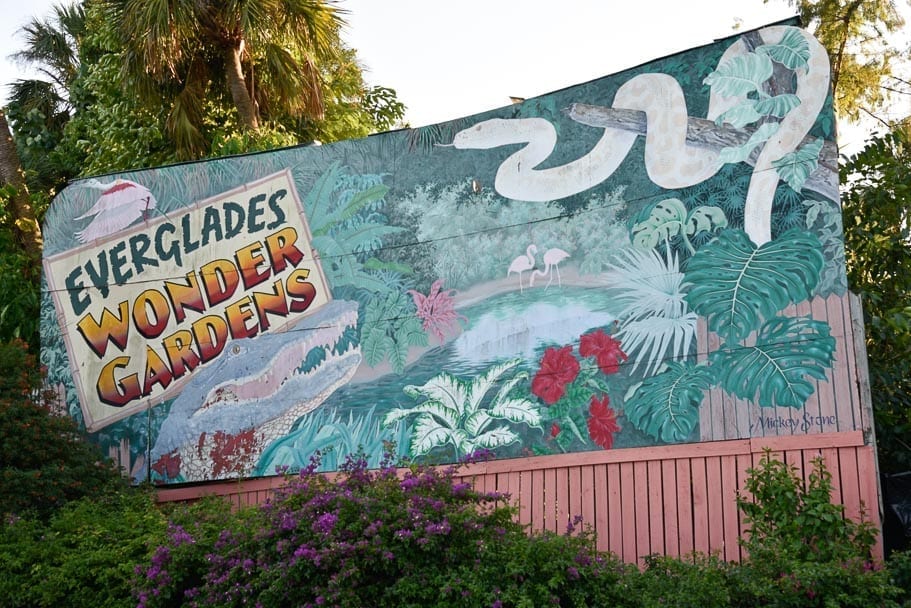 Little Hickory Beach Park
Now we find ourselves at our favourite thing to do in Bonita Springs – Little Hickory Beach Park.
Little Hickory Beach Park is really no different to Bonita Beach Park but there was one vital difference to us – sunset.
Unlike Bonita Beach Park we could actually score a park to enjoy the magic orange sunsets in Bonita Springs at Little Hickory.
Thank goodness for Little Hickory Beach because we almost missed it driving around and around and arrrouund Bonita Beach Park.
Do yourself a favour and head straight to this beach for sunset.
Little Hickory Beach Park is also a great place for decent shelling!
Shelling is a bit of a phenomenon in Florida. Finding a decent shell is definitely high any any Floridians beach bucket list.
See our guide to the best Shelling in Florida if you are interested in picking up some seriously pretty shells.
Pro parking tip: There is a free parking space across the road from the beach. Otherwise, there is reasonably priced metered parking directly at the beach, $2 per hour.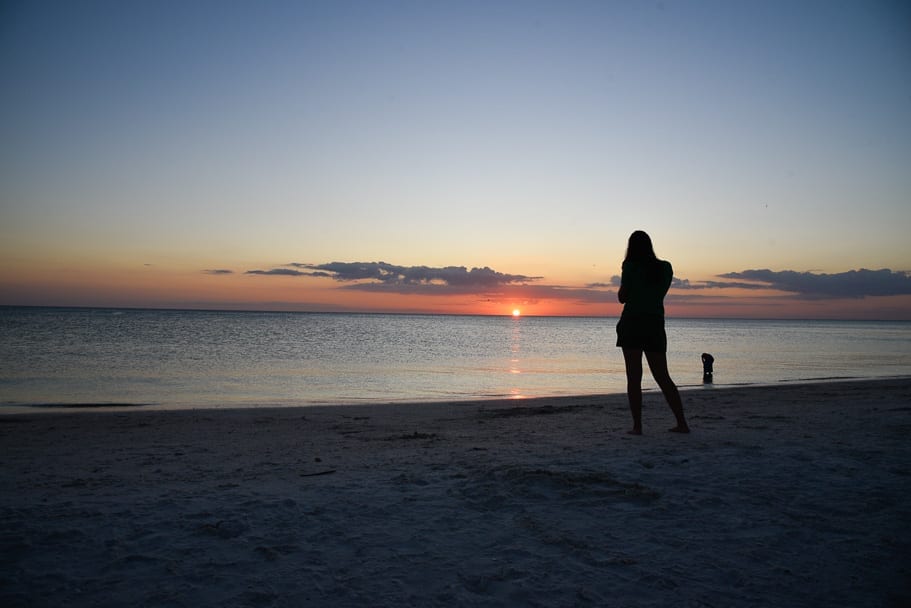 Naples Fort Myers Greyhound Track
Naples Fort Myers Greyhound Track is currently in operation but will soon be a thing to do of the past.
Due to the abuse of the doggies Florida voters came to a decision to end the racing by 2020. The last race will be May 3.
A 'sleek, new card room and restaurant' will be replacing the greyhound track at this time.
Dog Beach Park
If closing of the Naples Fort Myers Greyhound Track wasn't enough evidence that residents of Bonita Springs love their furry friends head down to the Dog Beach Park.
I'll admit, it was a little too muddy for the likes of us but your 4 legged friend will THANK YOU for bringing them here.
We saw so many of the 'happiest dogs in the world' at the Dog Beach Park in Bonita Springs.
There is also a doggy shower to wash them off after their swim so lots of great facilities available for dog owners.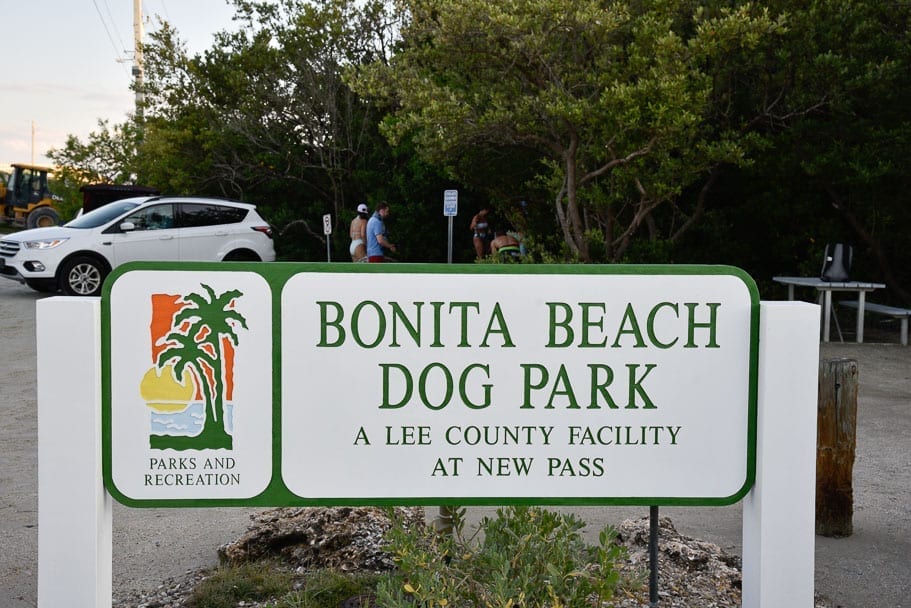 Bonita Springs Riverside Park
Bonita Springs Riverside Park is a stunning park area with a gorgeous fountain – perfect for an afternoon stroll after a long day at the beach.
The park often holds free festivals and concerts for the Bonita Springs community so keep an eye out for what's on while you are there.
If nothing else, it is a nice place to go for a leisurely stroll or to have a picnic on the river.
If you want your activity to be a little more active, there are kayaks & bikes for rent at the park.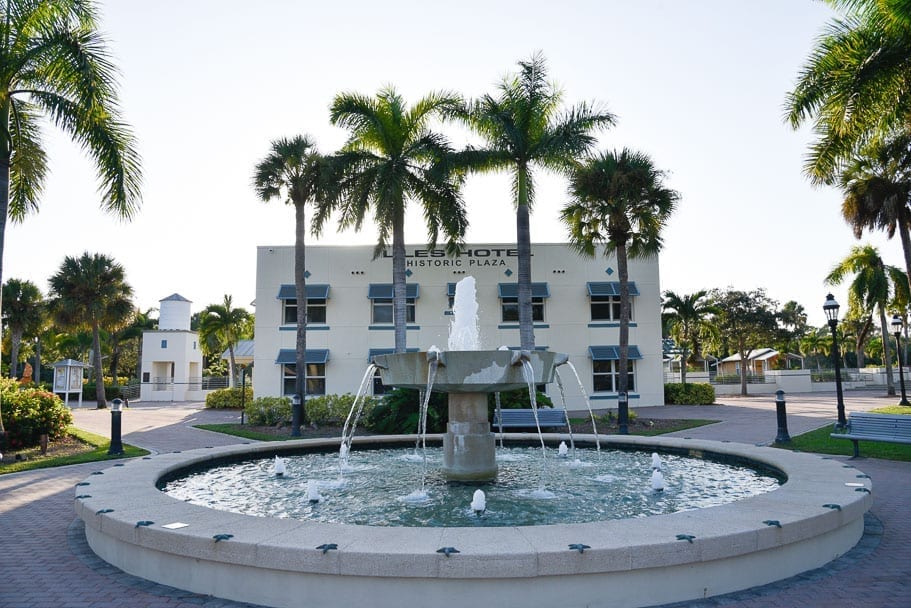 Take a trip to Naples
If you choose to base yourself in Bonita Springs, you can always take a day trip to the more vibrant community of Naples Florida.
We really likes the beaches in Naples but there were a little more busy than Bonita Springs.
The two most popular beaches in Naples are Naples Beach (surprise surprise) and Laudermilk Park.
We preferred Laudermilk Park as we saw dolphins swimming right off the beach there. It was pretty amazing, they went right up to a fisherman who was wading in the water around waist deep.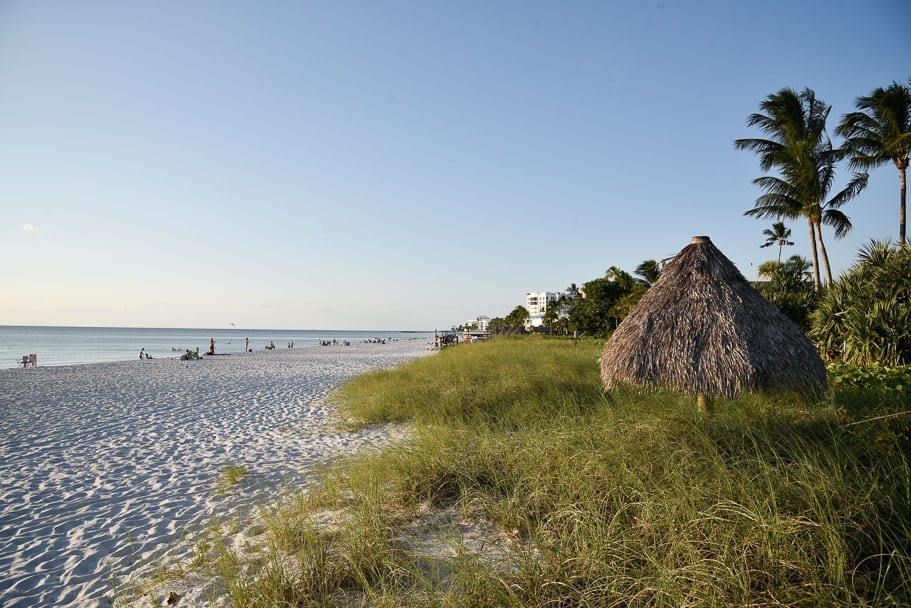 Aside from beaches there is great shopping ,cafes and restaurants in Naples at 5th Avenue South.
On a day trip to Naples you can also enjoy a lot of water sports activities. If you are up for a bit of adventure, we would recommend these activities:
Go for a Massage
As Bonita Springs is the town of rest and relaxation, there is nothing better to do than have a spa treatment.
The best rated beauty therapists as per tripadvisor in Bonita Springs are:
Stillwater Spas
Shangri-La Springs
We would personally recommend this beauty therapist in Bonita Springs.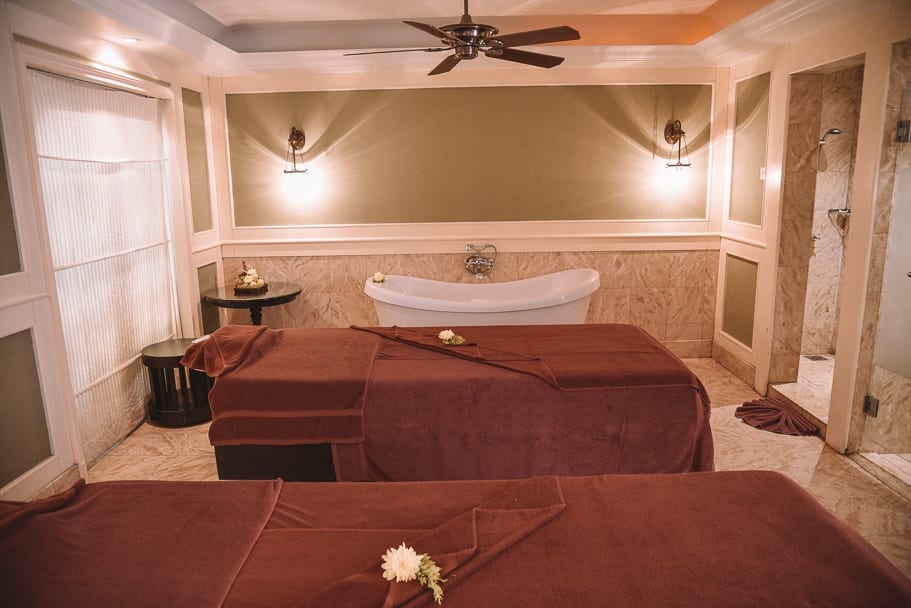 Where to go shopping in Bonita Springs?
For those shopaholics among us, there are many places to go shopping in Bonita Springs for all prices, budgets and interests.
Shopping is the perfect rainy day activity in Bonita Springs. It doesn't rain all that much so no need to get overly concerned but if it does you know what to do!
If you like retail brands and designer labels head to Miromar Outlets This is a really nice shopping centre with all the brands you could wish for! The 'shopping centre' is outside so we suggest going in the afternoon so your shopping ventures are not distracted with heat!
If you are more of a second hand bargain hunter, make sure you schedule in a trip to Flamingo Island Flea Market in Bonita Springs.
The market is open Fri – Sun 8:00 AM – 4:00 PM and has everything you could wish for – from the usual second hand clothes to the unusual antiques.
Vendors at the market are generally willing to have a bit of a barter so don't be afraid to try out those skills you learnt in Asia!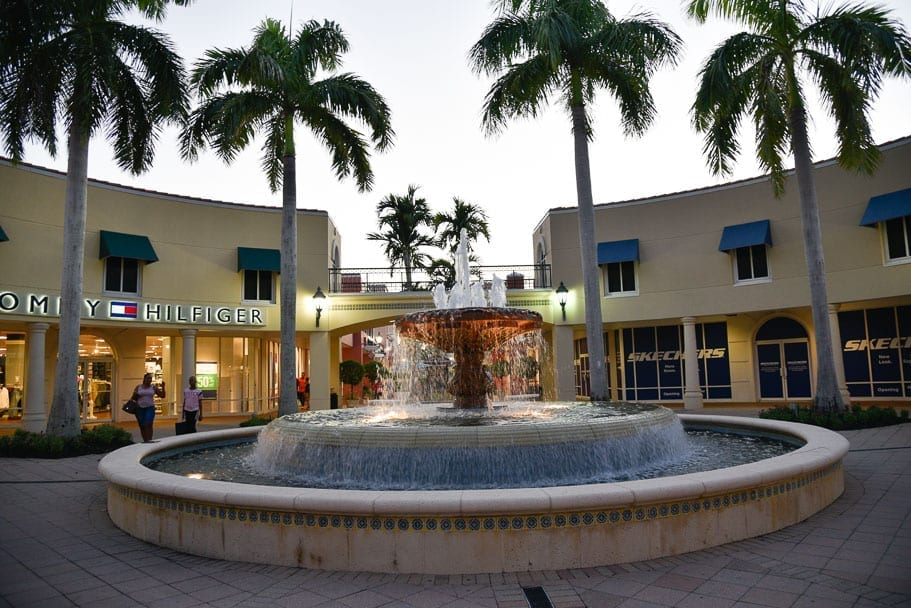 Nightlife in Bonita Springs?
Bonita Springs is not a party town. The town is more of a sleepy, quiet town.
If you are looking for more vibrant nightlife, I would recommend staying in Naples not Bonita Springs.
In saying that, there are a few places that you could head if you fancy a late night drink.
The Centre Bar is one of the more popular late night bars in town. Although it mainly caters for an older demographic. If you want to know if this would the right fit for you, check out their homepage image – if you are 50+ I'd say you'd like this spot.
There is also an interesting Kava Bar in town (alcohol free in true Kava style).
What to eat in Bonita Springs?
While there may not be much nightlife in Bonita Springs there is still plenty to eat!
The best rated restaurants in Bonita Springs as per tripadvisor are:
Palladio Trattoria
Petar's Restaurant
Lapa's Costa Rican Bistro
C Level Bistro & Wine Bar
Wyld's Cafe
A Table Apart
If you only have a night or 2, we would recommend checking out either Wyld's Cafe or for more traditional American dining, Mel's Diner.
Wylds Cafe is regarded as a culinary wonderland in Bonita Springs. Three very well trained chefs own this restaurant. It serves high quality food with perfect wine pairings – perfect for a date night idea!
Mel's Diner is a pretty cool place for reasonably priced diner style food. You can get a good hearty meal at Mels for around $10 USD.
What draws people to Mels is not the well priced food (although that helps!) but the fact it is decked out in '50s-style decor. It serves all American style food including burgers and milkshakes complete with cherry on top.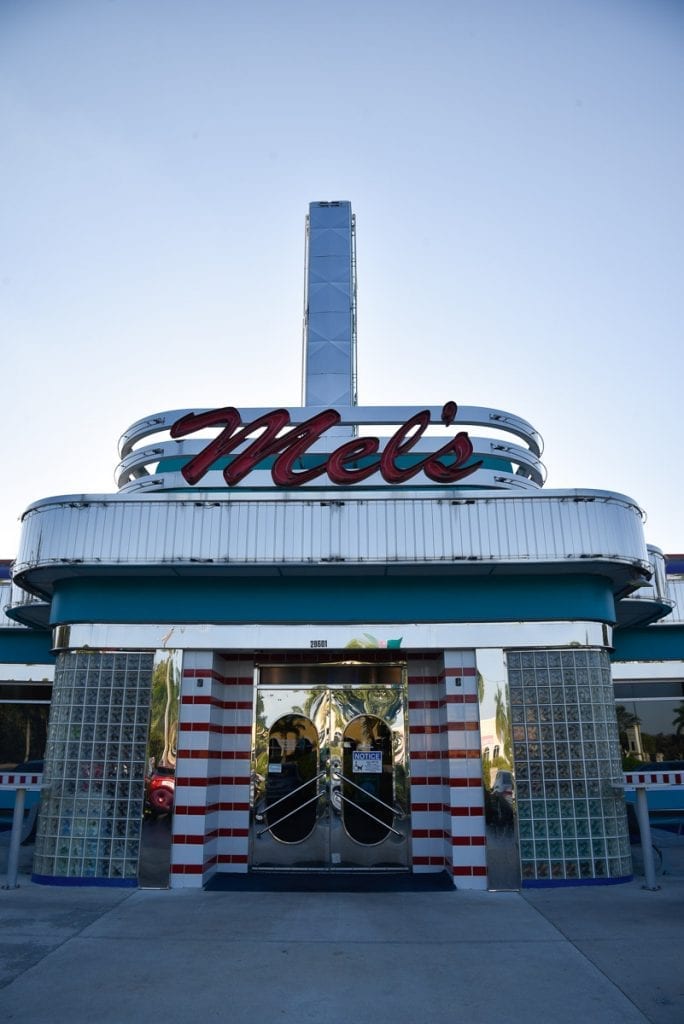 Where to stay in Bonita Springs?
Bonita Springs has some seriously great accommodation options which is one of the reasons we love it so much.
Whether you have a lot budget or high budget you will find something pretty good in Bonita Springs.
We saw this hotel in Bonita Springs which was a low price but had really great reviews. Due to the awesome price we decided to give it a go, not expecting a whole lot.
Spoiler – We were really happy with it – it was very clean, comfortable, had a pool and breakfast included for only $60 USD a night!
Failing this option, we would recommend the following other accommodation options in Bonita Springs:
Wherever you go in the States, La Quinta is always a safe bet. We have never been disappointed by a La Quinta.
We are also fans of the Hyatt brand and the Ritz Carlton just looks SO amazing so if you are coming for a special occasion this is certainly the place to stay!
Exploring Florida?
If you are on a Florida Vacation, you might also like to check out our other posts on Florida to help you plan your trip: