Where to see manatees in Florida?
Seeing manatees in the Springs in Florida is one of those bucket list experiences.
It must be a bucket list activity for a lot of people as after we finished our tour in Crystal River in Florida our guide commented "Okay folks, another thing you can cross off your bucket list!"
When we were researching about Manatees in Florida it was a little hard for us to work out where you see them and also where you can swim with them.
In this guide, we will answer all your burning questions about seeing and swimming with manatees in Florida as well as a little helpful facts about Manatees.
See more: Kayaking with Manatees in Florida
Manatees in Florida
Known as gentle sea cows of the water, manatees are one of the best native wildlife to experience in Florida.
Manatees are just about the cutest thing ever – their face is wrinkled and they have stiff grey whiskers like a cat – what's not to absolutely love.
Manatees have a long history in Florida. Remains of manatees have been dated to prehistoric times.
Once upon a time in Florida manatees could be hunted and killed. However, in 1893, this was outlawed in Florida by State legislation.
In modern times, manatees have been cherished and well protected by various legislation in Florida. They were listed on the Federal Endangered Species Act in 1973 and the Florida Manatee Sanctuary Act in 1978.
Currently, there are estimated to be between 3,000 – 5,000 manatees living in Florida. The manatee population was once reclining but due to rigorous protection their numbers are once again on the incline.
Our guide in Crystal River informed us that when he started manatee tours over 10 years ago there was only a few hundred manatees. As of 2019, there are about 1000 living in Crystal River Florida alone.
What manatee tour should I book? This is the tour we would recommend.
Where can I see manatees in Florida?
There are numerous places where you can see a manatee in Florida. Here we will list the possibilities:
Crystal River & Three Sisters Springs
If you want to swim with a manatee in Florida this is the best place to do it.
Manatees flock to the Crystal River due to the warm water provided by the Three Sisters Springs.
In winter, there are around 1000 manatees in the Crystal River.
In summer, there are still a few resident manatees in the Crystal River, making it the only place it is possible to swim with a manatee year round.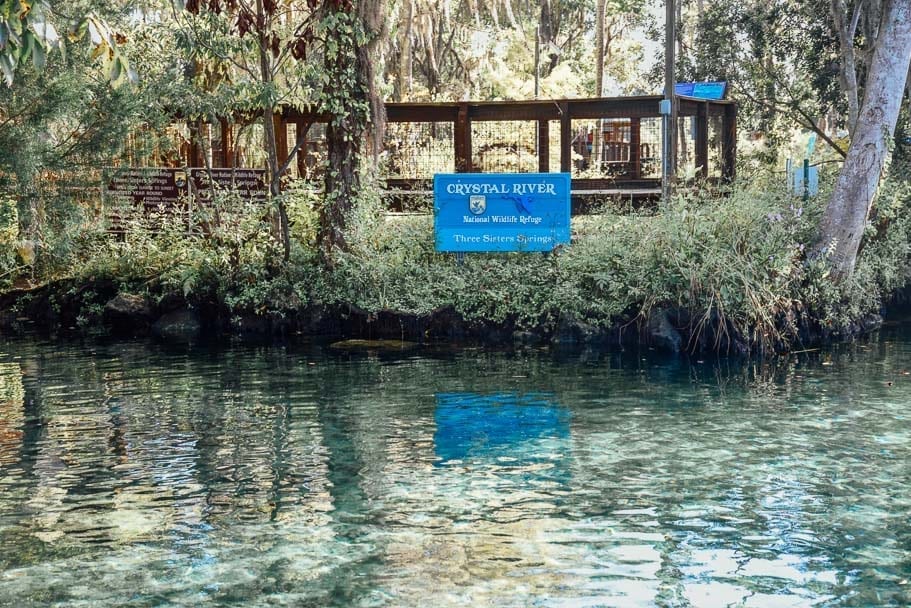 Manatee Park Fort Myers
If you are cool with just viewing the sea cows, Manatee Park in Fort Myers is a great place to go.
If you want to view a manatee the best time of year is winter as they are drawn to the warm waters of the Fort Myers power plant.
We went to the park in summer and did not see a single manatee. I imagine it is not impossible, just highly unlikely.
In the park, there are some great walks and viewing platforms where you can peer over the edge to view these graceless giants.
It is also possible to hire a kayak in Manatee Park to get a closer look at the manatees.
It is free to enter and walk around the park. It costs $2 an hour for parking.
The Manatee Viewing Centre Tampa
The Manatee Viewing Centre in Tampa is another great place to see manatees in Florida.
You cannot swim with manatees here but you are able to view them from November 1 through April 15 each year.
It is a similar principle to Manatee Park Fort Myers, the Manatees are drawn to the warm water of the power plant.
The viewing centre is closed for the rest of the year which is probably positive as there is unlikely to be manatees around in the summer months.
Like Fort Myers, it is free to enter the Manatee Viewing Centre Tampa when it is open.
Chassahowitzka River & The Seven Sisters Spring
In the summer months, manatees can often be spotted in Chassahowitzka River & The Seven Sisters Spring.
Chassahowitzka River is a bit of a hidden gem in Florida as it is mostly known about by Florida locals.
The best way to spot a manatee in Chassahowitzka River is to hire a kayak and kayak down the river to the Seven Sisters Spring.
Along the Chassahowitzka River or near the Seven Sisters Spring you have a decent chance to spot a manatee in the winter months.
Silver Springs
For many years you could not see a Manatee in Silver Springs however, they have recently started migrating back to the area.
Swimming is not allowed in Silver Springs. However, you are allowed to boat, kayak or canoe to get up close and personal with the manatees.
Silver Springs is known for its incredible water visibility so if the manatees are there you can clearly view them from the comfort of your kayak.
The best time of year to go for Manatee viewing in Silver Springs is winter. If you don't spot a manatee there is a good chance of spotting a large alligator at Silver Springs.
Blue Spring State Park
Blue Spring State Park is the other place in Florida where you are legally permitted to swim with manatees.
The best time if year for swimming with manatees in Blue Spring State Park is winter. There are certain protected areas of the State Park where manatee swimming is not permitted.
Along with the Three Sisters Spring, Blue Spring is one of the largest gathering of manatees in winter in Florida.
Aside from swimming with manatees in Blue Spring, it is particularly popular to go tubing in Blue Spring in the summer months.
Merritt Island National Wildlife Refuge
The Merritt Island National Wildlife Refuge has an observation deck where you can view manatees.
It costs $10 per car to enter the refuge which includes access to the manatee observation deck.
People spot manatees most frequently in this spot during the spring and fall.
Aside from manatee viewing the Merritt Island National Wildlife Refuge is a great place for bird watching.
Wakulla Springs State Park
The Wakulla Springs State Park is another place where it is possible to view manatees in Florida.
If you wish to view manatees in Wakulla Springs State Park you need to go by boat tour.
Manatees have been spotted all year at the State Park but the very best chances are in winter.
If you do not spot a manatee you are likely to see a large alligator at this State Park.
Fanning Springs State Park
Fanning Springs is one of the prettiest springs in Florida so it is well worth visiting with or without seeing a manatee.
The water at Fanning Springs State Park is very clear so it is easy to spot a manatee feeding at the bottom of the springs if they are around.
The best viewing of manatees in the State Park is winter.
To enter the State Park it costs $6 per car.
Manatee Lagoon
In West Palm Beach you will find Manatee Lagoon.
The Manatee Lagoon has an observation area where you can view manatees up close and personal in West Palm Beach.
The best time to visit the Manatee Lagoon is winter where the lagoon can see up to 800 manatees.
Ichetucknee Springs State Park
While not regularly, a manatee is occasionally spotted in Ichetucknee Springs State Park.
Ichetucknee is known as a very scenic Springs in Florida with amazing tubing. Occasionally, people will report seeing manatees while tubing or kayaking in the State Park.
This is not a regular sighting so we would recommend one of the other options for prime manatee viewing.
Ginnie Springs
Like Ichetucknee Springs you can occasionally spot a manatee in Ginnie Springs but the sighting is rare.
People occasionally sight manatees while kayaking in Ginnie Springs.
Ginnie Springs is the only place in which alcohol is permitted while tubing as it is privately owned spring.
Daytona Beach
There are very cool paddle board tour to see manatees and dolphins in Daytona Beach.
In my opinion, I think seeing manatees in springs is a better bet, but they have also commonly been spotted on these tours so if you are visiting the area, it could be a good option.

Florida Manatees FAQ
Here are some of your burning questions about Manatees in Florida answered:
Are Florida Manatees Endangered?
The numbers of Florida manatees are increasing but they are still protected by the Marine Mammal Protection Act.
In recent years, the Endangered Species Act reduced their category from "endangered" to "threatened".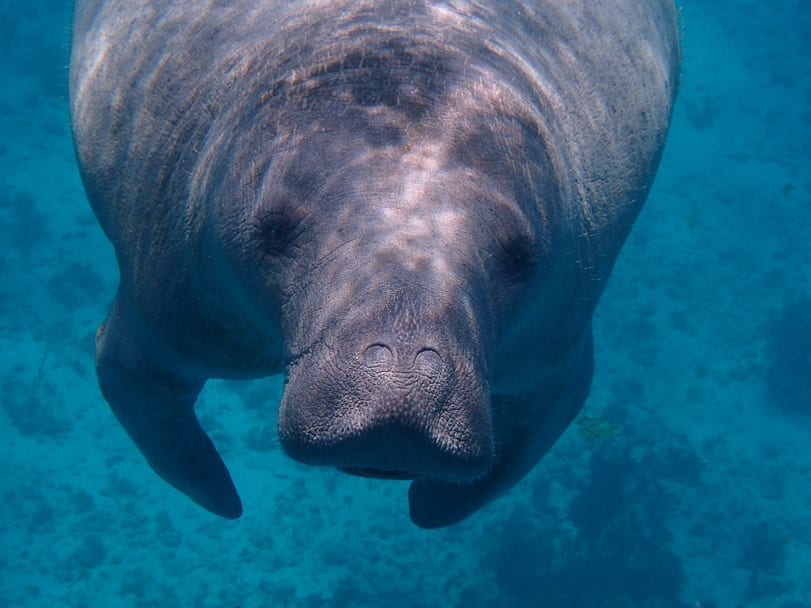 Why are Florida Manatees endangered?
Like many animals, destruction of their natural habitat makes it difficult for their survival.
In particular, loss of suitable warm water. Manatees cannot survive without warm water like springs and power plants to warm them in winter.
As humans move into the manatee territory, it is harder and harder for them to survive. For example, all along Crystal River there are big mega mansions houses built. This places pressure on their natural habitat.
In order to mitigate the damage to their habitat from humans, areas are now restricted for access in winter months, including from the home owners who live in the mega mansions on the Crystal river.
These home owners and anyone else including tour operators are prohibited from driving their boats into cordoned off areas where the manatees are resting.
Are Manatees Indigenous to Florida?
Many people believe that manatees are not native to Florida and came from places like the Amazon Jungle.
However, the remains of prehistoric bones of Manatees in Florida proves otherwise.
A fossil skeleton of a manatee that lived in Florida 15 million years ago was found and donated to the State in 1929.
What do Florida manatees eat?
While manatees may look scary due to their big size, they are not dangerous to humans as they don't have teeth.
Manatees are vegetarian and eat grass and vegetation that lies at the bottom of the waterways including turtle grass, mangrove leaves and various algae.
If you put your head under the water near a manatee and listen carefully you will hear a crunching sound like they are eating a packet of chips.
Manatees spend a large percentage of their days feeding and resting. They are very slow and graceful animals.
When to swim with manatees Florida?
In the Crystal River in Florida you can swim with manatees year round.
The peak Florida manatee season is November to March (the winter months in Florida). The reason for this is that the manatees migrate to the springs in Florida for warmer water. They cannot survive without warm water.
The springs in Florida are a constant 72°F.
During the rest of the year, there are some resident manatees in Crystal River. The others disperse around various waterways throughout in the United States.
The resident manatees which you will find year round in Crystal River are usually relatively young manatees which have just left the nest but are not comfortable venturing out further yet.
Should I visit the Crystal River in summer?
In winter in Florida you will have no trouble seeing a manatee. There are usually around 1000 in Crystal River in winter which congregate together in the protected areas.
You cannot access certain roped off areas in Crystal River during winter in order to protect the Manatees. Of course, they frequently leave their huddles.
While manatee numbers are high in winter the downside is that boat numbers are a lot higher than other times of the year so you are competing with many people for prime manatee viewing.
When the authorities first granted licenses to access Crystal River they did not restrict the numbers at all. This means hundreds of tour boats can access Crystal River.
Now, the authorities have problems clawing back the number of boats accessing the waterways.
In low season (summer) there is a lot fewer boats but a lot fewer manatees. In saying that, it is very rare not to see a single manatee on a tour of Crystal River so you don't need to be greatly concerned about this.
Our caption told us in his many many years of operation, it is only a VERY rare occasion that he will not see a single manatee on a tour in Summer.
During our tour in October, we swum with 1 manatee. We were able to spend a substantial amount of time with the manatee (around 1 hour) and no-one else was around. The other hour of our time we spent in Three Sisters Springs.
Manatees do not usually go into Three Sisters Springs but it is a beautiful, crystal clear spring which you can only swim in by boat.
The answer to this question depends:
Go in winter if you prefer mass manatee viewing
Go in summer if you are content with only a few manatees but less crowds.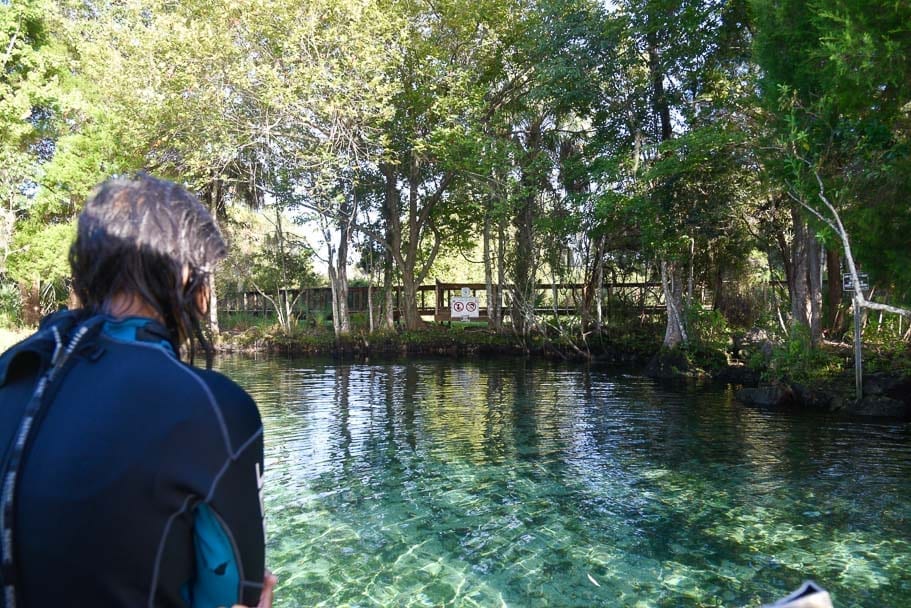 The cool thing about swimming with manatees is that they need to come up for breathe so they usually don't go down too deep.
They can spend as long as 20 minutes under water but it is more normal to surface every 3-5 minutes.
Where to swim with manatees Florida?
You are only legally allowed to swim with Manatees in Citrus County. Everywhere else in the State it is prohibited.
The reason why it is still allowed in Citrus County is due to the areas very long history with manatee tourism.
The two places you can swim with manatees in Citrus County is Crystal River and Homosassa.
Manatees come to Crystal River due to the warm waters provided by the Three Sisters Spring. While manatees are not usually in the spring itself you will find many manatees in the waterways of Crystal River, near the spring.
Manatees are drawn to Homosassa due to the warm water provided by the Blue Springs.
If you visit in Summer, the only (certain) place you can swim with manatees is Crystal River.
To swim with manatees in Crystal River you need a boat tour.
Is there any regulations to swim with Manatees?
Yes, the State government has released a manatee regulation video which must be viewed by all people going on a tour to swim with a manatee.
The video details what is and what is not allowed during your swim with the manatees.
In short, these are the main requirements in order to be allowed to swim with a manatee.
You must float above the surface in order to prevent destruction of their natural habitat and the vegetation they need for survival. In order to aid floatation, it is necessary to wear a wet suit and use a pool noodle;
You are not allowed to touch a manatee. It is okay if a manatee approaches and touches you but you cannot reach out and touch one;
You cannot harass, corner, poke or annoy a manatee in any way.
It is important to be careful to abide by these rules as it is unlawful to harass a manatee under section 370.12 (2)(d) of the 1994 Marine Mammal Protection Act.
If you break State laws you can face fines up to $500 and or/imprisonment for up to 60 days. Federal laws have harsher penalties of $100,000 and/or one year in prison.
How big are Florida manatees?
We were surprised how large the manatees were. A young manatee was double, if not triple the size of us.
A large adult manatee can be as much as 10 ft and 1000 pounds.
It is possible for a manatee to weigh over 3000 pounds and grow to around 13 ft.
Where you will (probably) not see a Manatee in Florida?
Many people believe that you will see a manatee in any spring that you visit in Florida.
This is not correct. Here are some places where you will not or probably not see a manatee in Florida:
Manatees in Rainbow Springs
Rainbow Springs is an unbelievably beautiful place but you will not see a manatee in Rainbow Springs in Florida.
Once upon a time manatees did live in Rainbow Springs. That was until a dam was constructed between Rainbow Springs and Crystal River.
Most of the manatees were left on the Crystal River side. A few manatees remained in Rainbow Springs. These were sadly harassed by tourists so the park decided to relocate them to the Crystal River side.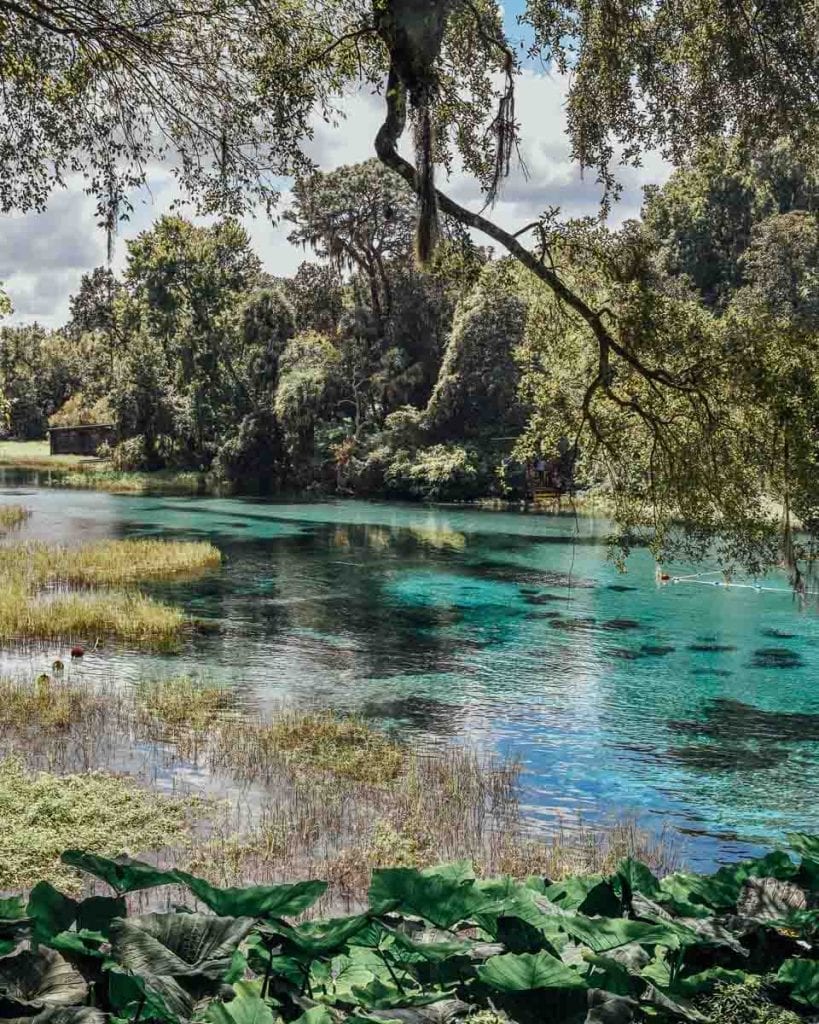 Manatees in Kelly Park
You probably wont see a manatee in Kelly Park. Alligators are frequently seen in Kelly Park but manatees are not.
If you want to see a manatee, a better option is Blue Spring State Park which is nearby.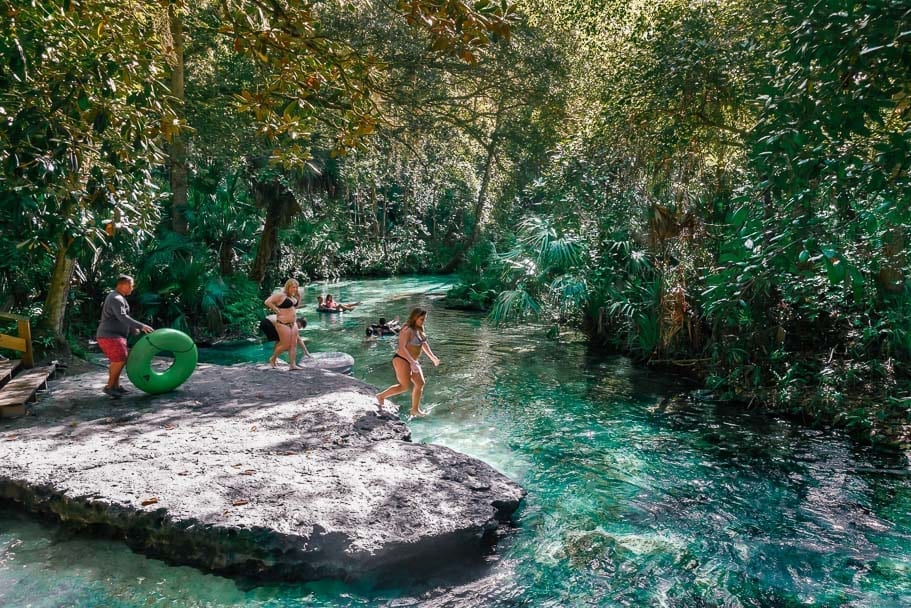 Manatees in Juniper Springs
Juniper Springs is a great place for photography and alligators for that matter but as far as we are aware you will not see a manatee in Juniper Springs.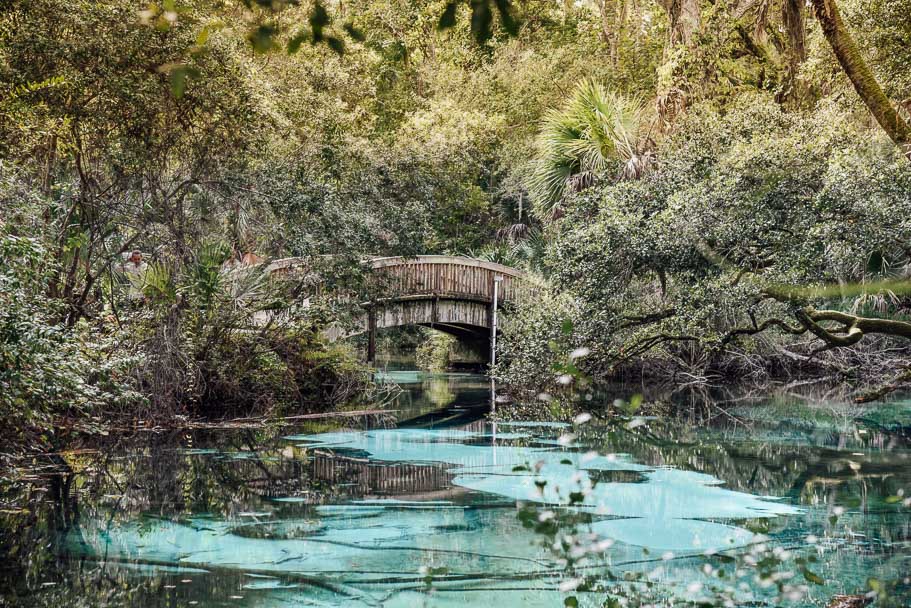 Exploring Florida?
If you are on a Florida Vacation, you might also like to check out our other posts on Florida to help you plan your trip: