Looking for the best springs in Florida? Crystal clear natural Florida Springs you can swim in? Well, you have come to the right place.
There are over 700 Florida Springs which pumps gallons of Florida spring water each day across the state. Far too many to conquer in one single Florida vacation so you really are going to need to narrow down which ones you want to visit, especially if you are limited on time. And lord knows, we are all time poor!
But which are the best natural springs in Florida? The ones you simply cannot go without visiting. That's where we come in.
The freshwater springs are alike in many ways but some are honestly just a bit better than others. The ones you ultimately choose from this epic list will come down to your preference on what to do in each spring – do you want to see Florida manatees, or maybe go tubing, snorkeling, kayaking with manatees or maybe even on a glass cruise bottom cruise boat – yep, some springs even have those!
Here are the coolest springs in Florida the ones we rate as the prettiest, the best, and ones you can't miss on a Florida vacation!
16 Best Natural Springs in Florida – Beautiful Springs You Can't Miss!
Florida has some of the most picturesque, natural springs in the world. These picturesque blue and green water holes are the ideal place to cool off in Florida's heat.
In these springs you can swim, snorkel, spot manatees or go for a lazy tube run down an absolutely picturesque river. At a constant 72 degrees these springs are perfect for a dip in all seasons.
So with no further adieu, here are the best springs to visit on a Florida vacation.
Rainbow Springs State Park
Let's begin with an absolute spring winner – Rainbow Springs State Park.
This spring is truly one of the most beautiful places to visit in Florida and a real hidden gem.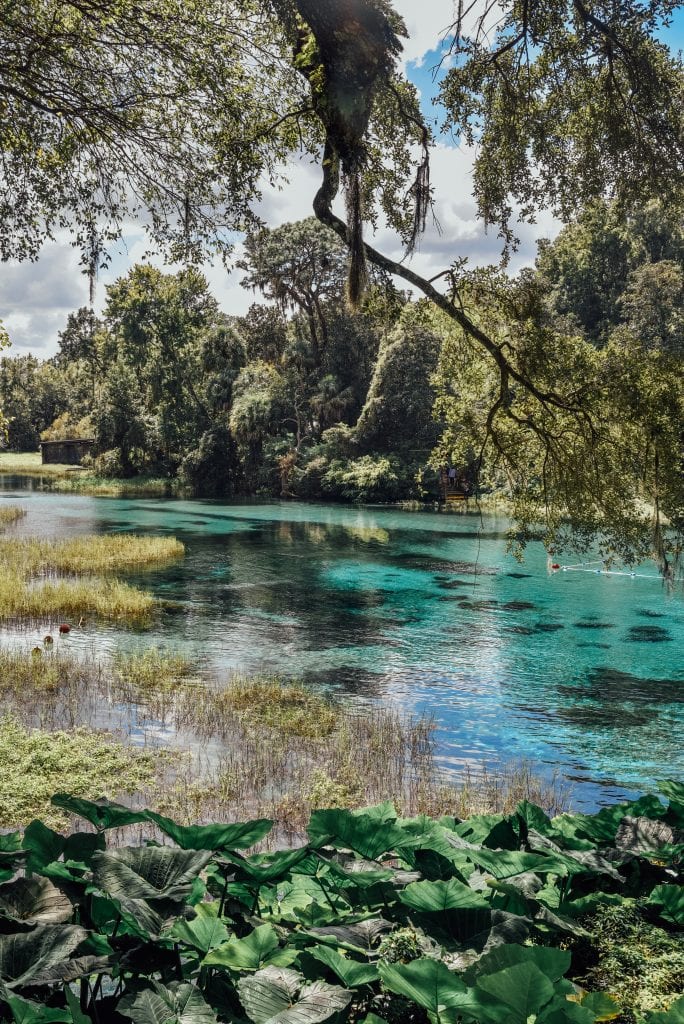 Rainbow Springs State Park, located just 1.5 hours drive from Orlando, has to be one of the cheapest summer date ideas as it only costs $2 to visit!
While there are no manatees in this State Park, there is plenty of other wildlife to enjoy including birds galore, squirrels, raccoons and snakes!
Interestingly, this generation is far from the first to make use of these springs.
Rainbow Springs has been used by humans for 10,000 years. The Timucua indigenous people were the first known humans to make use of the springs.
By the 1920s, tourists started flowing into the Springs. At this point, it was privately owned and included man made waterfalls, glass bottom boat tours, a zoo, a monorail and a rodeo.
When theme parks became large in Florida in the 1970s tourists stopped visiting the park. The State Park bought the land and opened the park in 1990.
Rainbow Springs is not just a pretty face.
It also offers tourists the chance to do some seriously cool adventure activities like river tubing.
Each summer, tourists flock to rainbow springs to enjoy a 2 hour lazy river ride. As you would imagine, the water is transparent like glass and you can see many fish beneath you as you float along.
Don't be tardy! Last launch is at 3.30pm. The State Park provides guests with a shuttle bus return to the parking lot.
If you visit in winter, you can complete a longer, 4 hour privately operated river run at Rainbow River. As it takes 4 hours to complete, you need to start this run by midday.
It is possible to bring your own tube or rent one from the State Park or private companies nearby.
Aside from tubing, there are many other activities in the park like kayaking, swimming and hiking to see beautiful waterfalls.
It is possible to rent kayaks for $50 a day from Rainbow Springs State Park.
As the water is crystal clear, glass bottom kayaks are the most popular way to see the aquatic life including fish and turtles.
Families love visiting Rainbow Springs National Park as it has a designated, roped off swimming hole.
The water is crystal clear and very inviting. There is 0 vegetation in the designated swimming area at rainbow springs so it is perfect for snorkeling.
It is advisable to bring noodles for comfort because the water is quite deep and in most places you won't be able to touch the bottom.
Kids can be seen jumping off the platform at Rainbow Springs into the crystal, clear water below.
Another popular activity is hiking to see the stunning waterfalls in the State Park.
The hikes are very short and family friendly (only around 10-20 minutes in duration).
The waterfalls are leftover from when Rainbow Springs was once a privately owned park. From 1930-1970, Rainbow Springs was a bit of a theme park with a treetop monorail, a zoo and a rodeo.
Visitors can still see evidence of the old zoo as zoo cages, where animals were once kept have been left around the park.
Rock Springs, Kelly Park
The most popular spring just outside of Orlando is Rock Springs in Kelly Park Rock Springs
Many families visit this spring due to its unbeatable value ($3 a car entrance fee) and crystal clear water.
Rock Springs in Kelly Park is one of the best places to go year round tubing in Florida.
Be prepared to arrive early as Rock Springs only allows 280 cars in for the day and often fills up. An additional 50 cars are permitted entry after 1.00pm.
This spring is definitely one of the best springs to visit near Orlando!
Kelly Park is another Florida Spring that was once privately owned.
In 1927, Howard Kelly donated the park to the State for public use and wildlife preservation.
Rock Springs inside Kelly Park runs nine miles to the Wekiva River making it perfect conditions for tubing as the spring flows an average of 26,000 gallons per minute.
While this sounds ridiculously quick, it is not as fast as one would imagine. The tube 'ride' takes a very leisurely 30 minutes right from start to finish to complete.
Aside from tubing in Rock Springs, Kelly Park is a popular spot to go hiking, picnicking and camping. Orlando is best known for it's man made attractions but this is an authentic family friendly experience to keep in mind.
Tubes cannot be rented from inside Kelly Park and there is no air pump inside the park to inflate your tubes.
Three minutes down the road from Kelly Park is a tube rental office which hires tubes for $7 for the day. It is also possible to bring your own tube. Many people use this tube.
If you elect to purchase your own tube to bring to Kelly Park they cannot exceed 5ft as the river is narrow in some sections.
Aside from completing the tube run, Rock Springs offers many other activities such as picnicking, hiking, kayaking, snorkeling and volleyball.
There is also a canteen located inside the State Park where you can buy food.
Kayaking at Kelly Park is a popular alternative to tubing.
Visitors set off for a 4.5 hour, 8.5 miles long kayak adventure from Kings Landing.
You can rent a kayak, canoe or stand up paddle board from Kings Landing or bring your own for $10 for a launch or $20 for a launch and transfer service.
Children in Rock Springs prefer to go snorkeling as they can find some seriously cool things dug up by previous hurricanes including shark teeth.
Technically, there are alligators in the park. However, due to the abundance of people they are rarely spotted and have never injured anyone.
Sadly, if you are looking for manatees, this park is not the best option. It is possible to swim with manatees in Crystal River.
Camping is extremely popular in Kelly Park, especially on weekends. If you wish to camp in Kelly Park it is best to reserve in advance. Likewise, get in early for a good spot because the park is popular with events like birthdays and holidays.
Juniper Springs
The best spring in Florida for photography loving visitors is undoubtedly Juniper Springs State Park.
The spring is absolutely picturesque and takes stunning photography, perfect for Instagram.
Juniper Springs is located right inside Ocala National Forest, one of the popular areas for springs in Florida.
Many people visit Juniper Springs as a day trip as it is centrally located, just 1 hour drive from Daytona Beach and around 3 hours drive from Sarasota.
Interestingly, Juniper Springs is one of the oldest recreation areas on the East Coast.
The spring was constructed in the 1930s by the Civilian Conservation Corps.
In the middle of the State Park is an old waterwheel which was used to generate electricity for the campsite in the park during the early years of operation.
The best photography in the State Park is found at the end of a short hike. Here you will find a quaint little bridge overlooking the most incredible crystal clear water.
The benefit to photographers is that no swimming is allowed in this area of the park so you can get awesome photography at any time of day.
Another benefit of Juniper is that, due to the lack of a tube run, it tends to get less busy than the aforementioned State Parks.
If you would like to visit, the spring costs $8 each person on weekdays or $11 per person on weekends and holidays for a day entry payable to parks services at the gate.
There is the possibility to camp at the Recreation Area for $31 per night, plus tax, and reservations are required through Recreation.gov.
Note: The camping at Juniper Springs is primitive meaning there is no electrical hook ups and no plugs in the bathrooms.
Some of the most popular activities in the park include swimming, kayaking, snorkeling and picnicking.
Many people are drawn to Juniper Springs due to its action packed kayak run.
The kayak run takes 4 hours to complete and includes a few rapids and a very narrow trail with alligator infested water. The kayak run is for advanced kayakers and adventure seekers only.
Others can enjoy swimming and snorkeling in the swimming hole at Juniper Springs. Due to the presence of alligators, there is only one area where you are permitted to swim at Juniper Springs.
Blue Spring State Park
Blue Spring State Park is one of the best places to go tubing in Florida.
It is one of the shortest runs in Florida but it is definitely one of the very best!
Blue Spring State Park, not to be confused with Blue Spring[s] State Park which is an entirely different place, is particularly popular in winter as it is a hub for manatees.
Due to the warm water of the spring, manatees flock to Blue Spring in around February each year to warm themselves in the springs' constant 72 degree water.
Manatees are not around other times of the year so locals visit the spring to bask in the sun and tube the crystal clear water.
Blue Springs State Park is a particularly popular spring in Florida due to its great location.
The springs are just 45 minutes drive from Orlando, 40 minutes drive from Daytona Beach and around 3 hours drive from Sarasota.
It is a very popular weekend activity for Orlando and Daytona Beach locals.
Like a few of the aforementioned springs, Blue Spring too has a long and interesting history.
Before European settlement, Blue Springs State Park was used by indigenous people in the area.
One of the first European settlers to Blue Springs State Park was Louis P. Thursby and his family in 1856.
The Thursbys constructed a large, white family home known as Thursby House right on the St. Johns river which is still present today.
The house is open for tours of what life was like on the St. Johns river in its early years of European inhabitants.
Interestingly, the Thursby family constructed one of the first steamboat landings on St. Johns river and made an orange farm on the land.
Eventually, the family sold the house and for many years it sat in terrible condition.
In 1972, the Florida State Park service purchased the land and restored the house. This makes Blue Spring State Park one of Florida's youngest State Parks.
Inside the State Park, there is an area to swim/tube, a large grassy area where the Thursby House stands and a protected area where manatees congregate in the winter.
In the manatee area, only kayaking is allowed. There is a boardwalk with multiple viewing platforms where it is possible to look beneath see the manatees congregating for warmth in winter.
Like Kelly Park, visiting Blue Spring is a very affordable family activity or date idea.
It costs $6 per vehicle (2-8 people) to enter the park. It costs just $4 for solo entrants.
If you choose to camp, you can enter for free. Camping costs $24 per night, plus tax. Camping is popular as it is possible to walk directly from the camping site straight to the spring.
If you wish to do the tube run at Blue Spring, there is a size restriction on your tubes of 6ft x 6ft.
Unlike Kelly Park where you cannot rent tubes, you can rent tubes direct from inside Blue Springs State Park.
The tube run at Blue Spring may well be the shortest in Florida, taking only 15 minutes to complete, but it is far from the most boring.
The water is crystal clear in Blue Spring and filled with fish including very large Florida Gar. Don't worry they won't bite your hand off like tarpon feeding in the Florida Keys!
Aside from tubing, it is popular to picnic, snorkel underwater and scuba dive Blue Spring.
If you forget your picnic lunch, there is a full canteen on site that sells particularly popular chocolate coated bananas.
Snorkeling and diving is also very popular as there is a lot of underwater activity in Blue Spring.
For divers, Blue Spring has a very popular cavern dive. It is an open cavern to 65 ft and blacks out at 90 ft where it turns into a cave dive.
This dive should only be completed by experienced divers as several divers have died completing it.
If you love wildlife, Blue Spring is a great place to see native Florida wildlife.
Technically, there are alligators in Blue Spring. However, sightings are rare.
More common sightings include armadillos casually walking around and foraging in the park.
Ginnie Springs
For those who wish to enjoy a frosty cold beer in a transparent blue spring, head to Ginnie Springs for tubing, one of, if not the only Spring in Florida which allows alcohol to be consumed in the spring. You may also want to check out Fanning Springs while you are nearby, it is also very pretty.
As Ginnie Springs is a privately owned spring the owners allow alcohol consumption in the Spring. For this reason, college students on occasion flock to the spring for weekend parties.
Ginnie Springs is located further north than Ocala National Forest. Most people choose to visit Ginnie Springs as a full weekender as it is a 3 hour drive from Orlando and a 2.5 hour drive from Daytona Beach.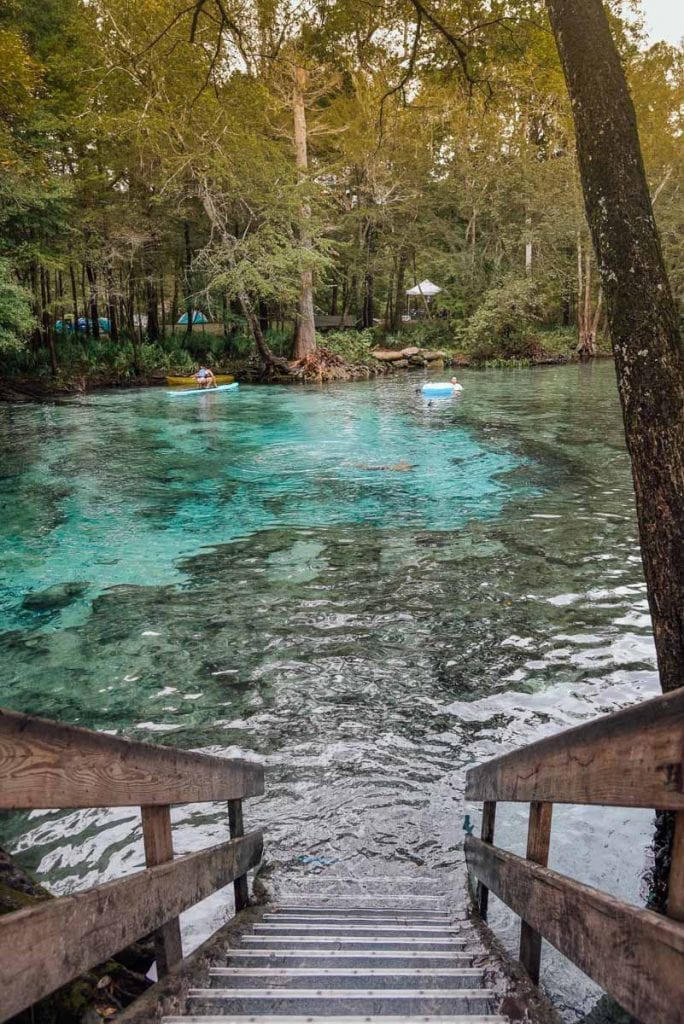 Ginnie Springs is actually a series of several springs including Devil's Eye, Devil's Ear and Devil Spring which produce nearly 80 million gallons of water daily.
As Ginnie Springs is a privately owned establishment, there are a lot more facilities at the Springs including a fully stocked store, restaurant and blazing fast wifi. In order to enter the spring you are required to sign a liability waiver.
Aside from the alcohol and crystal clear spring water, people are drawn to Ginnie Springs due to its world class tube run.
Ginnie Springs is one of the longer tube runs in Florida, taking over an hour float from start to finish. The current on the Santa Fe River, where the tube run at Ginnie Springs takes place, is faster than many of the other springs in Florida making it a particularly popular tubing choice.
Unlike the other springs, the Santa Fe River is far darker and murkier. You cannot see beneath you while tubing this river.It is possible to bring your own tube to use at Ginnie Springs or rent one at $6 for a single or $12 for a double.
At State run tube parks there is a tube size limit but as Ginnie Springs is privately owned, there is no tube size limit.
It is common at Ginnie Springs to see 6 man and 10 man floaties along the river. These do not need to be filled in advance as there is a free air pump available at Ginnie Springs
Ginnie Springs is certainly one of the most popular Springs in Florida but it is not the most affordable.
For a day pass, it costs $14.02 for adults, $3.73 for children, children 5 and under are free.
If you would like to scuba dive the spring it costs $22 for certified divers and $30 for all other divers. If you are super serious about diving it is possible to get an annual dive pass for $330.
Camping is the most economical and most popular choice at the State Park, costing $22.43 per adult, $6.54 per child with children 5 and under free. If you want to upgrade to full powered sites, it costs an extra $10.28 per site per night.
Camping at Ginnie Springs however is not for the faint of heart. It is a dirty ground and the toilet blocks tend to get quite muddy from the spring.
For a bit more comfort, many people choose to stay at this place nearby or the park also has their own cabin available for rent at $175 a night (sleeps 8, fee for 4 people, additional people additional fee)
Aside from tubing, other popular activities at the spring include picnicking, swimming, snorkeling and diving.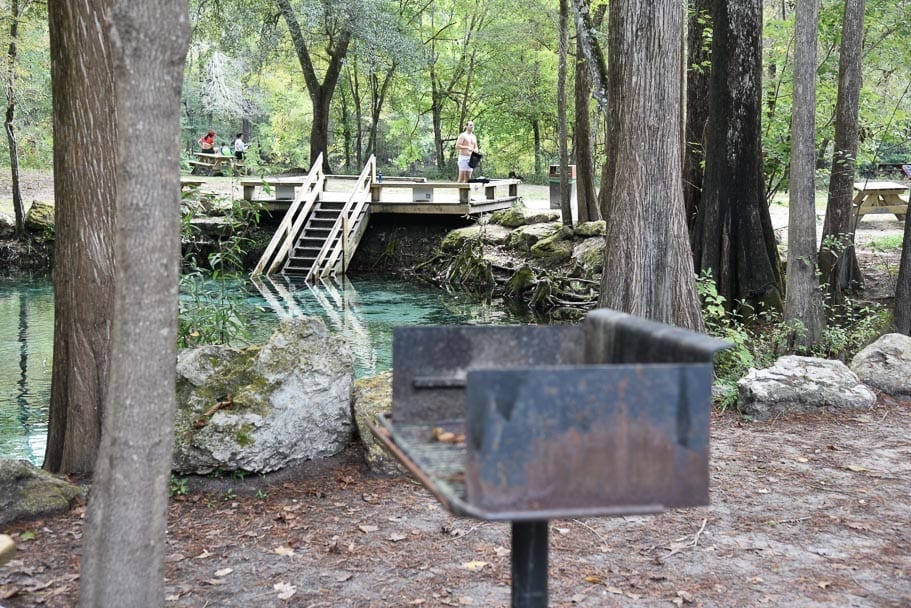 Due to the fast paced current on the Santa Fe River, many families prefer to canoe or kayak the tube run as opposed to tube.
Older children and adults often elect to stand up paddle board.
It is possible to bring your own equipment or rent them from the shop. A 3 hour canoe, kayak or paddle board is $12 to hire. It costs $20 if you want it for 6 hours.
Note: It is necessary to paddle upstream when you start as there is no pick up service.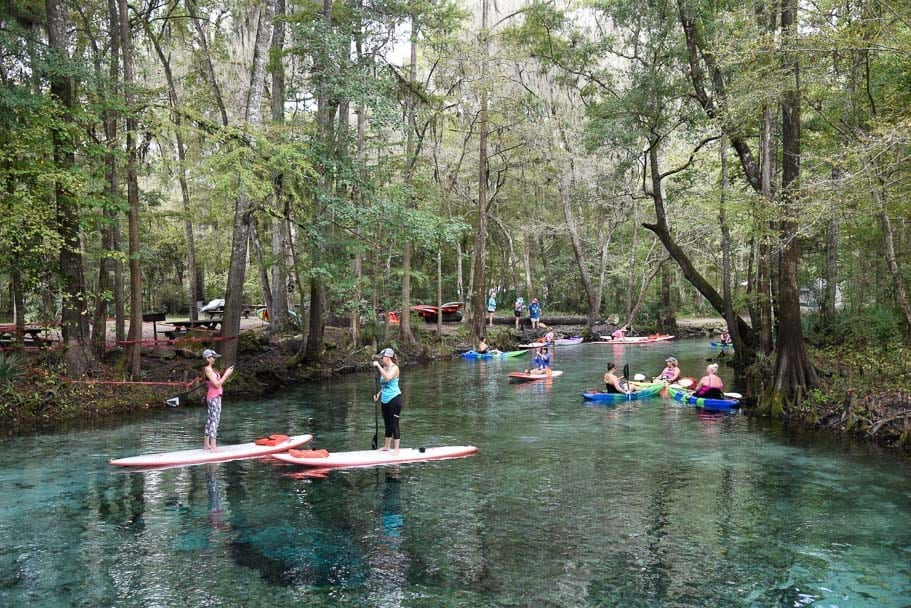 The picturesque blue water makes swimming and snorkeling another particularly popular choice at Ginnie Springs.
The many springs that lead out to the Santa Fe river are crystal clear and a beautiful blue colour making them the ideal place for swimmers and snorkellers.
In summer, the Santa Fe river clears making snorkeling possible too in the river where you can see large gar, bass, mullet, catfish, turtles snorkeling.
State Law requires that if you snorkel in the river you need to use a divers flag. If you don't have one, like most other things, you can rent one direct at the shop for $5.
Ginnie Springs also rents mask and snorkel for $6, including fins for $10.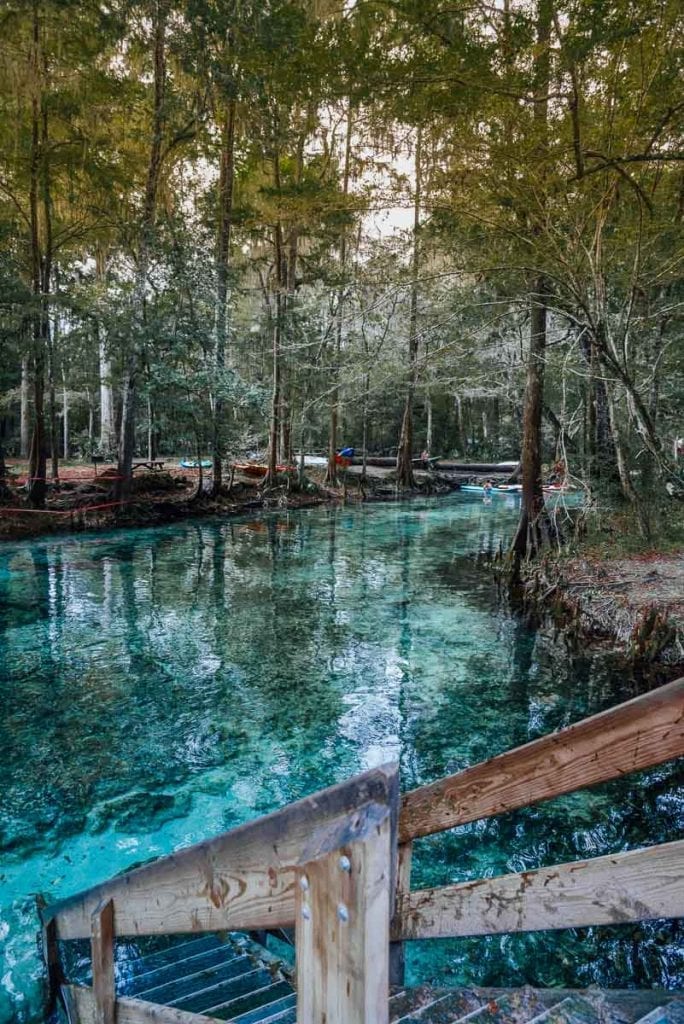 Divers will be interested to know that Ginnie Springs is one of the most popular dive sites in Florida.
Like Blue Springs, it offers some tricky cavern dives for the experienced diver.
Divers have died completing these dives so it is highly advisable to only attempt the cavern dives if you are an experienced diver.
Due to the murky waters of the Santa Fe River, many question if it is safe to tube due to the presence of alligators.
While alligators have been seen at Ginnie Springs, sightings of an alligator in the springs or river is rare.
It is far more common to see fish and turtles in the river than alligators.
Manatees have too, on occasion been spotted at Ginnie Springs but sightings are rare.
Silver Springs
Silver Springs is one of the best springs to visit in Florida as it is a very different spring to those aforementioned.
No swimming or snorkeling is permitted at Silver Springs but the spring offers something none of the other springs did – a glass bottom boat tour.
If you prefer a more leisurely day out, have older people in your group or young children, Silver Springs is the best spring in Florida to visit.
Silver Springs State Park is a fantastic weekender as it is easily accessible from many major cities in Florida.
Silver Springs State Park is located in the Ocala National Forest, 90 minutes drive from Orlando and a 1 hour drive from Daytona Beach.
It is a very popular weekend activity for Daytona Beach locals.
Like many of Florida's springs , Silver Springs has a very interesting history.
It is one of the largest artesian springs in the world which dates back to the 1500s when Native Americans lived in the area. Spanish explorer Hernando de Soto is thought to be the first European to the area.
In 1971, Silver Springs was classed as a national natural landmark.
The State Park is a very large spring with 5,000 acres of land. Swimming is not possible but other activities like picnicking, hiking and kayaking are popular in the park.
The glass bottom boat tour is a particularly popular activity in the State Park as it is the best way to see all the marine life the park has to offer.
There are many colourful fish which live in the waters at Silver Springs. There is also a lot of other wildlife that you can see during the tour including a lot of different water birds.
It may even be possible to spot a manatee in winter during the tour as they have recently returned to the area.
Glass bottom boat tours cost $11 per person for 30 minutes.
If you wish to bring your on kayak to explore the spring it is possible with a $4 launch fee per vessel.
Otherwise, you can rent equipment from the State Park.
For a single kayak, it costs $15 for one hour, $20 for two hours or $30 for a full day rental.
For a 2 person canoe it costs $20 for one hour, $30 for two hours or $45 for a full day rental. Recently, glass bottom tandem kayak have become available which cost $30 for one hour, $40 for two hours.
The park also rents stand up paddle boards for $20 for one hour, $30 for two hours or $45 for a full day rental.
If you enjoy shopping, Silver Springs has the most comprehensive set of shops we have seen at a Florida Spring.
An older gentleman routinely busks at Silver Springs near these shops singing old classics like 'How Much is That Doggie in the window'. Quite the entertainment.
In the past, people were concerned with visiting Silver Springs due to the presence of monkeys in the State Park which carried a deadly virus that can be transferred to humans through bites, scratches and even fluids.
Upon discovery of the virus the State Park service vowed to get rid of the monkeys and have done so with varied degrees of success. It is rare to see a monkey these days in the State Park.
The monkeys were introduced in the 1930s by a man who wanted to created a Tarzan themed tourist attraction.
The attraction never came to be but the monkeys did manage to populate the area.
Aside from monkeys, there is a lot of other wildlife in the State Park.
Due to the picturesque setting of Silver Springs many people choose to get married here by renting out one of the beautiful buildings on the premises for the event.
Three Sisters Spring for a Manatee Swim
If you are interested in taking a dip with a manatee in Florida, the only place you can do so year round is the Three Sisters Springs.
The actual place you will be swimming with a manatee is Crystal River, the river that feeds off from the Three Sisters Spring.
Interestingly, Crystal River and Three Sisters Springs is the only place where you will find a manatee near guaranteed year round in Florida.
In winter, there are around 1000 manatees in the Crystal River. One nice fact is that over 10 years ago there was only a few hundred manatees coming to the Spring.
Due to strict laws protecting manatees, they have substantially increased in numbers. Once upon a time Florida's manatees could be hunted and killed.
In summer, there are some resident manatees in Crystal River. The others disperse around various waterways throughout in the United States.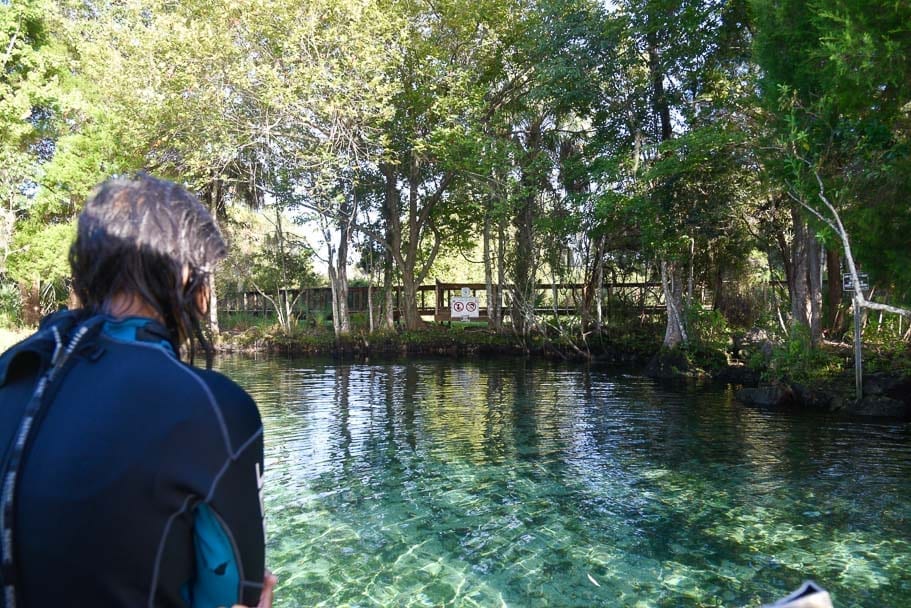 More Natural Springs at Florida State Parks
Wakulla Springs State Park
One of the most beautiful springs, located just outside of Tallahassee. It is a pretty epic spring as it is one of the world's deepest and largest freshwater springs.
You might have seen this spring in a movie as they filmed Tarzan's Secret Treasure (1941) and Creature from the Black Lagoon (1954) here.
If you love wildlife this is also a great spring to visit as it has 2 of Florida's largest wildlife drawcards frequenting the spring – manatees and alligators.
Weeki Wachee
Another beautiful spring in Florida, especially if you are traveling with kids as they have a Mermaid Theater and put on mermaid shows which the kids love! There are also wildlife encounters and a small water park called Buccaneer's Bay with water slides.
Like Silver Springs, you will also find a cool river cruise. If you prefer to be a bit more active, you can also explore the springs by kayaks, canoes and paddleboards.
Diving is also a big drawcard of these Springs as they hold the deepest freshwater cave system in the States.
We would highly recommend a visit to this 538-acre park, not just for the entertainment value it offers but for its sheer beauty. It is so beautiful in fact that it is often used as a wedding venue in Florida.
It costs $13 entry for adults and $8 entry for kids.
Wekiwa Springs
Another great springs. This is a great place to go for people who love hiking as there are awesome trails at these springs which can be accessed on foot, by bike or even on horseback which is pretty unique for a spring. If you do have a horse it is recommended to camp at the Big Fork center.
It is a nice place to float so bring your floatie. It is also a good place for small kids as the the springs arent too deep, no more than 4 feet in depth.
It costs $6 per vehicle to visit the Springs.
This one of the most unique springs in Florida which is why it absolutely needed to make the list. I mean it is a spring in a cave and how cool is that!
You don't have to dive the spring, you can also snorkel, but one of the most popular things to do at the spring is diving as you can descend up to 54 feet.
It is only of the more expensive springs to visit, but it still won't break the bank at $15 pp Monday to Friday and $20 on a weekend for snorkelers. It is $38 for divers.
A Florida bucket list item for sure.
Silver Glen Springs
Not the same as Silver Springs above but still nonetheless awesome!
This is not a spring for divers so you won't be bothered with divers here. It is all about the swimmers and snorkelers at this spring. There is lots of underwater life to see and if you are lucky you might even spy a manatee as they come to these springs in winter to warm up.
One of the best springs in Florida for swimming!
Admission costs $8 per person on weekdays and $11 pp on weekends and holidays.
Ichetucknee Springs
If you want another spring that is great for tubing, Ichetucknee Springs is a great choice. Along with Ginnie Springs, it is one of the most popular springs for tubing in Florida. You can find more information about tubing here as there are multiple places you can enter the springs. You can BYO your own tube but rentals as also quite affordable at $8 for a single or $12 for a double.
It is a pretty affordable spring to visit at only $6 entry.
Gilchrist Blue Springs
Not to be confused with Blue Spring not Springs, I know, it gets confusing, Gilchrist Blue Springs is another beautiful freshwater spring in Florida we would recommend visiting.
This is a really nice place to swim and snorkel as there are lots of freshwater fish and turtles to see. It is close to Ginnie Springs so you can visit the 2 springs in one day or over a few days if you choose to camp in the area.
As it is State owned facility, unlike Ginnie, it is affordable to enter the park at only $6 per vehicle.
De Leon Springs State Park
De Leon Springs State Park has a long history as a healing spring by by Mayaca Indians who inhabited the area.
It is a really nice place for swimming and snorkeling. It is also a really clear spring which is nice.
It costs only $6 per vehicle to enter the State Park. One of the reason we love Florida Springs so much – they are such an affordable activity when you compare the cost to theme parks and other activities in Florida.
Madison Blue Springs
Yet another spring in Florida which has "Blue Springs" in its name. This can get very confusing.
Another really nice springs to visit in Florida which has been voted one of the best swimming holes in Florida. It is also a really nice place to snorkel so remember to bring your mask and fins.
You will see this sign on the springs when you enter the State Park. It discharges clear water into a stunning spring pool which runs off into the Withlacoochee River.
Best Springs in Florida Summary
In summary, the best springs to visit while in Florida are as follows:
Rainbow Springs
Rock Springs
Blue Spring
Juniper Springs
Ginnie Springs
Silver Springs
Three Sisters Spring
Wakulla Springs State Park
Weeki Wachee
Wekiwa Springs
Devil's Den
Silver Glen Springs
Ichetucknee Springs
Gilchrist Blue Springs
De Leon Springs State Park
Madison Blue Springs
Did we miss your favourite? If you have a favourite Florida spring that is totally unmissable be sure to let us know in the comments below.
***
See more: