Wondering where to go Kayaking with Manatees in Florida? Yay – we can help – manatee kayaking is seriously so much fun!
Florida Springs are one of the most magical places on earth (not even kidding!) and one of the best parts about them is that during the colder months of the year they are home to one of the earth's most amazing gentle giant – the manatee.
There is nothing more relaxing and exhilarating than tossing your kayak into crystal clear waters and enjoying a float down the water! Add to that, the thrill of observing and encountering some of the most gentle water creatures.
Wanna kayak? These are some places where you can enjoy kayaking with manatees in Florida!
15 Places to go Kayaking with Manatees in Florida
This is one of our personal favorite places to kayak with manatees in Florida.
Known as the Manatee Capital of the World, Crystal River has the only National Wildlife Refuge in the entire country that specifically protects the threatened species of manatees. In the cold season, manatees shelter here in the warmer waters that combine and connect from fresh water springs. From November to March, there is a high likelihood that you can encounter many of these gentle giants in and around Three Sisters Springs.
Because there are protected safe zones for the manatees, it is ideal for kayakers looking for a calm ride down the river. Crystal River promotes a clean and quiet atmosphere and they ask kayakers and paddlers to stay to the outer edge of the water to help respect the habitat of the manatees.
The most incredible thing about Crystal River is that they allow human interactions with the manatees. This is the only place in the US that this is allowed. So while you are out for a paddle in your kayak, you can even hop in and swim with the manatees!
There is a boardwalk for observing the manatees as well. Whether you are looking for a great place to put your kayak into crystal clear waters and take a relaxing float or dive below the surface for an adventurous swim, Crystal River has lots to offer!
Here is a fun clear kayak tour of crystal river which we would recommend.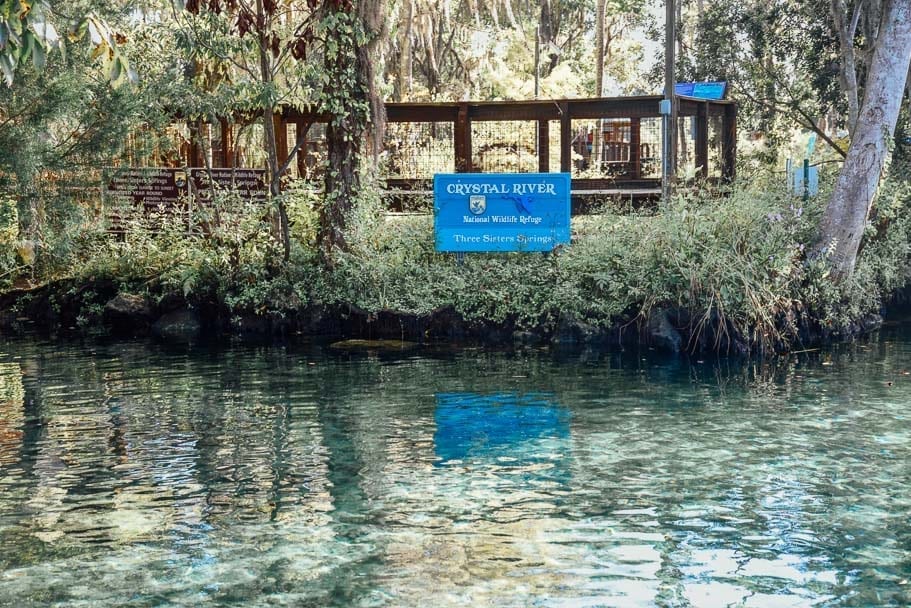 Another awesome place to go kayaking with manatees in Florida is Silver Springs State Park.
People come from all around to kayak the five miles of Silver River. You can always bring along your own kayak, but if you would rather rent, that is an option as well. Kayaks (both tandem and single) are available for rental, starting at $20. While you're there, be sure to check out the new clear bottom kayaks for an especially memorable experience! If you prefer, canoes, paddleboards, and even glass bottom boat tours are also available from the State Park.
If you want to see a manatee in Silver Springs, we would recommend a trip to the State Park in winter. Aside from manatees, you can see plenty of other wildlife including birds and underwater life such as fish and turtles. Cruise down the Silver River to see how much of the wildlife you can spot on land as well. Deer, fox, and turkey are sometimes spotted won the banks of this state park.
This state park is known for the crystal clear waters and all the amenities there. The onsite restaurant and treat bar offer plenty of good options if you want to stop for a bite to eat.
Here is a kayak tour of Silver Springs that we would recommend.
Manatee Springs State Park
Manatee Springs is known for its cool water and manatee sightings! You can kayak on the Suwannee River, or enjoy a calm canoe ride!
If you want to kayak the State Park, there is a canoe launch at Fanning Springs State Park. From there, to access Manatee Springs State Park is it around a 10 mile paddle down stream. You can rent kayaks and canoes from Anderson's Outdoors Adventures.
Aside from kayaking one of the best aspects of the State Park are the park's 800-foot boardwalk which passes through an enchanting cypress forest overlooking the Springs. The incredible boardwalk takes you through a tour of the cypress swamp and provides the opportunity for many different types of wildlife sightings. You might also want to bring your bike to take a ride on some of the of the nature trails. The 8.5 miles of nature trails make a connection to the 32-mile Nature Coast State Trail.
This is one of the oldest springs in Florida with early Paleo Indians using this spring from more than 10,000 years. Camping is also an option here, but you are not to bring in firewood from outside the park.
Lovers Key Fort Myers Beach
Another great place to kayak or canoe with manatees in FL is Lovers Key at Fort Myers Beach.
Explore peaceful lagoons and tranquil canals along the 2.5 mile waterway. Rentals are available if you need a kayak.
Manatees are sometimes spotted here, as well as dolphins and a variety of other marine life. Keep an eye out for alligators and birds as you paddle through the backwater of Lovers Key. After you float the waterways, don't forget to check out the nature trails and experience the natural beauty offered through wildlife and vegetation.
Here is a kayak tour of Lovers Key, Fort Myers Beach which we would recommend.
Weeki Wachee Springs State Park
One of the most beautiful springs to kayak in Florida is the Weeki Wachee Springs State Park.
There is lots of wildlife along the river and you are likely to see the gentle manatee along your course. Visitors are reminded that that should not bother the manatees, especially when they are resting. These gentle giants are protected. A variety of palm, oak, and cypress trees line the river and overhang the waters along the way. This calm and easy float is great for beginners and is able to be navigated easily.
If you bring your own kayak, it is $6 to launch, and if you need a rental, solo kayaks are $22. Rentals include life vests, paddles, and a complimentary shuttle ride is provided after your paddle back to the park. All rentals are due back 2 hours from start time.
Visit this non captive refuge for manatees for a kayaking adventure with possible manatee sightings. Open daily until sunset, the park offers a public boat launch. There are also rental services available for kayaks and canoes.
If you visit the park's website, you can check to see the likelihood of manatee sightings each week, based on the gulf temperature. It is best to visit during the colder months of December, January, and February for the greatest chance of seeing a manatee. Be sure to check Orange river and the surrounding lagoons.
There are small fees for parking while you are there. Pets are not allowed, but service dogs are permitted. In addition to kayaking, don't forget to check out the hiking trails while you are there!
Chassahowitzka River from the campground
Shady and serene, the Chassahowitzka River Campground is a great place to catch a relaxing paddle down the river! You can visit the campground for a day trip and launch a kayak or stay overnight. We have stayed at this campground a few times and it is a nice place to stay with clean toilet facilities.
From the campground's store, you can hire kayak or it is also possible to bring your own.
Make sure you make time to cruise the creeks and springs nearby. They feed into the Chassahowitzka River and provide calm and picturesque scenery. You may even be able to see a manatee while you are cruising about on your kayak! Other animals in the area may include dolphins, birds, fish, otters, and a variety of reptiles.
If you plan to stay at the campground, they offer kayak lockers to rent on a daily basis.You can also reserve monthly or yearly rental lockers. In addition to a boat ramp for use with a vehicle, there is a sandy beach area to use for launching kayaks. Be sure to take in the amazing views from the deck at the park. The lagoon is visible from the deck and offers lots of wildlife sightings.
Here is a kayak tour of the Chassahowitzka River that we would recommend.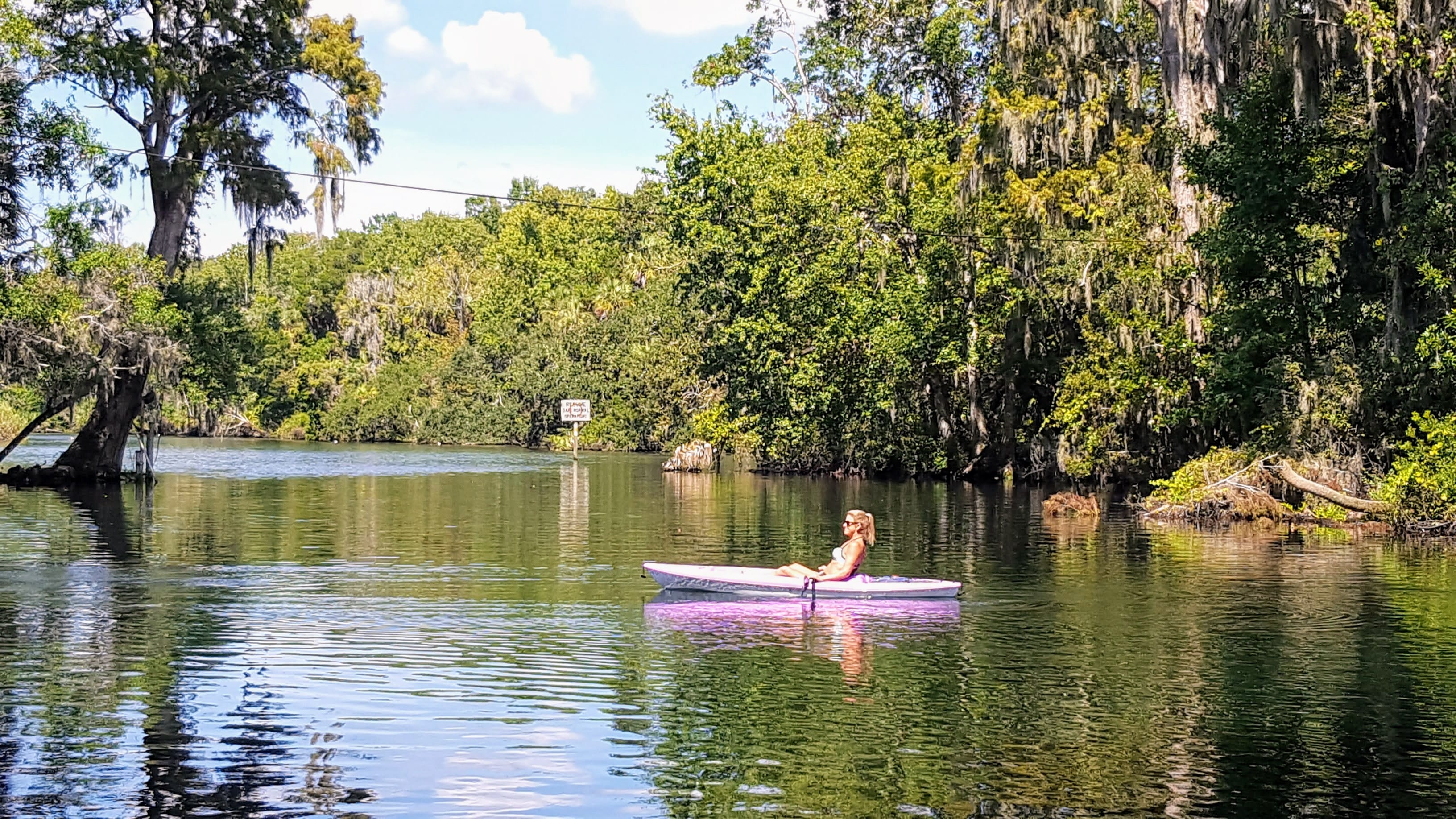 Seven Sisters Spring
Located on the Chassahowitzka River (which can be accessed from the above campground) Seven Sisters Springs is a really nice place to go kayaking in search of a manatee. In winter months, manatees can often be spotted in these springs.
Snorkeling and swimming are also popular in the springs. Sisters Springs is incredibly beautiful and offers an interesting set of underwater caves. Because limestone has eroded away and created these caves, you should be mindful of the jagged edges of rock, but the beauty it offers is definitely worth the journey to Seven Springs!
This is a shallow spring with extremely clear water. The only way to visit Seven Sisters Spring is to come via boat and kayak of course. Winter months are the best time to view manatees and observe them in the clear waters. Alligators and snakes also frequent the area, so watch out for these types of wildlife as well. There is camping nearby at Chassahowitzka River Campground.
Here is a kayak tour of the Seven Sisters Spring that we would recommend.
Ichetucknee Springs
Ichetucknee Springs can be found at the juncture of eight natural springs' meeting points. Well known for tubing, Ichetucknee Springs is also a great place to kayak! Shuttles are available and a boat launch is available there as well.
There is an incredible little swimming hole closeby and a cave system that is visible! The water here stays a comfortable seventy two degrees all year long and is a great place to see manatees and otters, as well as a variety of birds. Kayaks and paddleboards can be rented if you need one! This relaxing and tranquil escape from reality is a beautiful place to enjoy!
Blue Spring State Park near Orlando
Blue Spring State Park is one of our favorite places in summer for tubing in Florida however, it is also pretty cool in winter too as it is one of the best places in Florida to view manatees.
If you want to see manatees in their natural habitat, this may be the place for you! Hundreds of manatees visit Blue Spring each year in the winter months. This park underwent a renovation project and makes efforts to help protect the manatees.
Nestled along the St. John River, Blue Spring waters stay a constant seventy two degrees year round. While taking a paddle in your canoe or kayak, you may be lucky enough to see a variety of wildlife in the area. Birds, manatees, eagles and fish are frequently sighted. You can also take guided boat tours.
There is a boat launch and rentals are available for kayaks and canoes. Remember to take care and respect the manatee habitat when you visit!
One of the very best natural springs near Orlando, being only around 30 minutes drive away.
Ginnie Springs
Ginnie Springs is seriously one of the most beautiful springs in Florida and if you haven't already been you certainly need to visit ASAP.
If you are a kayaker, paddler, camper, or diver, then Ginnie Springs is a must for you to check out! They are prepared at Ginnie Springs to accommodate your needs! Rentals are available for snorkeling, tubing, kayaking, paddleboarding, and canoeing. Gear rental ranges from $8 up to $30.
Ginnie Springs is privately owned and you must fill out a waiver upon admission. It is a busy and popular place for people to go to escape the hustle and bustle of day to day life! People come from all around to tube down the Santa Fe River!
In terms of seeing manatees while kayaking at Ginnie Springs, it is not the best place in Florida to see them however, they can still be spotted from time to time.
Tarpon Springs
Another great way to see manatees in Florida is by kayaking Tarpon Springs.
Looking for a manatee encounter in an extra special way? Rent a clear kayak and observe from all angles and the manatee swim beneath you! You may also see dolphins, stingrays and other wildlife in the waters.
As you paddle along, watch for manatees rising to the surface to get a breath of air before sinking back down beneath you. An interesting aspect of Tarpon Springs is that it is also rich in history and there are lots of stunning Victorian style homes to check out as you paddle along! The natural beauty of the area can be captured through a guided tour.
If you choose to take a guided tour, like the one recommended below, they follow the bayou's of Tarpon Springs, besides Craig Park.
Here is a kayak tour of Tarpon Springs which we would recommend.
Homosassa Springs
Whether you are paddling through Homosassa Springs or walking one of the boardwalks, you are bound to encounter some wildlife activity! You are likely to observe birds, fish, reptiles, and even manatees. The Underwater Observatory is an interesting addition to this park and offers a view below the surface!
During winter months, you are highly likely to see manatees resting in the area. This park is secluded and doesn't offer as many amenities but the views and natural beauty are amazing!
If you wish to kayak the springs in search of a manatee, free kayak launches are available from the boat dock at MacRae's or from the kayak launch behind Riversport Kayaks. You can BYO your own kayak or rent one in the area for $25 for 2 hours or $35 for 4 hours.
Merritt Island National Wildlife Refuge
Another nice place in Florida to spot manatees in the wild from the comfort of your kayak or canoe. You can also go Bioluminescence Kayaking here which is pretty cool.
Home to the Merritt Island National Wildlife Refuge, this park is a great place to escape on a paddle in your kayak or to learn more about the local wildlife. The threatened species of manatees are protected here and sometimes seen here.
The freshwater and saltwater wetlands are home to many other species as well. You can see a variety of types of animals including birds, reptiles, fish, mammals, and even some very interesting plant life as well.
Here is a manatee kayak tour of Merritt Island National Wildlife Refuge that we would recommend
Manatee Sanctuary Park in Cape Canaveral
Bordering the edge of the Banana River, the Manatee Sanctuary Park is a protected area for manatees. The manatees here have been known to be quite curious and sometimes they come right up to kayakers to check them out which is pretty cool.You can also observe them from the boardwalk sometimes.
It is best to visit during the winter months if you are hoping to see a manatee by kayak or by land. Aside from kayaking to see a manatee, there are exercise stations throughout the park, as well as a playground, fitness trails with paved walkways, and it is all situated right on the riverfront!
***
See more: