Looking to visit Silver Springs State Park?
We came into the Ocala area initially to visit Juniper Springs State Park but stumbled across a little gem along the way – Silver Springs.
The reason this discovery came to be is that we decided not to camp at Juniper Spring on account that it had no electricity plugs to straighten my hair and charge our devices (yes, I'm a glamper haha).
Silver Springs State Park Florida
A big 'Silver Springs State Park' sign at the entrance gave the State Park a different feel to the other Springs we had just visited.
There are over 700 springs in Florida and what we are discovering is each of them are very different.
Kelly Park, Ginnie Springs and Blue Springs State Park are awesome springs in Florida for tubing, Rainbow Springs State Park is awesome for swimming and Silver Springs State Park we discovered was the best for relaxing glass bottom boat rides!
Honestly, we find springs in Florida so mesmerising due to their crystal clear water and this State Park was no exception.
Here's a great kayak tour through Silver Springs if you want to be more active.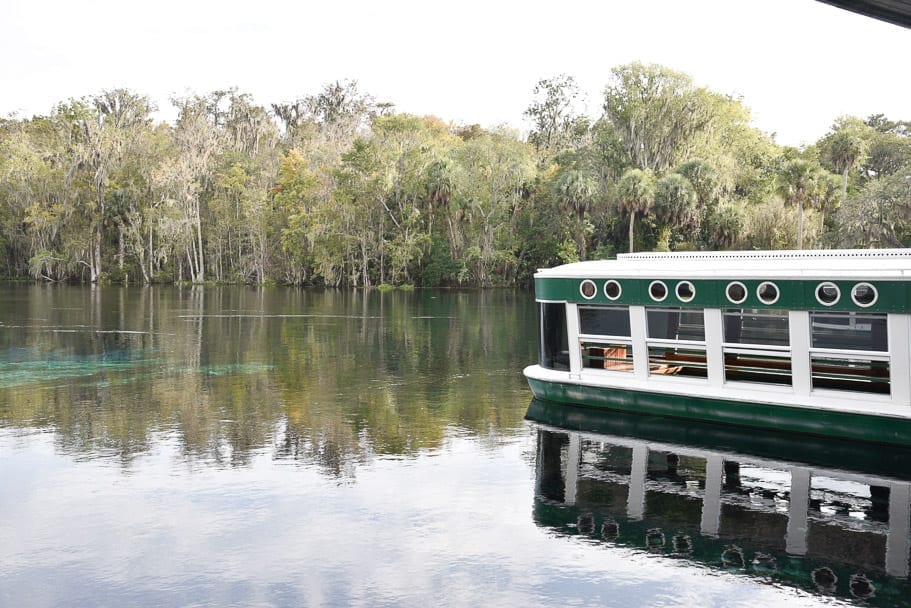 Where is Silver Springs State Park in Florida?
Silver Springs State Park is a great weekender as it is easily accessible from many major cities in Florida.
If you want to visit a spring within the Ocala National Forest, this is a great choice. ESPECIALLY, if you are not a swimmer, disabled, older or have young children or simply don't care to get wet – this is the Spring for you!
Silver Springs State Park is located 1.30 minutes drive from Orlando, a 1 hour drive from Daytona Beach and around a 3 hour drive from Sarasota.
It is a very popular weekend activity for Daytona Beach locals.
The address for your GPS is 5656 E Silver Springs Blvd, Silver Springs, FL 34488.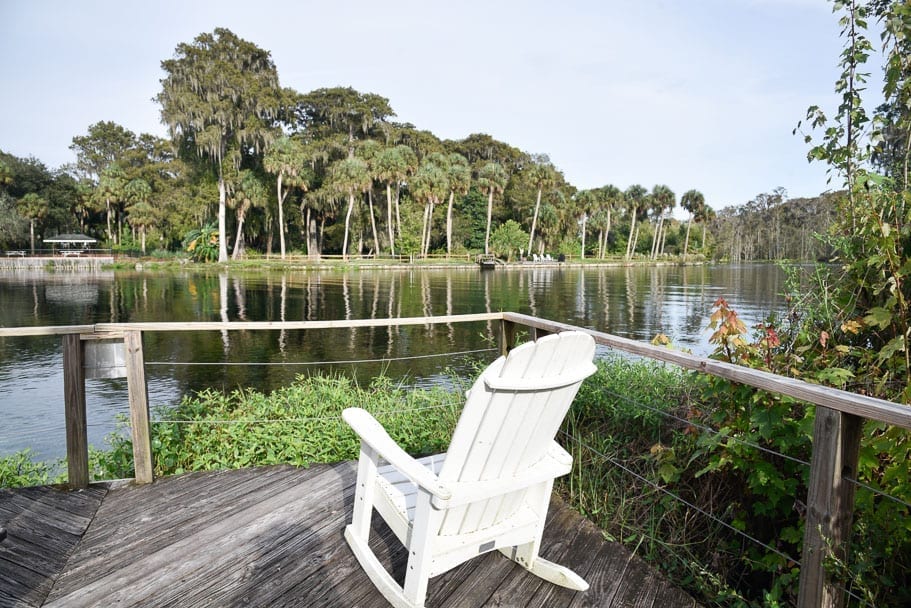 About Silver Springs State Park
This is one of the largest artesian springs in the world.
Use of the spring dates back to the 1500s when Native Americans lived in the area. Spanish explorer Hernando de Soto is thought to be the first European to the area.
Silver Springs was classed as a national natural landmark in 1971.
There are plenty of activities to do in the area from walks to picnic to the famous glass bottom boat rides. This State Park is a very large area (5,000 acres of land to be exact!), it also has some lovely buildings which people use to get married!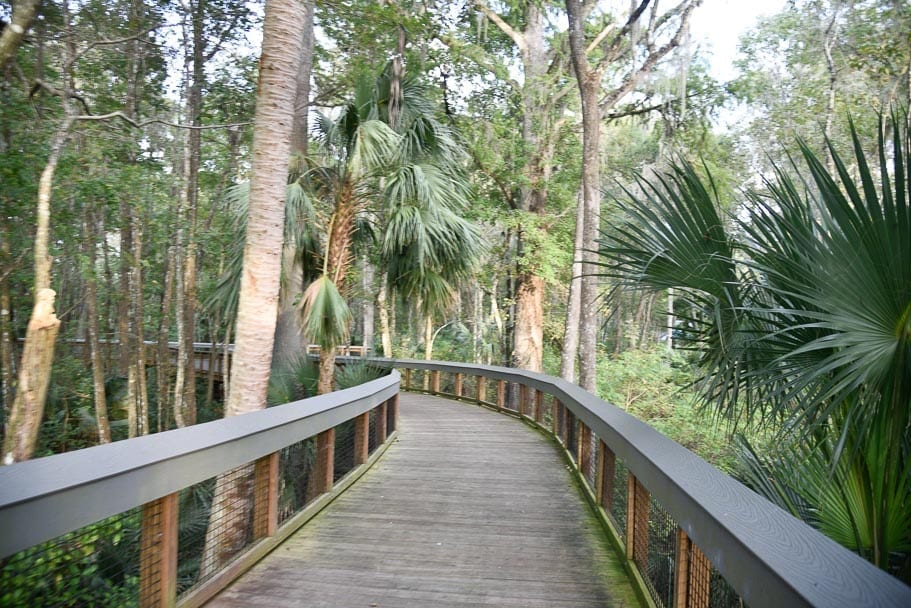 What time does Silver Springs Open/Close?
The State Park is open 365 days a year from 8am to 7.30pm.
Silver Springs State Park covers a very expansive space. While there was quite a few people there, the restaurants were virtually dead on a weekday in low season.
If you wake up late in high season, you can call 352-236-7148 to see if the park is busy.
Note: you cannot reserve entry in advance.
How much does it cost to enter?
Silver Springs is insanely affordable to enter at $2 per person entry.
If you stay at the campground you can enter for free. Camping costs $26 including tax.
There are also vacation cabins which accommodate up to 6.
Unlike Juniper Springs, Silver Springs is not primitive camping only which we loved because it meant we had great access to electricity to charge our devices.
Silver Springs State Park Glass Bottom Boat Tours
Arguably the biggest drawcard for silver springs is the glass bottom boat tours.
As swimming & snorkeling is not permitted, glass bottom boats are the best way to see all the marine life the park has to offer.
There are many colourful fish which live in the waters at Silver Springs. There is also a lot of other wildlife that you can see during the tour including a lot of different water birds.
If you are very lucky in winter you might be able to spot a manatee as they have recently returned to the area.
The boat tours are very affordable at $11 a person and run for around 30 minutes. There are sometimes longer tours on weekends or public holidays.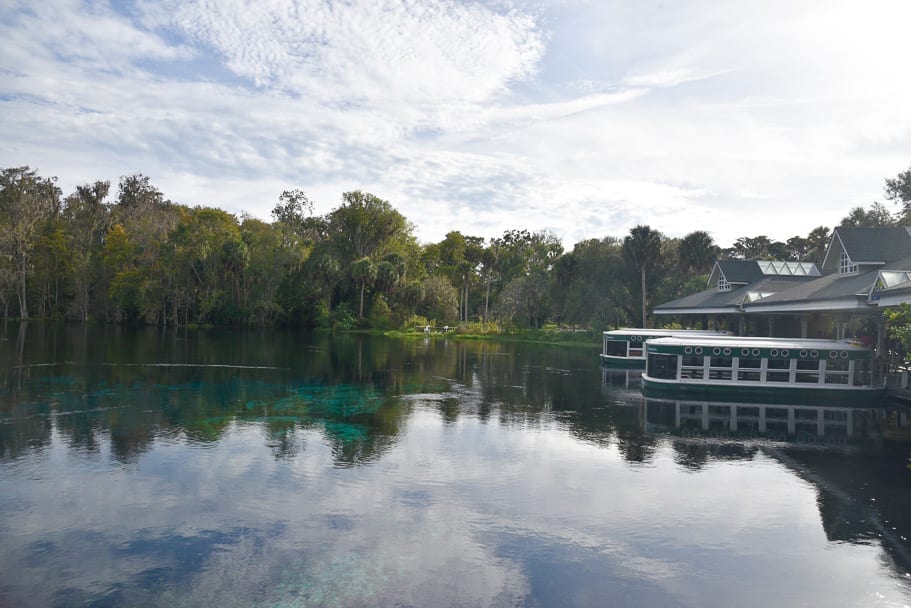 Silver Springs Swimming and Snorkeling: Can you swim at Silver Springs?
Sadly, the Springs does not permit swimming or snorkeling in the spring.
For this reason, Silver Springs are best for groups who don't wish to get wet.The biggest attraction at the Springs is the glass bottom boat which is perfect for less able travelers. This State Park is one of the best for older people – it is a good one to bring your grandparents to for the day!
Is there tubing at Silver Springs State Park?
Similarly, no tubing or floaties are allowed in Silver Springs.
If you would like to experience some great tubing, we loved Blue Spring & Kelly Park which are nearby.
Silver River Museum
If you have any interest in Florida geology, paleontology, archaeology or natural history don't miss Silver River Museum.
Located within the Park's Campground Entrance, off Baseline Road (CR 35) the museum and environmental education center is worth the detour.
There are two exhibit areas: the main museum which caters to the interests mentioned above (including an impressive Mammoth skeleton), and the history wing dedicated to Marion County and Florida history.
Silver Springs State Park Kayaking, Canoe or Stand up Paddle Board
Unlike swimming, kayaking is permitted at the State Park.
It is possible to bring your own kayak, canoe or stand up paddle board. In addition to the $2 entry fee, there is a $4 launch fee per vessel.
Otherwise, you can rent equipment from the State Park.
For a single kayak, it costs $15 for one hour, $20 for two hours or $30 for a full day rental.
For a 2 person canoe it costs $20 for one hour, $30 for two hours or $45 for a full day rental. Recently, they have added a glass bottom tandem kayak to the mix which costs $30 for one hour, $40 for two hours.
The park also rents stand up paddle boards for $20 for one hour, $30 for two hours or $45 for a full day rental.
Silver Springs State Park Picnic & Shops
Having a picnic or a BBQ is another very popular activity in the State Park.
The park's well equiped with picnic tables.
Most people brought with them a full BBQ lunch. If you don't want to bring food with you there are many shops at the State Park where you can buy food including an ice cream store and a restaurant.
An older gentleman routinely busks at Silver Springs near these shops. He sings classics like 'How Much is That Doggie in the Window' and playfully heckles passers by. Totally hilarious!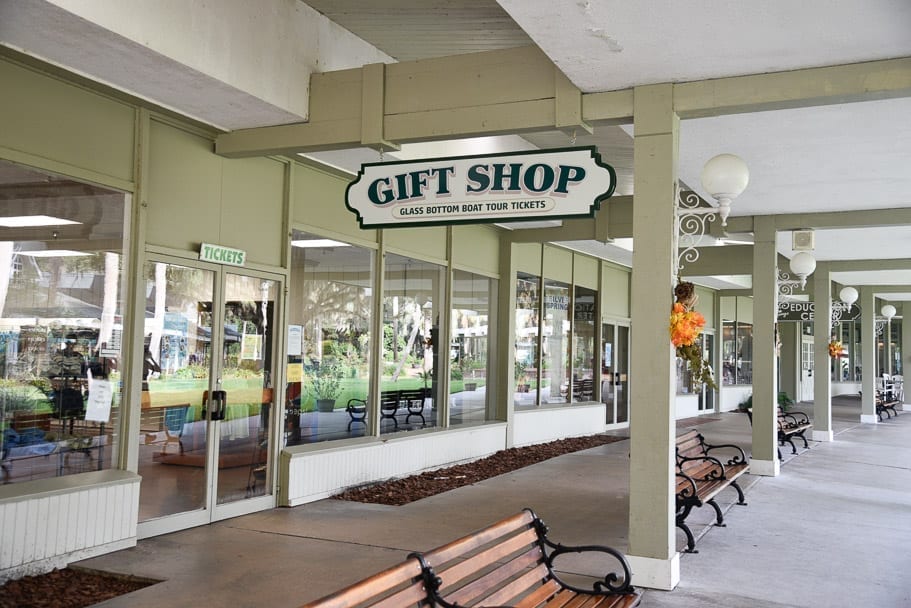 Are there manatees?
You may see a manatee in Silver Springs State Park as they have recently returned to the area.
If you want to swim with manatees in Florida see our manatee guide.
Spoiler: In our opinion, the best place to swim with manatees is Crystal River.
Silver Springs State Park Monkeys
One quirky part of this State Park is that it is home to the Silver Spring Monkey (rhesus macaque monkey).
Before coming and camping in the State Park, we read these monkeys were swarming the area and carried a deadly virus that can be transferred to humans through bites, scratches and even fluids you may come into contact with. Ekk.
The monkeys are not native to the area. Apparently, they came to live there when 12 monkeys were released in the 1930s to create a Tarzan themed tourist attraction.
The attraction never came to be but the monkeys did manage to populate the area.
Upon discovery of the virus the State Park service vowed to get rid of the monkeys.
We didn't expect it to happen but it appears they have done a good job as we didn't see a single monkey.
We were happy to see some cool birds and other wildlife instead!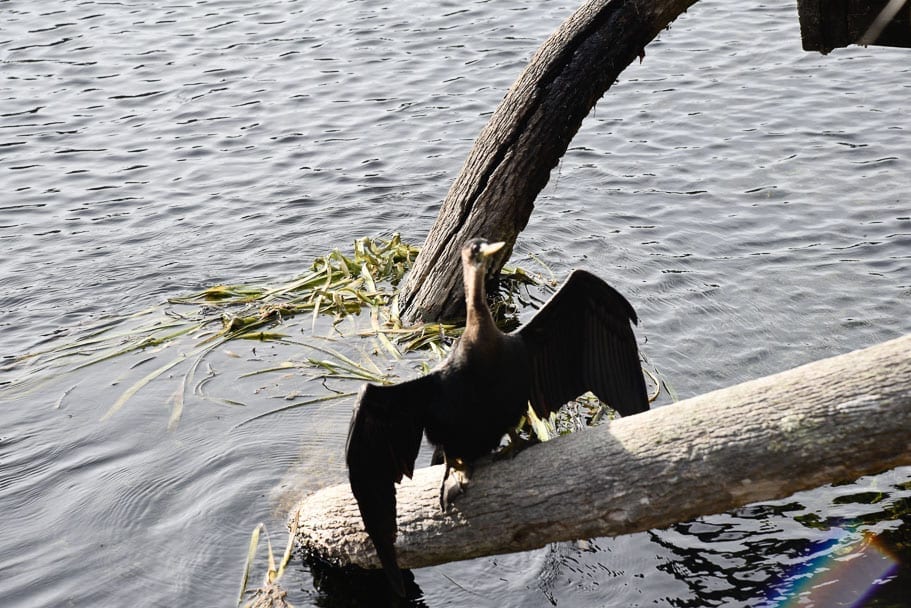 Silver Springs State Park Grounds
The grounds of the State Park are very green and plush. There are lots of gardens, trails and pretty buildings to discover in the State Park.
The building below can be hired for events and even weddings!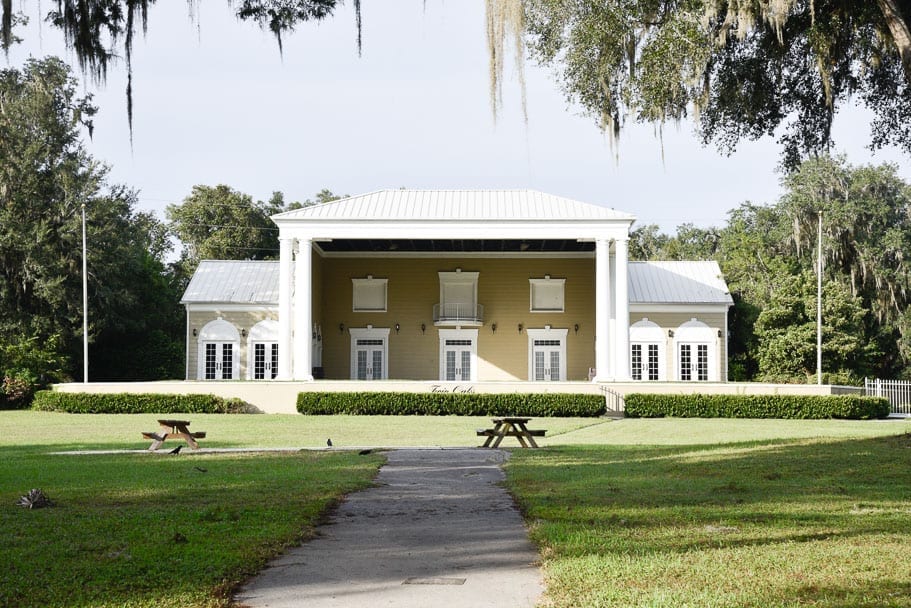 Camping
Silver Springs State Park is a great place to camp. It costs $26 a night including tax for a site.
Camp sites in the State Park include a grill, water, electricity and a picnic table.
The sites were shaded and located in a beautiful, tranquil forest.
We found the toilet and shower facilities to always be clean.
If you prefer a little more luxury, we would recommend staying at this hotel nearby.
Silver Springs State Park Summary
That's all on Silver Springs State Park from us folks.
If you prefer to chill out and take it easy, exploring Silver Springs from the comfort of your glass bottom boat, this is the springs for you.
It truly is one of the best things to do on a Florida vacation or as a weekender.