Looking to visit Blue Spring State Park? Great choice!
Florida has some seriously beautiful springs for tubing and Blue Springs State Park is no exception!
Blue Spring State Park is one of the best places to go tubing in Florida. It is one of the shortest tube runs in Florida but it is definitely one of the best
Here is everything you need to know about tubing in Blue Spring State Park Florida!
Note: If you prefer photography to tubing, we suggest you visit Juniper Springs State Park.
Blue Spring State Park Tubing
After visiting a few State Parks in Florida like Rainbow State Park and the Three Sisters Spring where we swum with manatees, we were totally addicted to Florida's springs.
There are over 700 springs in Florida so there is NO CHANCE we can visit them all but we certainly are going to try!
The sheer transparency & colour of the water in the springs in Florida is something we didn't expect to see in the US.
Some of the springs are good for swimming, some only for hiking, we personally like the Springs where we can go tubing!
We burst our tubing cherry at Kelly Park Rock Springs and since then, with 2 tubes in tow, were very keen to try more!
Blue Spring State Park is particularly popular in winter as it is a hub for manatees however, the spring is well worth visiting in summer too for the super fun tubing.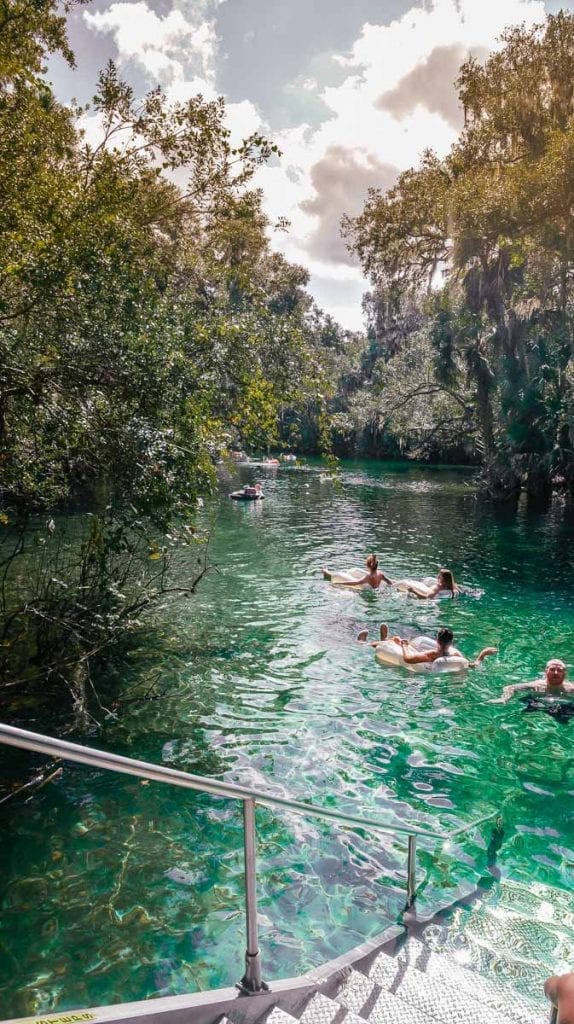 Where is Blue Springs State Park in Florida – Orange City
Blue Spring is a particularly popular spring in Florida due to its great location.
The springs are just 45 minutes drive from Orlando, 40 minutes drive from Daytona Beach and around 3 hours drive from Sarasota.
It is a very popular weekend activity for Orlando and Daytona Beach locals. It is considered one of the most romantic things to do near Orlando for couples!
The address for your GPS is 2100 W French Ave, Orange City, FL 32763
About Blue Springs State Park
Before European settlement, Blue Springs State Park was used by indigenous people in the area.
On of the first European settlers to Blue Springs State Park was Louis P. Thursby and his family in 1856.
He constructed a large, white family home known as Thursby House right on the St. Johns river which is still present and available for tours to this day.
The Thursby family constructed one of the first steamboat landings on St. Johns river and made an orange farm on the land.
The Thursby family eventually sold the house and it sat for many years in terrible condition.
In 1972, the Florida State Park service purchased the land and restored the house. This makes Blue Spring State Park one of Florida's youngest State Parks.
Inside the State Park, there is an area to swim/tube, a large grassy area where the Thursby House stands and a protected area where manatees congregate in the winter.
In the manatee area, only kayaking is allowed. There is a boardwalk with multiple viewing platforms where you can look down and see the manatees in winter.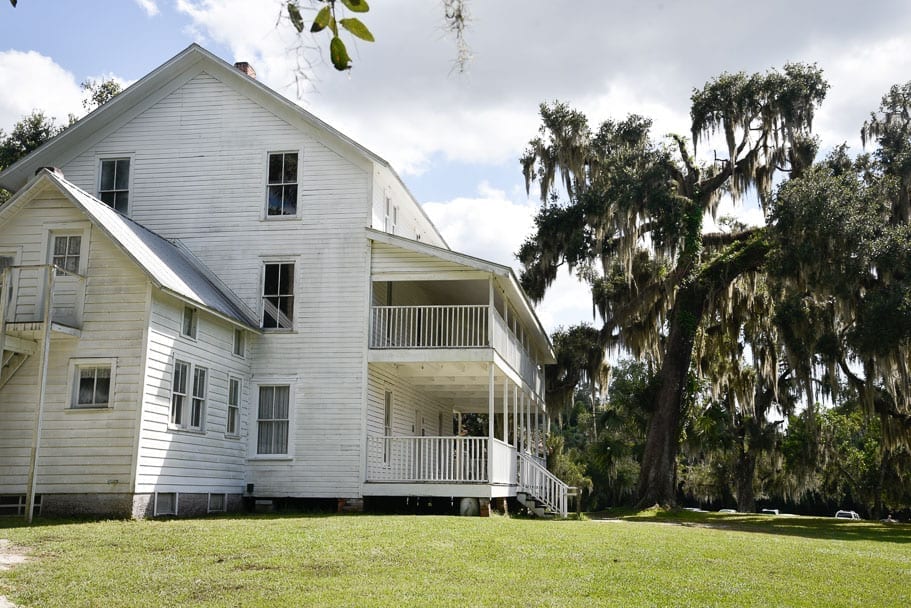 What time does Blue Springs State Park Open/Close?
Blue Springs State Park is open 365 days a year from 8am to sundown.
Unlike Kelly Park, which was ridiculously busy, we found Blue Spring to be far less congested. In saying this, we visited on a weekday.
If you wake up late, you can call (386) 775-3663 to see if the park is full. Note: you cannot reserve entry in advance.
How much does it cost to go to Blue Springs?
We are amazed to see how affordable it is to visit the stunning Springs in Florida.
It costs $6 per vehicle (2-8 people) to enter the park. If you are coming solo, it will only cost you $4.
If you choose to camp, as we did, you can enter for free. Camping costs $24 per night, plus tax. The cool thing about camping here is you can walk right from your camping spot straight to the spring.
Blue Springs State Park Florida Tubing
Outside of seeing manatees in winter, the coolest thing to do in Blue Springs is the tube run.
Unlike Kelly Park where you cannot rent tubes, you can rent tubes direct from inside Blue Springs State Park.
As we wanted to use the tubes again at another State Park we opted to bring our own tube. In summer, tubes are available for purchase from the closet Walmart.
In low season (October onwards) Publix was the only place we could find nearby that sold tubes.
You have to be careful as you cannot bring any tube with you. Tubes need to comply with a height limit of 6 ft. Many people were using this one.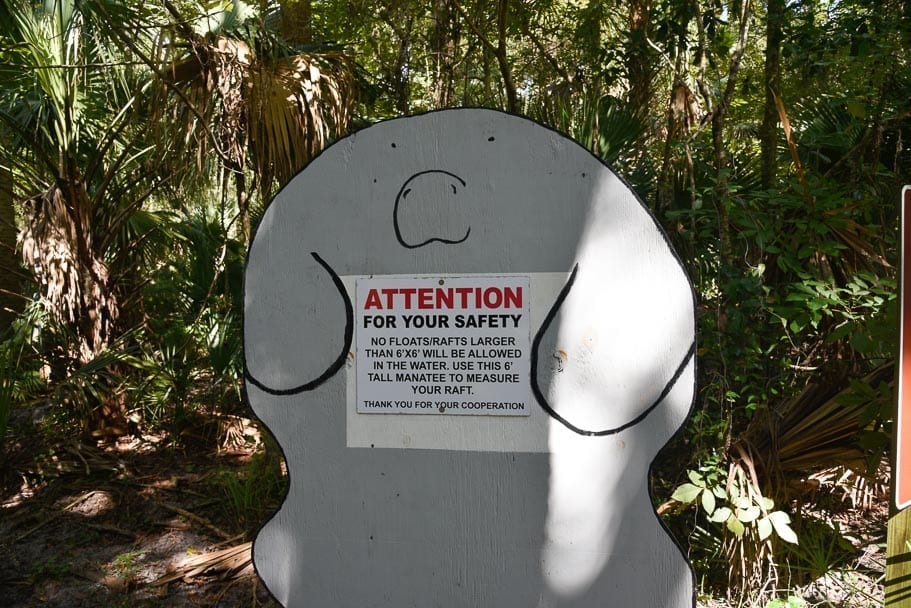 The Tube Run
The Blue Springs tube run may be the shortest tube run in Florida.
In comparison to the Rainbow Springs Tube run which takes 2 hours to complete, the Blue Springs tube run only takes 15 minutes from start to finish.
The tube run is slow and peaceful. We saw a lady taking her newborn baby on a tube with her.
While you can see the bottom at all times, the tube run is a little deeper than Kelly Park (where you can touch at all times).
There are sections where you wont be able to touch the ground. This makes the tube run a little colder, water temperature wise.
It is a very slow tube run but it is possible to float without much help from start to finish.
The river is fairly wide so you may want to bring a hat with you while tubing to protect from the sun, there is little shade in some places.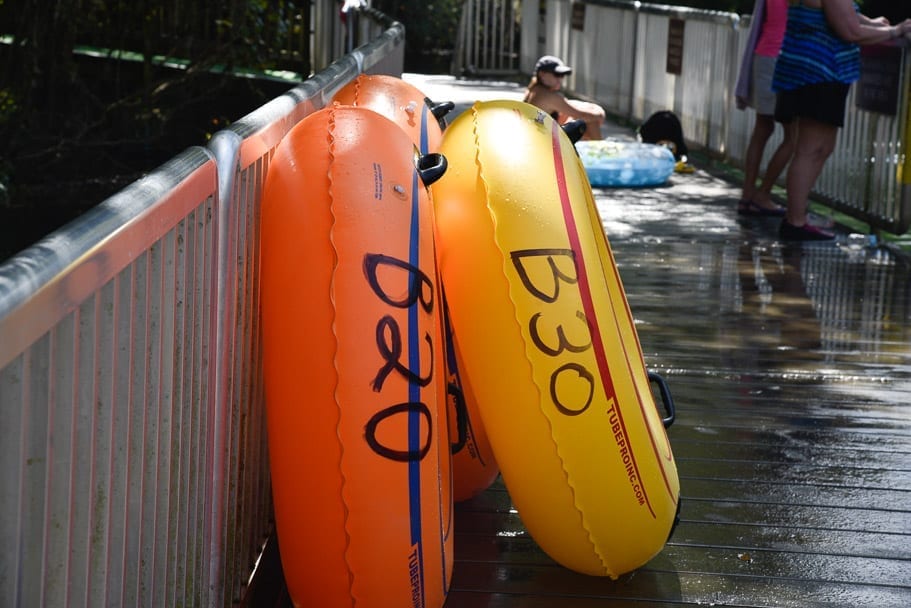 Blue Springs State Park Picnic
Having a picnic or a BBQ is another very popular activity in the State Park.
There are many shaded picnic tables in Blue Spring complete with BBQs & water.
Most people brought with them a full BBQ lunch. If you don't want to bring food with you there is a canteen where you can buy food.
Chocolate coated bananas are a speciality at Blue Spring.
Blue Springs Snorkeling/Diving
The most popular activity aside from tubing was definitely snorkeling and diving.
You can see a lot of underwater activity in Blue Springs.
If you are a diver and want an interesting dive, there is a cavern dive in Blue Springs. It is an open cavern to 65 ft and blacks out at 90 ft where it turns into a cave dive. One for an experienced diver for sure.
Be careful if you choose to dive it as several divers have died there.
Blue Spring Kayaking & Boat Tour
Kayaking is another particularly popular activity at Blue Spring.
You can rent a kayak or bring your own.
In the summer months, you are able to kayak in the manatee protection area. In winter, when manatees are there, this is more restrictive.
If you prefer a more leisurely activity, there is a 2 hour river boat tour of the St. John's River which can be purchased in the park.
Blue Spring Sports
Inside the park, there is ample opportunity to enjoy ball sports.
Near Thursby House there is a large, beautiful grassy area perfect for playing sports.
If you want to play a game of some sort in Blue Springs remember to BYO your own ball.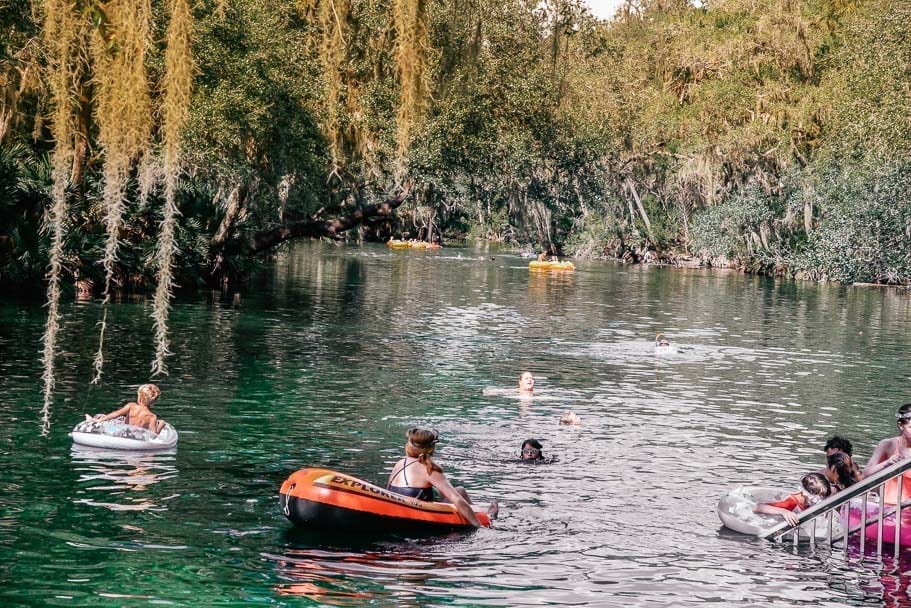 Are there alligators in Blue Springs State Park?
Yes, there are alligators in Blue Spring technically but their sightings are rare.
We didn't see an alligator.
If you are interested in seeing an alligator in Florida, I would highly recommend a visit to Everglades National Park. The Anhinga Trail or Shark Valley Trail if you like to bike is best for alligator spotting.
How many manatees are at Blue Springs park today?
Yes, one of the biggest drawcards of Blue Spring is the manatees.
Manatees visit Blue Springs in the winter for the warm water of the springs. A local told us they don't really come in great numbers until February.
There are fabulous viewing platforms at Blue Spring where you can clearly see manatees if they are preset. There is a restricted area for manatee protection that is roped off.
If you want to see manatees in Florida the best place to see them in our opinion is crystal river. For all places you can see manatees in Florida see our Florida manatee guide.
Blue Spring Wildlife
Other than alligators & manatees, this is a great State Park for wildlife viewing.
We spotted an Armadillo walking around the park which is pretty cool!
We also saw some large fish as we completed our tube run. The water is crystal clear so it is easy to spot any wildlife that is lurking beneath.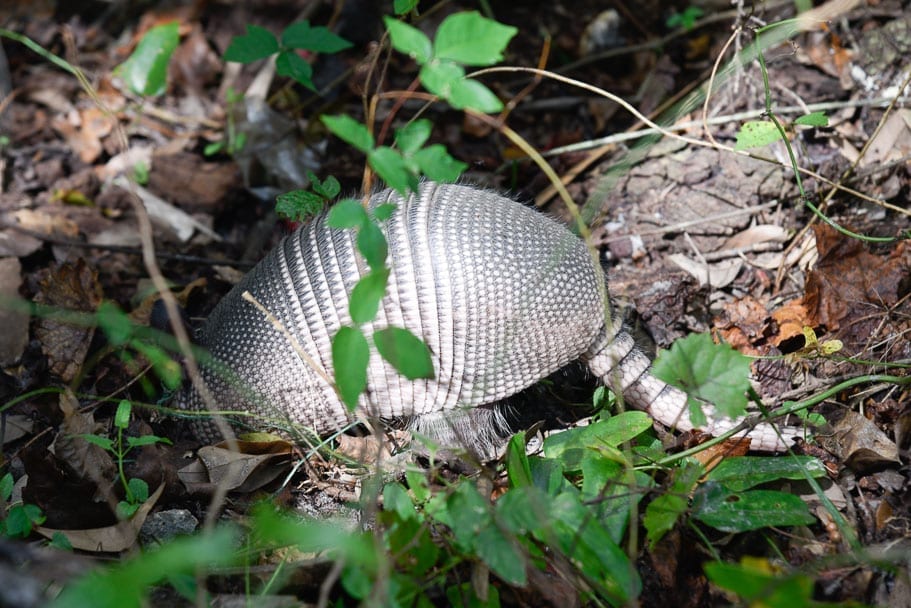 Blue Spring State Park Camping
We loved camping in Blue Spring State Park and would highly recommend it.
You can walk straight to the springs from the camping area.
Camp sites in the State Park include a grill, water, electricity and a picnic table.
Unlike Kelly Park we did not have to reserve in advance.
Camping costs $24 per night, plus tax.
Blue Spring Tips
If you decide to visit Blue Spring are our best tips:
Don't bother bringing alcohol with you as it is not allowed in the park. The only springs we are aware that alcohol is allowed is Ginnie Springs.
If you plan on going tubing, you can either bring your own tube or hire from the park.
If the park is full, you cannot reenter until there is space.
Manatees are only present in winter months. The best time for manatee viewing is February.
Camping is a great idea for fantastic access to the State Park.
What to bring with you?
Here is what we would recommend bringing with you for a day out:
Blue Springs State Park Florida Tubing Summary
Blue Spring is certainly one of the best spots in Florida for tubing.
The water is crystal clear and there is plenty of wildlife to see below!
You might also like: