Thinking to visit Juniper Springs? Good choice!
If you love photography and you are looking for a highly photogenic Florida spring perfect for Instagram you cannot go past Juniper Springs Florida – one of the most instagrammable Florida Springs.
Here is everything you need to know about visiting the Juniper Springs recreation area.
Juniper Springs Florida – A Full Guide
We were in the area visiting Kelly Park and Blue Spring (located about an hours drive away) when we decided to pop into a Spring more centrally located within Ocala National Forest.
Florida actually has over 700 springs!! Sadly, we can't visit them all but as we are totally addicted we are going to try to visit as many as possible.
So far, we have visited Rainbow Springs, Crystal River and the Three Sisters Spring to swim with manatees, Kelly Park and Blue Spring.
We find springs in Florida so mesmerising due to their crystal clear, transparent water. Juniper springs is one of the best springs in Ocala for sure.
Some of the springs are good for swimming, some only for hiking, this Springs in our opinion is good for photography and good old Instagram.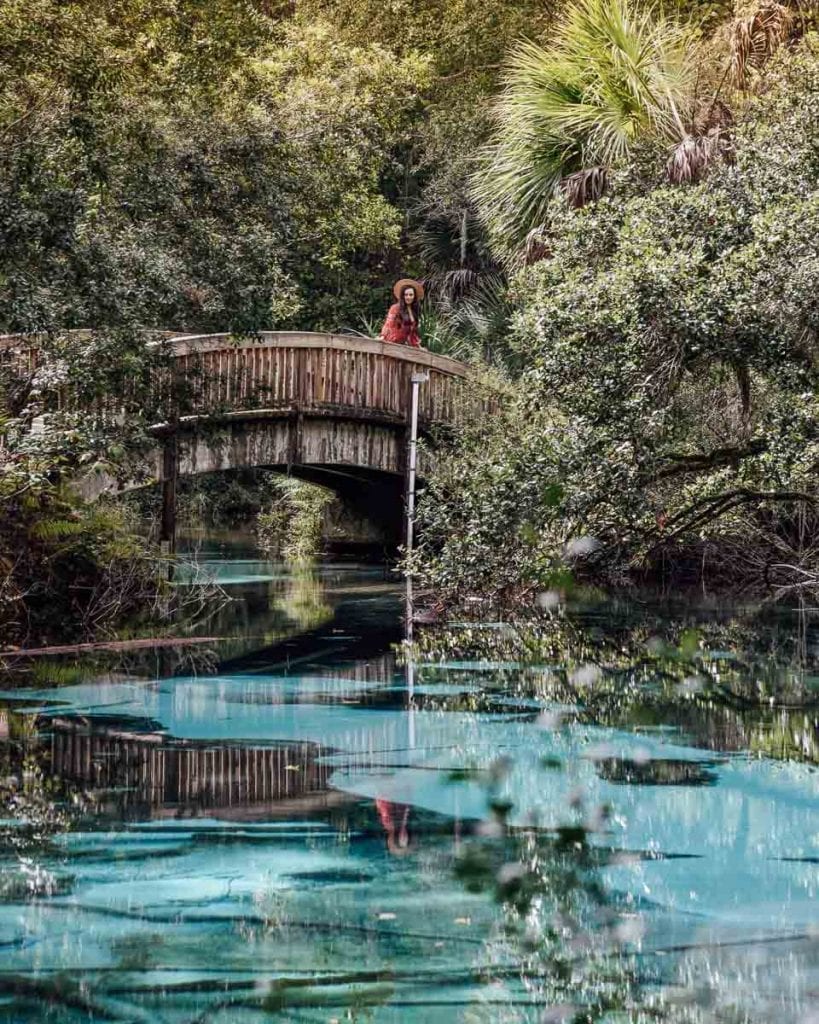 Where is Juniper Springs State Park in Florida
Juniper Springs is a particularly popular spring in Florida due to its great location.
If you want to visit a spring within the Ocala National Forest, this is a great choice. We visited Alexander Springs, a nearby Spring a few years ago and weren't as impressed.
It is located 1.30 minutes drive from Orlando, a 1 hour drive from Daytona Beach and around a 3 hour drive from Sarasota. It is a very popular weekend activity for Daytona Beach locals.
It is also a popular spring to visit from Tampa being around 2 hours away.
Find it along SR40 between between Ocala and Ormond Beach.
The address for your GPS is 26701 FL-40, Silver Springs, FL 34488.
About Juniper Springs State Park
Unlike Blue Springs which is one of the newest Spring State Parks, Juniper Springs is one of the oldest recreation areas on the East Coast.
The area was constructed in the 1930s by the Civilian Conservation Corps.
Interestingly, due to its age, you will find an old mill at Juniper Springs with a waterwheel. This was used to generate electricity for the campsite in the early years.
Opening hours: Open 8 am to 8 pm daily
Phone: 1-877-444-6777 (for campground reservations)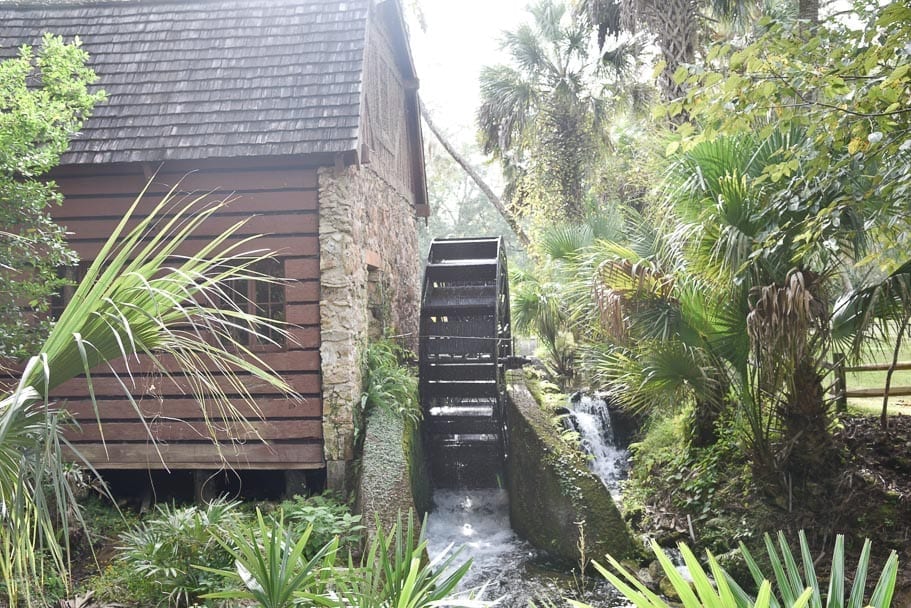 Juniper Springs State Park Photography for Instagram
The State Park is a great place to get gorgeous photography without getting wet!
The best spot for photography is at the end of the small hike in the State Park.
At the end of the small hike you will find a quaint little bridge overlooking the most incredible, crystal clear water.
No swimming is allowed here so you can get awesome photography at any time of day.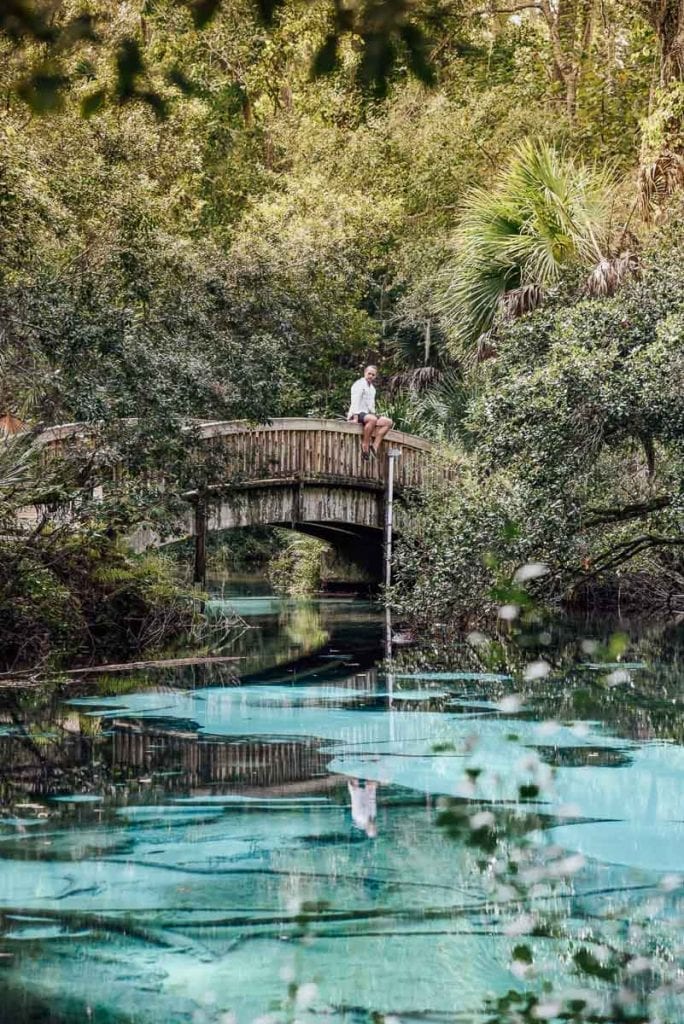 What time does Juniper Springs State Park Open/Close?
The State Park is open 365 days a year from 8am to 8pm.
Unlike Kelly Park, which was ridiculously busy, we were one of only a few people at Juniper Springs. Note: our visit did fall on a weekday in low season.
If you wake up late in high season, you can call (352) 625-3147 to see if the park is busy. Note: you cannot reserve entry in advance.
How much does it cost to enter?
This is one of the more expensive Springs to enter. In saying this, it still is very cheap.
It costs $11 for 2 people to enter the park ($5.50 each person).
If you choose to camp, you can enter for free. Camping costs $22 per night, plus tax. Note: unlike Kelly Park, Blue Springs and Rainbow Springs, this is primitive camping meaning there is no electricity, even in the toilet blocks.
For this reason (I like my hair dryer and straightener haha) we choose to camp at Silver Springs instead!
Juniper Springs Tubing ?
You can spring your floatie and float around but there is no tube run as such at Juniper Springs.
You can bring your own tube or you can purchase one at the State Park.
Many people use this one at Florida State Parks.
Is there kayaking? The Juniper Springs Run
Yes, one of the big drawcards to Juniper Springs over other springs in the area is the kayak run.
The canoe / kayak run is more for advanced kayakers who are very comfortable kayaking.
People advise not to kayak here as a beginner as the trail is narrow, has several small rapids and several low lying trees. There are also many gators on the trail so you need to be vigilant.
The kayak trip takes 4 hours to complete.
If you decide you are up for the adventure, you can rent a kayak for $42.
If you choose to go kayaking, the staff will check that you do not take anything disposable with you including water bottles so it is necessary to prepare well in advance as your bags will be checked!
Picnic
Having a picnic or a BBQ is another very popular activity in the State Park.
There are many picnic tables in Juniper Springs.
Most people brought with them a full BBQ lunch. If you don't want to bring food with you there is a canteen where you can buy food.
Juniper Springs is more vigilant than most about disposables so you may have issues with those. No alcohol is allowed.
Juniper Springs Swimming & Snorkeling
There is a main pool area at Juniper Springs where swimming and snorkeling is allowed.
Outside this swimming hole, swimming is not allowed due to the abundance of alligators.
The bottom of the springs had quite a lot of grass growing so it was not as appealing for swimming as some other springs like Rainbow Springs.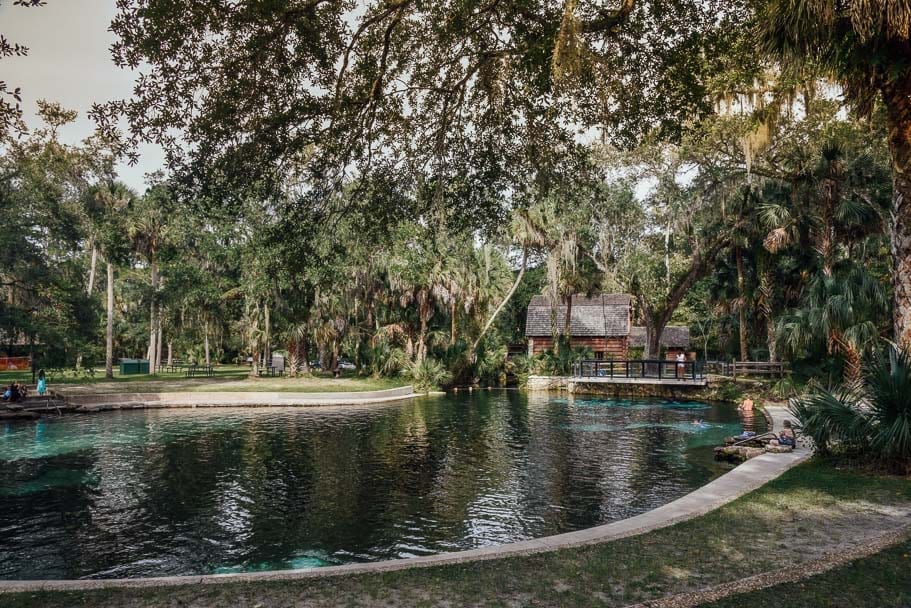 Juniper Springs Alligator Attack
There are signs all over the State Park warning of alligators.
There are a much higher percentage of alligators at Juniper Springs than other springs we had visited.
Over the years, there have been a few alligator attacks. A lady died in 2006 while swimming in Juniper Creek.
To minimise risk, it is important not to swim in any areas which are prohibited.
Are there manatees?
There are no manatees in the swimming area at Juniper Springs.
It may be possible to spot them on the kayak run however, I am not sure of this.
If you want to see our swim with manatees in Florida see our manatee guide.
Camping
Juniper Spring is one of the most affordable springs to camp at in Florida at $22 a night.
It is a beautiful campground but it is primitive camping. There is no electricity at the sites or in the bathrooms.
Due to increased black bear activity, each site has its own bear food storage unit.
Check our site for more campgrounds in the Ocala region.
Tips
If you decide to visit Blue Spring are our best tips:
Don't bother bringing alcohol with you as it is not allowed in the park. The only springs we are aware that alcohol is allowed is Ginnie Springs.
It is a great spring for photography but not for tubing
The kayak run is for advanced kayakers.
Camping is primitive only so consider if this is suitable for you. We camped at Silver Springs instead.
Juniper Springs Nature Trail is closed due to damage, unfortunately for those who like to run juniper springs.
What to bring with you?
Here is what we would recommend bringing with you for a day out:
Summary
Juniper Springs is a beautiful place to spend a day especially if you love taking great photography!
***
More Florida fun