Key West vs Key Largo – Which One is Right for Your Vacation?
When planning your next trip, you might find yourself torn between Key West and Key Largo. Both are scenic cities located in sunny Florida. While you might think we are comparing two similar sites, there are a plethora of differences between the two locations.
For instance, Key West is known for its shopping, nightlife, and bustling streets whereas Key Largo is the ideal destination for a more relaxing and laid-back stay.
You'll need to ask yourself what sorts of activities you want to try while in Florida. History buffs are going to want to head to Key West. It's known for its heritage while Key Largo is more known for its relaxing vibes and eccentric storefronts. You'd be hard-pressed to stay in Key Largo without enjoying at least one of its many vintage shops.
Are you looking for that cozy, small-town feeling or a big city boom? The big question you need to ask yourself before deciding between the two is whether you're going to Florida for the traditional tourist experience or a serene snorkeling and diving adventure.
Key West is traditionally geared towards a younger crowd, whereas Key Largo is more popular with the older generation. Those traveling with families will appreciate Key Largo's atmosphere. If you're looking for a fun weekend getaway with the girls though, Key West should be on your destination checklist.
Here we breakdown a number of questions to help you decide which is better for your vacation – Key West vs Key Largo?
Key West vs Key Largo – Which to select for your vacation
Distance? How far to Key Largo vs Key West
Key Largo is much closer to mainland Florida than Key West, so if you don't want to do a whole lot of driving, a holiday to Key Largo is the way to go.
If you are thinking to do a Florida Keys road trip you can check out our route from Miami to Key West, this also includes Key Largo so you can turn around there if you wish.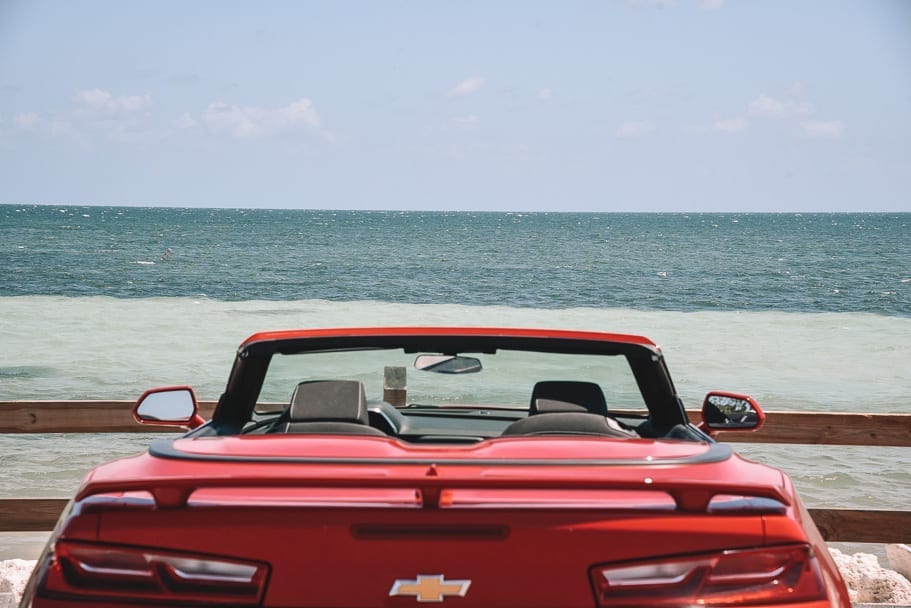 Who Has Better Beaches? Winner = Key West
From hidden nature preserves to pristine waterways, Key Largo offers its visitor a breathtaking and relaxing escape into another world, bursting at the seams with beauty. The beach at Founders Park offers two parks for children along with public access and bathrooms.
Did you know a some of the beaches in Key Largo are man-made, like Harry Harris Park? Some are owned privately by hotels and resorts but there are still numerous beaches that are open to the public. One favorite is Far Beach. Lined with palm trees, the soft sand invites you into its surprisingly warm waters.
The ideal location for swimming with beginners thanks to its shallow waters, Far Beach is another win for families all over. Just a little further past Far Beach you can find Cannon Beach. This site, named for the 17th-century cannons that dapple the sand, makes for great family photos and snorkeling adventure. If you're looking for something slightly more fast-paced though, look no further than the beaches of Key West. It has beaches for everyone.
Picking between Key Largo and Key West beaches is a hard task, with Key West narrowly sneaking in for the win.
How could it not be an amazing destination when it's regarded as one of Earnest Hemmingway's favorite spots? While its fast pace and jovial feel might not be for everyone, it's certainly a hotspot for celebrities, politicians, and well-known figures. Dog Beach is a great getaway if you're traveling with your furry friend. There you can take them off the leash and enjoy the full experience of one pleased pup.
As one of the many ground coral beaches in Key West, Fort Zachary Taylor Beach is a haven for sea creatures. This diving location is known for dolphins and turtle sightings along with an abundant and colorful coral life.
Key West or Key Largo for Restaurants & Bars? Winner = Key West
While Key Largo will beat Key West in some aspects, restaurants is not one of these things. If you are a foodie, Key West is a better bet.
Not only will you find yourself surrounded by delicious local seafood, but you'll also be immersed in history. Take the La Te Da Bar, Caberete, & hotel. Its original location was a home built by Teodoro Perez, a well-known cigar manufacturer and political activist in the movement to liberate Cuba. This isn't the only amazing location with a rich history that you can visit for a drink or bite to each in Key West.
Don't discount Key Largo though in your search for a culinary experience, Key Largo restaurants are also very good. Sharkeys is just one example of the mom-and-pop vibes you'll get from vacationing in Key Largo. Offering a beautiful view and rich story of its founding in the early 2000s, this local favorite is sure to be an enjoyment for all ages
From their signature dishes to eco-friendly footprint, you'd be hard-pressed not to return a second time. The friendly staff makes you feel like family every time you visit them.
Key Largo also can't offer the abundance of bar options that Key West has though. A conversation about Key West bars can't be had without mentioning its famous Duval Street. This is where you can find some of the state's top ten bars for 2022. If you're up for a challenge, you can also participate in the Duval Street pub crawls held throughout the year.
Altogether, Key West has more than nine hundred bartenders. There is no competition if you want a hopping nightlife, continuous party, and rocking good time, Key West is going to be your pick.
Which is More Beautiful? Winner = Key Largo
There is no question that Key West is a sight to behold. Approaching the coast at sunset is truly a breathtaking sight. The vibrant nightlife lights up the entire coast with a glittering rainbow of colors. The historical significance of Key West is well deserved. You can spot historical landmarks as you arrive, protruding from the sandy beaches and becoming for your photos. It's a tourist-heavy area, with towering hotels and resorts ready to cater to your every need.
However, this also brings with it a plethora of people, making it challenging to truly catch a glimpse of its undisturbed beauty. Thanks to the ever-changing world, some of Key West's beauty has been corrupted by modern marvels. That's not to say that it doesn't have an awe-inspiring beauty that young and old alike can appreciate.
Yet overall, it lacks the serene majesty that Key Largo has to offer. On the other hand, Key Largo, as a smaller destination spot, hasn't suffered the same fate as its brother to the south.
In my opinion, Key Largo will always be one of the single most beautiful locations I've ever seen in my life. There is a tranquil peace that captures you instantly, no matter how you approach the picturesque landscape.
While Key West is ever-expanding in population and popularity, Key Largo has kept its vibrant roots that run as deep as the palm trees themselves. With that being said, beauty is in the eye of the beholder. While one might see Key Largo's tranquility and be bored, another might see Key West's advancements as art themselves.
Which has a Better Atmosphere? Winner = Depends if you want laid back (Key Largo) vs Happening (Key West)
With its family-centric atmosphere and small-town vibes, Key Largo offers its visitors a soothing experience that is unmatched by other beach communities. From their dog parks and natural beauty to the serene beaches and views, this is the areas leading attraction, atmosphere, and serenity at its finest.
In addition to spending your days lazily perusing storefronts and having a margarita on the sands, you can take in other activities to expand your appreciation of Key Largo to the extremes. Between snorkeling, sightseeing, and crystal waters to kayak through, you won't find a location that has a better view.
Both Key West and Key Largo have amazing atmospheres. Again, most of the vibe depends on what you are looking for. I can honestly say, from first-hand experience, there is nothing that puts the soul at peace more than the views from Key Largo beaches.
That being said, Key West has the ability to revive your soul when the world has broken you down. With more bars per capita, it's easy to see why Key West is such an amazing attraction. Again, you are left asking yourself, would you rather be immersed in the history and lore of an original Speakeasy, or listen to a local bartender telling tales of the sea in a familiar dive?
The idea of one atmosphere or the other being better or worse is not realistic. It depends on what you are looking for in a retreat. You have to ask yourself, where your mind is at and what it views as relaxation. Key West appeals to those looking for a good time, a fast-paced vacation, and more activities than anyone could imagine.
While Key Largo is a haven for peace, rest, and rejuvenation. No matter where you choose to go, you are guaranteed to have a pristine view, with warm waters, and even better views.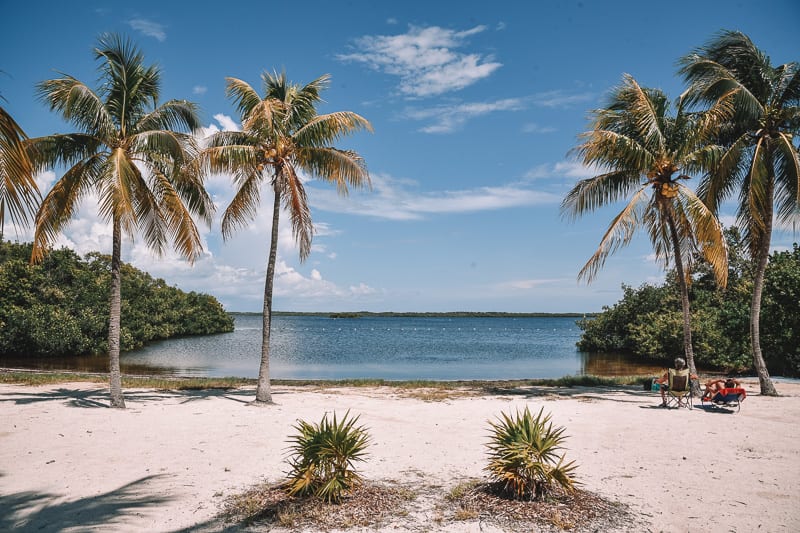 Which is More Accessible? Winner = Key West
Without being obvious, Key West is considerably more accessible. Thanks to its traditional, tourist community, they've made sure their visitors can get around town without too much trouble. They offer everything from bike rentals and car services to limo rides. If you're feeling nostalgic, you can take a ride on the Old Town trolley. It stops at local landmarks and historical spots that you can photograph to remember your trip to Key West.
These trolley tours provide visitors with the opportunity to get off at locations and stay as long as they desire. this is just one of the amazing attractions that Key West has to offer. When you buy your trolley tour ticket, you can extend it out over several days! This is a huge attraction for local visitors. Booking your tickets online is the best way to see the entire community of Key West without the hassle of renting a car or bringing your own.
If you still have your heart set on Key Largo, and I can't blame you, then you might be better off in a rental car or bringing your own.
While you can still find taxis around town, it is more challenging to get a ride. The limited taxi and bike rents will services can often book up several weeks ahead of time. I'd recommend planning ahead, and bringing your own bicycle to see this unique community.
Despite Key Largo's lack of transportation options, it is working on improving this area. Recently, the community voted to construct new bike paths for locals and visitors alike to enjoy. Until then, you can enjoy the scenery while you walk off some of their amazing culinary delights. Yet for this category, Key West takes the win by a mile.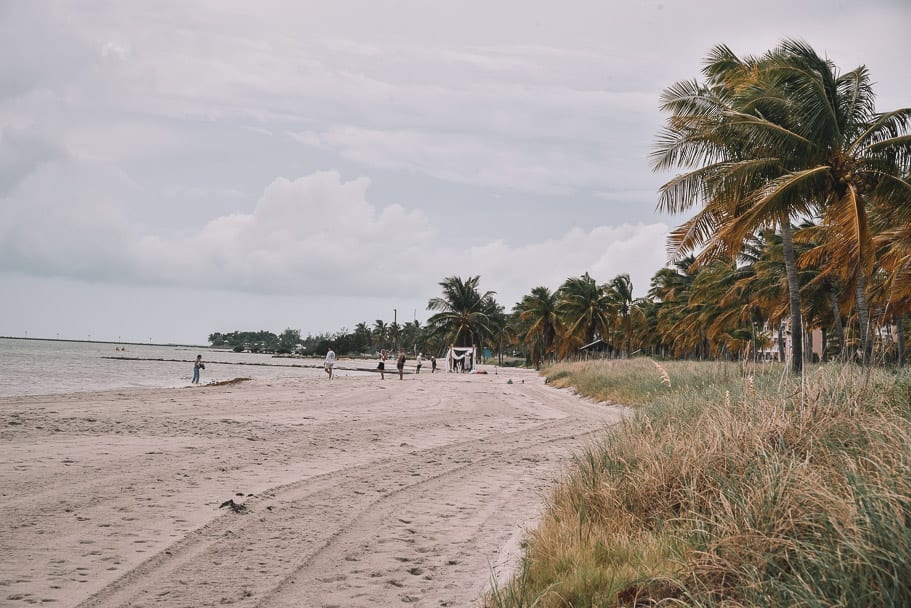 Who has More Things to do? Winner = Key West
This is another question where the answer should be obvious. Given its size, and popularity with tourists, Key West has a plethora of things for visitors to do, including some great free activities you might want to check out. Meanwhile, Key Largo focuses more on the relaxation and restoration of the mind. There is an abundance of things to do in Key Largo for those who enjoy the natural beauty of the sea period from snorkeling to glass bottom boat cruises, it is every photographer's dream.
With its plethora of natural beauties, Key Largo is no sight to pass up either. While Key West offers its visitors an assortment of bars, eateries, and adventures, it does have a few hidden gems for those who don't feel like drinking their days away.
Ernest Hemingway, despite being known for his abundant affection for the drink, enjoyed other options as well. For those looking for a family-friendly activity, Key West has an award-winning aquarium, along with a butterfly and nature Conservatory that will delight all ages. For those who want to see where it all ends, you can travel to one of the most popular tourist destinations in Key West.
Not only does mile marker one mark the southernmost point of the United States, but it is also the very end of the overseas highway. It is quite literally, the end of the road.
Not to be outdone by its neighbor to the South, Key Largo is still able to offer a little bit of adventure for those sightseers. Local artists flock to Key Largo to display their wares and drove. Its eclectic nature, and scenic location, offer everything an artist could need to be able to create their next masterpiece. As a visitor to this iconic location, you have the opportunity to buy these works first hand.
Which has More Historical Sites? Winner = Key West
In Key Largo, you will find some of the finest examples of its past. From palaces to landmarks, there is no shortage of things to see. You can get tickets for guided tours easily online. Though it doesn't hold as much historical significance as Key West, it still has an abundance of interesting sites to see. Despite not having near as many historical sites, Key Largo is still worth the visit for its beautiful scenery alone.
The Key West shipwreck museum is by far one of the most popular destinations for historical buffs. This is just the tip of the iceberg with the Keys' history.
Not only can you go snorkeling and find some amazing artifacts, but you can also participate in a tour of Earnest Hemmingway's homes. His ties to the Florida Keys run deep. The Key West Cemetery has headstones dating back as far as the discovery of the coast itself while the Key West Lighthouse Museum has a deep history amongst its eighty-eight steps to the top. Packed to the brim with photos from its former keepers, you can take a trip down memory lane inside its hallowed halls.
History and hauntings are often intertwined comma and there is no exception in the Key West. Deemed one of the most haunted places in the United States, at anytime you could be within a stone's throw of a spirit. The popular tourist destination even has its own website dedicated to local sightings and mediums that can connect with the seafaring forefathers that came before them.
At the top of this list once again, is that Hemingway house. The Firehouse Museum is another location known for its supernatural activity. Tour-goers are often noted as saying they have spotted a familiar spirit or two at this interesting attraction.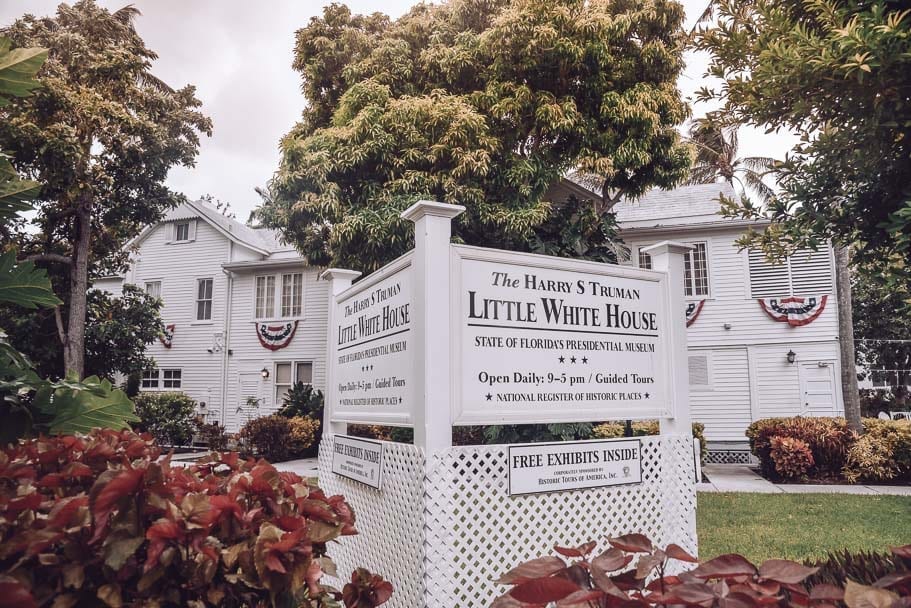 Who has Better Accommodations? Winner = Key West
When trying to book a hotel or accommodation for your vacation, you'll quickly see that there is a vast difference between the two options. While Key West offers you expansive resorts and romantic hotels that can accommodate your every desire, Key Largo once again offers you a more personal and caring experience. For a once in a lifetime experience, guests to Key Largo can rent out a private sanctuary for a night. This unique experience offers its visitors a private beach, swimming pool, and enough space to forget about all of your troubles.
With LGBTQ proud accommodations amongst the many other options, Key West is the clear winner. From Airbnb to expansive resorts, Key West has something for everyone that comes to visit. You can rent a private bungalow on the beach, or mingle with your neighbors in a condominium.
There are no shortages of places to stay no matter your budget or preference. Thanks to the modernization of accommodations, you can find options online to book up to two years ahead of time or procrastinate until the last minute and still find a deal for your vacation.
If you find yourself looking for a quiet night in, they're easy to find in the bungalows that dot the beaches. Are you are a history buff, Key West has several small bed and breakfasts with trusting and diverse histories to pull you in.
The lower alone and some of the places are enough to keep your mind racing. from documented haunted houses to eco-friendly environments, Key West has a unique stay available for everyone. Stories have been told online of people driving to the Keys and still being able to find a hotel at the last minute. All you have to do is use your imagination when searching for the perfect overnight stay.
Book best places to stay in Key West here.

Book best places to stay in Key Largo here.
Final Pick – Key West vs. Key Largo? Winner = Depends what you want
What it comes down to, is that every person is going to be different. You can decide which destination is the right fit by asking yourself a few easy questions. Key Largo offers the perfect, relaxing retreat for those looking to truly take a break from the world. Key West has so much culture, history, and excitement, I'd recommend everyone see it at least once in their life. Both locations offer something for everyone.
When you land, do you want to relax on the beach, listening to the sounds of the waves and little else? If so, go to Key Largo. Or do you want to land, grab your suit and mingle until the sun goes down and the tequila flows? If the all-night vibe is your scene, head to Key West.
Do you want to walk along the quiet streets, popping into eclectic shops while your kids play at the local park? Your destination is going to be Key Largo but if the hustle and flow of a hopping city is your vacation, book a flight for Florida Key West.
What if you want it all though? There is no reason you can't. It's your vacation after all. If you want to land in Key West, spend three days partying like it's New Years then rent a car and relax in Key Largo for a few days, you absolutely should.
You can still find the laid-back retreats and family-friendly destinations in Key West just as you can still party on a dock all night in Key Largo. As a frequent flyer to the Florida Keys, I've enjoyed both locations and everything they have to offer. For my next trip, I'll be going to my favorite chill spot, The Bayside in beautiful Key Largo.
****
See more Florida Keys fun: