Traveling to Florida soon and want to learn more about the Sunshine State? Here are 50 Fun Facts about Florida!
Florida is widely recognized for its warm weather climate, limitless sunshine, and award-winning beaches. Did you know that Florida has dozens of interesting features? Unique topography, frightening animals, lovable mascots, and mind-bending museums are all contained within Florida's borders. Plus, a world-renowned speedway and space station.
This state is a haven for tourists and retirees looking to enjoy year-round warm weather. The state has many things to do and see, such as golfing, visiting beaches, museums, eateries, and eco-tours.
If you are contemplating a first visit or thirty-first visit, read on for fifty interesting facts about the Sunshine State.
50 Fun Facts about Florida to entertain you!
Florida is the flattest state in the United States.
Most of its land is classified as coastal plains. These areas have few changes in elevation and are largely without trees. Despite all the gorgeous palm trees and the higher elevations scattered across the state, Florida remains the flattest state. There is one high point in Florida, Britton Hill, at 345 feet above sea level.
The state is bordered by the Atlantic Ocean on the eastern side and the Gulf of Mexico on the western side.
Did you know that the Gulf of Mexico can be considered a part of the Atlantic Ocean? Because oceans have no boundaries, the Gulf is considered part of the Atlantic even though it has its own name, and the water differs from the Atlantic.
In one day, you can experience two different types of water and sand.
The Atlantic Ocean side of Florida contains water that is cooler and deeper than the Gulf Coast. The sands of the Atlantic Ocean beaches are hard-packed, whereas the sands of the Gulf Coast tend to be softer and powdery.
Driving in Florida, from east to west or west to east, can be accomplished in about three hours.
You can easily plan an entire day around visiting both major bodies of water to experience the differences.
Driving the whole border takes much longer….
On the other hand, driving the entire border of Florida, from the Georgia state line down the eastern seaboard, rounding the tip of the peninsula, cruising up the Gulf, and stopping at the very end of the panhandle, would take you much longer.
The eastern seaboard section would take approximately nine hours. The western seaboard is another nine hours give or take. That is a total of eighteen hours of driving.
The ocean water surrounding Florida gets plenty of attention
The ocean water surrounding Florida gets plenty of attention. The state is also home to Tampa Bay, an estuary of the Gulf of Mexico, Lake Okeechobee, the largest body of freshwater in the state, and the Caloosahatchee River.
It is often regarded as the lightning capital of the USA
The Sunshine State has more than once held the designation of lightning capital of the United States. It also once held the title of lightning capital of the world.
There are a whopping forty-five hundred islands in the state of Florida.
Key West, Sanibel, and Captiva are some of the more well-known islands. The Florida Keys is a long island chain that is accessible only by the over sea highway.
Sanibel and Captiva Islands are famous for shelling, the act of beachcombing for shells.
There are over 200 different species that have been found on Florida beaches. Sanibel and Captiva Islands are accessible by bridge from the Fort Myers Beach area. You can stay in one of the hotels or vacation rentals on the island or make a day trip from the mainland.
Beachcombers may also discover starfish or jellyfish when scouring for shells.
Removing a starfish or other live creature from the beach is illegal, and touching a jellyfish is not recommended as it could result in injury. If you come upon these items, enjoying the view and leaving them where they lie is best.
Florida takes great pride in its sea turtle population.
Visitors and residents alike are asked to use caution on the beach during nesting season. People are encouraged to reduce light pollution near the beach, avoid approaching turtle nests, and be mindful of where they place their beach and outdoor furniture.
Florida has had thirty-eight major hurricanes….
When talking about Florida, the conversation will inevitably lead to the topic of hurricanes. Just how many storms has Florida experienced? Thirty-eight major hurricanes.
These massive weather systems cause astronomical financial damage each year to homes and properties in Florida. The most recent, Hurricane Ian, is estimated to have caused as much as two hundred fifty billion dollars in property damage and economic losses.
There have been over 3600 tornadoes in the state since 1950.
Unlike a hurricane that forms over the ocean, a tornado begins over the land. Tornadoes can happen in any season in Florida, whereas hurricanes tend to occur between June and November.
Residents of Florida are experiencing the effects of climate change on their landscape
Residents of Florida are experiencing the effects of climate change on their landscape, not just in the form of stronger hurricanes but also coral bleaching and algae blooms.
Coral bleaching and algae blooms negatively impact the delicate ocean ecosystem and the tourist industry that flocks to Florida's waters. Local environmental stewards are doing what they can to mitigate the effects of climate change on their beloved landscape by educating residents and tourists and advocating for the environment.
Florida can get cold at night
In contrast to Florida's radiant sun-filled days, the nighttime temperatures have been known to drop into the mid-twenties Fahrenheit. You may want to pack a light sweater in that suitcase!
The coldest recorded temperature in Florida was negative two degrees back in February of 1899, part of a nationwide arctic blast.
Florida is home to several frightening animals
From wild weather to wild animals, Florida has several interesting and frightening animals with their own fun facts. Aside from the Florida alligator, did you know there are estimated to be more than ten thousand pythons living in Florida? The python is an invasive species, and the state has struggled to control the population.
Florida has game laws to control the python population
It is no wonder why Florida struggles to control the python population. In July 2023, a python nest was found containing 111 eggs. If every egg were to hatch a live snake that lived until maturity, one hundred eleven additional pythons would be added to the already out-of-control population.
As a result of the out-of-control python population, Florida game laws allow these snakes to be hunted and killed at any time throughout the year.
There are over a million alligators in Florida waters.
Keeping up in numbers with the python population is the alligator population. Another interesting fact about Florida is that there are over a million alligators in Florida waters.
As if that wasn't enough amphibious creatures, the crocodile population numbers in the thousands. The alligator is the one you would most likely see on a golf course or the grassy yard of your vacation rental.
The Everglades is a one-of-a-kind ecosystem; there is no other place like it on Earth.
Spanning over 7500 square miles in southern Florida, pythons, alligators, and crocodiles live across the Everglades system. There are many other animals to see, such as herons, manatees, turtles, and sharks. This unique ecosystem has a tourism industry dedicated to exploring all its waters for those brave enough.
Everglades tourism generates millions of dollars per year.
Everglades National Park offers kayak or canoe trips, trails for walking, an observation tower for a stunning view of the park, and numerous Everglades airboat tour opportunities.
The Emerald Coast of Florida has green water because of minerals that wash downstream into the ocean
The Emerald Coast of Florida includes the panhandled portion of the state, extending west from the state capital Tallahassee toward the Alabama border.
The water is green in color because of minerals that wash downstream into the ocean. Cities such as Destin, Pensacola, Miramar, and Panama City Beach pepper the panhandle and offer stunning water views.
Fort Walton Beach is home to Eglin Air Force Base
Nearby, Fort Walton Beach is home to Eglin Air Force Base. This base is the epicenter of testing, development, and sustainment of all air-delivered weapons, except nuclear weapons.
The base also tests aircraft for severe weather capabilities. Several Hollywood movies have used the base and its planes as sets and props.
Fishing is where Destin, Florida, got its start.
Its humble beginning as a fishing town is in stark contrast to the gorgeous tourist and retirement destination Destin has come to be. There are now properties worth millions. A simple internet search will reveal properties listed for as much as 14 million dollars.
The Florida manatee is the state's pride and joy
The manatee, otherwise known as the sea cow, is the lovable round face of Florida's waters. This plant-eating marine animal makes its home in shallow, warm waters of the Gulf of Mexico system.
A tourist favorite, there are opportunities to kayak and observe the manatee from above or get into the water and observe them from a distance.
Florida has two categories of marine animals: fresh and saltwater
When talking about native marine animals, Florida has two categories: fresh and saltwater.
Freshwater fish include bass, crappie, sunfish, and eel. Saltwater fish include tuna, grouper, mackerel, dolphin, and shark.
If you lose interest in the beach and the water, there is still plenty to do in Florida. Museums such as the Salvador Dali Museum in St. Petersburg offer an air-conditioned glimpse into the mind-bending art of the famed painter. You can view some of his most famous works and rare pieces for a fee.
The Hemingway House is a treat for writers and fans of Ernest Hemingway.
The home and the museum in Key West are open to the public for a fee. Guided tours of the house and the grounds include glimpses of the famous multi-toed cats that roam the grounds.
Writers can book a private stay in the studio where Hemingway wrote some masterpieces.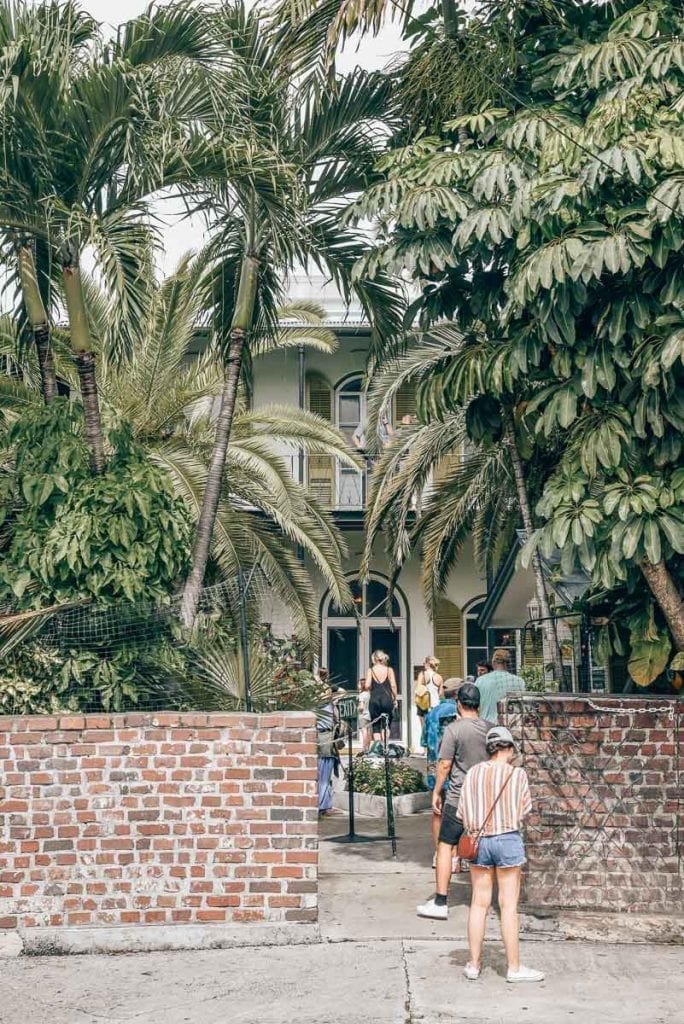 Florida is one of 4 states with two National Hockey Leagues
One of four states with two National Hockey League teams, Florida is home to the Stanley Cup Winning Tampa Bay Lightning and the Florida Panthers, who had a stunning 2023 season that resulted in a trip to the Stanley Cup Finals.
While they did not win the championship, the Panthers let the world know they are not just the other NHL team from Florida.
It is the only state with an over-the-sea highway.
US Route 1 runs begins on land in Miami and runs over the water to connect people with the islands of the Florida Keys. We had a great time on our Miami to Key West drive and would highly recommend it!
The highway is a tourist destination in itself; some people plan trips specifically to drive this stretch of road with or without visiting the surrounding islands and towns.
Driving is a necessity in most parts of the state.
Florida ranks second nationally in the greatest number of car rentals, behind California in first and ahead of Texas in third. While many of Florida's beach towns and coastal cities have walkable areas, tourists and residents must drive almost everywhere to experience the state.
Animal mascots abound in Florida's colleges and universities.
Maverick the Manatee of the State College of Florida, Nellie The Dolphin of Jacksonville University, and Owlsley of Florida Atlantic University pump up the collegiate sports fans by dancing and interacting with the crowd.
Florida has been making the news lately because of its legislative decisions that negatively affect some of its residents.
Politically, most Florida registered voters are Republican, with over five million voters. Democrats come in second with over four million registered voters. In comparison, over three million registered voters in Florida have no party affiliation.
Four out of every ten people in Florida are 55 or above.
It has a booming housing industry dedicated to creating and maintaining communities customized to the needs and wants of those aged 55 and above, retired or not.
The housing in these communities is diverse, from single-wide manufactured homes to six-digit condos and townhomes to million-dollar single-family dwellings.
Florida boasts over six hundred communities that have rules regarding "55 and up."
The first qualifier for residency in these communities, run by homeowners' associations or property management companies, is that the occupants must be aged 55 or older to rent or buy property there.
Sometimes these communities are gated. Many have a community pool, recreation room, tennis, or racquetball court.
With that many aging folks, the healthcare industry in Florida is ready and able to provide care in every area.
There are over three hundred hospitals or medical centers in the state. Specialty areas such as cardiology and orthopedics are also well represented. For those seniors who need assisted living, in-home care, or nursing home care, there is plenty of senior care facilities and companies to choose from in Florida.
Florida is a temporary home for retirees looking to get away from their permanent homes in the colder climates.
They are called snowbirds because they migrate to the warmer southern weather from their colder northern climate each winter. Florida is the number one destination for snowbirds, along with the Carolinas, Texas, and Arizona.
But you don't have to buy a home to snowbird in Florida. There are many long-term rental options to choose from.
It sometimes does in fact snow in Florida
Speaking of snow, although rare, it does snow in Florida. Certainly not a white Christmas, but enough to give the local meteorologists something to discuss.
The most amount of snow ever recorded in Florida was about four inches in the mid-1950s. Looking at the bigger picture, Florida averages zero inches of snow per year.
The state of Florida has been named the fishing capital of the world.
There are opportunities for fishing in freshwater and saltwater, rivers, streams, and the ocean. You can fish for small marine creatures like bass or large marine animals such as sharks.
Most of the catch is edible, and there are fishing charters that offer the chance to catch your own dinner.
It is also the boating capital of the world
The fishing capital of the world would be nothing without boats. Also known as the boating capital of the world, there are over a million registered recreational boats in the state.
With bays, rivers, lakes, and an extensive canal system that leads to the ocean, boating is a popular hobby in the Sunshine State.
The name Florida means flowery in Spanish.
Because of its tropical climate, there are beautiful flowers that bloom all year round. Milkweed, Passionflower, and Black-Eyed Susan are native to Florida.
Even the invasive species are easy on the eye. Invasive species include Skunk vine, Coral Vine, and Water Hyacinth.
The official State flower is the orange blossom.
The blossom of the orange tree is a super fragrant flower. It has an abundant presence in central and southern Florida. Florida has over 560,000 acres of orange grove and over 70 million orange trees. These trees blossom in early to late spring, perfuming the surrounding air.
The State Wildflower is the Coreopsis.
It grows wild on the sides of roads and highways in brilliant yellow, gold, and pink hues. They can grow one to two feet high and spread one to two feet in diameter.
They attract small birds, butterflies, and bees. It is a popular flower to use in Florida landscaping because it is easy to grow and thrives in heat and humidity.
Florida has fifteen cities with names that contain two consecutive letters L.
Such as Tallahassee; six cities that start with the word Fort, such as Fort Lauderdale; five cities that begin with St., such as St. Augustine and five that start with the word winter, such as Winter Haven. And remember the tongue-twisting Caloosahatchee River or Lake Okeechobee.
St Augustine, Florida, is the oldest continuously occupied settlement in the continental United States.
St Augustine was formed in 1565 by Spanish settlers. It is a tourist spot for history lovers with its original streets and buildings. It is also a destination for ghost hunters due to its rich haunted history.
Over one hundred and sixty-five movies have been filmed in the Sunshine State.
The year-round good weather and tropical climate make this state a good choice for filming a movie.
Florida has its own Hollywood
North of Miami, on the Atlantic Ocean, sits Hollywood, Florida. Instead of glitz, glamour, and famous movie stars, it boasts tropical weather, white sandy beaches, and turquoise blue water.
It is home to over one hundred fifty thousand people. It ranks just as entertaining as Hollywood, California, with museums, fine dining, gorgeous beaches, and water sports galore.
See more: Fun Facts about Miami
Looking to take a cruise?
There are six cruise terminals scattered across the coastline. These ports serve as arrival and departure spots for major cruise lines and host thousands of passengers annually. They operate year-round because of the demand for good weather from nearby Caribbean islands.
You can visit Florida and Bahamas in the same day
Want to visit Florida and the Bahamas on the same day? Well, now you can. A ferry from Miami, Florida, to Bimini in the Bahamas, is available.
For a few hundred dollars, you can leave Florida in the morning, spend a few hours on the beach in the Bahamas and be back in Florida by evening. With a snack shop and full bar aboard the ferry, it seems a good way to spend a day.
Florida is a popular destination for beachgoers during Spring Break,
Florida hotels, campgrounds, and vacation rentals cater to this crowd during February, March, and April, hoping to benefit from the money this unique group of tourists brings each year.
Some of the most popular and well-known spring break spots are Daytona Beach and Panama City Beach. But Miami, Clearwater, St. Pete's, Cocoa Beach, and Key West also see their fair share of Spring Break visitors.
NASCAR and NASA are both represented in Florida.
Daytona Speedway is a major attraction as it annually holds the Daytona 500 car race. NASA has two locations, Cape Canaveral and nearby Merritt Island.
Cape Canaveral is famous for its shuttle and rocket launch pad. Kennedy Space Center is located on Merritt Island and is open to the public for tours.
***
See more Florida: