Looking to visit Alexander springs recreation area? What a great choice.
Because of the thick, water-filled limestone lying beneath its surface, Florida has more large springs than any other state or even any other country in the world.
Alexander Springs is a first magnitude spring located in Lake County, FL. A first magnitude spring is the largest type of spring there is. To be classified as first magnitude, a spring must discharge at least 64.6 million gallons of water a day.
Alexander springs discharges 80 million gallons of water per day, which is an enormous amount. There are a total of 75 First Magnitude Springs in the United States and 33 of them in the state of Florida. These 33 springs are scattered across the panhandle and northern peninsula of FL.
Most of Alexander Spring is a hardwood swamp forest, which is a type of deciduous forest wetland. These types of wetlands serve a critical role in reducing flooding in downstream communities. They also naturally assist in improving the quality of the water by filtering nutrients, processing organic wastes and slowing the amount of sediment that reaches open water.
Two hundred years ago, these types of wetlands covered much of the South-eastern United States, spanning close to thirty million acres. Today, sadly, only about 40 percent of the thirty million acres still exists. The spring feeds a 7-mile river that visitors flock to in order to enjoy water activities, the cool water, wildlife and the breathtaking scenery.
Alexander Springs Recreation Area
Alexander Spring Recreation Area is part of the Ocala National Forest, the second largest nationally protected forest in FL. This area attracts visitors from all over the world as it is one of the best springs in Ocala.
At Alexander Spring visitors can enjoy a huge list of activities and it offers one of the best swimming holes in the state. The water there remains a constant temperature of 72 degrees the entire year.
The three-hundred-foot wide, fresh water spring is crystal clear and has a beautiful sandy bottom. If you look towards the northeast corner of the spring, you will find the head spring. The head spring is hard to miss because it is a breathtaking, turquoise color. This is where the spring is fed with 56 thousand gallons of water bubbling out every second!
The headspring has a rocky entrance with a twenty-five-foot-deep slope. The vegetation around the spring provides a relaxing tropical feeling. There are steps to assist visitors into the spring safely and a retaining wall that separates a picnic area and sandy beach area from the spring.
The parks facilities are contracted out to a private concession company. You can grab lunch or anything else you may need from the concessionaire. They sell food and have a convenience type store with an offering of snacks, personal items, beach items and more.
They also offer rental services where you can rent kayaks, canoes, scuba gear and other equipment for use at the park. You can also register to snorkel at the concession store (for an additional fee).
Please keep in mind that the concessionaire has recently been taken over by a private concession company, called Adventure Ocala. They currently are not opening the concessions all year long. They are usually open all summer though. There have also been recent COVID-19 restrictions on what items are available for purchase so if you are concerned about this, it may be a good idea to call ahead.
Planning a Visit to Alexander Springs State Park
Where is Alexander Springs? 49525 County Rd 445, Altoona, FL
Alexander Springs State Park is located about 6 miles northeast of Florida State Road 40 where it intersects County Road 445. There is no off season when visiting Alexander Springs since it is open year-round.
The busiest time of the year for visitors is usually January through May. During the busy time of year, it's a good idea to arrive at the spring early to avoid large crowds. There is a limit to parking spaces at the park.
The park is open from 8AM to 8PM daily but may close earlier depending on the season. It is always a good idea to check with the park when planning a trip. The park gates are closed and locked from 8PM to 8AM but campers get a code for the gates that allows 24-hour access.
If you are going to visit Alexander Springs, you should be aware that there is a fee for entry. If you visit on a weekday, it will be cheaper than a weekend. There are also yearly passes you can purchase if you plan on returning throughout the year.
The Annual Day Use Pass is good for one year from the month of purchase and will allow you entry to Alexander Springs Recreation Area, Juniper Springs, Silver Glen Springs, Clearwater Lake, and Wildcat Lake. This pass can be purchased at the Adventure Ocala concessionaire located at Alexander Springs, Juniper Springs and Silver Glen Springs.
The fees for entry are as follows:
Weekdays: $8 plus tax, per person
Weekends: $11 plus tax, per person
Annual Day Use Pass: $70 plus tax, person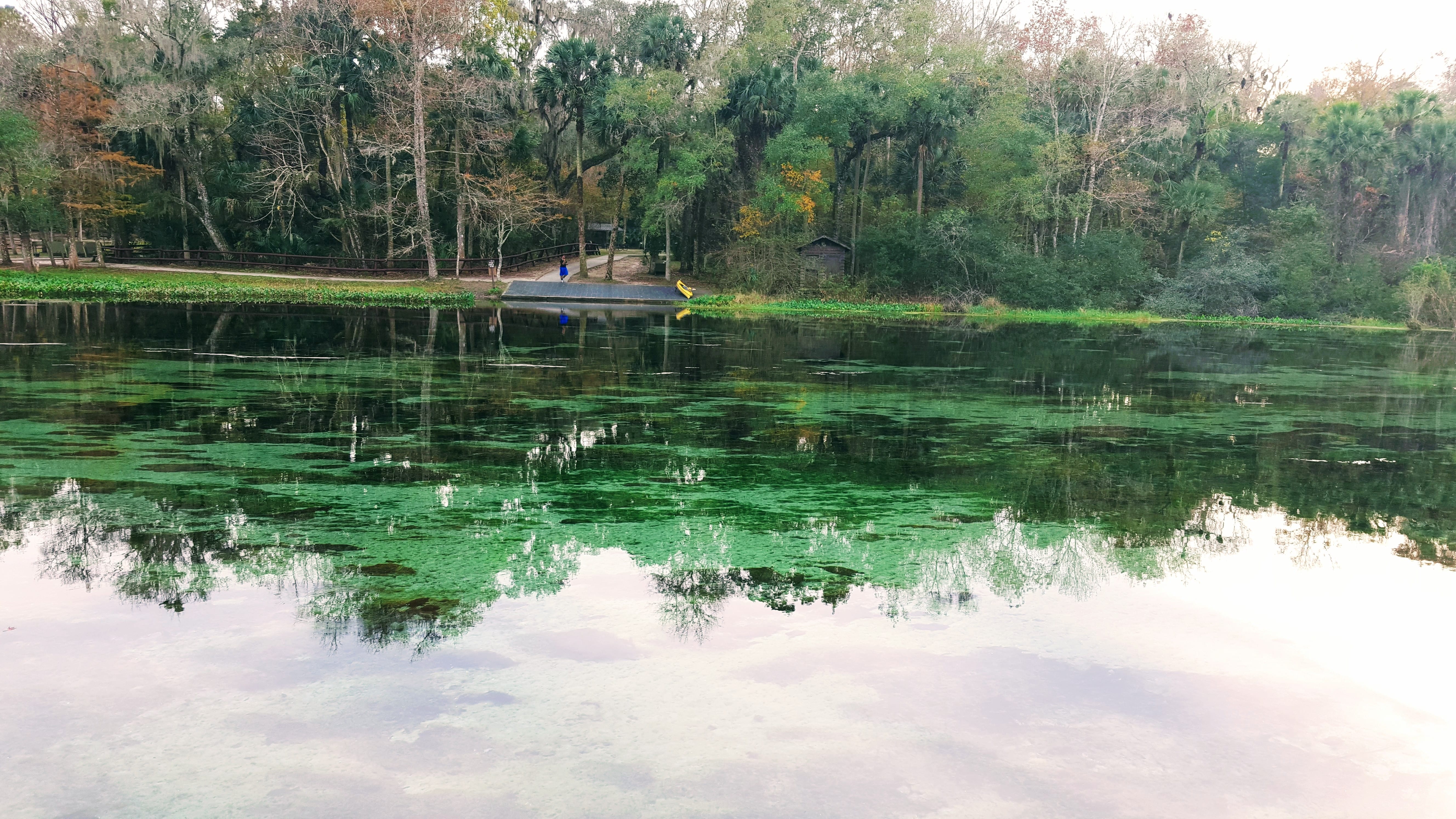 Activities at Alexander Springs
If you are planning on visiting Alexander Springs, you can enjoy an action-packed trip or a relaxing day. There are activities for everyone regardless of what you are looking to do during your visit or how long you wish to stay.
The most popular activities are swimming, biking, picnicking, hiking, canoeing, bird watching, wildlife viewing, snorkeling and scuba diving.
Alexander Springs has been a popular swimming hole in Florida for at least 10,000 years. The large swimming area is a very natural setting that seems almost untouched.
The ancient Timucuan tribe used the spring for the same thing as visitors today, a cool spot to cool off and take a dip. The spring is a very broad, shallow basin with crystal clear water and a beautiful sandy bottom. It is the perfect place for families to swim. The sandy beach area is a nice place to catch some rays after you take a dip in the cool water and the picnic area right next to the beach is a great spot to refuel midday.
Hiking at Alexander Springs
If you enjoy hiking you will want to check out the 1-mile long Timucuan Nature Trail at Alexander Springs Recreation Area. The paved trail loops through a scenic display of four distinct habitats that include aquatic, swamp, Oak Hammock and Sand Pine Scrub environments.
Throughout your hike you will see informational signs describing the plants that the Timucuan tribe used.
Different portions of the trail are made of elevated boardwalks to take you over streams and thick vegetation. You will see different species of wildlife in their natural habitats throughout the hike.
The trail also includes two observation platforms where you can take in a beautiful view of Alexander Creek. You can even cast a line if you are looking to enjoy some fishing after a hike.
Alexander Springs Camping
Alexander Springs Recreation Area offers a very enjoyable camping area for visitors. The campground is just a short, easy walk away from the Alexander Springs' swimming area and picnic area.
The campground is set under a naturally shaded canopy of trees. The campground has in total 67 camp sites. The camp sites can accommodate tent camping as well as camping in a recreational vehicle.
If you are planning to visit in an RV the campground offers sites that can accommodate RVs up to 35 feet. Amenities the campground offers includes hot showers, flushable toilets, a baby changing station, a dishwashing area, a public telephone with an email modem, and a dump station where you can dispose of your trash.
There are no electrical, sewer or water hook-ups available. All sites include a tent area, picnic table, barbecue grill, fire pit and a lantern post. There are private concessions available to the public that offer ice, charcoal, groceries, snacks, firewood, items needed for the beach as well as various personal items. ATVs and off-road vehicles are not allowed at the park. Due to the fact that racoons and bears that frequent the area, you must keep all food in a container.
If you decide to camp at Alexander Springs, the longest you can stay is up to 14 days in a 30-day period. Half of the campsites here are available on a first come first serve basis and the other half require a reservation in advance. For reservation only sites you must make a reservation at least four days before your stay. On weekends you must stay at least two nights and on holiday weekends you must stay at least 3 nights.
If you are going to be arriving at the park after 6:00 PM, they ask that you call ahead to be let into the gate. You are allowed to have up to 5 people per campsite and two vehicles. Extra vehicles will need to park in the overflow parking lot. The cost to park there is $10.00 per vehicle, per night. Check out is at 1 PM and guests who stay past this time will be charged a fee.
More information on camping can be found here.
Hotels near Alexander Springs
If you are not the camping type but still want to enjoy the spring for more than a day, then there are some hotel options nearby to choose from.
Historic Artisan Downtown Hotel
The closest option is the Historic Artisan Downtown Hotel, located in Downtown Deland, FL right in the vibrant Arts, Culture and Entertainment District. This is a unique, boutique style hotel that has amazing reviews.
The hotel is designed with modern elegance and offers a selection of boutique suites. If you are looking to grab a drink and a bite to eat, there is a bar right in the hotel that serves food. The hotel is within walking distance from a variety of great restaurants and cafes as well as state parks, museums and different shops.
Book your stay here.
You could also check out the nearby Hampton Inn and Suites Deland. This hotel offers a fitness center, a swimming pool, a business center and free internet.
Enjoy Hampton Inn's free breakfast that is served every morning. It offers things like fresh oatmeal with different toppings, sausage, bacon, eggs as well as cold breakfast items like cereal and yogurt.
If you are in a rush in the morning and don't have time to sit and eat, you can grab one of their trademark "Hampton On The Run" breakfast bags, so you don't have to miss the most important meal of the day.
Book your stay here.
Hontoon Landing Resort and Marina
A third nearby option is the Hontoon Landing Resort and Marina. This marina style resort is located on a bend in the St John's River. It is located right across from Hontoon Island State Park.
The resort offers 18 riverside rooms on a 3-acre property and most of the rooms are equipped with a kitchen. The resort offers tours and boat rentals. There is a deli at the resort that serves breakfast and lunch and is open from 8AM to 4PM daily.
They also have an onsite store with a dining room or you can choose dine out on the Deck that overlooks the beautiful St. John's River.
The grounds are beautifully landscaped and offer a nice swimming pool for the guests. Regardless of where you choose to stay, all of these hotels are just a short drive to Alexander Springs Recreation Area.
Book your stay here.
Wildlife at Alexander – what are you likely to see there?
At Alexander Springs you will encounter many different species of natural wildlife. In the heavy woods surrounding the springs, you will encounter white tail deer, turkeys, squirrels and racoons. You will likely see Black bears if you are camping at Alexander Spring since the park is in what's considered "Bear Country". Black bears are usually shy and tend to keep their distance however it's always a good idea to make noise while walking around in the woods.
You should be prepared and keep food in bear safe containers. You should also dispose of any trash if you are leaving the site during the day and at night. If you do see any bears try to make loud noises to scare it away.
While visiting Alexander Springs you will see many different species of birds. Some examples of species that are more common here include the Florida Scrub Jay, Sandhill Cranes, Turkey Vultures, Downy Woodpeckers, American Crows, Tree Swallows, Northern Cardinals and American Robins. If you are lucky however, you may look up and catch a glimpse of the less common Bald Eagles or the Swallow-tailed Kite, soaring high in the sky.
Throughout Alexander Springs you may run into alligators or snakes in the woods as well as near and in the water. It's a smart idea to listen to all guidelines to lessen your chances of an encounter with any dangerous species like alligators or snakes. Snakes can be dangerous whether they are poisonous or not. If they feel disturbed or threatened, they may strike.
It's a good idea to keep your distance and be careful when walking in dense underbrush and never swim in or near thick vegetation. To avoid encounters with alligators it is recommended that when you are swimming you should always stay inside the floating water markers that outline the swimming area. It is also a good idea to stay away from any thick vegetation. This is to avoid the areas where alligators are more likely to frequent.
In and near the water you will also see otters, wading birds and countless types of turtles. There are also many different species of fish. You can register to snorkel at the concessionaire (for a fee) and head over to the head spring.
You will see many different fish species and swim alongside them in the crystal-clear waters of the spring. This area is a flourishing ecosystem and these are just examples of some of the species you will find here.
Frequently Asked Questions about Alexander Springs Recreation Area
Can you park at Alexander springs?
There is paved parking available at Alexander Springs. There are even spots to accommodate large vehicles. Keep in mind that the parking lot gets overcrowded on busy weekends so it's best to arrive early.
Are there manatees at the spring?
Unfortunately, there are no manatees in Alexander Springs.
Are there alligators at the spring?
Alligators are known to be spotted in the spring as well as the area surrounding the spring. It is a good idea to avoid an alligator encounter by avoiding the banks of the spring when swimming as well as to never swim in or near thick vegetation.
Does Alexander Springs Take Credit Cards?
They now accept credit cards, debit cards and cash at Alexander Springs at the Main Gate for admission to the park. The concessionaire is not open year-round anymore and is only open in the summer. When they are open, they also accept those forms of payments.
Can you drink at the springs?
Alcohol is permitted in the campground but not in the day use recreation areas including the spring and the trails.
Dog and Pet Policy at Alexander Springs
If you are planning on bringing your pet with you to Alexander Springs you may want to check the park rules. If you are planning on camping at Alexander Springs, you are able to bring Fido along because dogs are allowed to stay with you at Alexander Springs campground.
However, dogs are not permitted to go to the actual spring itself or the day use area. This is due to many reasons with one of the main reasons being the fear of your pet spotting a gator or other dangerous animal and getting hurt.
No animals, except registered service dogs, are permitted in any day use areas or the springs. If you do bring your pet, they must stay with you at the campground and must be kept on a leash no longer than six feet at all times unless they are inside your vehicle. It is recommended that you tie your dog to a tree in a shaded area at your site and give them lots of attention to lessen any barking.
Always make sure your dog has plenty of water and can get out of the sun it it gets too hot. You are allowed to bring your dog with you on a hike down the trail just remember this is a shared trail and you may encounter other hikers, bicyclists or even horseback riders. Make sure you keep the leash short in crowded areas of the trail.
Further interesting information – History of Alexander Springs Ocala
Alexander Springs and the area surrounding it, has a very rich Native American history. There are historic Native American sites that have been discovered over the years that date all the way back to 12,000 B.C. This is the time when Paleo-Indians inhabited the area along with mammoths.
There is evidence that from 4000 to 6000 B.C., hunter-gatherers emerged and deposited snail-shell middens, or large mounds of snail shell waste, all along the St. Johns and Ocklawaha rivers as well as along the spring runs.
In the 1600s the first Spanish settlers were recorded. Unfortunately, the new settlers caused war and disease to wipe out most of the local Native Americans. During the 1700s through the 1900s more British and Spanish arrived here and created large settlements. Through slavery Africans were brought here as well to live and work on the settlements.
Alexander Springs is connected to the St. John's River by Alexander Springs Creek. Alexander Spring Creek began showing up on maps as early as the 1830's. The creek was nationally declared a navigable waterway and was federally recognized in 1895.
From that point on the springs kept gaining national importance. During World War II Civilian Conservation Corps projects were brought to the forest as well as practice areas for U.S. Air Force students to practice dropping bombs. The Civilian Conservation Corps initially constructed the facilities at Alexander Springs in the 1930s and since that time its administration has been under the United States Department of Agriculture Forest Service (or USDAFS).
In 1946, after World War II the secretary-manager of the Lake County Chamber of Commerce, Karl Lehmann, began an initiative to create a public recreation area around the springs. He persuaded the Florida Parks Service, the Lake County Commission, the United States Forest Service, the Florida Forest Service and the State Road Department to join forces and create a place where visitors could enjoy all the spring had to offer.
It took several years for everything to come into place and in 1953 the Alexander Spring Recreation Area was finally open for the public to enjoy. By 1963, ten years later, the park had reached a million visitors.
***
More Springs in Florida: