Looking for things to do in Islamorada when it rains? You have come to the right place!
Islamorada, located in the heart of the Florida Keys, is renowned for its stunning beaches, outdoor adventures, and crystal-clear waters. However, even in this tropical paradise, occasional rain showers are part of the experience.
Fortunately, Islamorada offers a variety of indoor activities and attractions that can keep you entertained when the weather takes a turn. In this guide, we'll explore 10 enjoyable indoor activities in Islamorada when it rains.
8 Fun Things to do in Islamorada when it Rains!
1. Visit the History of Diving Museum
The History of Diving Museum is a fascinating destination for those interested in the maritime history of the Florida Keys. This museum showcases the evolution of diving equipment, the exploration of shipwrecks, and the stories of daring underwater adventurers.
You can immerse yourself in the world of underwater exploration and gain a deeper understanding of the Keys' rich diving heritage.
It is a great place to go when it rains but honestly it is one of the best things to do in Islamorada regardless of the weather.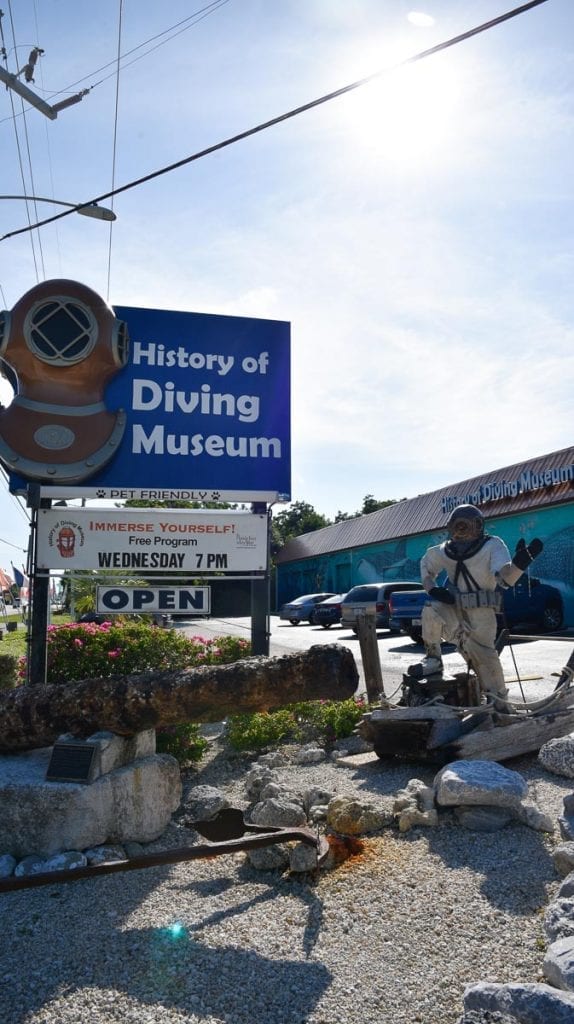 2. Discover the Rain Barrel Sculpture Gallery
The Rain Barrel Sculpture Gallery is not only an art gallery but also a fantastic place to explore on a rainy day.
It features a captivating collection of sculptures, including a giant lobster, tropical fish, and other marine-themed artworks. You can enjoy the creativity of local artists and even purchase unique pieces to take home as souvenirs.
3. Go Shopping
Islamorada boasts a variety of boutiques and shops where you can indulge in some retail therapy. From boutique clothing stores to souvenir shops, you can find treasures to remind you of your time in the Keys.
Be sure to explore local art and craft shops for one-of-a-kind gifts and mementos. A good option is the Lobster Trap Art Gift Shop and Gallery.
4. Visit the Florida Keys History and Discovery Center
The Florida Keys History and Discovery Center is a captivating museum that offers insights into the cultural and natural history of the region.
Exhibits cover topics ranging from Native American history to the impact of hurricanes on the Keys. It's an educational and engaging way to spend a rainy day while gaining a deeper appreciation for the area's history.
5. Visit the best restaurants in Islamorada
Rainy days are the perfect excuse to explore Islamorada's culinary scene.
Head to local restaurants and indulge in fresh seafood, tropical cocktails, and Key lime pie—the quintessential dessert of the Florida Keys. Enjoy the flavors of the region while sheltering from the rain.
Here are some of our favorite restaurants in Islamorada that you can check out.
6. Visit the Islander Resort Spa
If you're in need of relaxation and pampering, consider booking a spa day at the Islander Resort Spa or another local wellness facility.
Treat yourself to massages, facials, and other rejuvenating treatments while listening to the soothing sounds of rain outside.
7. Watch a Movie at Tavernier Cinema 5
Islamorada has a few theaters where you can catch the latest movies on the big screen. Spend a rainy afternoon or evening watching a film, snacking on popcorn, and escaping into the world of cinema.
Tavernier Cinema 5 is only 13 minutes drive away and a good choice for some indoor fun.
8. Explore Nearby Museums and Attractions
While Islamorada itself offers plenty of indoor attractions, you can also take advantage of the rainy weather to explore nearby areas.
Key West, for example, is about a 1.5 to 2-hour drive away and offers an array of museums, historic sites, and indoor attractions such as the Ernest Hemingway Home and Museum, the Key West Aquarium, and the Key West Butterfly and Nature Conservatory.
While Islamorada is known for its outdoor beauty and activities, there are still plenty of enjoyable things to do when the weather doesn't cooperate.
From exploring museums and art galleries to indulging in local cuisine and enjoying indoor watersports, you can make the most of your time in this tropical paradise, rain or shine. Remember that sometimes the best memories are made when you discover hidden gems and unique experiences during unexpected rainy days in paradise. If you are a couple in Islamorada you might to check out the most romantic things to do in Islamorada for couples.