Is Islamorada worth visiting?
Islamorada, a small chain of islands nestled in the heart of the Florida Keys, has long been a destination that captures the hearts of travelers seeking a taste of paradise. Known as the "Village of Islands," Islamorada beckons visitors with its pristine beaches, crystal-clear waters, and an abundance of outdoor activities.
In this blog, we will consider if Islamorada is worth visiting, taking into account its natural beauty, recreational opportunities, culinary delights, and unique culture.
So keep reading as we discuss the question – is it worth going to Islamorada?
Is Islamorada worth visiting?
1. Natural Beauty: A Tropical Paradise
The first thing that strikes anyone who sets foot on Islamorada is its breathtaking natural beauty. The Florida Keys, of which Islamorada is a part, are renowned for their stunning turquoise waters, abundant marine life, and lush, tropical landscapes. The islands of Islamorada are no exception, offering visitors a chance to immerse themselves in nature's wonders.
One of the most notable things to do in Islamorada is the John Pennekamp Coral Reef State Park, the first underwater state park in the United States. Here, visitors can explore the mesmerizing underwater world through snorkeling and scuba diving, getting up close to vibrant coral reefs, exotic fish, and even shipwrecks. The park's glass-bottom boat tours also provide a unique perspective on the underwater realm, making it accessible to those who prefer to stay dry.
In addition to its underwater wonders, Islamorada boasts pristine beaches such as Anne's Beach and Founders Park, where you can relax on the soft, sandy shores while gazing at the endless expanse of the Atlantic Ocean.
The area's picturesque sunsets are nothing short of spectacular and offer a perfect backdrop for romantic evenings or quiet contemplation.
Fun Fact: Many scenes from the TV show bloodline were filmed in Islamorada!
2. Recreational Opportunities: A Haven for Adventure Enthusiasts
For adventure enthusiasts, Islamorada is a playground that offers an array of recreational opportunities. Whether you're into water sports, fishing, or exploring the surrounding wilderness, there's something for everyone.
Fishing enthusiasts flock to Islamorada, which is often called the "Sportfishing Capital of the World." The warm waters surrounding the Keys are teeming with diverse species of fish, making it a prime location for both recreational and professional anglers. Whether you're seeking to catch trophy tarpon, bonefish, or marlin, Islamorada has experienced guides and charter services to help you make the most of your fishing adventure.
Water sports like kayaking, paddleboarding, and kiteboarding are also popular in Islamorada's calm and clear waters. The islands' tranquil bays and channels provide ideal conditions for novices and experts alike to explore the coastline and encounter marine life up close.
On land, the nearby Everglades National Park offers opportunities for hiking, birdwatching, and wildlife photography. You can also embark on an eco-tour to discover the unique flora and fauna that call this pristine wilderness home.
3. Culinary Delights: A Gastronomic Journey
A trip to Islamorada is incomplete without savoring its culinary delights. The local dining scene offers a mouthwatering blend of fresh seafood, tropical flavors, and international influences.
Seafood aficionados will delight in the abundance of restaurants serving dishes made from freshly caught fish and shellfish. Whether you're dining at a casual seafood shack or an upscale waterfront restaurant, you can expect to taste the essence of the Keys in every bite. Don't forget to try conch fritters, stone crab claws, and the famous Key lime pie—a true Florida Keys delicacy.
Beyond seafood, Islamorada's dining scene is diverse, offering a fusion of Caribbean, Latin, and American cuisines. You can enjoy delicious meals at quaint local cafes, upscale dining establishments, or even food trucks that serve up a variety of flavors to satisfy every palate.
4. Unique Culture: A Blend of History and Artistry
The culture of Islamorada is a unique blend of history and artistry, reflecting the influence of Native American, Bahamian, and Cuban communities that have shaped the region over the centuries.
A visit to the History of Diving Museum offers insights into the maritime history of the Keys, with exhibits showcasing vintage diving equipment, shipwreck artifacts, and stories of daring underwater explorations. The Keys were once a hotspot for treasure hunters, and this museum offers a fascinating glimpse into that adventurous era.
Islamorada is also home to a vibrant arts community, with numerous galleries and studios featuring the work of local artists. The island's natural beauty serves as inspiration for many painters, sculptors, and artisans, and you can explore their creations while strolling through the charming streets of the village.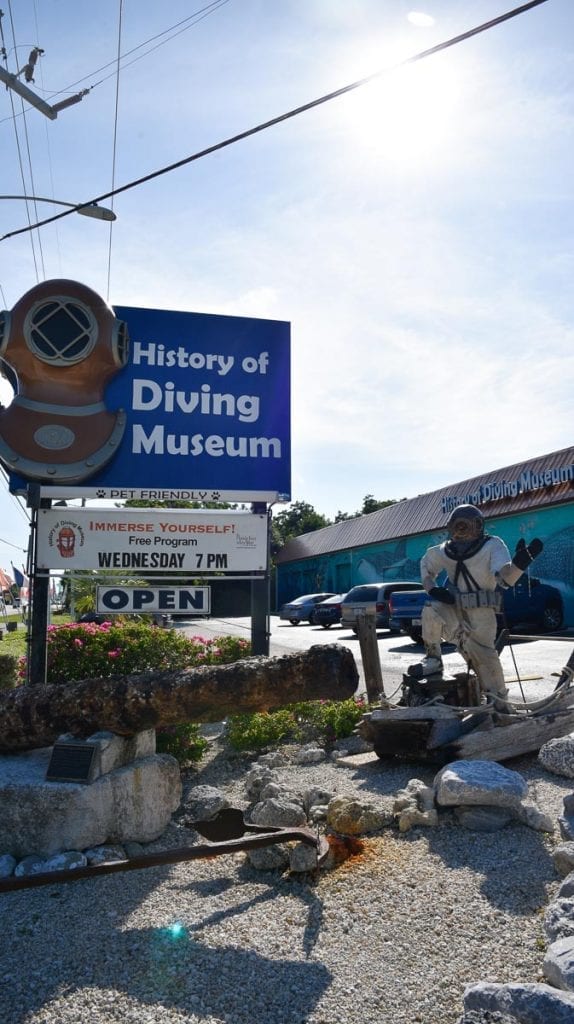 Conclusion: is it worth going to Islamorada?
In conclusion, a trip to Islamorada is undeniably worth the journey. Its natural beauty, recreational opportunities, culinary delights, and unique culture make it a destination that appeals to a wide range of travelers.
Whether you're seeking relaxation on the beach, thrilling adventures on the water, yummy seafood, or a taste of the Keys' rich history and culture, Islamorada has it all.
It's a place where you can unwind, explore, and create lasting memories, and it's sure to leave you with a deep appreciation for the enchanting beauty of the Florida Keys. So, pack your bags and embark on a journey to this tropical paradise—it's an experience that's truly worth it.
It's usually nice and sunny in Islamorada but there's also quite a few fun things to do in Islamorada when it rains.