Looking for the best Best Snorkeling in Miami (and nearby?)
South Florida has become one of the biggest hot spot travel destinations in the world, particularly when it comes to water sports and marine life. What better way to combine the two than to go snorkeling in and around Miami, where you can see a wide range of flora and fauna while swimming at one of the most beautiful beaches in the United States?
If you're looking for reefs, wrecks, or bays, Miami is the place to find them and to have a once in a lifetime adventure. With clear turquoise water and a host of marine life from fish and barracudas to manatees and the occasional humpback whale, get your swimsuit ready for the experience of a lifetime in a city surrounded by beautiful, scenic areas for snorkeling.
We're breaking down the 13 best places to go snorkeling when you visit Miami. Whether in the city or just outside of it, these destinations are all worth taking the time to experience, and will create a vacation you'll remember forever.
13 Best Snorkeling Spots in Miami (and Nearby)
ADDRESS: 102601 Overseas Highway, Key Largo, FL 33037, USA
As the first underwater park in the United States, John Pennekamp Coral Reef State Park is notorious for almost 70 nautical miles of coral reefs and marine life. This state park can be found in the Upper Keys of Key Largo, and has been on the National Register of Historic Places since 1972. It has been open since 1963, getting its name from the Everglades conservationist John D. Pennekamp.
This park made the list because of the enriching experience that it offers. Before beginning to snorkel on your own, you will receive lessons, and afterwards you can choose to adventure out on your own or pay an extra fee for a guided snorkeling experience. All in all, this excursion will last you around two and a half hours, with the lesson filling up around an hour of time and your excursion being an hour and a half long, leaving you plenty of time to explore the reefs and experience the enriching marine life that this sanctuary has to offer.
While visiting, you can also head offshore inside the Florida Keys National Marine Sanctuary, where there are two different snorkeling locations to visit.
Additionally, snorkeling gear can be rented if need be, and those who want to have a private experience can do so by contacting the park ahead of time and requesting it.
Book your tour here.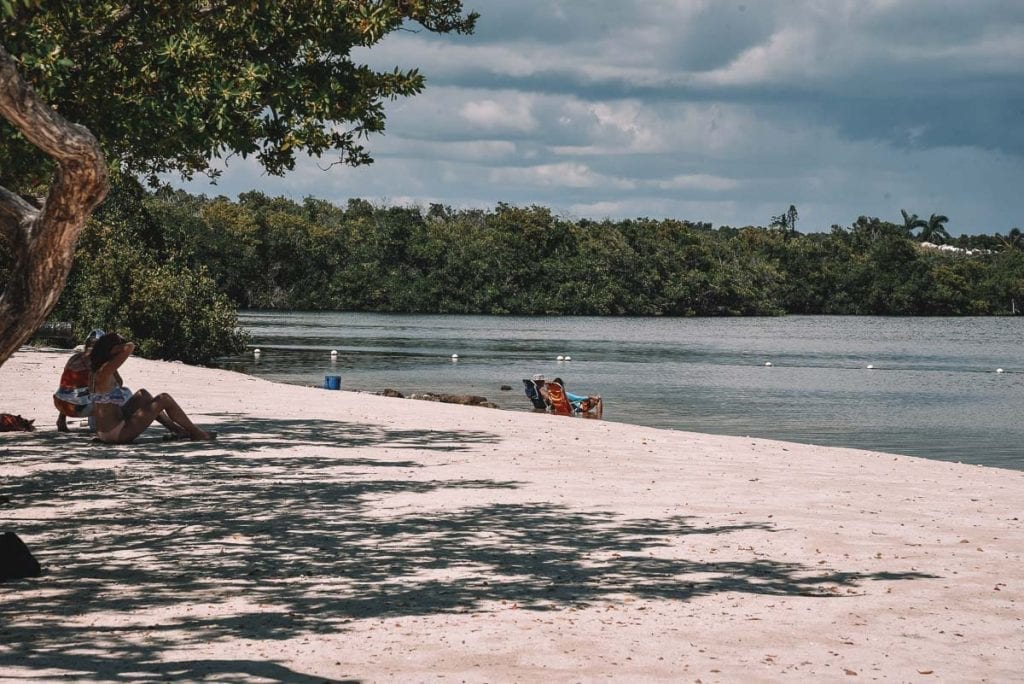 ADDRESS: 9700 SW 328th Street, Sir Lancelot Jones Way, Homestead, FL 33033
As one of the biggest places for snorkeling in the Miami area, Biscayne National Park is a can't miss experience. There are both half-day and full-day snorkeling trips available, which can run for up to three and a half hours long. The tour guides are extremely welcoming, and have been taught all there is to know about this area, making them extremely knowledgeable on all subjects related to the Biscayne National Park.
The unique part of this experience is being able to visit a wreck on days where the weather allows it. The Mandalay is one of the most famous wrecks in the area, and you'll be able to explore its remains while snorkeling at the site of the wreck. Among the wreck are colored fish who swim around in schools, circling the flora and fauna that have become native to this area. The Mandalay was a schooner that sank in 1966 on Long Reef.
In addition to seeing the local reefs, the marine life here is unmatched. On previous excursions, patrons have seen sea mammals that include stingrays, hogfish, yellow snappers, parrotfish, angelfish, and various colors of coral canyons. Those who are really lucky have also been able to see an Atlantic bottlenose dolphin, that is native to the area.
When you visit, make sure to keep an eye out for the large turtle population, who love swimming around in the crystal clear turquoise water. Without doubt one of the best places to snorkel in Miami.
Book your tour here.
#3 – Pompano Beach Drop Off
Located north of Miami, Pompano Beach Drop Off is a one of a kind experience that is worth the trip out of the city. It is around half a mile south of the Pompano Pier, and is home to an abundant amount of marine life. From various coral species to sea whips, sponges, and more, the Drop Off is known for its world class reef dives and wrecks.
This infamous place is well known by locals as the "Wreck Capital" in all of Florida, based on the fact that there are a high number of wreck dives in the Hillsboro Inlet. This Drop Off is over one full mile in length, and spans 25 mooring buoys, including Copenhagen and the Nursery.
The Copenhagen Archaeological Preserve can be found on one end of the reef, roughly around the fourth buoy, while ledges and undercut holes can be spotted on the opposite end. With a depth of around 15 – 26 feet, the Pompano Beach Drop Off is around three hundred and fifty yards from the shoreline.
See more: hidden gems in Miami
#4 – Vista Park Reef
ADDRESS: 18800 Vista Park Blvd, Weston, FL 33332, USA
PRICE: Free
The Vista Park Reef is a site to see when you're visiting Southern Florida. Found in North Fort Lauderdale, Vista Park Reef is an amazing place to check out the local marine life, which includes snappers, damselfish, spadefish, soft corals, grunts, and more.
Just 75 yards offshore, this Reef Park is extremely accessible to anyone looking to visit. From the beach access area of the shore, Vista Park Reef is easy to get to – just swim out and view the 100 yard wide, 18 foot deep area for yourself.
If you're new to snorkeling or are looking for somewhere new to experience, Vista Park Reef is the place for you – these shallow waters make it easy for anyone who is new to snorkeling to get their feet wet and get used to the experience before taking the plunge into harder snorkeling trips.
ADDRESS: Key West, Florida 33040
Although this location is 3 hours away from Miami, we wouldn't want anyone to miss out on the opportunity to see this breathtaking site. Located in Key West, Florida, Dry Tortugas National Park is made up of seven different islands, and is ranked on almost every list of Key West's best snorkeling spots. Snorkeling here is like nowhere else, and the variety of marine life will blow you away. From living coral to tropical fish in all colors, to queen conchs, starfish, and more, the marine life here is one of the parts of the experience.
These coral reefs are unique, in that they stretch all the way from the Atlantic Ocean to the nearby part of the Gulf of Mexico, making it the ideal spot for sightseeing underwater.
Between 5 and 15 feet deep, the water here makes it ideal for snorkelers of all ages and experience levels. No matter whether you're a pro or a beginner, everyone is able to enjoy their experience and take something positive away from their time there, even despite the shallow waters.
If you're someone who is extremely interested in snorkeling and wants to spend as much time in the water as possible, Dry Tortugas National Park offers an option to camp there, at their very own camping site. Don't forget to pack your own camping gear, and make sure to check their website, because the availability of their camp site depends on the season, weather changes, and any other factors that may prevent them from accommodating campers.
Book your tour here.
# 6 – Devil's Den Spring
ADDRESS: 5390 NE 180th Avenue, Williston, FL 32696
PRICE: $15 per person during the week, $22 per person on the weekends and holidays
If you're looking for a unique snorkeling experience when you come to Southern Florida, Devil's Den Spring is the place for you. As a pre-historic site with fossil beds over thirty-three million years old, this privately owned snorkeling and scuba diving business has been a main attraction to those looking for the ultimate snorkeling adventure.
With crystal clear water in a blue spring that is kept at 72 degrees year round, Devil's Den Spring features ancient rock formations that are covered in stalactites. All snorkeling sessions take place over 90 minutes, and this institution doesn't ask that you have any previous snorkeling experience, although all trips must be planned in advance. Devil's Den Spring asks that you bring your gear with you, or rent it from the facility for an additional charge.
See more: Christmas in Miami
# 7 – Blue Heron Bridge Waterway
ADDRESS: Blue Heron Boulevard, West Palm Beach, FL 33404
PRICE: Free
As one of the only fully free experiences on this list, Blue Heron Bridge Waterway provides the ideal experience for both snorkelers and divers. Found under the Blue Heron Bridge, this spot has been found to be a local hotspot, and has been known as one of the best shore diving places, not only in the Southern Florida area, but in all of the United States.
With no cost to dive or snorkel, this spot has a large marine life base, including sea robins, flying gurnards, dolphins, stargazers, batfish, seahorses, and even the Atlantic mimic octopus.
If you're an experienced snorkeler, the Blue Heron Bridge Waterway was made for you, since the public ground does not have any experts on hand to assist in case of an emergency. Generally, the time for snorkeling only lasts around an hour, due to high tide, so make sure to plan your trip accordingly.
# 8 – West Palm Beach
ADDRESS: 401 Clematis Street West Palm Beach, FL 33401
PRICE: Free
The name "West Palm Beach" may be familiar to you, but we doubt that you knew it was also one of the premier places to go snorkeling when you're visiting Southern Florida. As home to the third largest reef, this is one of the most beautiful areas to visit and many tourists enjoy snorkeling in the crystal clear waters. With shipwrecks, limestone formulations, and corals, West Palm Beach is a bucket list item for most tourists when coming to Florida.
In addition to its beautiful sands and clear water, West Palm Beach features several well known attractions, such as Red Reef Park, Peanut Island, and the Phil Foster Park. Away from the beaten path, you can also experience the Gulfstream Park and Coral Cove Park, which are less crowded than the others but feature the same beautiful flora and fauna of their more well known counterparts.
Private excursions and guided snorkel tours are also available in this area, for a small fee.
#9 – Peanut Island
ADDRESS: 6500 Peanut Island Road, Riviera Beach, FL 33404
Located extremely close to West Palm Beach, Peanut Island is part of Riviera Beach, and gets its clear blue water from the Port of Palm Beach inlet. A fan favorite for activities like kayaking and paddle-boarding, Peanut Island is also a big tourist destination for snorkeling when people are visiting Miami.
You can see a number of different types of marine life, including sergeant majors, angelfish, parrotfish, and other ocean creatures because of its rocky shoreline and proximity to the Port of Palm Beach. On the Eastern shore of Peanut Island, there is a rock pile that is a popular snorkeling site, due to the amount of ocean life that is attracted to this area.
There is also a chance for you to see a manatee during the winter season if you head over to the Southern shore, where there is a little lagoon.
# 10 – Yankee Clipper Rocks
ADDRESS: Fort Lauderdale, Florida
Accessible by car, the Yankee Clipper Rocks in Fort Lauderdale, Florida are a fun spot to find coral reefs without having to travel too far out into the water. Located just 75 feet from shore, the water in this area is between 6 and 14 feet deep. The rocky reef is home to a number of different types of marine life, from soft coral and sea whips to worms and tropical fish.
If you are a beginner when it comes to snorkeling, this is a good place for you to start, as lifeguards ask you to bring a diving flag with you so that they are able to assist you should any trouble arise. You are able to have the experience of snorkeling on your own, while also being supervised from a distance.
Additionally, this spot features public parking, making it easily accessible to the public.
# 11 – Hollywood North Beach Park
ADDRESS: 3601 N Ocean Dr, Hollywood, FL 33019, USA
Just like our last destination, Hollywood North Beach Park is also located in Fort Lauderdale, and is open to the public and accessible from A1A on Sheridan Street. With the ability to swim out from the lifeguard tower located next to the beach's entrance, this area is between 13 to 20 feet deep and can be found around 175 yards away from the shore.
This spot is home to marine life that includes tarpon, barracudas, snook, nurse sharks, and a variety of colorful tropical fish that create a picturesque scene. Broken up by sand patches in between, you'll find several ledges, ranging from 2 feet to 4 feet, where the majority of this marine life lives.
ADDRESS: 300 Alton Road #110, Miami Beach, FL 33139, United States
PRICE: $80 per person and up
If you are interested in both snorkeling and scuba diving, Tarpoon Lagoon Diving Center is the place for you. Boasting both diving excursions and education, if you've never experienced snorkeling before, this is the place to learn how to do it. With 64 years of experience, you can rest assured that you are in good hands. The instructors are used to working with people of all skill levels, and they are all very accommodating and inviting. These lessons, along with diving techniques, are offered at an additional cost.
Excursions with the Tarpoon Lagoon Diving Center include dropping by Rainbow Reef, Emerald Reef, and the Half Moon Underwater Archaeological Preserve. The site of wreckage where a 360-ton schooner named Half Moon sank offshore, the Half Moon Underwater Archaeological Preserve is the place to go if you're interested in exploring a real life wreck.
Located in Miami beach, only 25 minutes from Miami International Airport, the Diving Center is in a prime location for visitors to the Miami area. They also offer night diving lessons, for those who are looking for a little more adventure in their life and want to experience what marine life is like after the sun goes down.
Diving equipment is available for an additional fee, and snorkeling trips generally occur on Tuesdays, Thursdays, and Saturdays.
ADDRESS: 850 Washington Avenue, Miami Beach, FL 33139
PRICE: $119.00 per person
As we've seen from several other names on this list, South Beach Dive and Surf Center has half day snorkeling trips that take you out to the wrecks and reefs in the local area, specifically in Key Biscayne. One trip with them will cover both Neptune Memorial Gardens, as well as the infamous Rainbow Reef, a three and a half hour excursion in total.
Unlike other places, the South Beach Dive and Surf Center's cost includes a snorkel vest, mask, fins, and a snorkel, allowing you to pay a flat fee for the experience if you don't have your own gear to bring with you. Although you are required to have swimming knowledge for their snorkeling trips, the company has been teaching scuba diving, surfing, and snorkeling lessons for the past 30 years, since 1995, and has become known as one of the best places to snorkel in Miami.
Snorkeling trips are usually available on Mondays, Wednesdays, and Saturdays, so make sure to check out their website ahead of your visit.
***
See more: