Looking for free things to do in Islamorada? You have come to the right place.
Islamorada, a tropical gem nestled in the Florida Keys, is known for its natural beauty, outdoor adventures, and vibrant marine life.
While it's easy to get swept away by the allure of paid attractions and activities, there are plenty of free activities in Islamorada that allow you to savor the beauty and culture of the region without breaking the bank. In this guide, we'll explore a variety of cost-free experiences that will make your visit to Islamorada both memorable and budget-friendly.
10 Free Things to do in Islamorada That Won't Break the Bank!
Visit the stunning beaches
The beaches of Islamorada are some of the most picturesque in the Florida Keys, and the best part is that they're free to access. Anne's Beach, with its scenic boardwalk and shallow waters, is a favorite among visitors.
Founders Park is another beautiful spot with sandy shores and ample space for relaxation. Spend your day basking in the sun, taking leisurely strolls, and enjoying the gentle lapping of the waves.
Birdwatching
Islamorada is a birdwatcher's paradise, thanks to its lush mangroves, wetlands, and diverse bird species. Grab your binoculars and explore the area's parks and natural reserves, such as Windley Key Fossil Reef Geological State Park and the Crocodile Lake National Wildlife Refuge.
You can spot herons, egrets, ibises, and even the occasional osprey or bald eagle.
Visit the Florida Keys History and Discovery Center
The Florida Keys History and Discovery Center is an educational gem that provides insights into the cultural and natural history of the region.
While there is an admission fee, they offer free admission on the first Sunday of each month. Take advantage of this opportunity to learn about the Keys' fascinating past, from Native American history to the impact of hurricanes.
Explore the Rain Barrel Artisan Village
The Rain Barrel Artisan Village is a delightful and free-to-enter attraction in Islamorada. This unique collection of art and craft studios showcases the work of local artists and artisans.
Stroll through the village to admire their creations, from sculptures to jewelry, and maybe even pick up a souvenir or two.
Sunset at Robbie's Marina
While Robbie's Marina is primarily known for its tarpon feeding experience (which requires a fee), you can still enjoy the stunning sunsets for free. The marina's location on the bay provides breathtaking sunset views.
Grab a spot along the waterfront and watch as the sky turns into a canvas of vibrant colors.
Wildlife Viewing at Florida Keys Wild Bird Center
The Florida Keys Wild Bird Center is a sanctuary dedicated to the rescue and rehabilitation of injured birds. It's an excellent place for wildlife enthusiasts to observe and learn about native birds, including pelicans, egrets, and herons.
Admission is free, and your visit supports their vital conservation efforts.
Free Art Galleries
Islamorada has a vibrant arts community, and many galleries offer free admission to their exhibitions.
Explore local art studios and galleries to discover the talent and creativity inspired by the Keys' natural beauty. The art scene in Islamorada is diverse, with works ranging from paintings to sculptures and crafts.
Be sure to see the Old Road Gallery and the Lobster Trap Art Gift Shop and Gallery while you are in Islamorada.
Relax by the Bayside Beach at Founders Park
Founders Park offers more than just a beautiful beach. It features a picturesque bayside beach area with calm waters and a sandy shoreline, perfect for swimming or simply lounging by the water.
The park also has picnic areas and walking trails that you can explore for free.
Experience the History of Diving Museum on Select Days
The History of Diving Museum in Islamorada offers free admission on certain days throughout the year.
Keep an eye on their website for announcements about free admission days. This museum provides a fascinating look into the evolution of diving equipment and the maritime history of the Florida Keys. It is one of the best things to do in Islamorada so it is worth checking out even if you have to pay for it.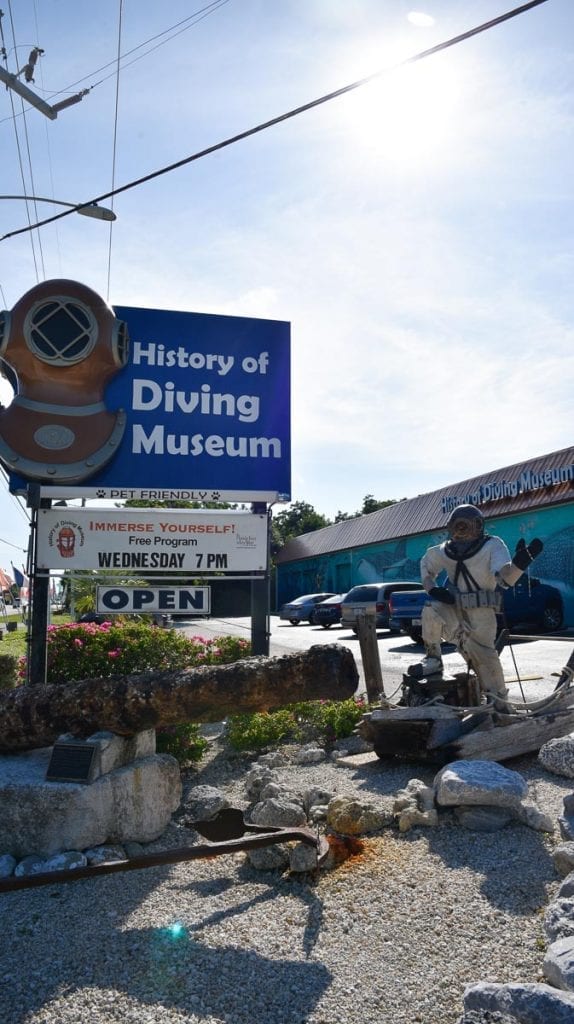 Yoga on the Beach
Several resorts and yoga instructors in Islamorada offer complimentary beachfront yoga classes.
There's nothing quite like practicing yoga with the sound of the waves in the background and the soft sand beneath your feet. Check with local yoga studios and resorts for their free beach yoga schedules.
Scenic Drives and Views
Take a scenic drive along the Overseas Highway (U.S. Route 1), which connects the Florida Keys.
The journey itself is a breathtaking experience, with the ocean on either side of the road. Stop at picturesque viewpoints to take in the stunning vistas and capture memorable photographs.
Sunset and Stargazing
One of the most enchanting free activities in Islamorada is simply gazing at the sky. Watch the sun dip below the horizon during a captivating sunset on one of the beaches or waterfront spots.
At night, Islamorada offers excellent stargazing opportunities, as the lack of city lights allows for clear views of the night sky. Consider bringing a telescope or binoculars to enhance your celestial exploration.
***
Islamorada is not just for those with hefty budgets; it welcomes budget-conscious travelers with open arms.
From pristine beaches and birdwatching to free art galleries and yoga on the beach, there are countless free experiences to enjoy in this tropical paradise. With a little creativity and a sense of adventure, you can savor the charm and beauty of Islamorada without spending a dime. If you want to learn more about Islamorada before your visit you can check out what is Islamorada known for.