Looking for the best Ginnie Springs hotels? We feel ya. Camping isn't for everyone.
Plus, the Ginnie Springs bathroom are well used which means they often are not the cleanest facilities ever. If you are younger and don't mind roughing it, this might be fine but if you are older or traveling with a family, it is sometimes best just to cough up the money and go to a hotel for a little more comfort.
If you are looking for the best hotels near Ginnie Springs, we have you covered incredible Ginnie Springs Hotels which are a great alternative for those who don't like to camp!
7 Best Ginnie Springs Hotels (The best hotels near the Springs!)
Here are our picks for the best hotels to stay at near Ginnie Springs and how long your drive will be to go tubing.
Option 1: Stay in Gainesville
Gainesville is one of the biggest cities near the springs. It is 40 minutes drive between Gainesville and Ginnie Springs.
There are lots of good facilities like Walmarts, fast food including starbucks in Gainsville. There are also lots of great restaurants in Gainesville which also makes it a good choice.
If you want to explore a little more than just the springs, Gainesville is a pretty cool city in its own right – theres lots of fun things to do in Gainesville. Some of the best activities in Gainesville include the Kanapaha Botanical Gardens, Devil's Millhopper Geological State Park and Sweetwater Wetlands Park so nature it at the top of this cities list!
Here are the best options for hotels in Gainesville.
Holiday Inn Express Gainsville
Country Inn & Suites
La Quinta
Marriott
One of the best options near the springs with consistently good ratings is the Holiday Inn Express in Gainesville. It even advertises itself as a great place to stay near Ginnie Springs so you know a lot of other travelers use this hotel for the same purpose.
The thing that we like the most about Holiday Inns is that you know you consistently receive the same quality.
3 star***
Business Centre
luggage storage
outdoor pool
fitness centre
24 hour front desk
Before a full day exploring the springs, Holiday Inn Express offers a full buffet breakfast to guests.
Distance from Ginnie Springs: 40 minutes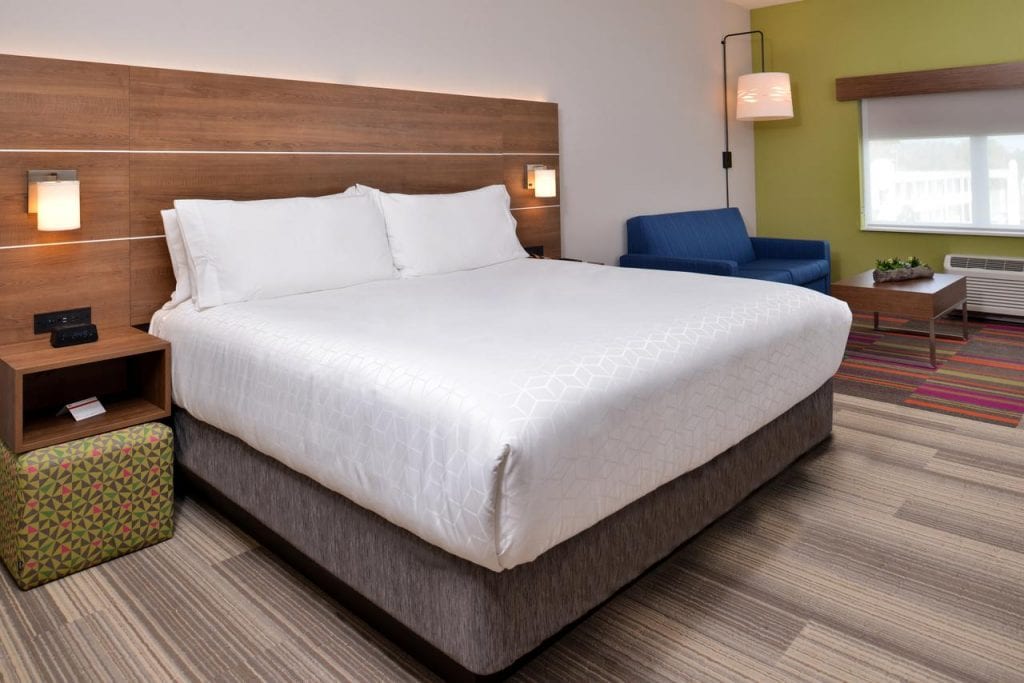 Another good option near the springs with consistently good ratings is the Country Inn & Suites.
We have stayed at quite a few County Inn & Suites and they never disappoint.
outdoor pool
wifi
daily hot breakfast buffet
microwave, refrigerator, and coffee facilities
onsite gym
laundry facilities.
Distance from Ginnie Springs: 40 minutes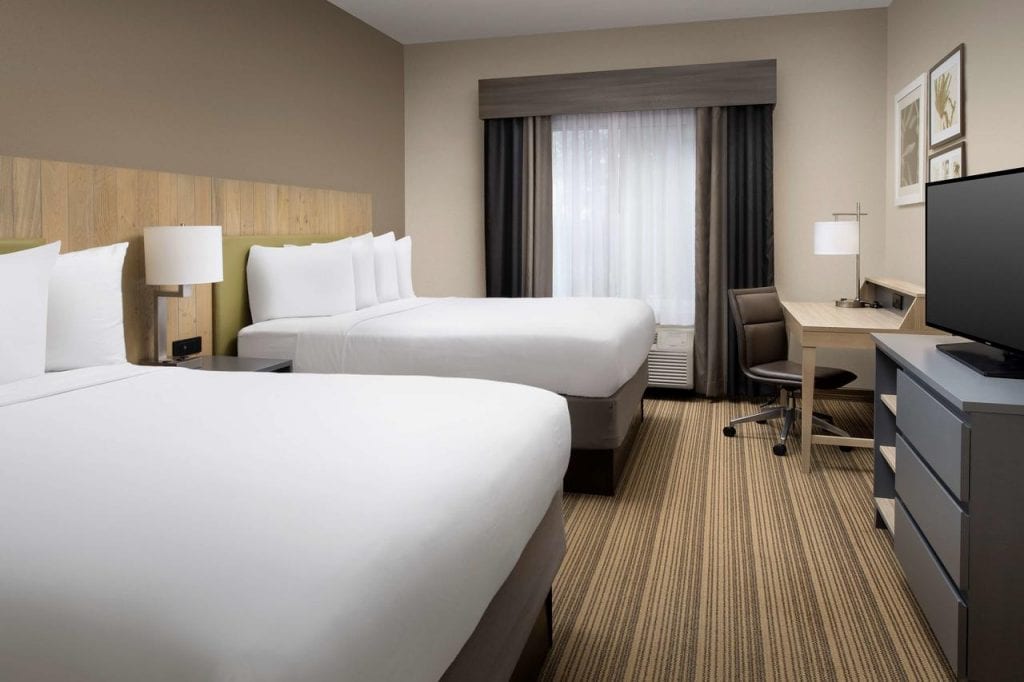 There is also a La Quinta in Gainesville which is a good option for a clean and comfortable stay.
3-star
air-conditioned rooms
free WiFi
daily continental or buffet breakfast
Distance from Ginnie Springs: 40 minutes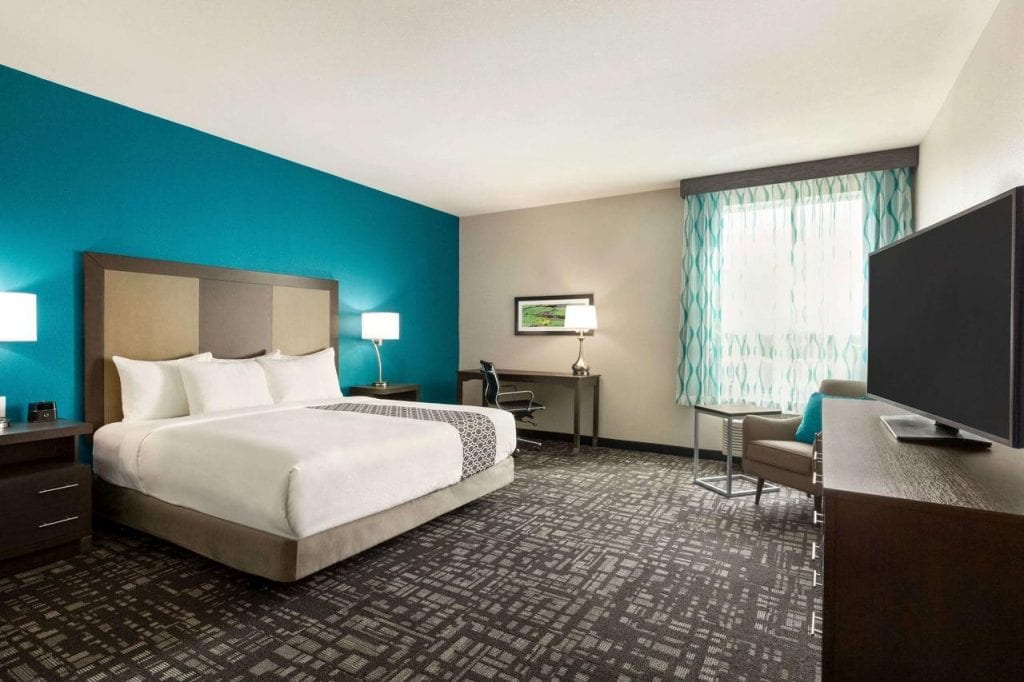 If you are looking for a beautiful 4* near Ginnie Springs then the Marriott is always a good choice
restaurant
outdoor swimming pool
fitness centre
bar
free wifi
continental or buffet breakfast.
Distance from Ginnie Springs: 40 minutes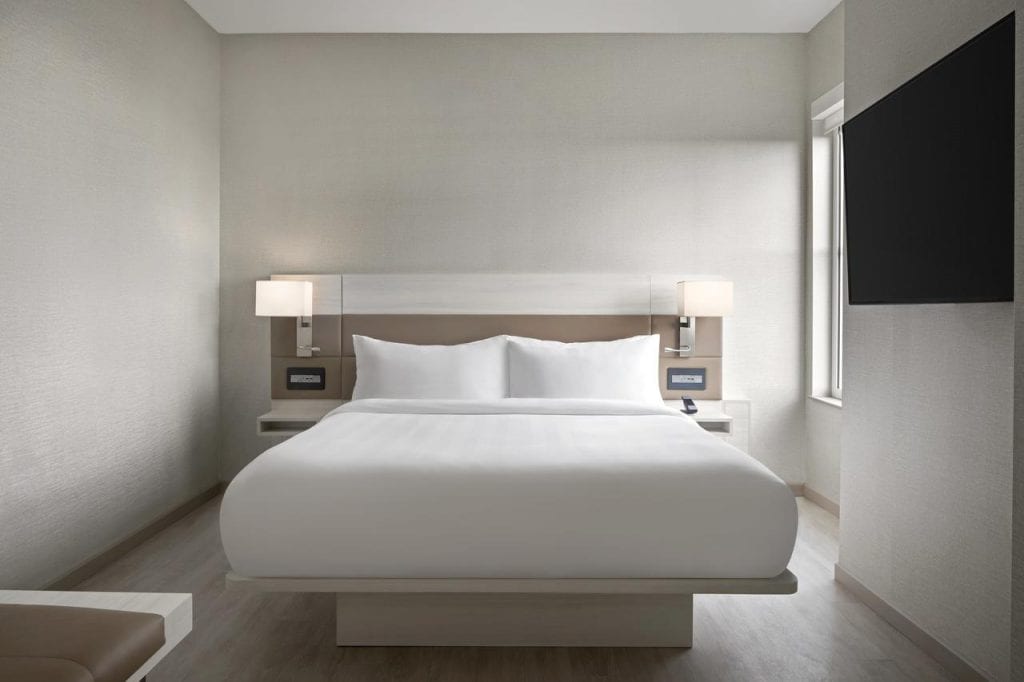 We often choose to stay at Hiltons and so far we have never been disappointed.
wireless internet
in-room microwaves and refrigerators
on-site restaurant
24-hour convenience store
hotel's modern exercise facilities
Distance from Ginnie Springs: 40 minutes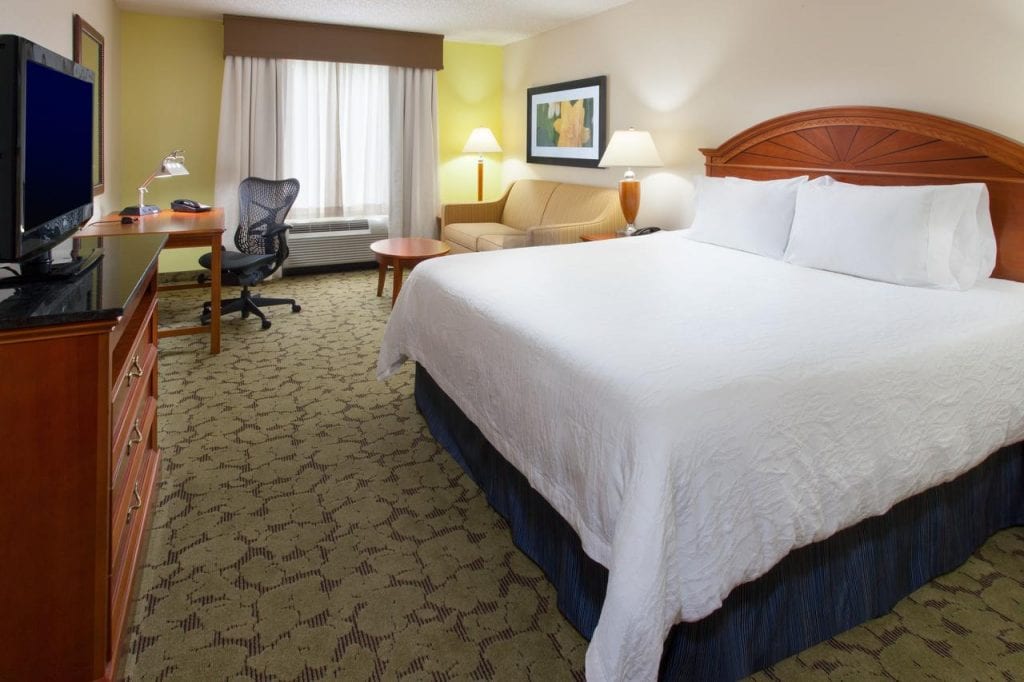 Option 2: Stay in High Springs
There are limited hotel options in High Springs which is only 20 minutes drive from the springs entry. It isn't a big city like Gainesville so you won't get the same restaurant option but it is a much closer of a drive to the springs.
If you would like to stay a little closer to the springs here is what we would recommend.
This is a fabulous option for people who want to be a little closer to Ginnie Springs entrance as it is located only a 20 minute drive away.
The hotel is a little older style but it is clean and comfortable and consistently rates well with guests.
Cable TV and free Wi-Fi
free Wi-Fi
microwave and a small refrigerator
Barbeque facilities and a picnic area
24-hour reception
If you would like to do something other than Ginnie Springs this hotel is close to River Rise Preserve State Park which is fabulous for hiking and wildlife viewing (7 miles away)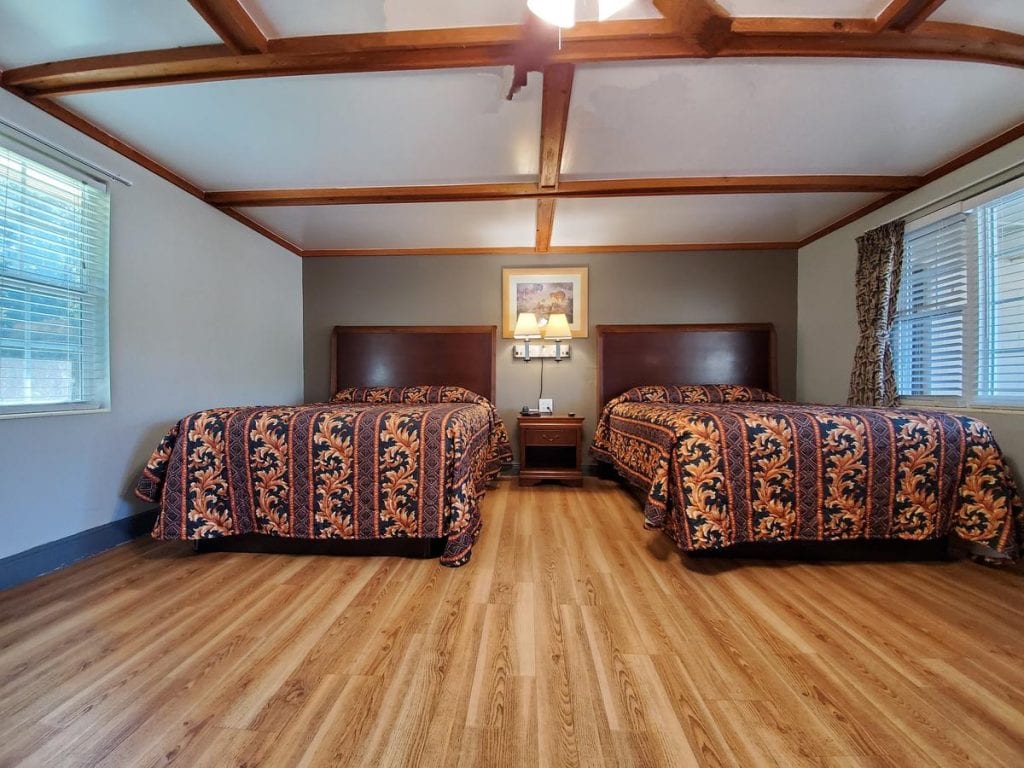 Option 3: Stay in Alachua
Another option is to stay in Alachua which is also located about 20 minutes drive from the famous springs.
The issue with Alachua is there is not an abundance of amazing accommodation options. Alachua is a cool town however full of antique shops and restaurants.
If you do decide you want to stay there, here is where we would recommend.
If you are looking for this hotel, it is located at the intersection of Interstate 75 and US Highway 441.
The hotel generally has good reviews and has good amenities including:
Free 24-hour coffee in the lobby
Free local calls, Free high-speed Internet access
Free parking.
refrigerators, microwaves, coffee makers, hair dryers, irons, ironing boards, safe deposit boxes and leisure chairs in all rooms
The largest outdoor pool in the area.
Coin-operated laundry facilities
If you are looking for an interesting activities nearby Ichetucknee Springs State Park is only 18 miles from the hotel. This is another great place in Florida for tubing.
Note: This is a great pet friendly hotel near Ginnie Springs. Extra fees do apply if you wish to bring a pet. Apply within.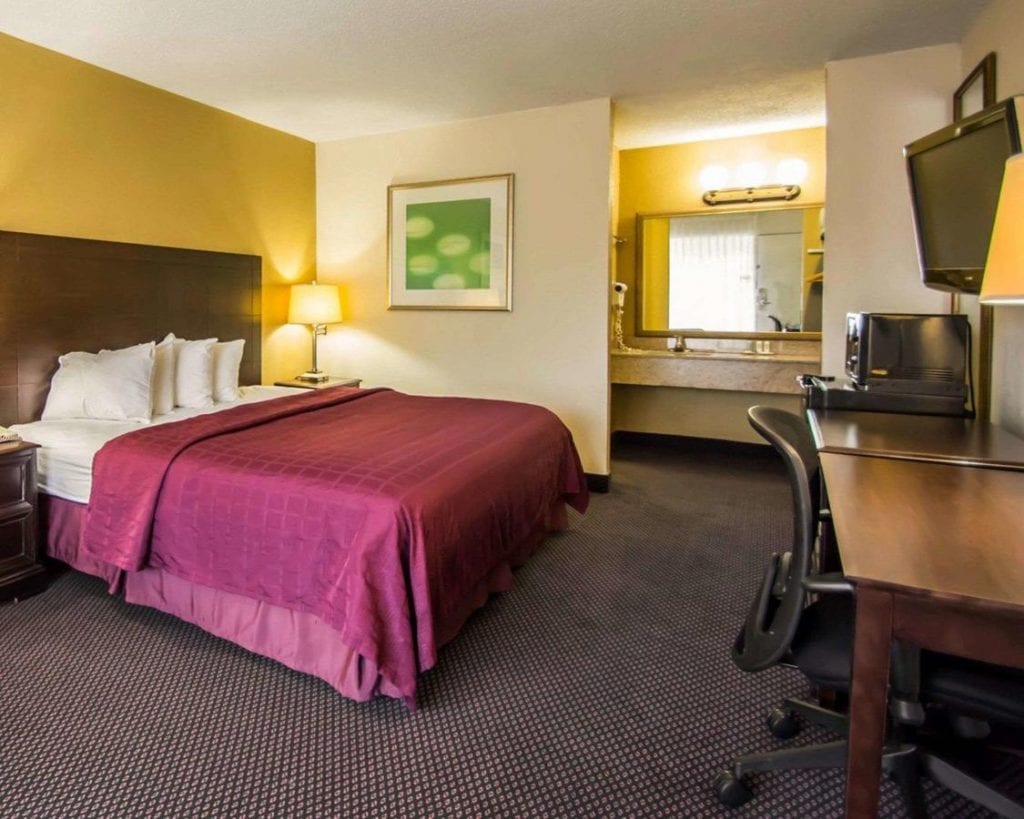 What's Camping like at Ginnie Springs?
Your alternative to staying at a hotel is camping at Ginnie Springs.
It costs $14.02 for adults for a day pass to Ginnie and only $22.43 per adult to camp, so camping it a pretty affordable thing to do.
Truth be told though, camping here is not for the faint of heart. It is a dirty ground and the toilet blocks tend to get quite muddy from the spring.
While there is numerous camp bathrooms all over the spring, Ginnie does attract a bit of a party college crowd so it can get a bit messy and muddy. It is also a pretty popular spring and staff don't tend to clean the toilets as often as they should.
Aside from the toilet situation, the camp spots are very nice and some are directly water front so it is a really picturesque place to camp if you have the stomach for it.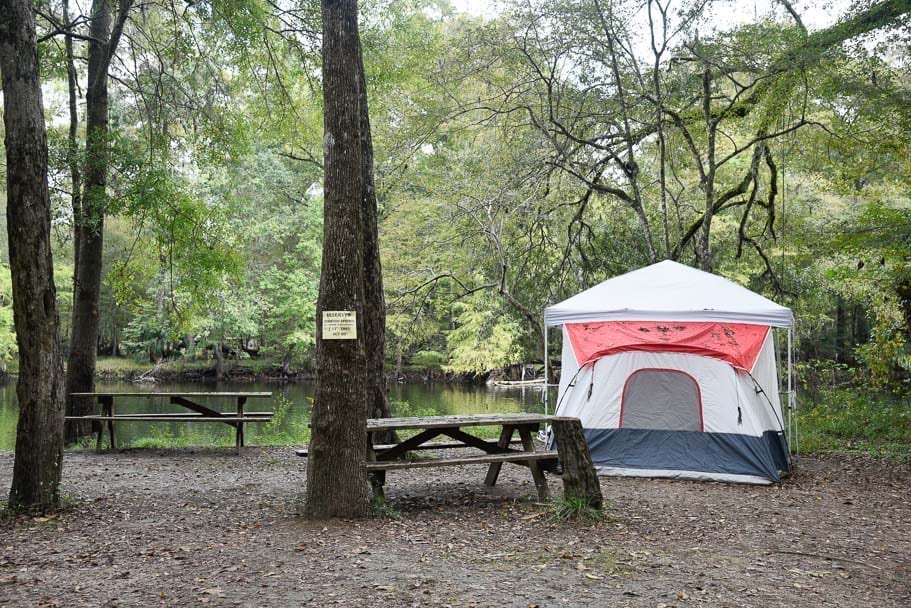 ***
See more: